Dog Oil Pet Portraits Gallery
Welcome to Nicholas's Dog Oil Pet Portraits Gallery. All of the dog portraits below have been traditionally hand painted in oils on linen canvas by Nicholas. He is a professionally trained animal artist, painting dog portraits for commission for over 25 years. He has fine tuned his oil painting skills to produce stunning dog paintings for clients worldwide.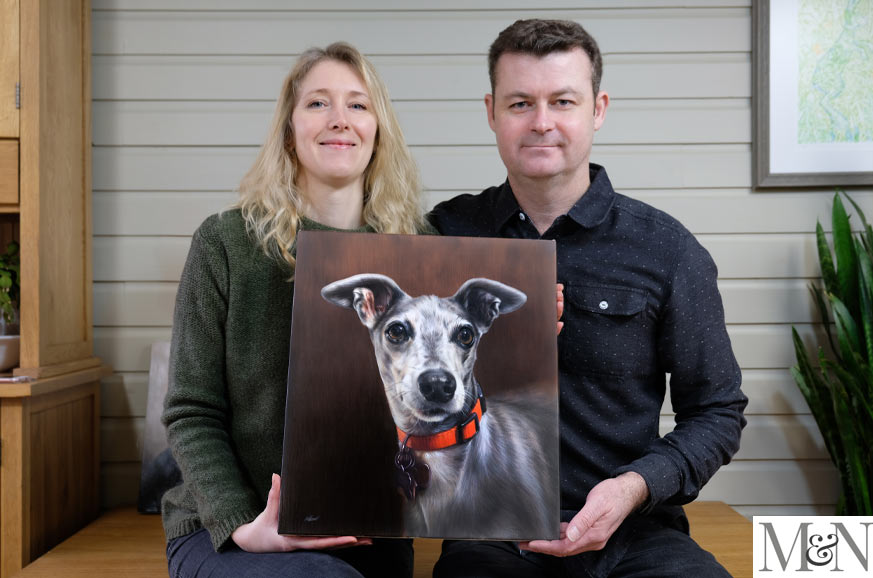 Our dog portraits gallery images are click-able. Each one will take you to a larger page where you can see work in progress, reference photos, oil portraits framed along with some lovely testimonials from clients. We hope you enjoy viewing our dog portraits gallery If you would like to commission Nicholas to paint an oil portrait of your dog, you are more than welcome to Message Us at any time.
Dog Portraits
Many clients like to have an oil portrait of their dog depicting just the head and shoulders with a studio style background. Something simple so that a clients dog is the complete focus of the painting. This can work really well as Nicholas will work with the colours and tones of your dog to create a beautiful, very natural background.
Clients most often take photos of their dogs outside, so it is very natural for them to be painted with a green grass background. This works well if your dog loves being outdoors, running free, laying in a garden or roaming fields.
If you are looking to have a background to your dog portrait and would like to see your dog full body or you have more than one dog, you have the option of having a scenic background too. Depending on the complexity of the background there might be an extra charge for this, however let us know your ideas and we can give you a quote.
We only take on a certain number of commissions each year. We prefer quality over quantity. We take time on our portraits, from the intial concept through to the final brush stroke. If you would like to book us for a commssion for a special date, drop us a line in good time to discuss your options.