Dog Portrait - Bull Dog Oil Pet Portraits
We are thrilled that you have visited our web page about Remington, the Bull Dog and his oil painting, traditionally hand painted by professional artist Nicholas Beall. Nicholas specialises in oil portraits of dogs and works full time in his garden studio with his own dog Lily, painting dog portraits every day. He uses traditional oil paints and canvas, standing at his easel, lovingly creating portraits for clients worldwide.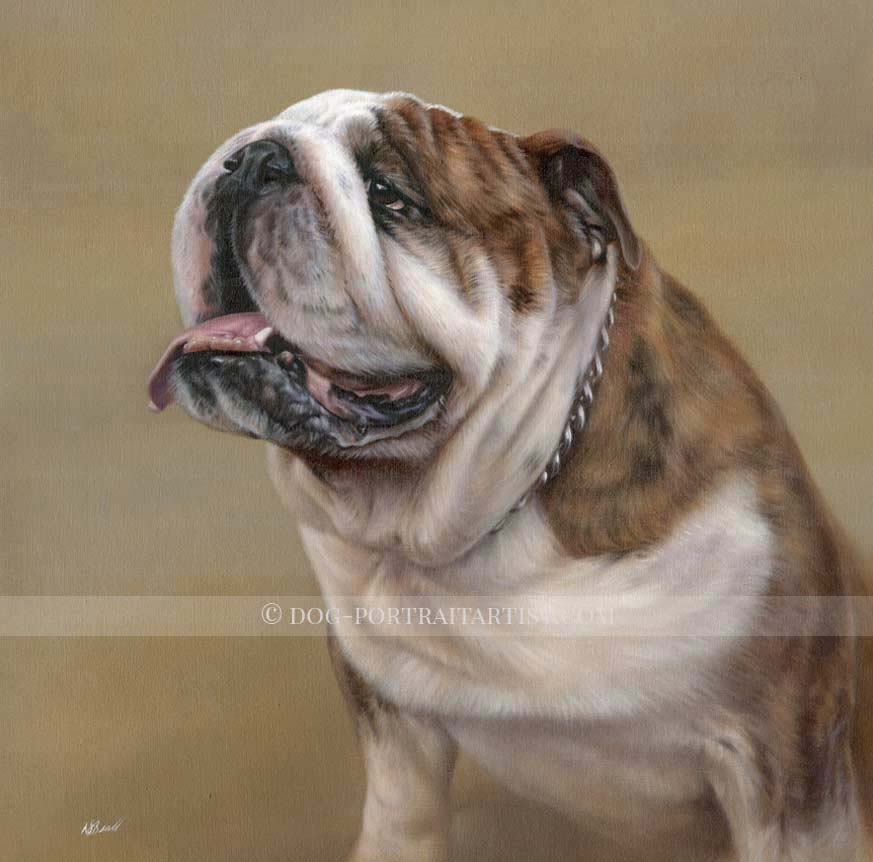 Commission of 'Remington' - Bull Dog Pet Portraits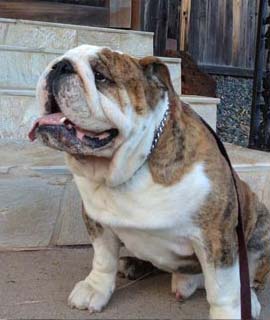 Tom & Pattie Herman, Hawaii contacted us in 2014 enquiring about our Bull Dog Pet Portraits. They asked if Nicholas would be able to paint their beautiful Bulldog Remington who had sadly passed away. Remington's photos melted our hearts, he was such a stunning dog and a very much missed family member.
Tom and Pattie emailed some fabulous photos of Remington through and one in particular stood out as being perfect for a portrait. We all decided that a 16 x 16 inches painting would work really well for Remington, with a very natural olive colour as a background. Remington's owners emailed many wonderful photos for us to see.
We work from one main photo for the pose and can use others for detail, however we don't like to make up poses as this could end up being a generic dog. Our aim is to create 'your' dogs personality and character so choosing the right photo to work with is key. If you need any help in choosing, please drop us a line with your photos and we will be more than happy to help.
Nicholas thoroughly enjoyed painting Remington and I have added a final scan, with reference photos and work in progress photos below, along with testimonials from Tom and Pattie too. Tom and Pattie were thrilled with the painting, and they very kindly sent over some photos of Pattie with the painting along with their two other dogs Ruby and Ruby's son Baxter. Ruby had a litter of puppies while the painting of Remington was in Nicholas' client list and Baxter was one of the puppies they kept from the litter. They proudly named one of the other puppies Nicholas! :)
Oh My Goodness!!!! He already looks fabulous. We will be framing on our own with Koa Wood. Which is a tree that only grows in Hawaii. I will take a picture once all done and email you. I can't wait to receive Nicholas's hard work and our love on canvas. We have a spot for him in our living room. Thank you Melanie for the update.
Mahalo(thank you) so much,
Pattie
The Beagle Portrait on the easel
Here is a photo of Remington's portrait on the mini easel before packing sand sending to our clients.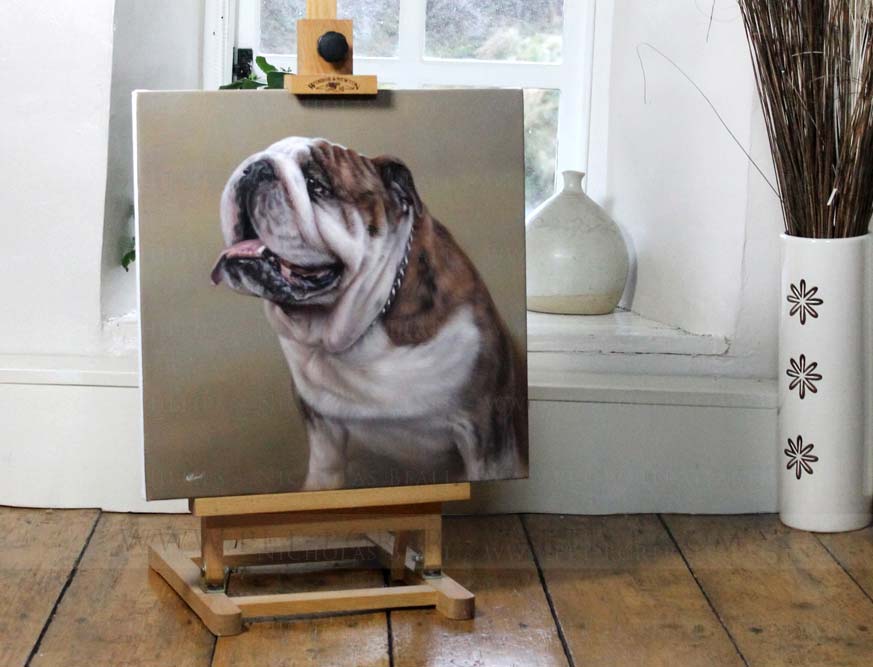 Clients photos of the portrait framed
We are always thrilled to receive photos form clients once the portrait has been received and framed and displayed in our clients homes. it really is a wonderful ending to a happy time with our clients. We hope you enjoy the photos too!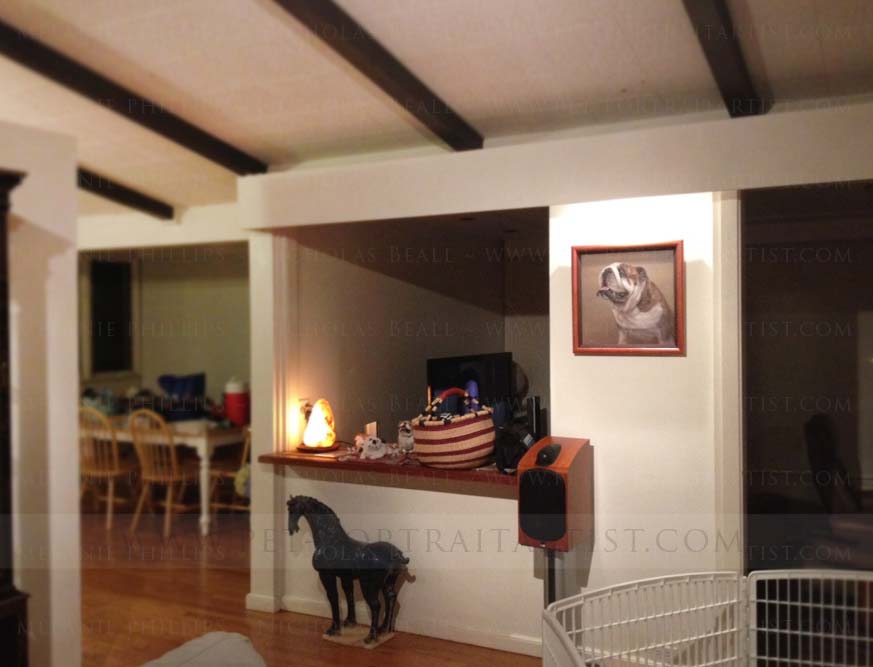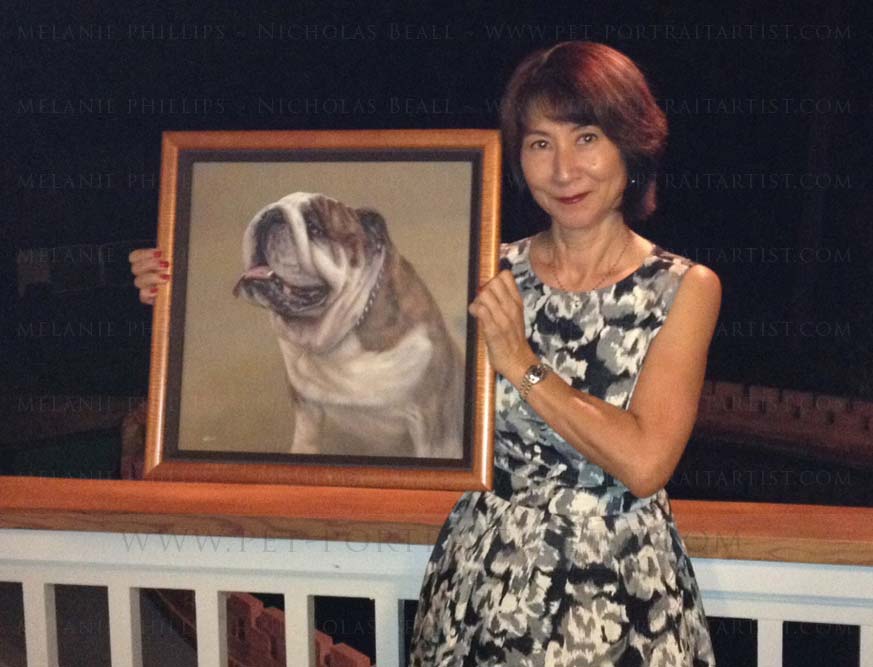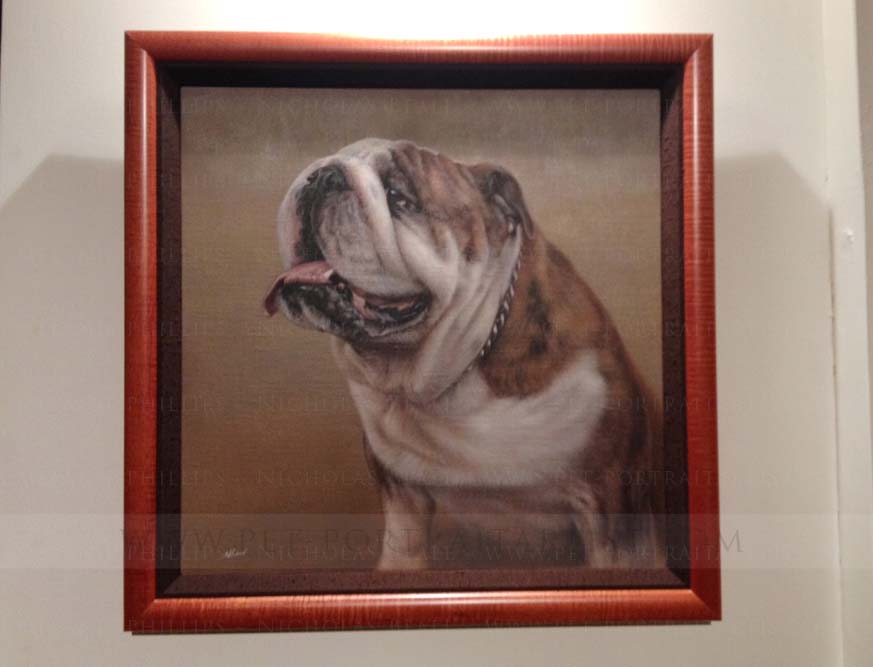 Bull Dog Portraits
We would love to portray your Bull Dog in oils on Italian Linen canvas just like Remington. Visit our pet portraits contact page and email Nicholas your photos and we can help create a design for your own portrait.