Prices and Information for all Subjects
Here you can view our prices and sizes for our oil and pencil pet portraits for all subjects. You can place your deposit below and view our client lists. We increase our prices, usually twice per year, the last update was April 2016. If you require any help, please don't hesitate to contact us at any time for a fast response.

Use the drop down list to convert to your currency.
Oils

Head and Shoulders
10" x 8"

= £1000

12" x 10"

= £1500

Head / Full Body
14" x 10"

= £2000

16" x 12"

= £2500

18" x 14"

= £3000

20" x 16"

= £3500

24" x 18"

= £4500

30" x 20"

= £5500

30" x 24"

= £6500

40" x 30"

= £7500

48" x 30"

= £8500

48" x 36"

= £9500

55" x 40"

= £10500

Larger Sizes Available

Pencil

Head and Shoulders
8" x 7"

= £400

10" x 8"

= £450

12" x 10"

= £550

Head / Full Body
14" x 10"

= £600

16" x 12"

= £650

18" x 14"

= £750

20" x 16"

= £850

24" x 18"

= £950

28" x 20"

= £1150

33" x 23"

= £1250

40" x 30"

= £1380

46" x 33"

= £1480

54" x 40"

= £1580

Montages

16" x 12"

= £750

18" x 14"

= £850

20" x 16"

= £950

24" x 18"

= £1050

28" x 20"

= £1250

33" x 23"

= £1350

40" x 30"

= £1480

46" x 33"

= £1580

54" x 40"

= £1680
Sizing Guide, Frames and Plaques
8 x 7 , 10 x 8 and 12 x 10 sizes are for a single head studies only
14 x 10 and 16 x 12 are for single, double and full body portraits
18 x 14 size and above are for single and multiple studies and full body portraits
Framing starts from £100, email us your ideas and we can get a quote for you
Engraved Plaques in Gold, Silver or Bronze for any amount of text are £45
Montage drawings include a single central study and four images (further studies at £25 each)
Worldwide Shipping
UK Unframed - £20 (Special Delivery / UPS)
UK Framed 20 x 16 and below - £35 (Special Delivery / UPS)
UK Framed 24 x 18 and over - £45 (UPS)
Worldwide 20 x 16 and below - £65 (UPS)
Worldwide 24 x 18 and over - £85 (UPS)
Secure a space in our Client List
Many of our clients like to make a deposit to secure a place in our client list. We have fairly long client lists so saving your space can be essential, particularly if you have a specific date in mind to receive the portrait by. In general we ask for a £200 deposit for a pencil drawing or £500 deposit for an oil painting. Clients usually email us their photos giving us an idea of size and medium. We follow up with a mock-up of how your portrait could look using your photos. We also send an email with a secure personalised link to make your deposits using Worldpay our payment provider. Our payment system is completely secure using Worldpay as our payment provider. We accept all major debit and credit cards including American Express. You can also call our studio on +44 (0)1559 384628 to place your order over the telephone. Please read our terms and conditions page before ordering.
How It Works
If this is the first time your have commissioned a pet portrait and you would like to know how the process works, why not pop over to our How It Works - Pet Portraits Process page. Here you can follow a live pet portraits commission from the first email with our client to the packing of the portrait.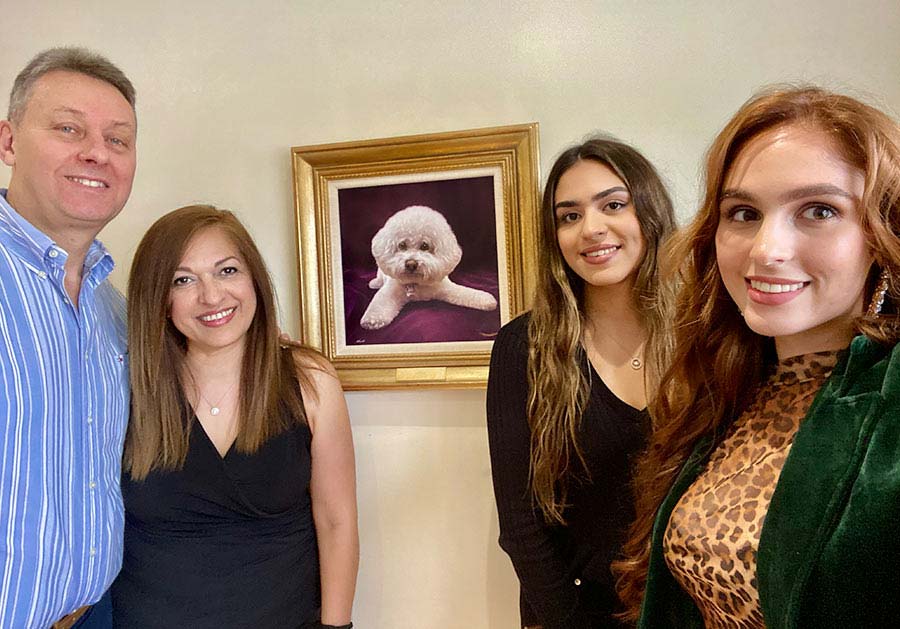 Are you purchasing your portrait as a gift?
Gift voucher packs are a popular service we provide. As you may have already seen from our website, both Nicholas and myself have client lists and can't always accommodate tight deadlines such as thank you gifts, Christmas, birthdays, weddings and anniversaries etc. So our voucher packs, bespoke to each client, are always very well received. For more information about our gift voucher service, visit our dedicated page Pet Portraits Gift Vouchers >>
Choosing and taking photos for your portrait
One of the most important aspects of our work are your photos. We cant stress enough how important photos are. The majority of the time we are unable to meet the pets we paint and draw, so your photos are our only insight into what they are like. Photos are absolutely key and the better quality the photos, in reality, the better the portrait will be. In an ideal world we would prefer to work with only digital camera photos, however we understand how easy it is to snap away with a mobile or tablet. If you are going to use a mobile, or you are embarking on taking new photos, please do read our Photography Guide as clients often find it useful. Please email as many photos as you have, at the highest resolution you have them. Perhaps let us know which are the best photos to work from for colour (if you are having an oil painting) and which captures their personality or character the best. We can then start to design the portrait and can create a mock-up using your photos in the computer so that you know what the final composition will be like.
Bespoke Framing and Engraved Plaques
Many clients opt for our framing service. We work with two companies for framing who provide us with traditional wooden frames and swept frames. Our swept and moulded frames are bespoke frames in gold, silver and painted colours along with gilded gold and silver leaf. We also work in conjunction with an engraver who engraves plaques in gold, silver and bronze to fit the correct size for the kind of frame you are commissioning. We have plenty of options for frames and plaques and clients can see a handful of our previous commissions in our framing section here >>
Pet Portraits Studio and Materials
Our studio is based in the UK and we are called Red Kite Studios. We live in the heart of the Welsh countryside and our purpose built studio is surrounded by trees at the bottom of our garden. It is the most idyllic place to work and we hear and see plenty of wildlife on a daily basis including rabbits, squirrels, bats and owls, nuthatches, woodpeckers, Jays. We also have the usual garden birds on our bird feeders which we have hanging outside of our studio windows in the trees. The field below us houses lambs in springtime and cows during the summer months so we are never at a loss for inspiration for sketching. Why not have a look at our studio page to see where we work and view some of our materials that go into hand creating your portraits!