Pet Portrait Artist Commission Information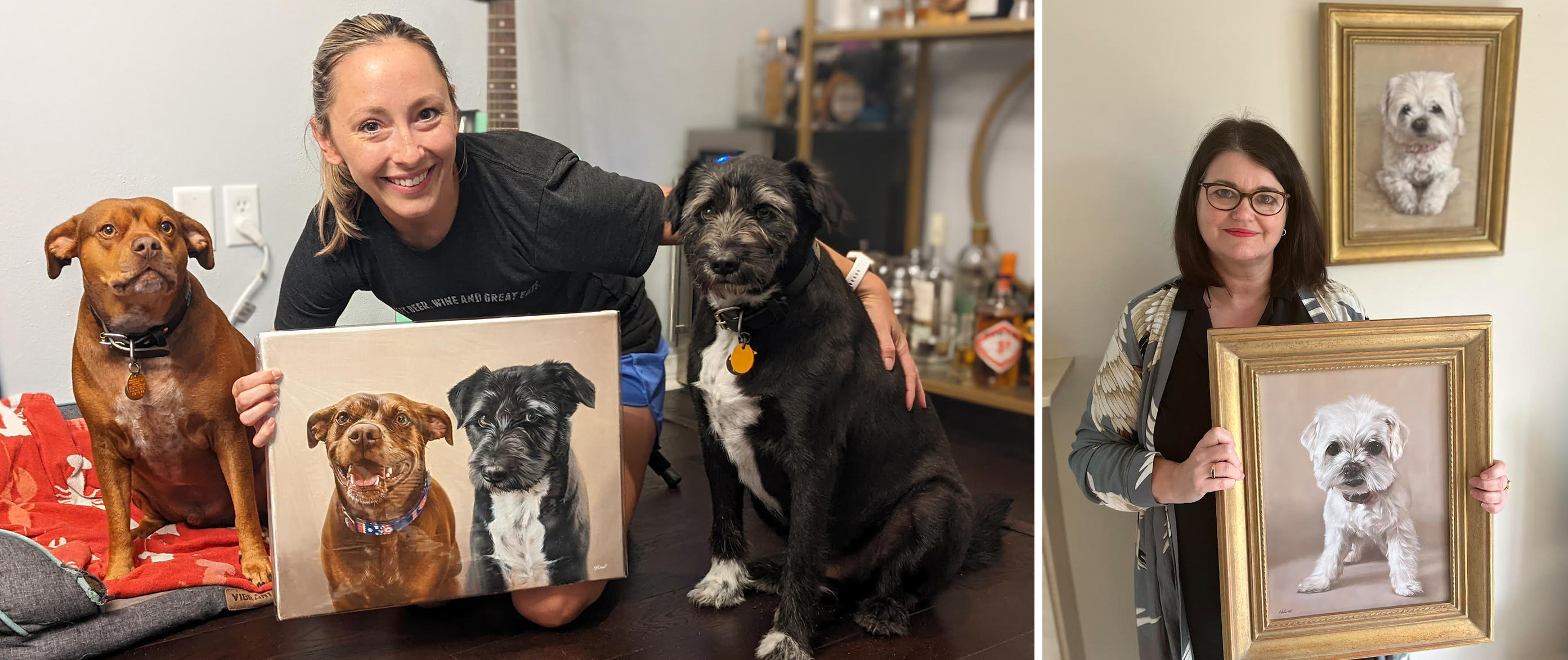 Both Nicholas and myself have been accepting pet portraits commissions for over 25 years. We are very experienced in not only understanding our customers needs, but we pride ourselves on our friendly and professional service. We have many returning customers, a fact we are very proud of. We have portrayed generations of dogs, cats and horses for our customers over the years. If you have specific ideas for your portrait, email or WhatsApp us your photos and we can create a tailored quote for you.
Pet Portraits Prices & Sizes

Convert to your currency
10" x 8" = £1000
12" x 10" = £1500
14" x 11" = £2000
16" x 12" = £2500
18" x 14" = £3000
20" x 16" = £3500
24" x 18" = £4500
10" x 8" = £600
12" x 10" = £700
14" x 11" = £800
16" x 12" = £900
Options
Oils - Scenic backgrounds start at 18 x 14 size and are an additional £500. Multiple head portraits start at 18 x 14.
Pencils - Pencil portraits are drawn on an off-white paper, with a plain or gently shaded background. Portraits are provided without frames. I provide an extensive range of sizes, including options larger and smaller than those detailed above. Should you require a multi pet portrait, a montage, or background, please reach out to me via Email, Text or WhatsApp and I will be happy to quote for you.
Shipping - Size Dependant
UK Tracked shipping using Parcelforce 24hr or Royal Mail Next Day Special Delivery from £35
We use DHL for our expedited shipping for Europe, Ireland and the Rest of the World from £100

Payment
A deposit is required to save your space in our commissions list. The remainder to be paid just prior to starting the portrait. We send invoices for online payment for overseas clients and accept all major debit and credit cards. UK clients and those with UK bank accounts can make payment via bank transfer. Please read our T&C's.

Photoshoots
If you are struggling to take photos of your pets, particularly horses as they are tricky to photograph, please do get in touch. If you are looking at having a larger sized oil painting, we are happy to come out to take photos. Alternatively, if you are too far away from us, we can work with a professional photographer near you to take a range of photos especially for the portrait. Let us know where you reside and we can help you make arrangements.
The Pet Portrait Process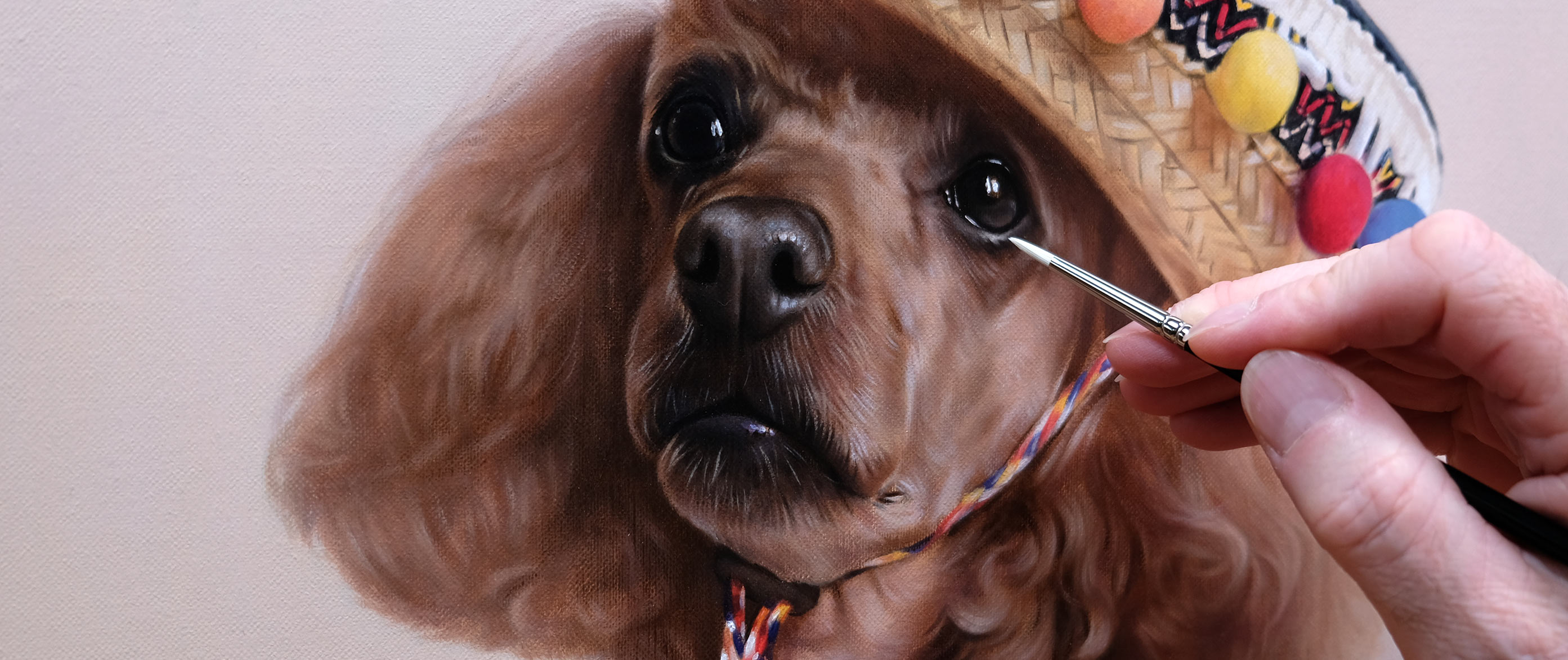 Good quality photographs for a pet portrait are key. This is the most important step. We require clear and in focus photos to work from. This is really essential and we can't stress enough how important good quality photos are. The better the photos, in reality, the better the portrait will be.
If you are able to take photos of your pet specifically for the portrait, take as many as you can. Ideally take your photos outside in natural daylight. Have a look at our pet portraits from photographs tips page, as it gives a good idea of the kind of photos we need.

We work from one main photo for each animals pose and can use others for detail. If you are looking at having two or more pets together in the same scene, it isn't imperative to take photos of them together. It is useful for us to see photos of them together to see the size relationships between them, however we often work from individual photos and put pets together in the scene ourselves.

Once we have seen your photos and you let us know the kind of portrait you are looking for, we can then start to design the portrait for you. We create a 'Mock-Up' using your photos. This enables us to go back and forth with our clients to make sure the composition is perfect and exactly what our client wants.
Deposit & Payment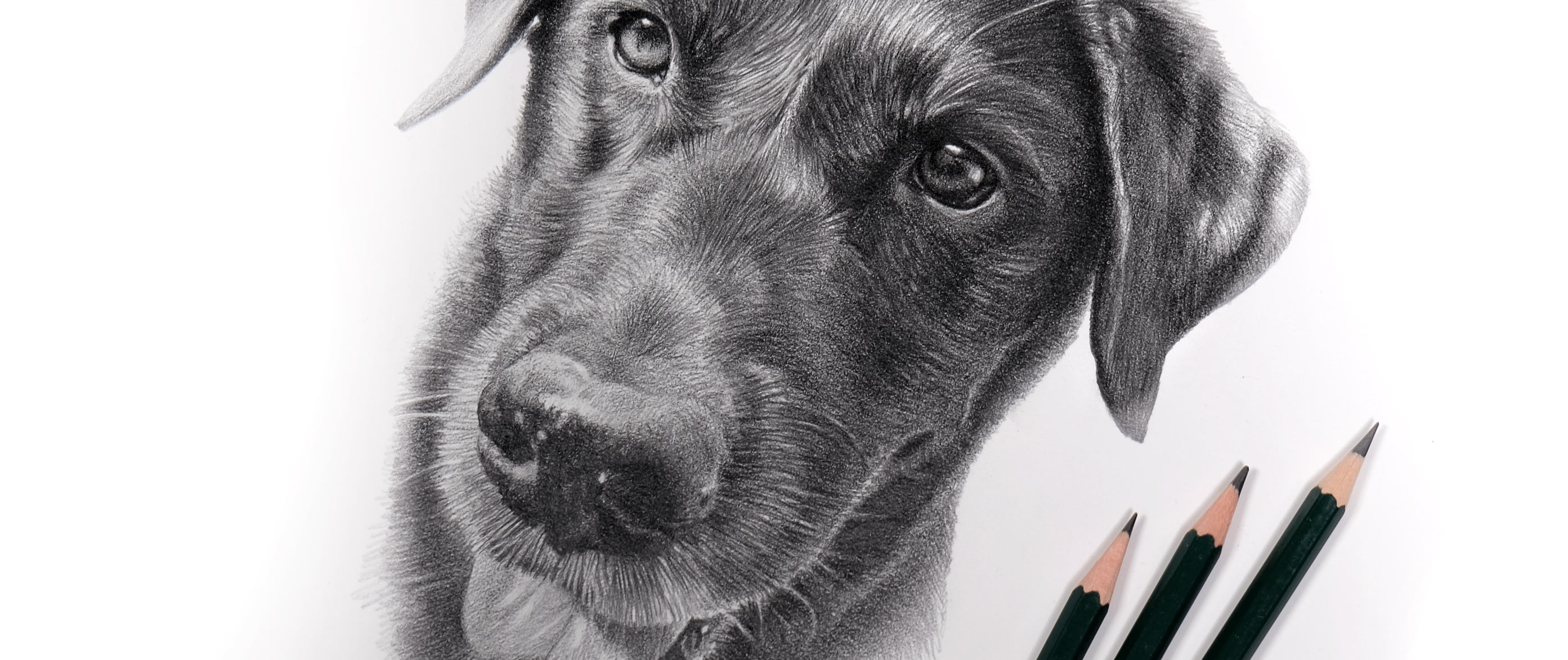 A deposit is made to secure a place in our commissions list. £500 for oil paintings and £200 for pencil drawings. View our pricing options above for details. If you have any questions please do contact us at anytime. We are available to chat to most times via WhatsApp or Messenger too.



Final Photos & Packing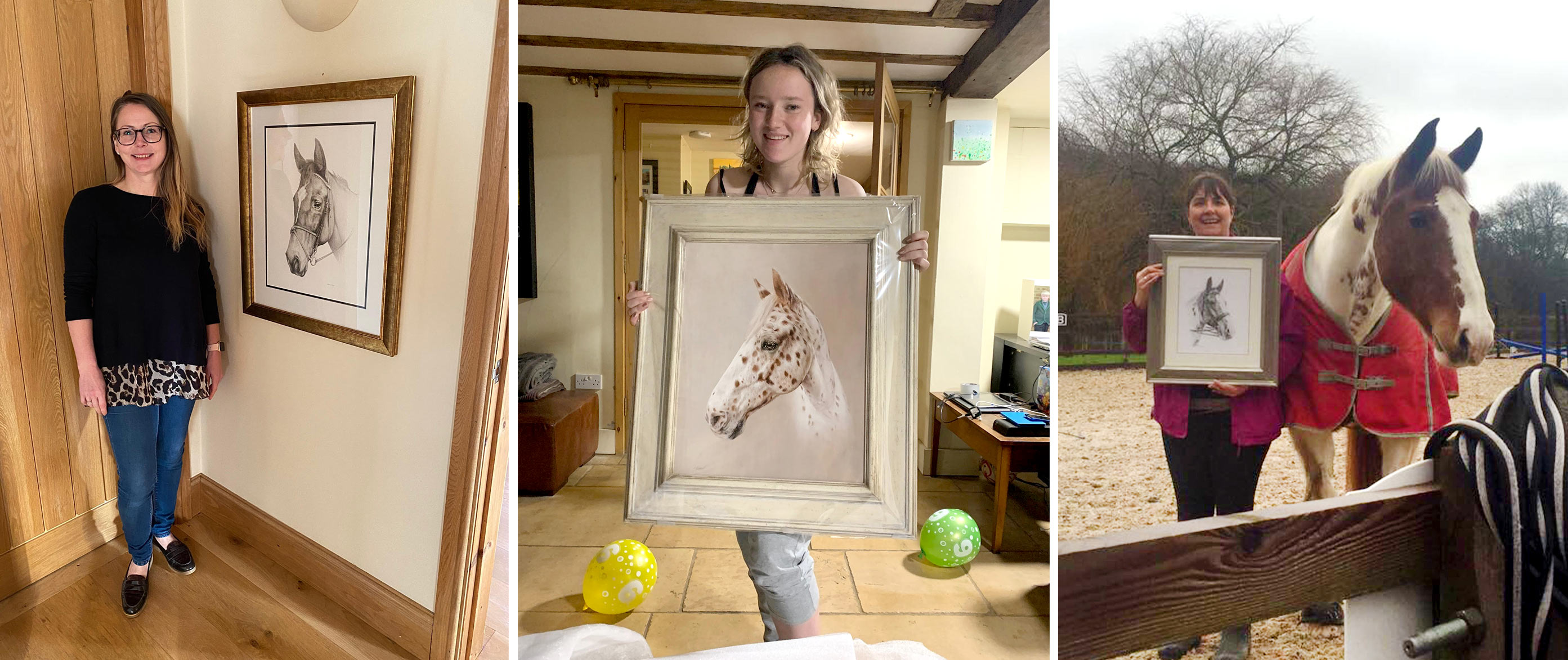 As soon as the painting or drawing is complete we take a number of photographs under our professional lighting in our art studio and email our clients for final approval. We always ask clients to view photos of the portrait to make sure they are absolutely perfect and they are 100% happy before packing them. If any changes are needed we work with our clients very closely at this stage to make any amendments required.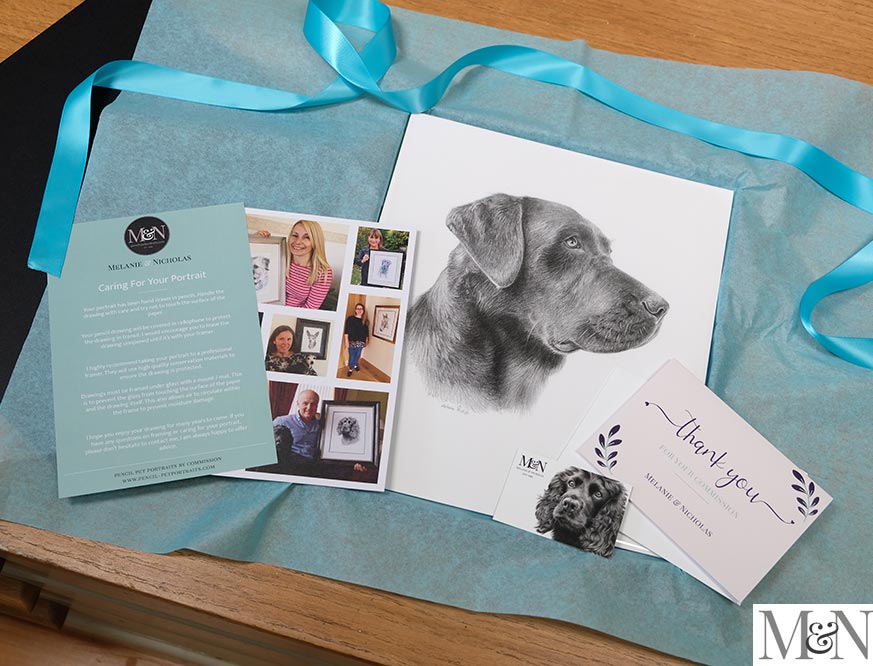 One everything is complete, we flat pack our pet portraits and it takes quite a long time to get the perfect presentation for when our clients open them when they arrive. After all of the time and effort we put into our artwork, they must be packed well. We have very high standards!

First of all we wrap the portraits in cellophane to keep them free from dust. If you are taking your portrait to your local framer, it would be wise to keep the painting or drawing wrapped in the cellophane to protect it until it has been framed.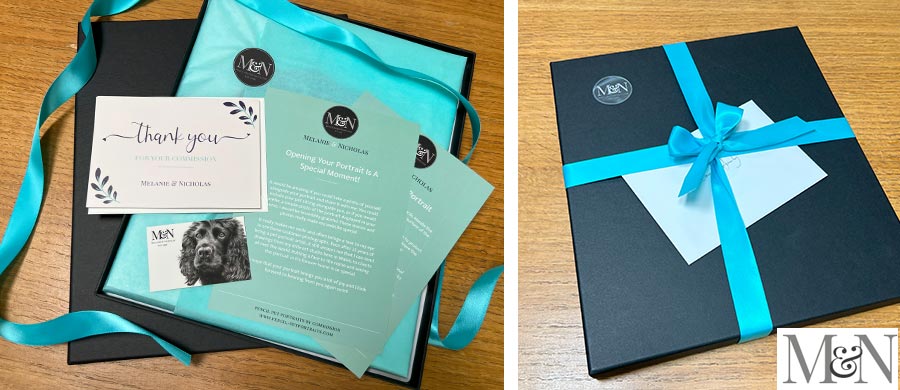 You can see a photo of a pencil drawing and it's packaging along with an oil painting and its packaging. They are all safe within a sturdy black photography box, tissue paper and ribbon.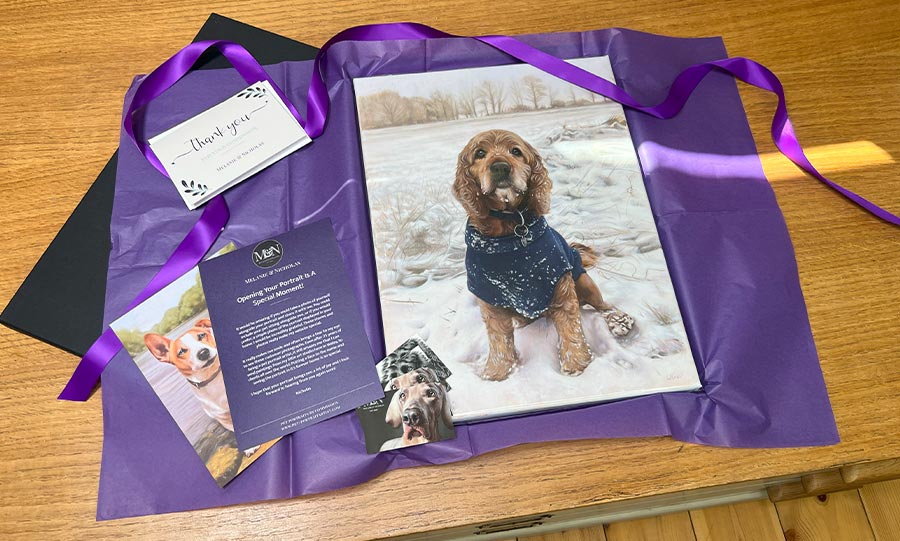 The final stage is to wrap it in foam wrap and place it in a double walled cardboard box. This makes the whole package safe and secure to travel, quite often, thousands of miles on it's journey all around the world, safely to your home.
We send our portraits on an express tracked service both overseas and within the UK. If you have any questions you are more than welcome to contact us at any time.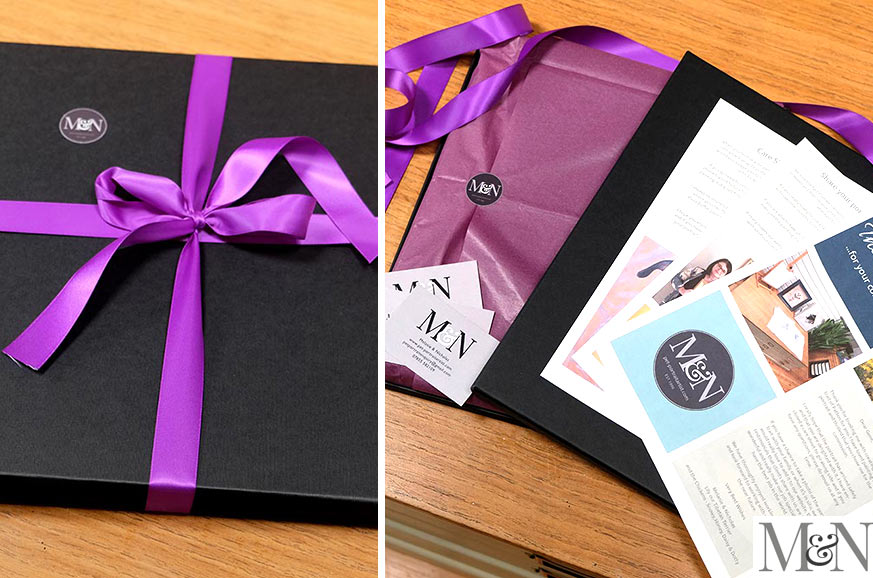 Pet Portraits Gift Vouchers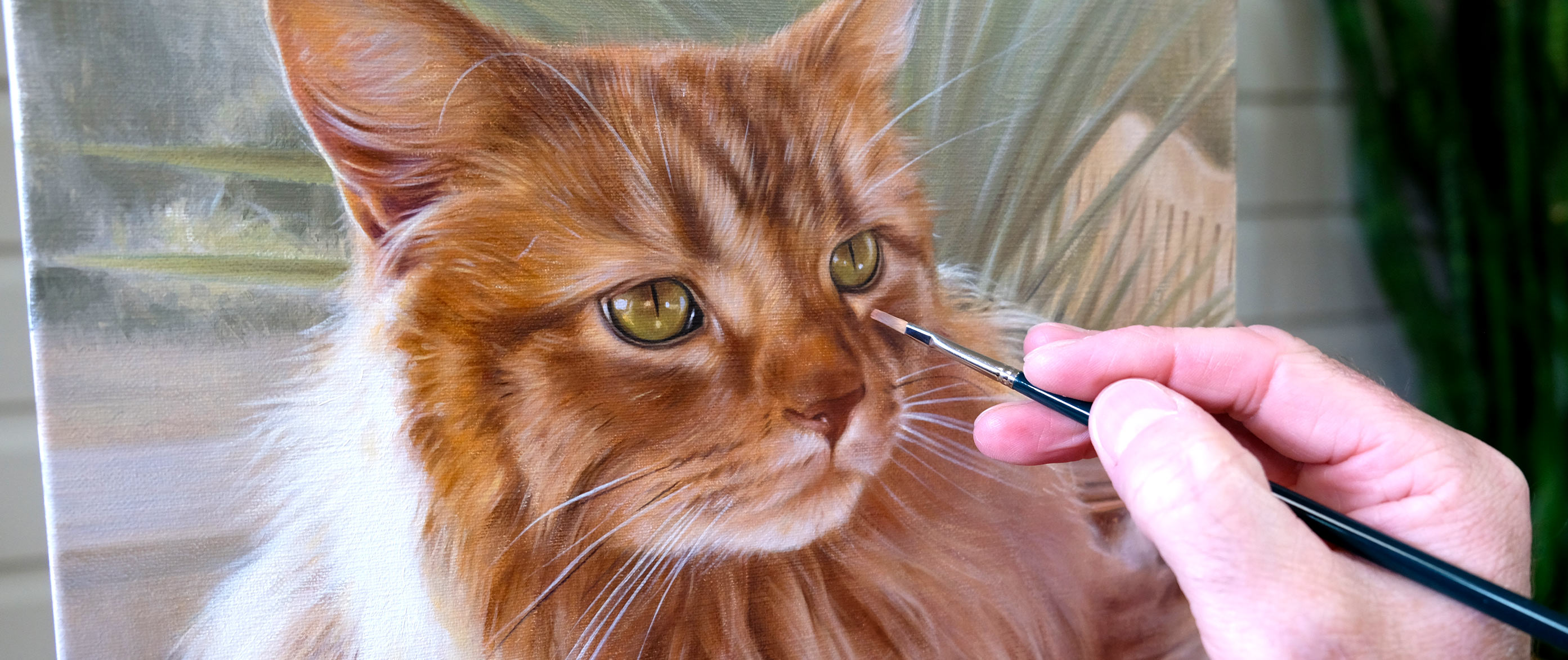 We do try to meet special occasions if we can, however it's not always possible at the busier times of year. In these instances we send a personalized gift card with all the information needed, in time for their special day. We can send to you or to the recipient and have two options....

1 - Make all the arrangements from choosing the photo, the design of the portrait, size and medium. Make full payment and be placed in our commission list, so that the recipient receives the portrait when complete.
2 - Pay the amount you wish to give the recipient. £500 or above for an oil painting or £200 or above for a pencil drawing. Send us a photo of the pet for the voucher card and leave them to decide everything. Either yourself or the recipient can pay for the remainder of the portrait.
The card size is 7 x 5 inches and we use Moonpig to send the cards worldwide. It contains all details required in the card about the gift and service. Email us at any time with your requirements. Last day for Christmas vouchers is 14th of December 2023.
Pet Portraits Frequently Asked Questions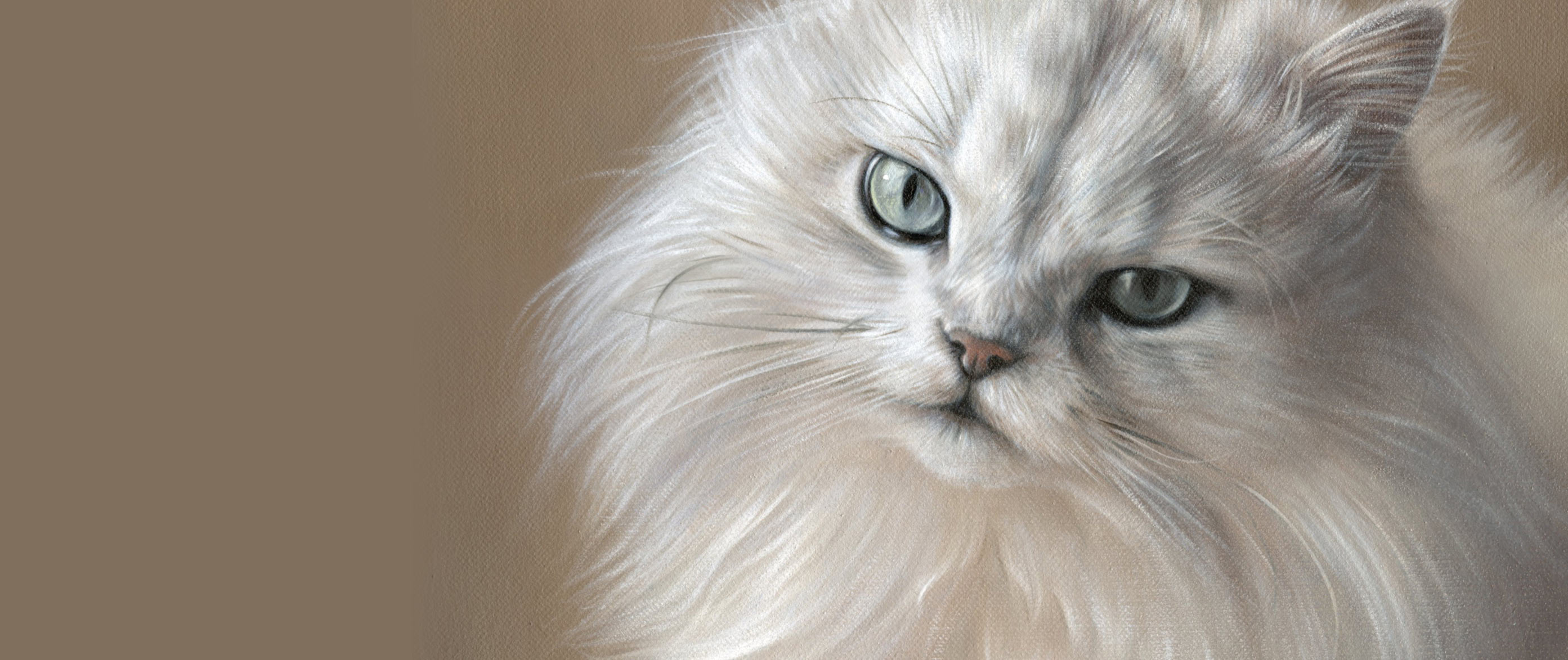 If this is your first time commissioning a pet portrait, this is the page for you! Here you will be able to read the most common questions asked about our portrait service. Have a read and if you have any further questions, you are more than welcome to email at any time!
How much does a portrait cost?
Scroll up to view our prices and sizes. We offer larger sizes and bespoke sizes too. Please email us for details.
How long to the portraits take?
We both have a waiting lists for our portraits. If you would like the artwork for a specific date please let us know when enquiring.
Do you send your portraits worldwide?
Our portraits are in homes all over the world. Here in the UK to France, Norway, Netherlands, Sweden, Hong Kong, Singapore, Australia, Canada, America and Hawaii to name a few. We love speaking to clients and hearing about where they live. When you get in touch - let us know where you are from and what its like!
Do you send your oil portraits rolled?
Rolling a painting may cause damage to the surface of the painting. When it's then stretched onto stretcher bars, this can warp or damage the painting further. So we would never roll an oil painting. Our oil paintings are painted on ready stretched canvas, on hardwood stretchers ready for framing.
Do you work from photos?
We can't express enough how important photos are. Many clients are surprised when they hear we work from one main photo for the pose. We never look at a range of photos and then draw or paint your pet in a different pose as to what we think your pet would look like. This just isn't possible for our precise detailed work and realistic style. By basing the artwork on one photo we can be sure to capture your pets personality and character. It is definitely helpful to have lots of photos of your pet, and we can use others for detail and colouring. The photo you choose needs to depict your pet well - a photo where you would naturally say - "Ahh that's a really good one of them". Remember - you know everything about your pet - however can only go by the photos you send
Are you able to take photos of my horses?
We are sometimes able to visit clients to take photos of their horses, depending on where they reside. If you are looking at having an oil painting and are struggling to take photos, please contact us and we can discuss your options.
Can I see what you portrait will look like before you start work?
We always create mockups or designs of how the painting will look before putting pencil to paper or brush to canvas. We use Photoshop to create a design and composition so that both you and we know what the portrait will look like. It is of course only a guide as we are limited using the computer to design the portrait, however it allows us and our clients to know exactly what the design of the portrait will be before starting. When Nicholas puts brush to canvas, or I put pencil to paper, it all comes together very naturally.
Do you ship artwork overseas?
We work with clients all over the world and our artwork is displayed far and wide in our clients homes - USA, Canada, Australia, France, Switzerland, Singapore, Hong Kong to name a few.
How do I make payment / deposit?
Once we have viewed your photos and designed the portrait so that you know exactly what it will look like, a deposit is required to save your space in our commissions list. Clients based in the UK pay via bank transfer. Overseas clients can pay via debit, credit card or Amex. We email a secure invoice.
When do I pay the final amount?
Final payment is invoiced one week prior to starting. Please read our T&C's prior to ordering.
Can I pay by instalments?
Yes, please contact us to discuss your options.
What size photos shall I email and how many should I send?
We like to see the image at the size it came from your digital camera or mobile device if possible. When photos are emailed they can be resized, please make sure they are the original size. The more photographs you can send the better. If you need help just drop us a line!
Can you make a group portrait from separate photos?
We can create paintings or drawings of as many pets as you would like in the same piece of artwork. It's always best to provide separate photos of each pet and we can put them together in the drawing or painting for you. Have a read of our pet portrait photography section which should give you an idea of how to take good clear photos of your pet.
Can you take photos of my dog?
If you are in the UK and would like to visit our studio, you are more than welcome. We have a very safe and secure garden for your dogs to roam around in and if you have any questions about visiting just drop us a line. We can do a photo shoot with them outside and you can come into our studio for a cuppa. We can take then a look at the photos on the computer and choose which you feel would work best for your dog portrait and chat about its design. We do have chickens in our garden, so if you feel your dog would not get on with them, let us know and we will put them away safely.
How many photos should I take / send?
If you are taking your own photos for your dog portrait, our advice is always to take as many as you possibly can. Try to use a good quality camera or phone if you have one. I would recommend taking a good long photoshoot of about 40 photos of each dog. It sounds a lot, however I can guarantee you will get the perfect photo. Take your photos outside, getting down on the dogs level and keep them fairly close in the frame. Try to walk towards your dog, rather then zooming in when using a mobile as this degrades the photos quality. Why not pop over to our photography tips page as it will give you all of the information you need..
Can you paint multiple dogs?
We can paint or draw as many dogs as you would like in your dog portrait. If you would like a bespoke quote, you are more than welcome to email us your photos along with your requirements. Don't forget the more dogs you have in the portrait, the bigger your portrait will need to be.
I have three dogs but no photos of them together?
In actual fact, we much prefer to see single photos of your dogs to work from. Sending a group photo of the dogs can be helpful for us to see size differences between them all, however it's not imperative. We rely on our clients to give us feedback when we create the design of the portrait and so everything is arrange before any work starts.
What kind of photograph do you need?
We have lots of photography tips pages for each subject and medium. Having a read of which ever page is applicable to you would be really useful if you are taking new photos of your pet. If your pet is no longer with us, please send us anything where they are clear and close in the frame and we can discuss your options..
What's difference between Oil and Pencil?
We create portraits in oils and pencil. Oil paintings are in full colour, painted by hand using fine brushes on Italian Linen canvas. Oil paintings don't need to be framed under glass. Pencil drawings are black and white (greyscale) and they are hand drawn using a range of pencils on Italian Fabriano paper. Drawing must be framed under glass with a mount / matt. The mediums cannot be mixed together in the same portrait.
Can I have a bespoke size?
All of our portraits are unique to each client and so you can have any size of portrait on paper or canvas. Email us with your ideas and we can chat about your requirements and send you a quote. Apart form your budget, you might like to think where you would like to display the painting or drawing. What size space do you have available - not forgetting to add extra on for framing. I often get my clients to cut out pieces of paper to various shapes and sizes and hold them up to the wall where they think they would like the painting or drawing to be. This helps clients to visualize what it would be like. if you need any help and guidance, do drop us a line at anytime.
Can amendments be made to the finished portrait?
A final photo of the painting or drawing is emailed to the client direct for them to check to see if they would like any tweaks made.
How much is shipping and how are portraits sent?
This depends on the size and destination of your portrait. We flat pack very safely and securely and our portraits are sent on a tracked service. We also try to use environmentally friendly products and packaging, everything we send our portraits in, can be reused or recycled.
Do you offer prints of the portraits?
We are unable to provide prints, however we can provide a high resolution photo. This means clients can have their portrait printed with their local printers or alternatively with an online printer. Please let us know upon orering so we can arrange this for you.
Do your portraits come framed?
We are not currently offering framing at this time.
Do you offer gift vouchers?
Scroll up to read about our gift voucher cards and how the process works.
Can I use my painting or drawing commercially?
Clients hold the copyright on their photo that we work from, however we hold the copyright on the artwork created from the clients photo. We will never reproduce or sell your portrait / painting or allow its usage on any other website apart from ours and our social media pages without written permission from the client.
Do you display the portrait on your website?
Once the artwork is complete and in the hands of the recipient we reserve the right to display the artwork for our own promotion on our website and social media. If a client is unhappy about their painting or drawing being displayed, they must let us know upon ordering.
Who are you?
If you have just arrived to our website and want to find out about us Lily our Tibetan Terrier and our chickens you can use the navigation at the top of our website in the 'about us' section. You can also read about our lifestyle living in rural Wales in an old welsh cottage, how we have renovated it and the garden over the last 10 years along with our purpose built art studio in our woodland garden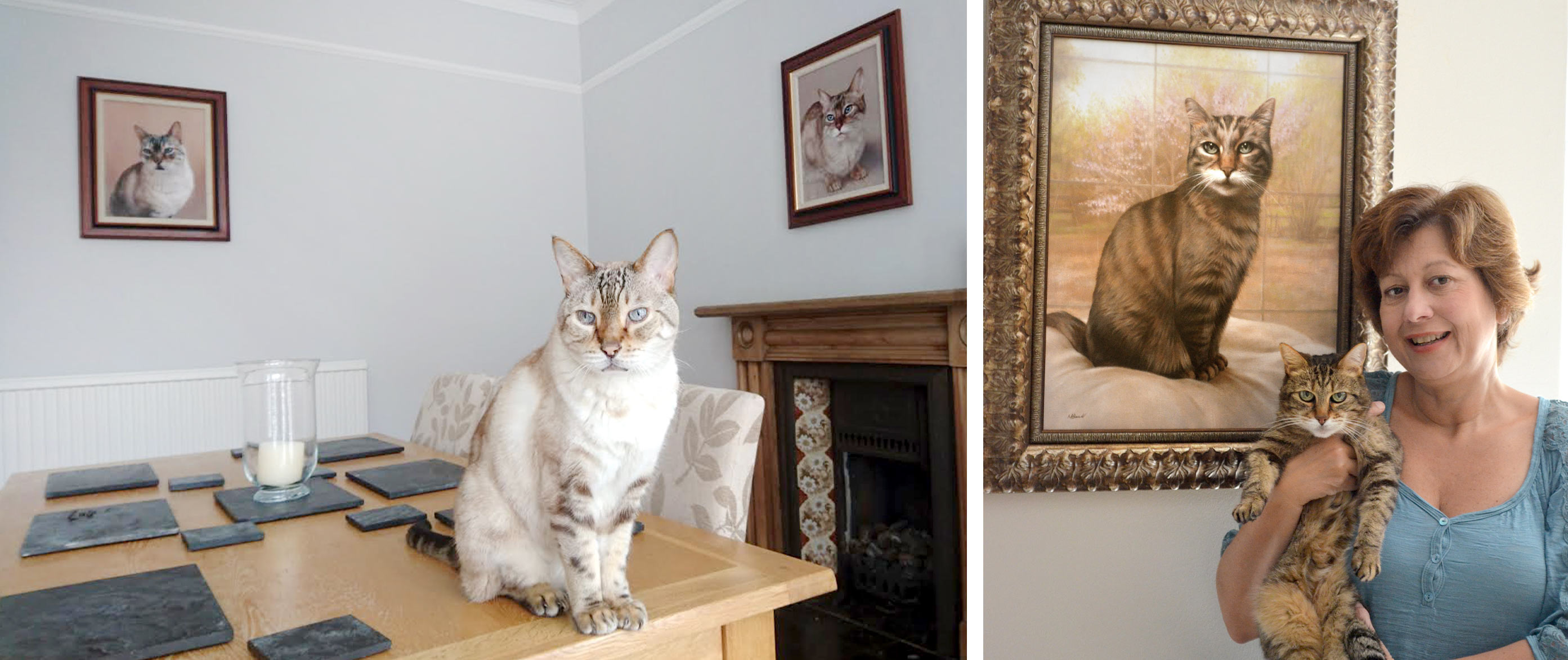 Testimonials.....

Hi Melanie and Nicholas,
Just wanted to let you know how excited we are about Coal's portrait. I have him as my wallpaper on my phone and iPad and I have sent it to all who know him. Everyone is so impressed with it, not only for its beauty and dimensions, but also for how his personality has been captured. We cannot wait until the actual portrait arrives. If our copies are so impressive the real thing will be astounding. Thank you once again.
Fondly, Julie