Pet Portrait Artist Commission Information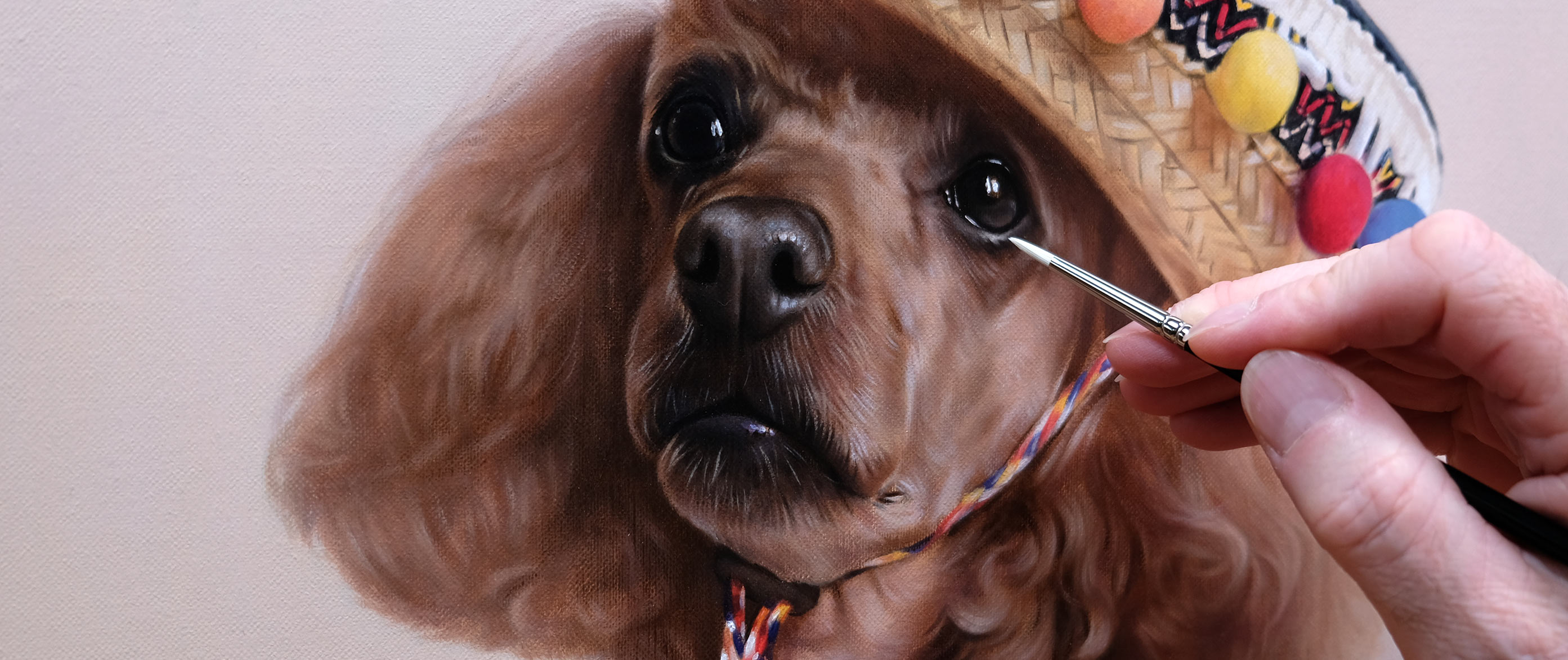 Commissioning an artist to paint or draw your beloved pet can be a daunting process. We have been accepting commissions for 24 years. We are very experienced in not only understanding our customers needs, we pride ourselves on our friendly and professional service
We have many returning customers, a fact we are very proud of. We have portrayed generations of dogs, cats and horses for our customers over the years.
Contact us via our pet portraits contact page, or message us via Whatsapp if you have it for instant communication.
You may like to visit our pet portrait prices page to find out how much a pet portrait costs. If you have specific ideas for your portrait, email us your photos and we can create a tailored quote for you.
Step 1 - Photos
After the initial contact, the first and most important step is to send us your photographs. Photos are absolutely key in the process. We require good quality, clear and in focus photos to work from. This is really essential and we can't stress enough how important good quality photos are. The better the photos, in reality, the better the portrait will be. Have a look at our pet portraits from photographs tips page, as it gives a good idea of the kind of photos we use.

We work from one main photo for each animals pose and can use others for detail. If you are looking at having two or more pets together in the same scene, it isn't imperative to take photos of them together. it is useful for us to see photos of them together to see the size relationships between them, however we often work from individual photos and put pets together in the scene ourselves.

Step 2 - The Mock-up
Once we have seen your photos and you have let us know the kind of portrait you are looking for - i.e. Pet Portraits in Pencil or Pet Portraits in Oils along with an idea of size, we can then start to design the portrait for you with your ideas. We use an iMac and the latest version of Adobe Photoshop to create a 'Mock-Up' using your photos. This enables us to go back and forth with our clients to make sure the composition is perfect and exactly what our client wants. We have had many years of experience using this software and it enables us to very quickly create designs for our paintings.
This also enables the client to clearly see how their painting could look - i.e. the shape of the canvas, the design, the colour scheme etc. It is very helpful when creating a mock-up of two pets together as we can confirm the size relationship between the pets to make sure everything is exactly the right size.
Please note that the mock-up is digital and watermarked when sent to clients. It is not the final artwork. All of our artwork is traditionally hand painted and drawn by ourselves. The mock-ups are only intended to be a guide as to what the final portrait could look like.
Step 3 - Deposit
Once the design of the portrait is arranged, we ask clients to pay a deposit to secure their place in our commissions list. Clients based in the UK can pay via bank transfer which is our preferred method, or debit / credit card. Overseas clients can pay via debit, credit card or Amex. We email a secure invoice. If you would prefer to make payment over the phone, you can call us in the studio. We work on a first come first served basis and like many pet portrait artists we are always booked up in advance. If you have a portrait you would like to give as a gift and the date is fairly soon, we do offer bespoke pet portraits gift vouchers »
Step 4 - Framing & Engraved Plaques
Many clients opt for us to arrange framing. It is completely optional but we have found clients love to receive the artwork framed and ready to display on their wall. Our framers work on a 4 week timetable, so we like to make arrangements with our clients as soon possible.
We work with two framing companies who provide us with the most exquisite frames, from traditional wooden frames to ornate swept frames. Our swept and moulded frames come in gold, silver and painted colours along with gilded gold and silver leaf.
We also work in conjunction with an engraver who engraves plaques for us. This is a great way to add the name of your pet on the frame.
We have plenty of options for frames and plaques and clients can see a handful of our previous commissions in our - Bespoke Framing Gallery »


Step 5 - Pay the final amount
The final payment is made just prior to us starting the artwork. You have access to our private commissions list page and here you can keep track of where your commission is in our list. We will notify you when we are preparing to start your portrait for you to pay using the same method as the deposit.
Step 6 - We create your portrait!
As soon as the painting or drawing is complete we take a number of photographs under our professional lighting and email it to you for final approval. If there are any areas needing to be tweaked, they can be done at this stage, just let us know and we will be happy to amend for you.
Step 7 - Packing and Shipping
It often takes many hours to flat pack our pet portraits, particularly the larger oil paintings. This is a very important stage. After all of the time and effort we put into our artwork, they must be packed really well. We have very high standards when it comes to packing our portraits!
First of all we use cellophane to wrap the portrait to keep it free from dust. If you are taking your portrait to your local framer, it would be wise to keep the painting or drawing wrapped in the cellophane to protect it until it has been framed.

Oil paintings and framed portraits are then wrapped in lots of foam-wrap. The package is then measured and sheets of hardboard are cut to size. A final few layers of foam wrap are wrapped around the portrait which is then placed in a double walled cardboard box.
We send our portraits on an express tracked service both overseas and within the UK. They don't stay in the postal system too long, it's only a few days and the portraits arrive to our happy clients! If you have any questions you are more than welcome to contact us at any time.
Testimonials.....

Hi Melanie and Nicholas,
Well he arrived today - and I "daren't" (see how I'm picking up so quickly) tell you that he sat on the porch for 2 hours! I work from home and get a lot of FedEx packages for work and they just drop them off. I heard the doorbell ring, but thinking it was them forgot about it. Anyhow, he was safe and sound : ) As for the portrait itself, I'm just speechless. He is beyond stunning. Just brilliant! There is not one thing I could alter. And I'm so glad I went up on the size as he is literally life size which I didn't realize he would be. It's like he's just sitting in the room with me. He's just beautiful - as beautiful as he was in real life - I could not be happier!! I'm a big sap and of course cried, but they are happy tears. I'm just so thrilled to be able to have this wonderful memory of him to carry with me always. He was such a special boy - there is not a day that goes by I don't think about him - so to have this to see everyday is just wonderful. It's just so very special. I can't thank you enough of course!!!! :) so THANK YOU!!!
Kelly
Visit next...
If you would like to know more about our service why not visit our Pet Portraits FAQ's