Pet Portraits Commissions in Oil & Pencil by Melanie & Nicholas
A Very Warm Welcome to our pet portraits commissions in oil & pencil. My name is Melanie and I work alongside my husband Nicholas in our beautiful Art Studio nestled in our woodland garden in the UK. We are professionally trained pet portrait artists with 25 years of experience. We provide high end pet portraits of dogs, cats and horses based on clients own photographs in Oils and Pencil. Our work is traditionally hand painted and drawn for clients worldwide. We provide a premium service, creating unique pieces of art for the discerning customer. We are praised for our professional and friendly service and have worked with a number of high profile clients worldwide. We have had many years of experience painting and drawing and you can be confident that we can provide a portrait and level of service both you and your pet deserve. Commissions are always treated confidentially and you are more then welcome to contact us at any time if you have any questions.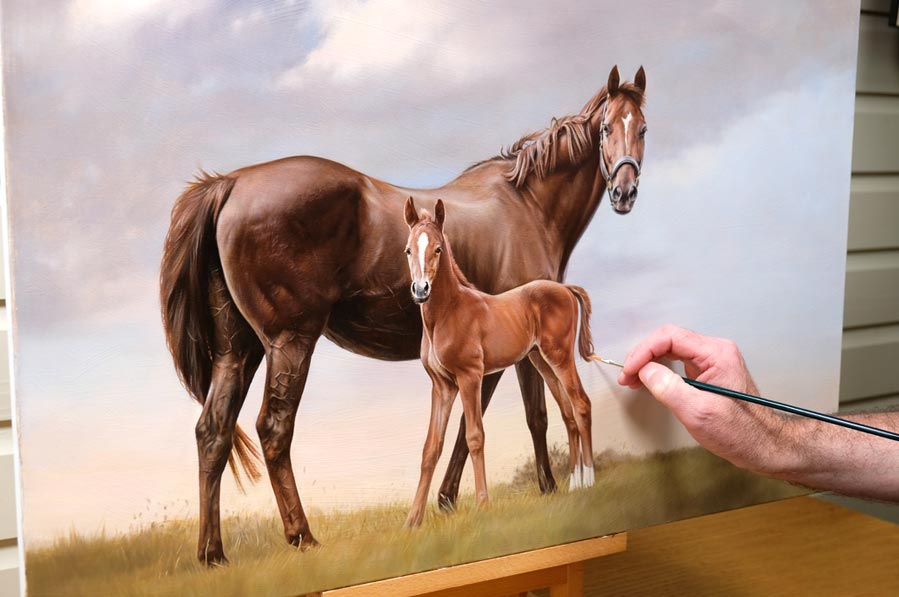 Latest Pet Portraits Gallery
Visit our Latest Pet Portraits Gallery to view some of our most recent commissioned pet portraits. We select some of our favourite portraits, so you can keep checking back monthly to see what's new!
Pet Portraits Artwork to Photo Comparison
Visit our Pet Portraits Artwork Photo Comparison page to view a selection of artwork 'side by side' along with the photos we worked from. Its our job to capture 'your pet' ....not just any pet and we hope this explains a little more about what we can do.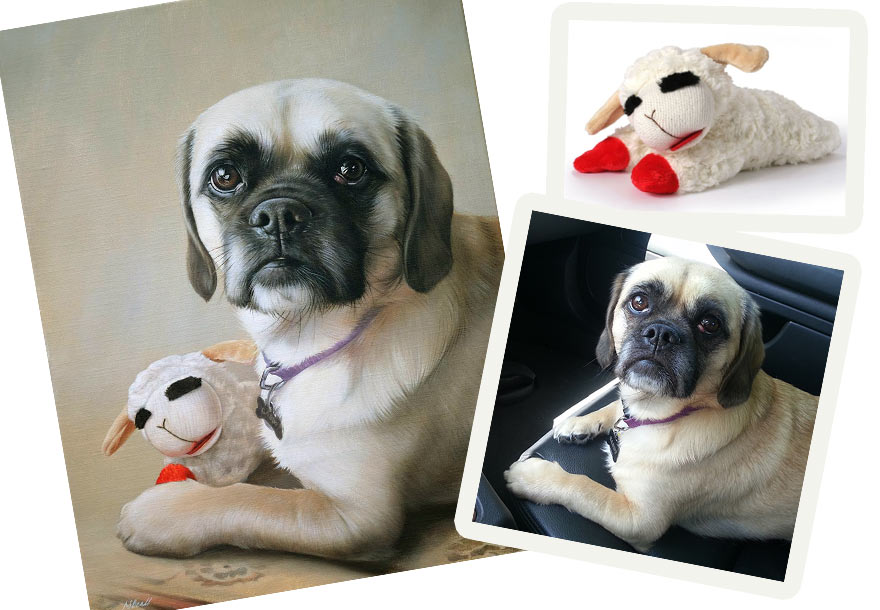 Pencil Pet Portraits Drawing Gallery by Melanie
Visit my Pencil Pet Portraits Drawing Gallery to see some of my (Melanie's) pencil drawings including the portrait below. I create original hand drawn portraits for clients all over the world based on your favorite photos of your pet. I love chatting to my clients so please feel free to message me via WhatsApp to chat about your requirements, whether its for a pencil drawing or an oil painting. I am here to help!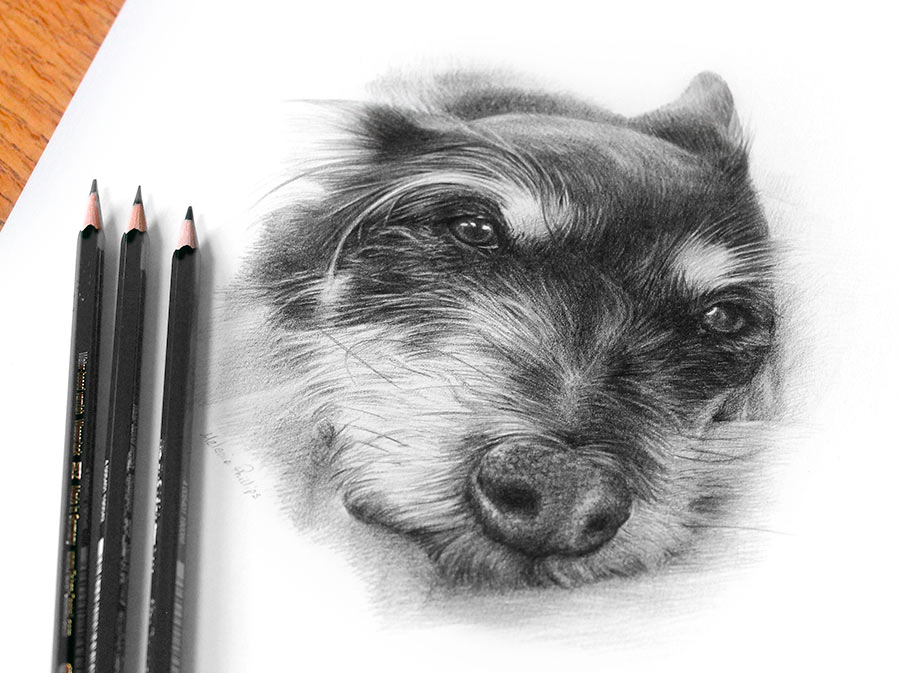 Cat Portraits Oil Gallery
View our Cat Oil Painting Gallery to see a beautiful range of cat portraits by Nicholas. Read about the commissions and the portraits along with viewing the reference photos and how the portraits develop.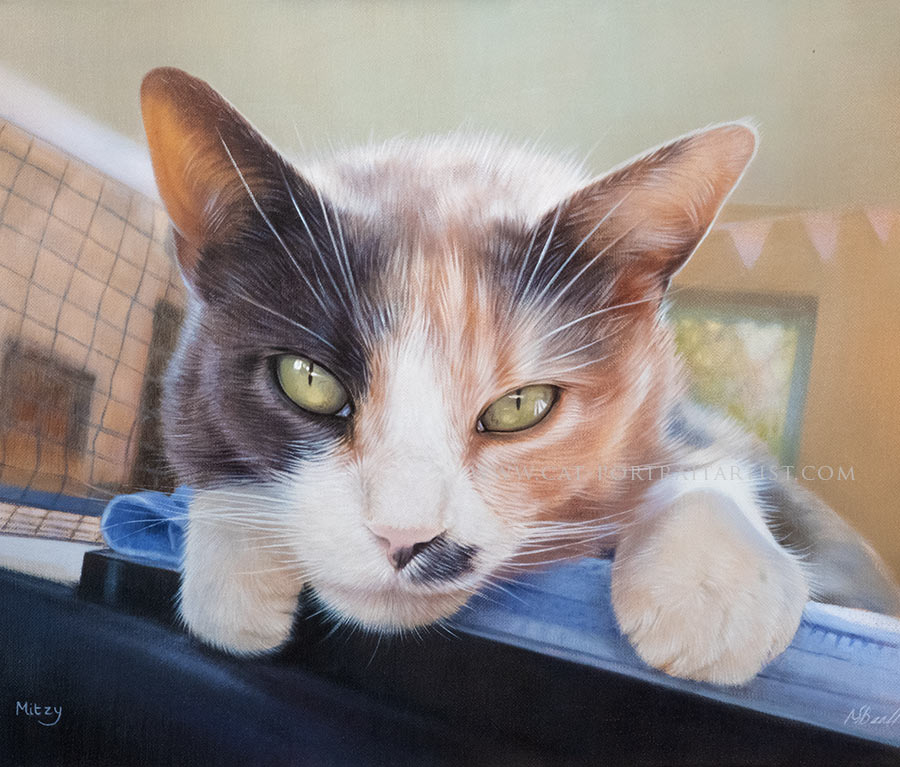 Oil Dog Portraits Gallery
View some of the beautiful oil portraits of dogs, that Nicholas has created in our hand painted Dog Oil Portraits Gallery. Unique 'one off' commissions from clients all over the world.
Horse Portraits in Oils Gallery
If you are looking to commission a horse oil portrait, you have come to the right place! As you can see from the horse portrait of Ellie below, Nicholas' portraits are highly detailed and realistic, however still retaining that all important painterly feel. Visit our Horse Oil Portraits Gallery to see more amazing horse portraits.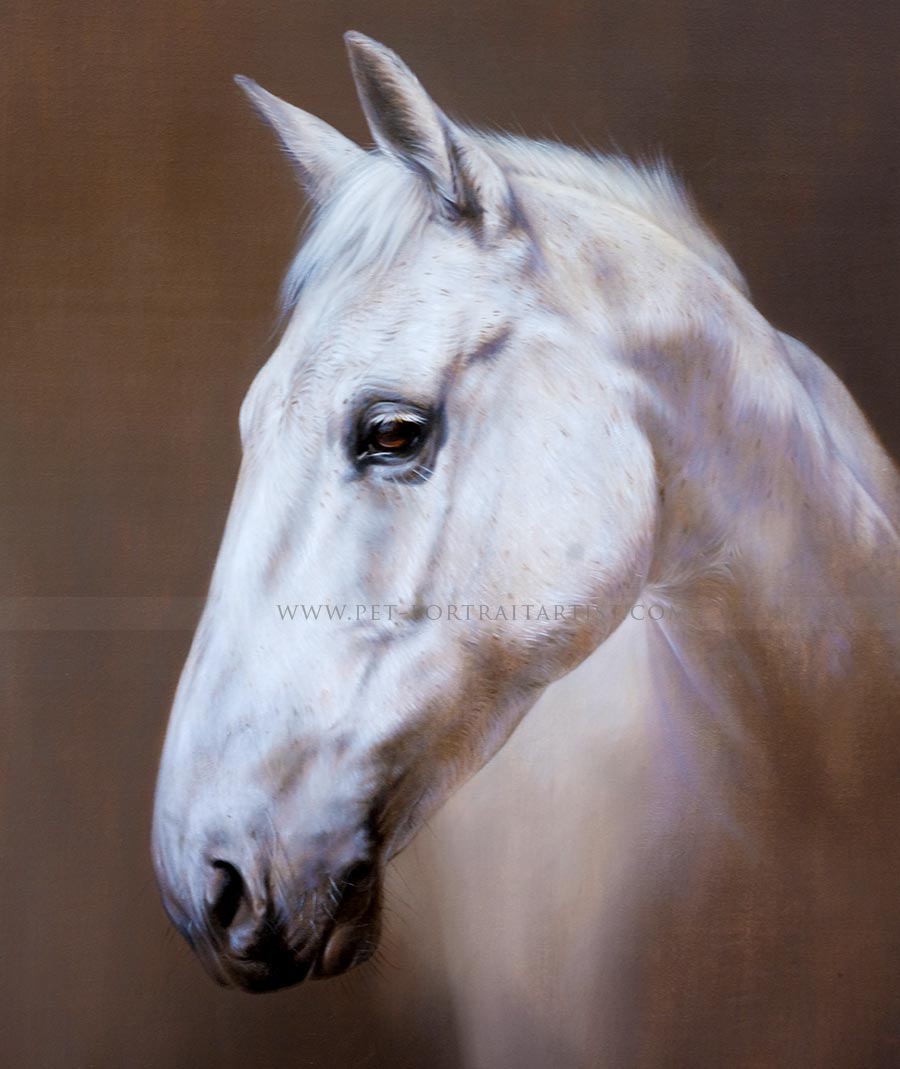 Pet Portraits Testimonials - Happy Clients!
Visit our Pet Portraits Testimonials page to view some amazing photos clients have sent us of themselves with their portrait. The photo below is from the owners of the portrait of Max. Minoo and her family very kindly took this photo below and sent some beautiful emails as you can read.
Melanie and Nicholas,
We've just put it up to keep it safe but we need to repair the holes from the other frames and will take some family photos next week when Natalia's back home. Thanks for giving us such an amazing gift. I can't stop looking at it. My baby is back with me. So glad I found you 💜❤️💜❤️💜❤️💜
Thanks Melanie! I will never forget your kindness, support and understanding 💜❤️💜
Minoo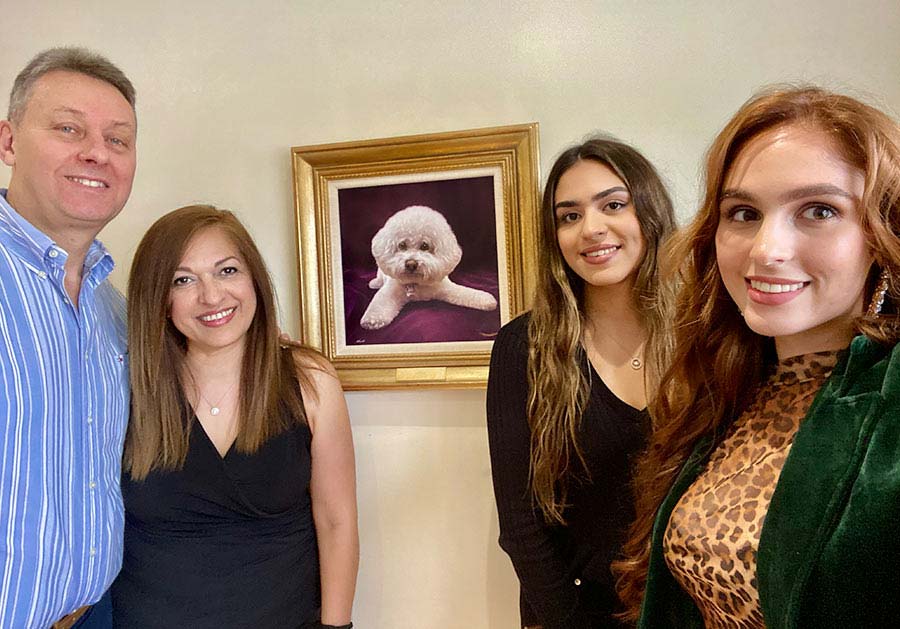 Commission a Pet Portrait. We provide the Full Package...
The photo below shows five oil paintings Nicholas created for returning clients Harlan Crow and his family. If you would like to commission an oil painting or pencil drawing from us, all we need is your favourite photo and we will do the rest! We can provide you with everything you need. Clients are able to customize their commission down the the last detail and we have plenty of options to suit everyone's taste and budget. Visit our pet portraits contact page and let us know your requirements.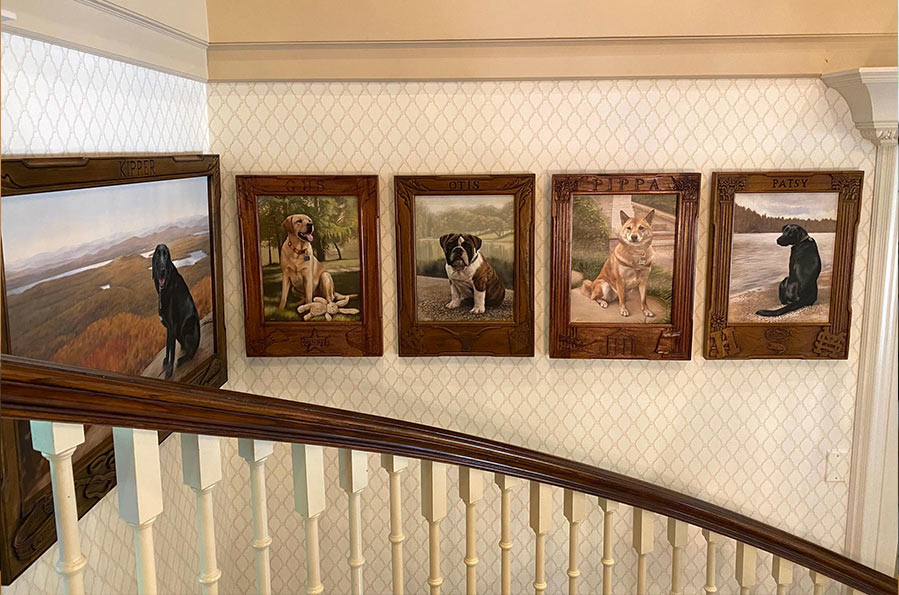 Pet Portraits Photography Tips
If you would like help in learning how to take the perfect photo of your pet for a portrait, similar to this gorgeous painting of Dudley below, head on over to our Pet Portraits Photography Tips page. If you need any specific guidance, please do feel free to drop us a line at anytime.
Take A Look Around Our Pet Portraits Studio
We have a lovely old welsh cottage and studio set in an idyllic rural scene. Clients are always welcome to visit along with their pets to be photographed. The kettle is always on and I love baking, so there's usually some home made cake in the tin. Visit our about us page to find more about both Nicholas and myself, our Welsh Cottage and Garden, along with our Art Studio and seeing it inside with our art materials too. We hope you enjoy your perusal around our little corner of the world.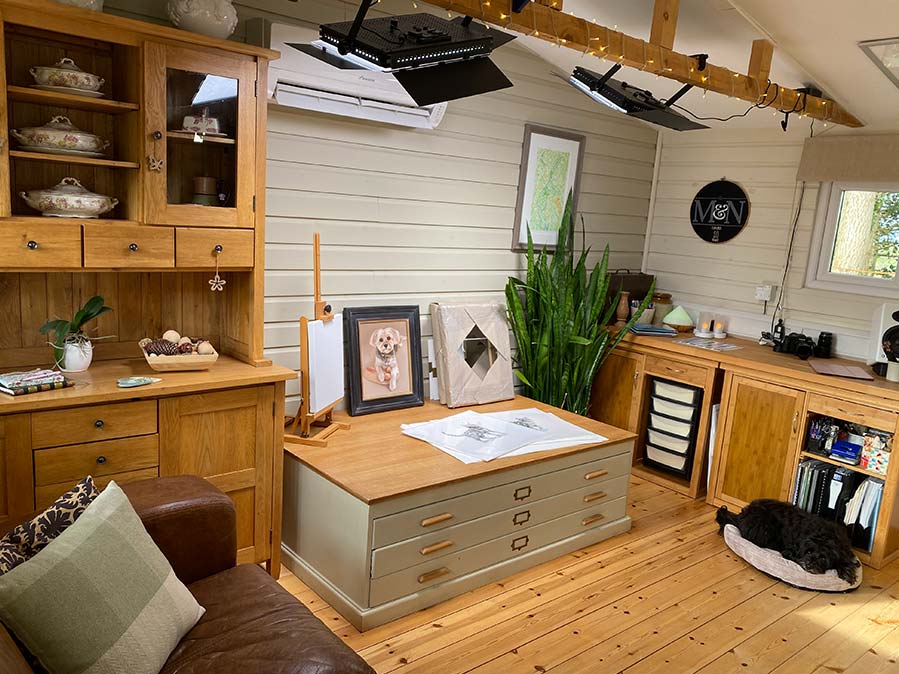 Horse Portraits
Here is one of Nicholas' most recent horse paintings with owner Jessica.. along with a photo of Jessica opneing the painting.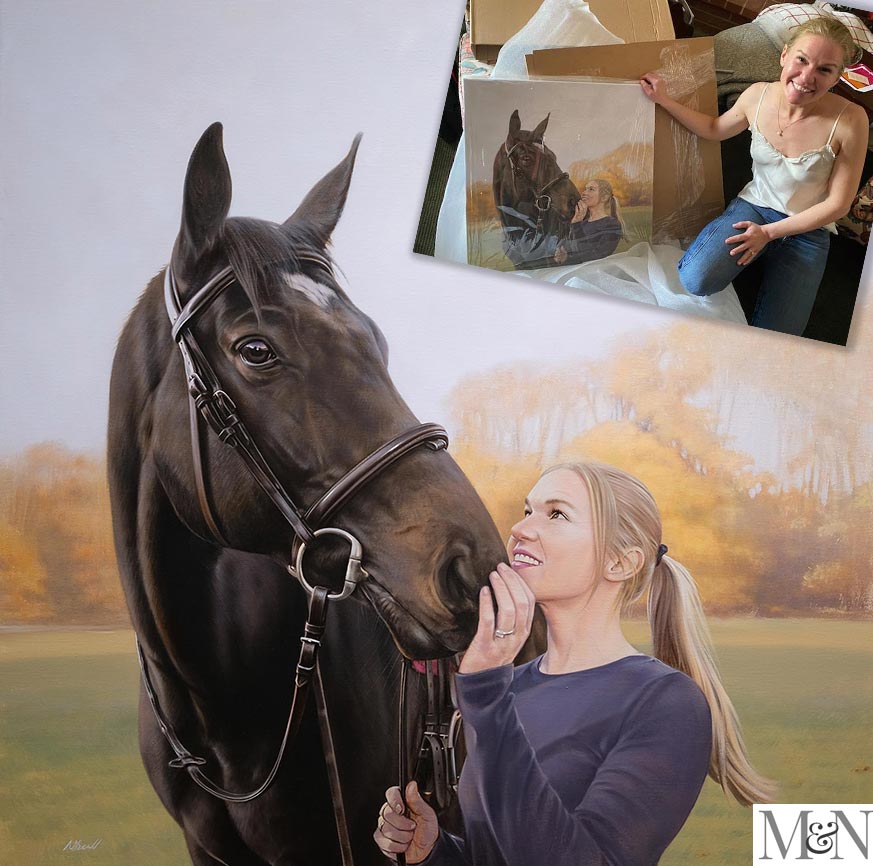 Quality..Craftmanship..Perfection...
Chatting over the years with our clients, we hear time and time again that they have been looking for someone special for a long time to paint their pets and they are so pleased that they have final found what they have been looking for. 
We put this down to many years of experience in painting and drawing animals, along with having a good grounding in wildlife illustration at art college, studying anatomy, fur, expressions as well as having experience in other forms of art too. 
We are able to capture, with accuracy, the essence and character of each individual pet and we believe that is what elevates our work above the crowd. I can assure you, you wont regret commissioning a portrait today.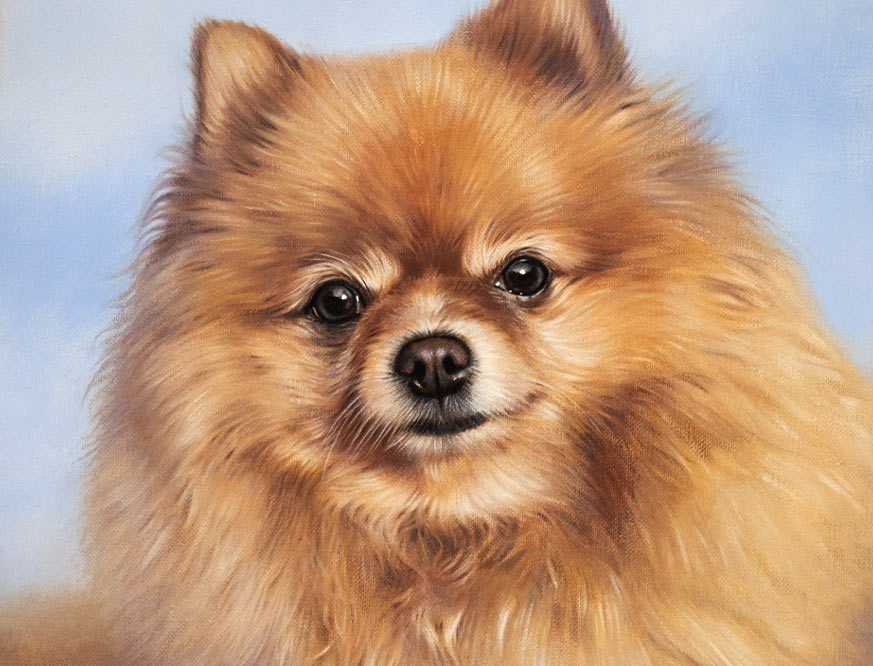 Contact Us Today to Start the Pet Portraits Commission Process
Send us your favourite photo and we will create you a unique, one of a kind portrait to your specification...all delivered safely to your door. If you would like to commission a pet portrait from either myself or Nicholas, please drop us an email or message us via WhatsApp or Messenger at anytime!
Happy Customers....
Pure genius, talent such as that possessed by Nick and yourself should be treasured. Chester and Minnie have been captured in a way that we could only have hoped for but perhaps never really expected. I wish that you both knew our dogs because only then could you really appreciate how accurately they have been portrayed. I could go on and on but it's easier to simply say 'we're delighted'. I shall be recommending you both to just about everyone with an animal. Perhaps somewhat oddly, I will continue to read your blog even though the pictures are finished. I'd really miss it if I didn't. Carl Cooper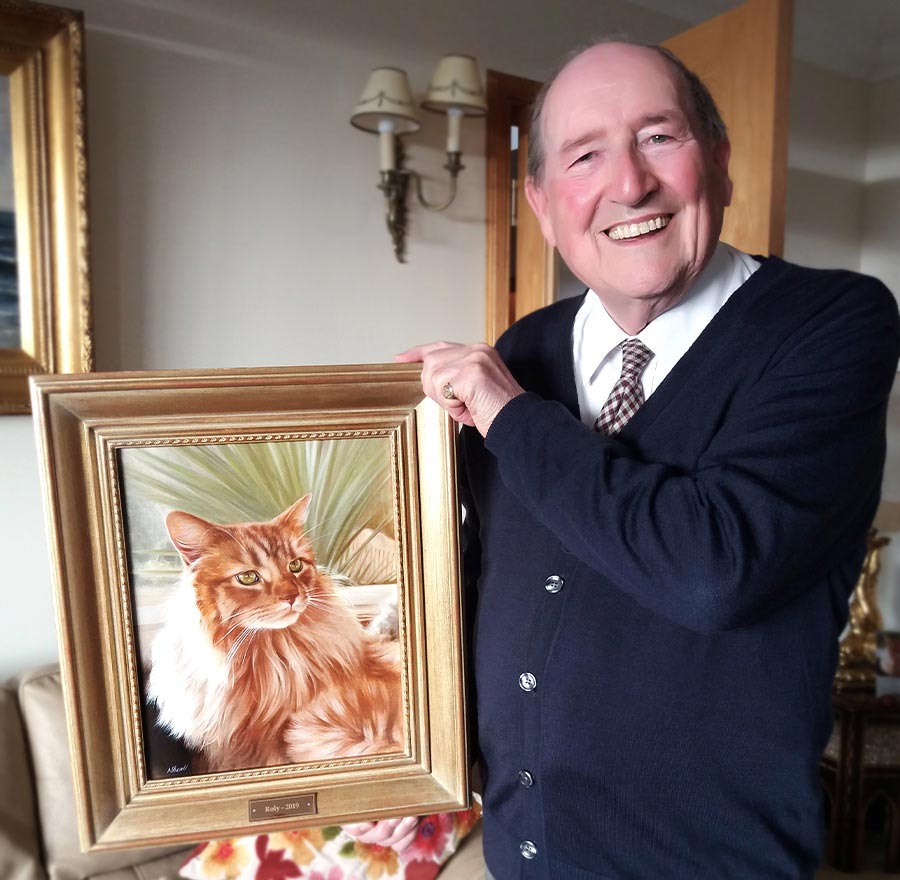 Testimonials.....

Hi Melanie and Nicholas,
....Going into this process felt a bit overwhelming. Starting from scratch and trying to find someone who could give us what we wanted seemed like an impossible task at first.
I saw so many dog portraits online that were a little too impressionistic, or seemed to not accurately represent the animal they portrayed. I dreaded sending off pictures to an artist and getting back an expensive painting that looked nothing like my dogsters.
The reality of the process with Melanie and Nicholas was a dream. They were so careful, thoughtful, and responsive along the way. They worked hard to make sure that we knew what we were getting and were going to be happy with it. They collaborated with us on the source material and allowed us to track each step of the creation once it began. There was no opportunity for unwelcome surprises given the diligence of their process.
We are so happy with our choice. We wanted the best and that's what we got with this team......
Nicole Poteat