Melanie Phillips
Welcome to my about me page. As you probably know from looking around our website my name is Melanie and I am a pet portrait artist. I met Nicholas at college over 27 years ago and after spending a few years doing a variety of illustration jobs with London based publishers, we decided to set up on our own....and here we are today. Every business is unique and I don't think we know a husband and wife artist team quite like us! It has taken us a lot of time and effort to become successful in what we do and we are very proud of our achievements. The photo below is of myself and our Tibetan Terrier Lily in our little Welsh cottage.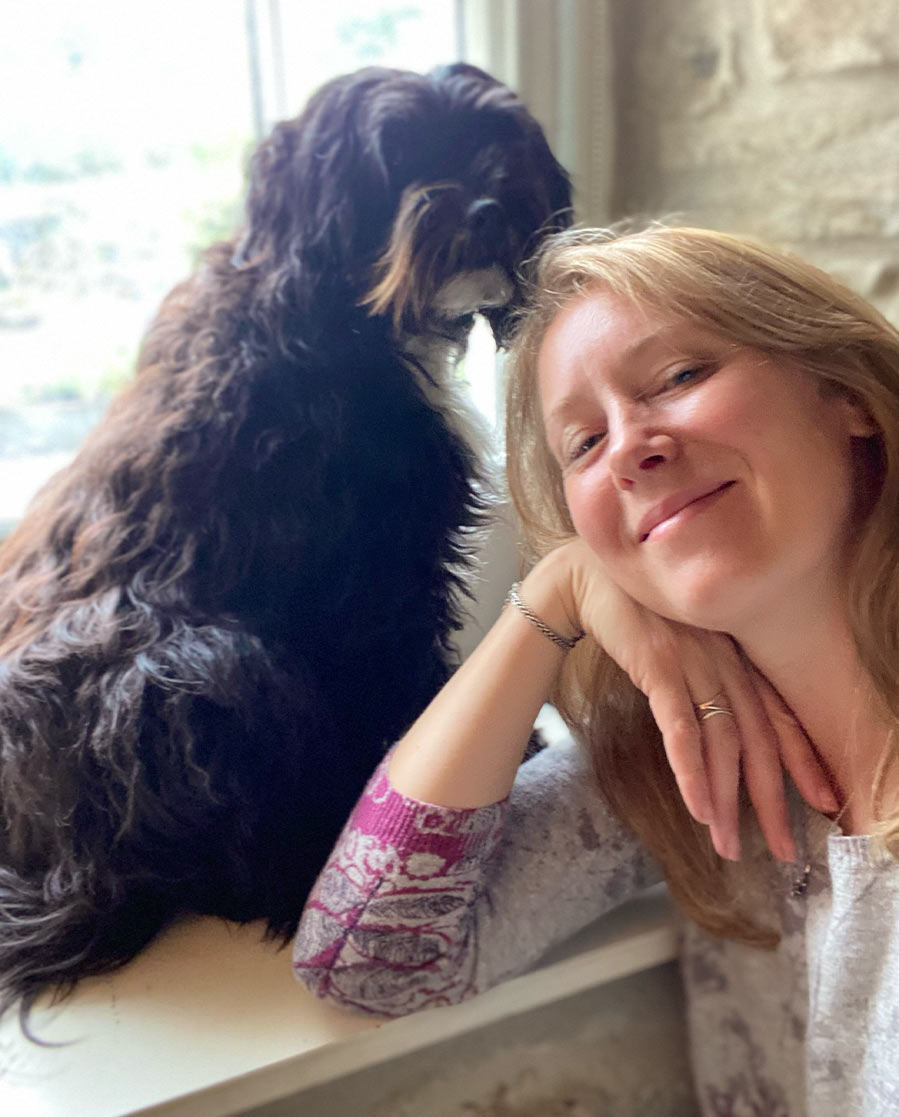 I grew up on a smallholding surrounded by animals. I was in my element. Chickens, ducks, guinea fowl, geese, a goat, pigs, piglets, cows, calves, sheep and lambs. They all had names, they were my best pals and I loved it. I had 15 acres to roam in and build camps, a little stream to dam up to make puddles and ponds for the ducks. It was a great childhood! We still live here in Wales, not far from where I grew up. The garden is heavenly and we try to improve it every year. The photo below is of me standing next to a sunflower our neighbour gave us as a small plant. It grew huge!!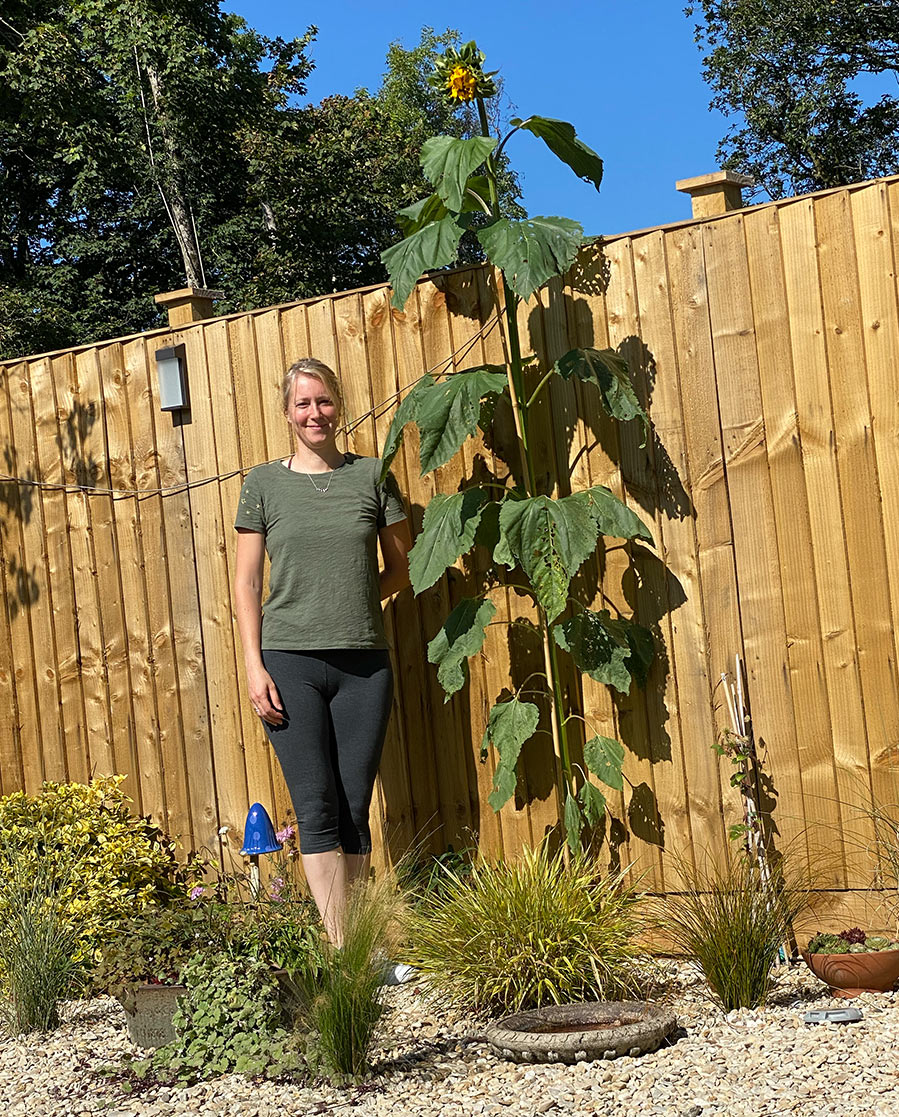 Nicholas and I live in a little Welsh cottage, in the heart of the rural countryside in Wales and we love it here. The photo below was taken in our living room at Christmas 2021. We have renovated the cottage to restore its natural features and absolutely love every minute of being here.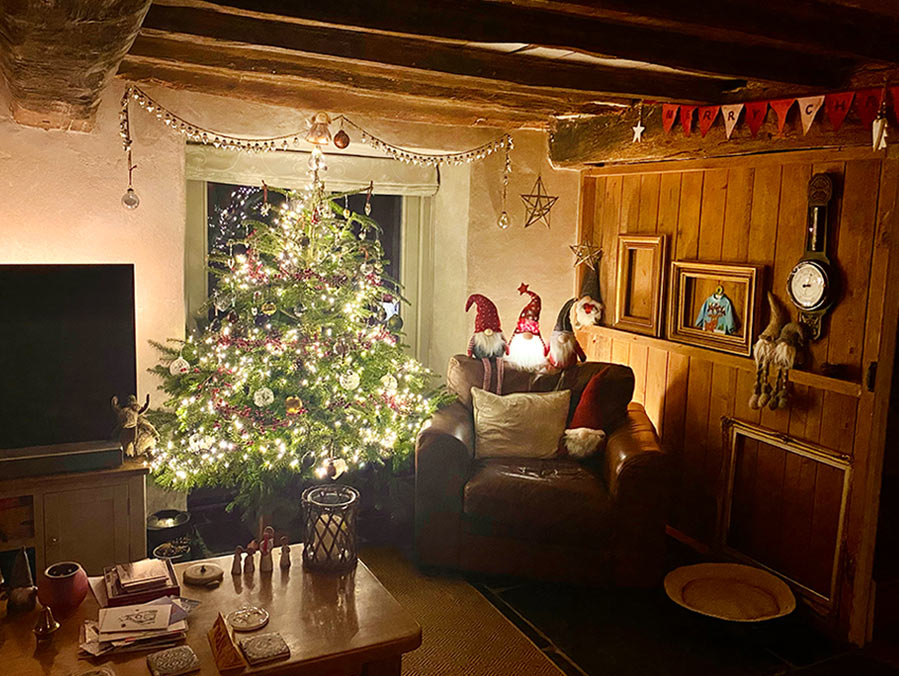 The photo below was taken in our living room in the little alcove and you can see the beams and woodwork in the reflection of the mirror. The photo was taken for an art challenge I was setting students. I work for the London Art College and help with the website and social media. I used to teach and write art courses for them for many years, however now our business is so busy, and there are only so many hours in the day, I cut back my hours. I love working for them and interacting with the students. It's great fun and I am very lucky to be part of the team.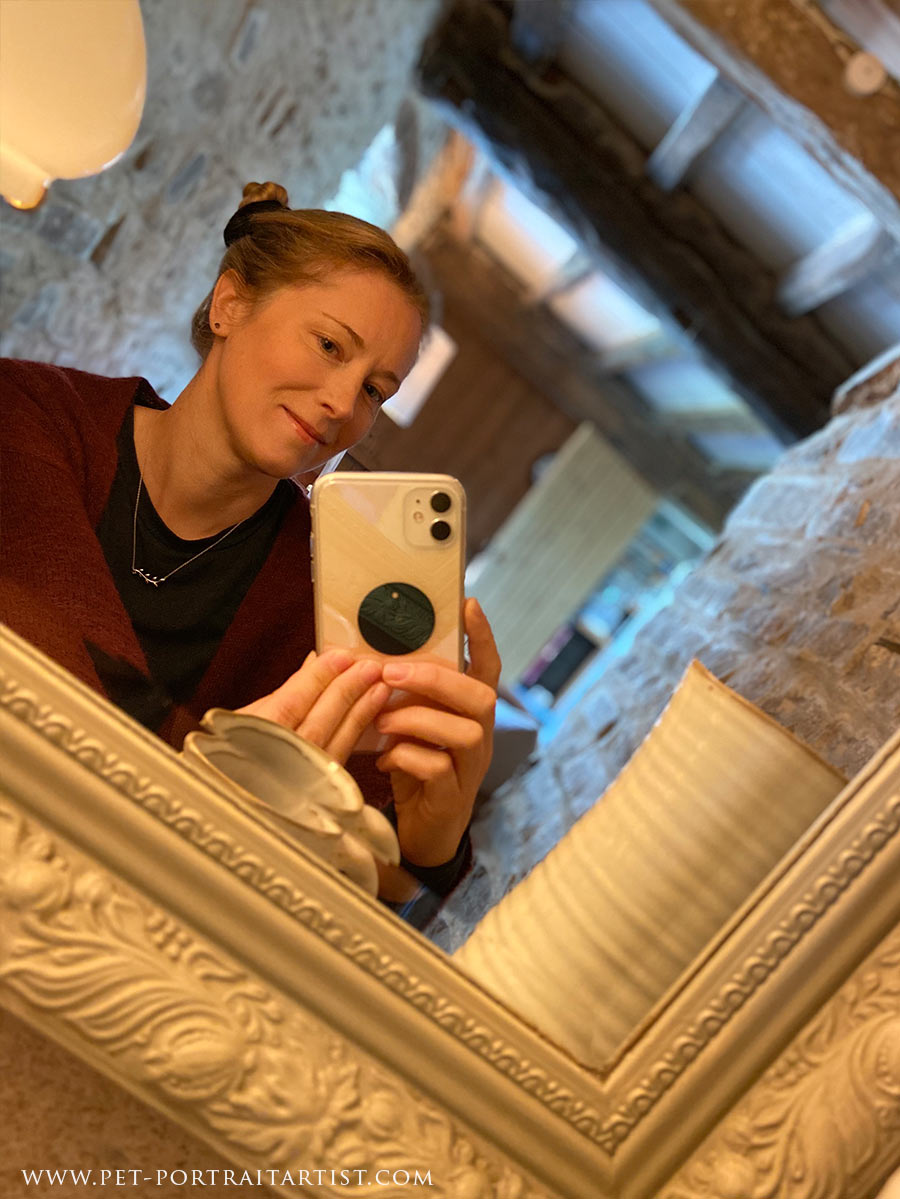 A favoruite place of ours to visit is Bosherston Lakes in Pembrokeshire. It's about an hours drive from us, but its well worth the visit, especially in the summer months. The photo below was taken on one of the little footpaths around the ponds, with Lily of course!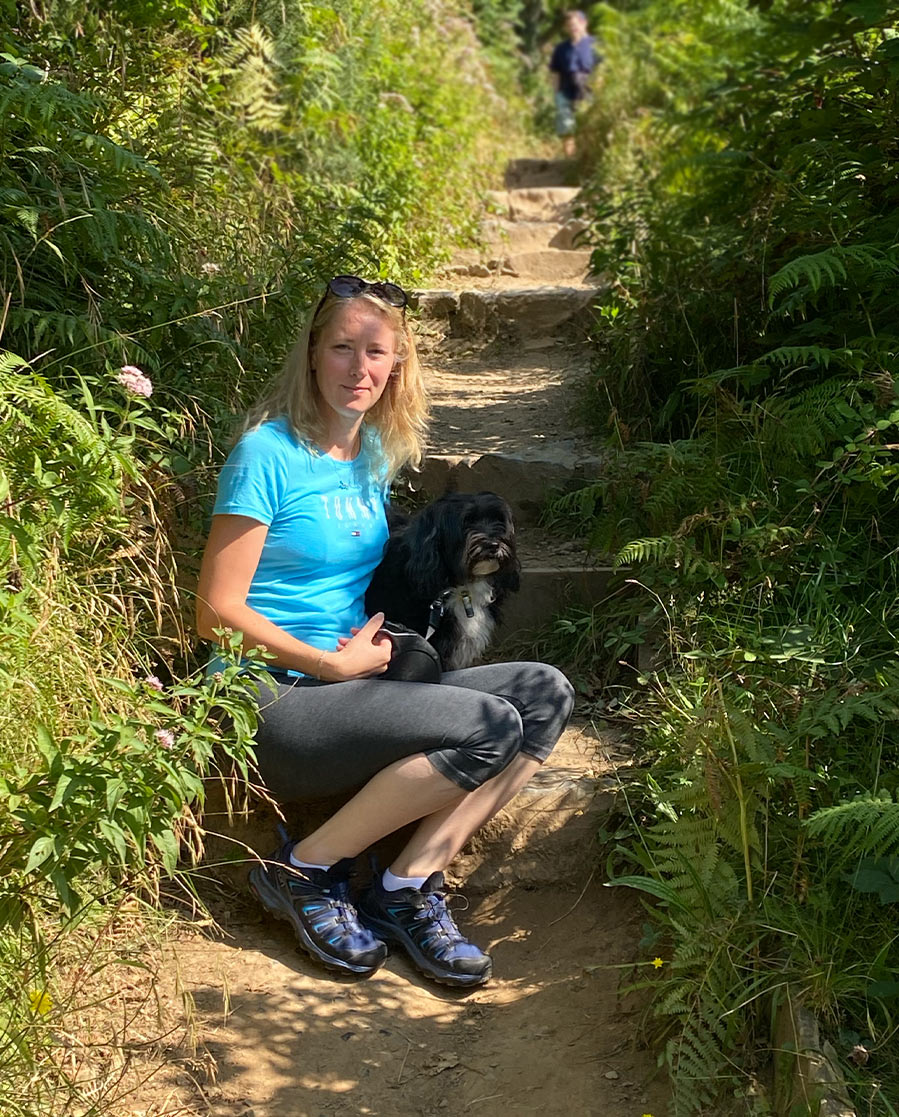 Another favoruite place that we visit quite a bit is the Tregaron wildlife board walk. It's lovely there, with a bird hide... although Lily gets quite bored in there so we don't stop inside very often!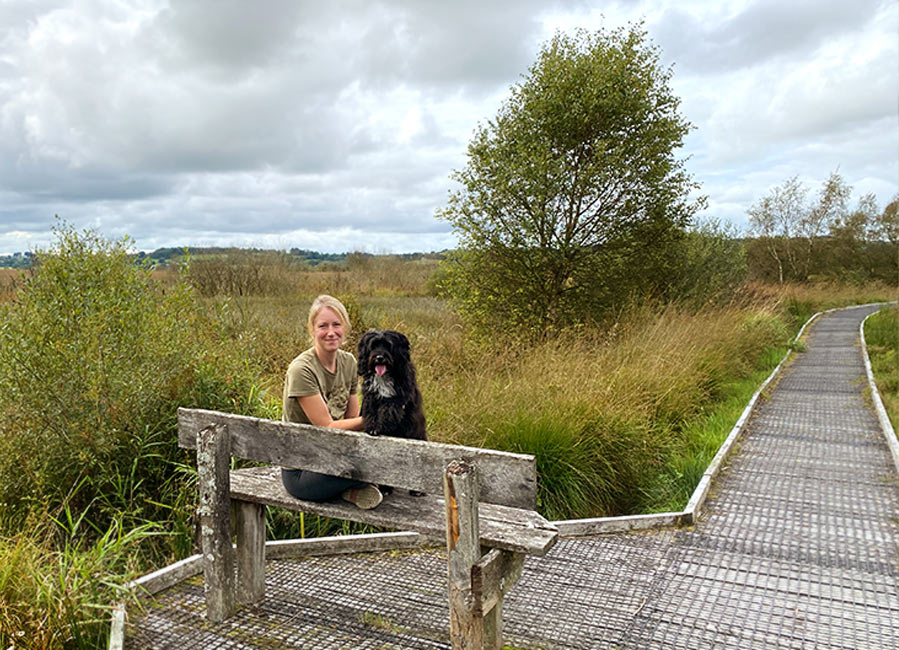 Lily loves the beach like any dog, and the beaches along the west Wales coastline is beautiful. There are so many amazing walks, trails and views to see. The photo below was on a fairly sunny day out of season mid winter... hence the woolly hat!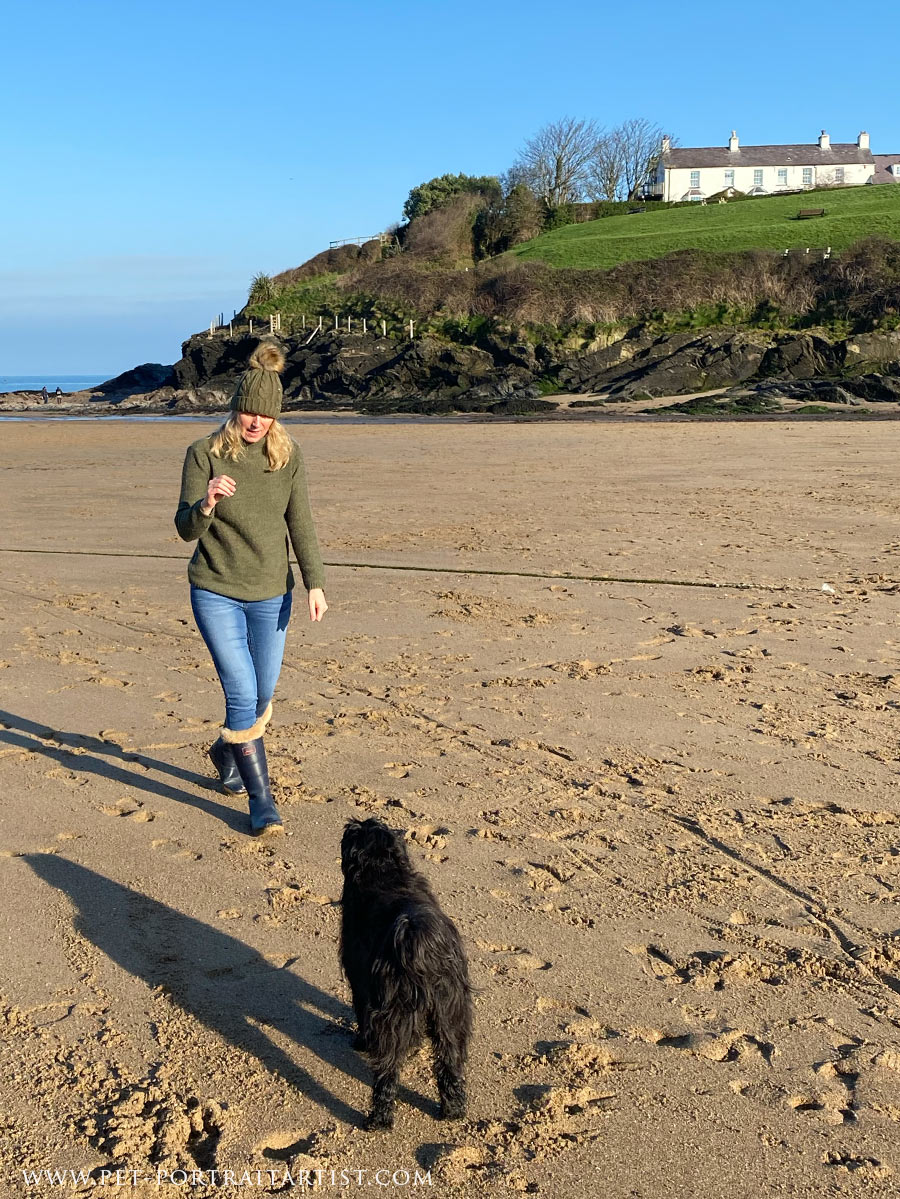 We love to get out and about and walk Lily and the photo below is of us on a little walk up our lane. We have a fairly large garden too and it is my haven, take a look at our studio and garden page to see more.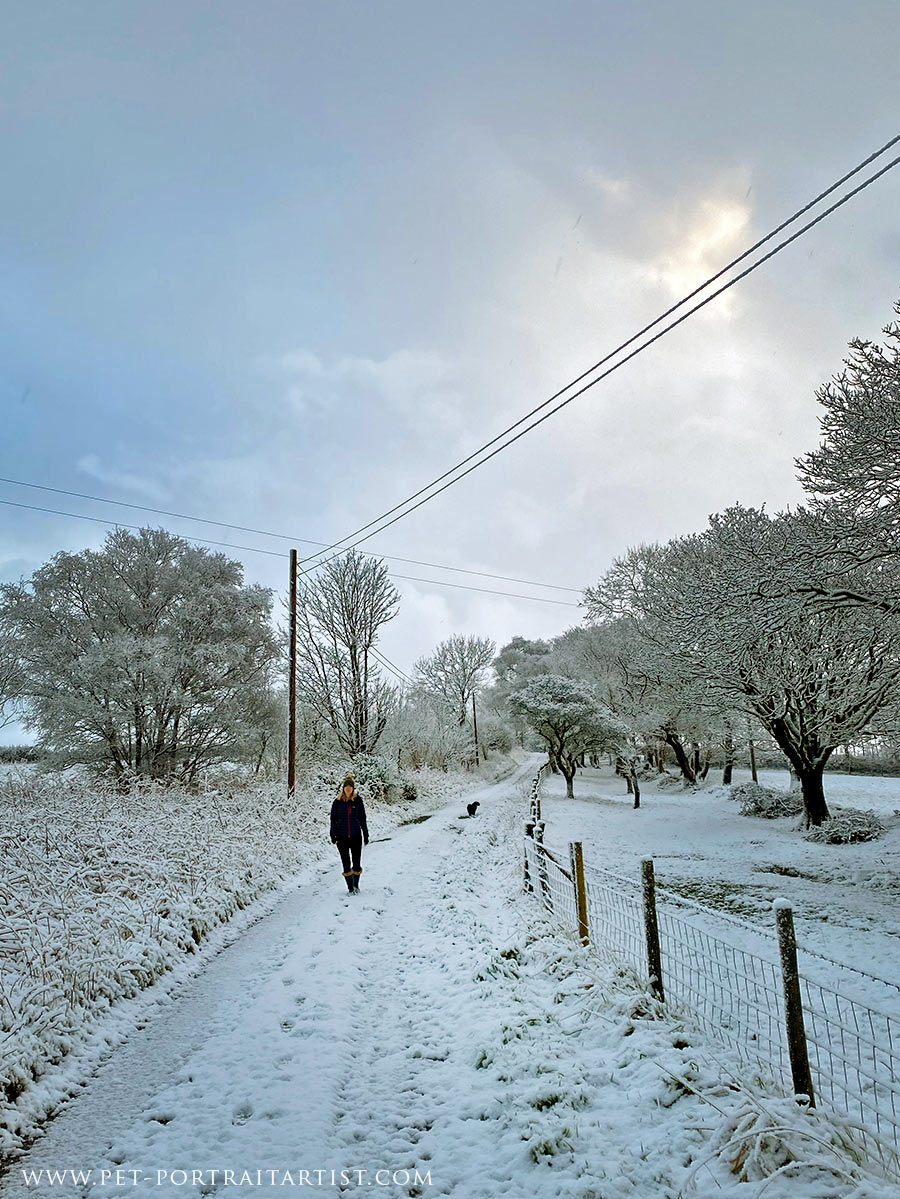 One of my hobbies is running and when I can I run with my freinds locally along the lanes and roads and then out and about in the countrside with Nicholas. The photo below shows Lily and I on the coast near Stackpole in Pembrokshire.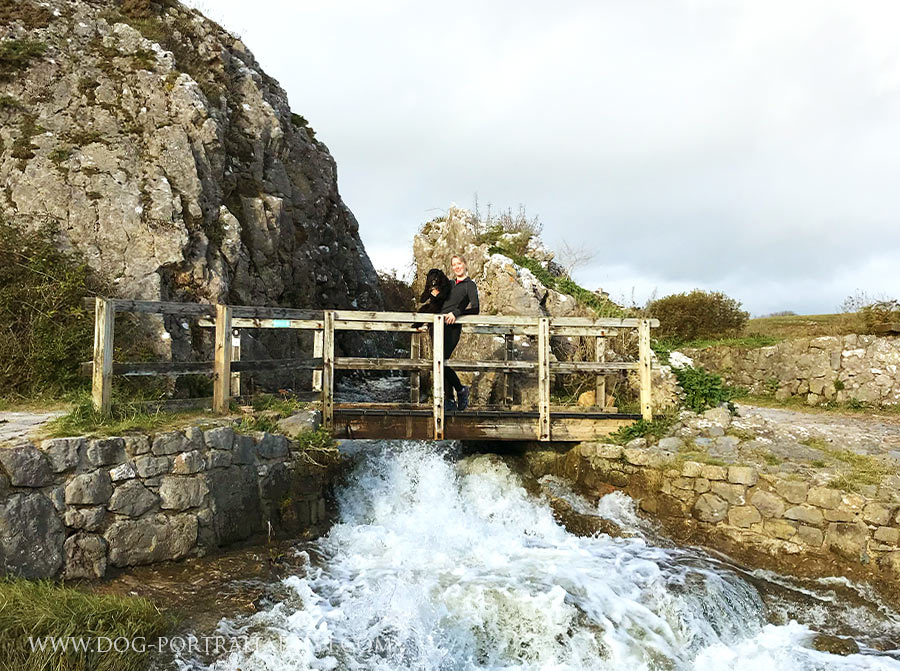 I really love running with the girls and I also do trail ruining when I can too. The photo below was a few years ago when we trail ran in a woodland path in West Wales. Lily absolutely loves running the trails, she gets filthy and splashes in the puddles and streams. I don't tend to take her road running as she is constantly sniffing and she is getting older now so cant run consistently for a long time like she used to! But we have our daily lane walks instead so she is happy.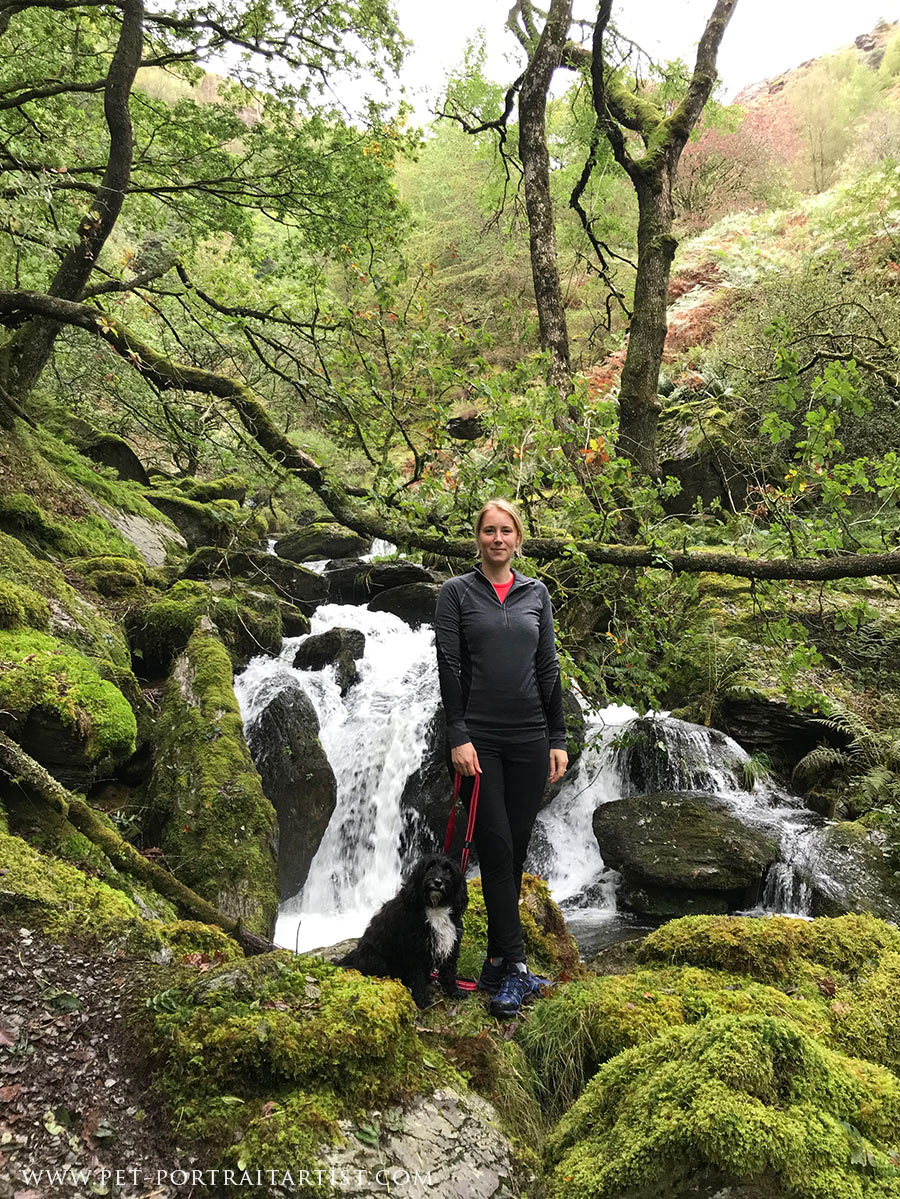 We try to meet clients if we can and the photo below was one Nicholas took of me feeding carrots to a clients horse and foal which he was commissioned to paint in 2018. They loved their carrots!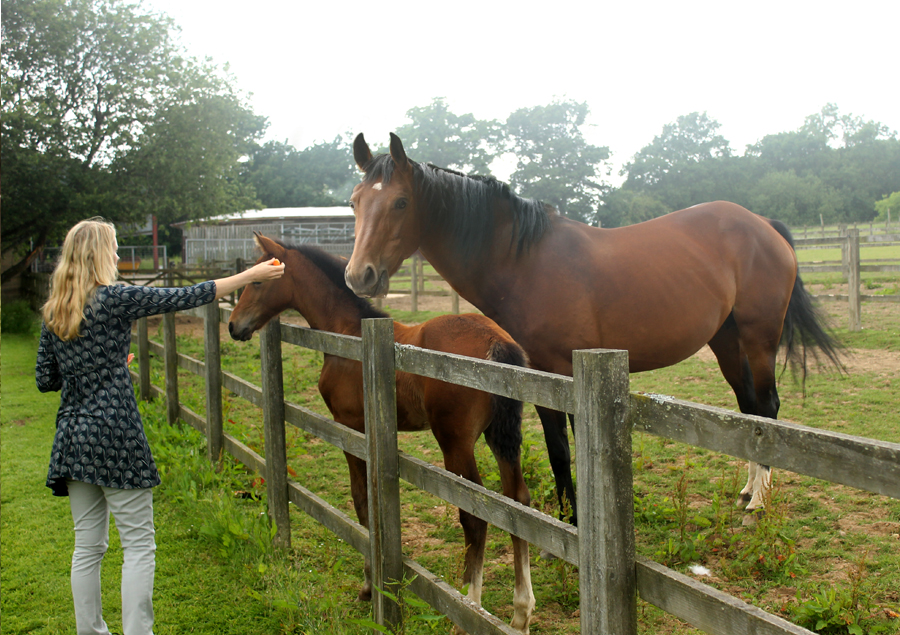 Another of my favorite past times is to take photos of sky, clouds, landscapes and macro shots too. The lane walk i frequent daily with Lily is amazing for lighting and photography. It never fails to deliver a good photo. I always have my phone with me to most of the photos I take are with an iPhone 11 pro Max but i have an SLR camera for taking photos of the portraits and if the weather is good i take that with me. its a bit cumbersome and climbing gates and styles isn't quite as conducive as having a phone that you can keep in your top coat pocket, but it does give good photos.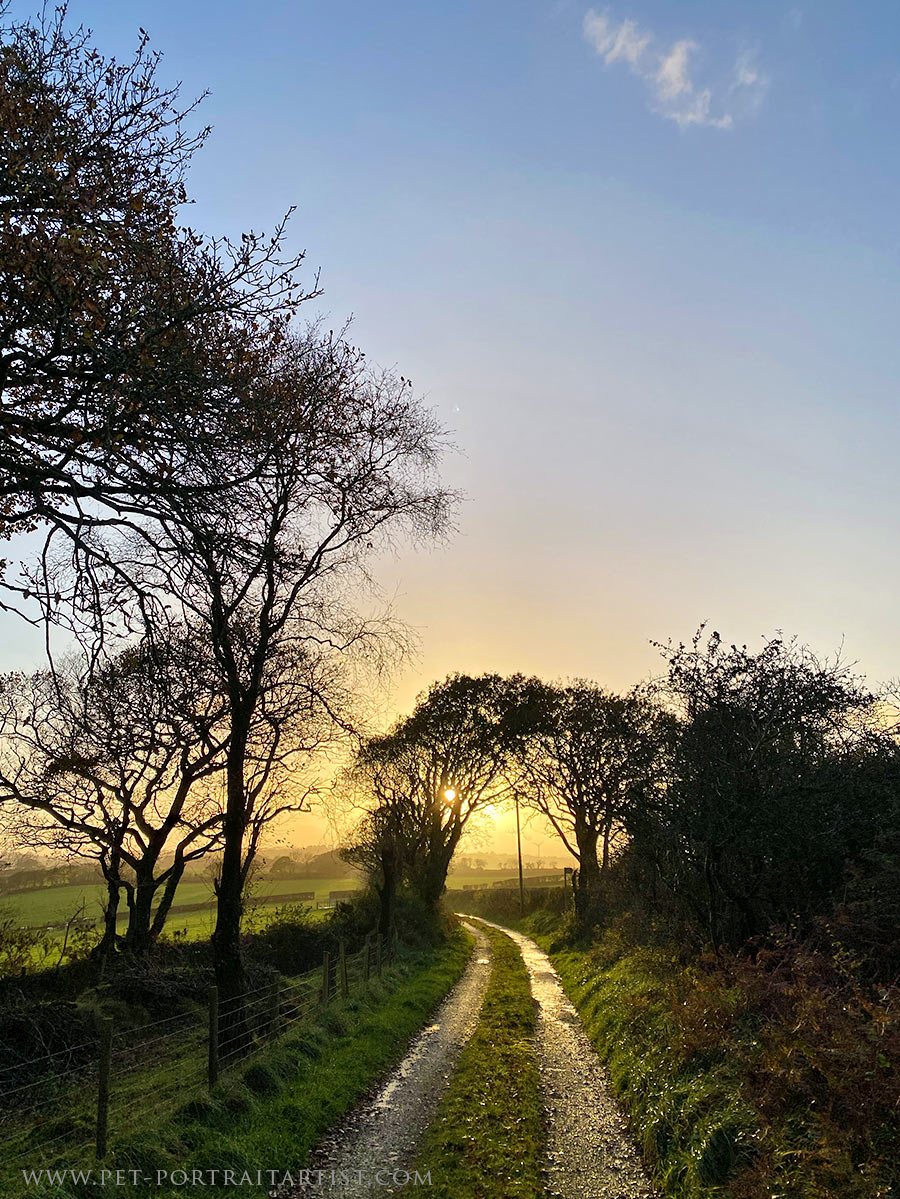 The early morning sky was amazing and I went out early to capture it, its was fluke really as I hadn't really known that it was going to be as good as it was.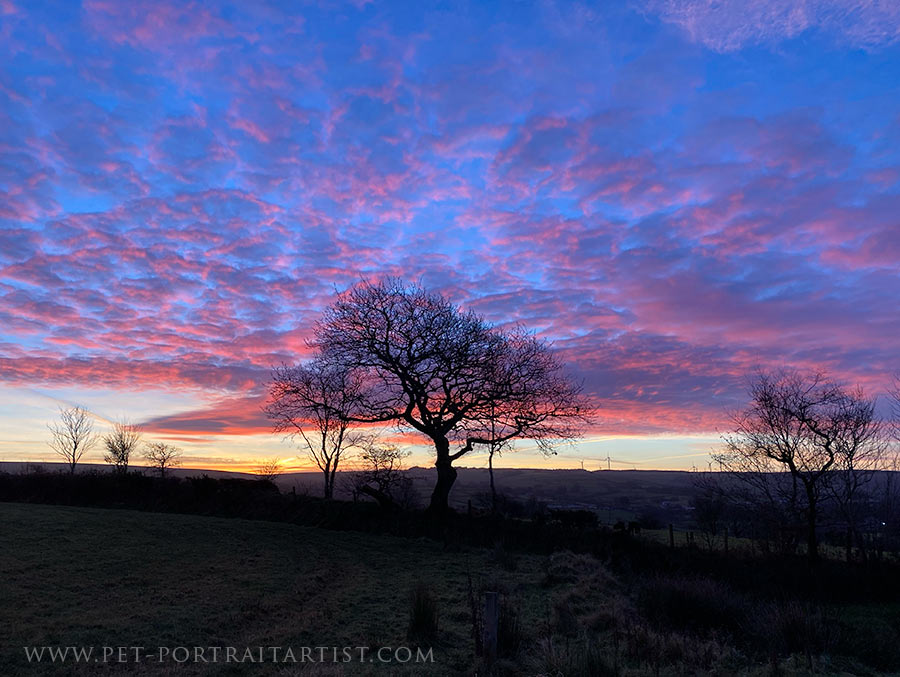 You cant beat a good early morning light for photography in mid summer, this tends to produce a warmer richer brighter sunrise. The red early morning sky's are much more apparent in the winter months.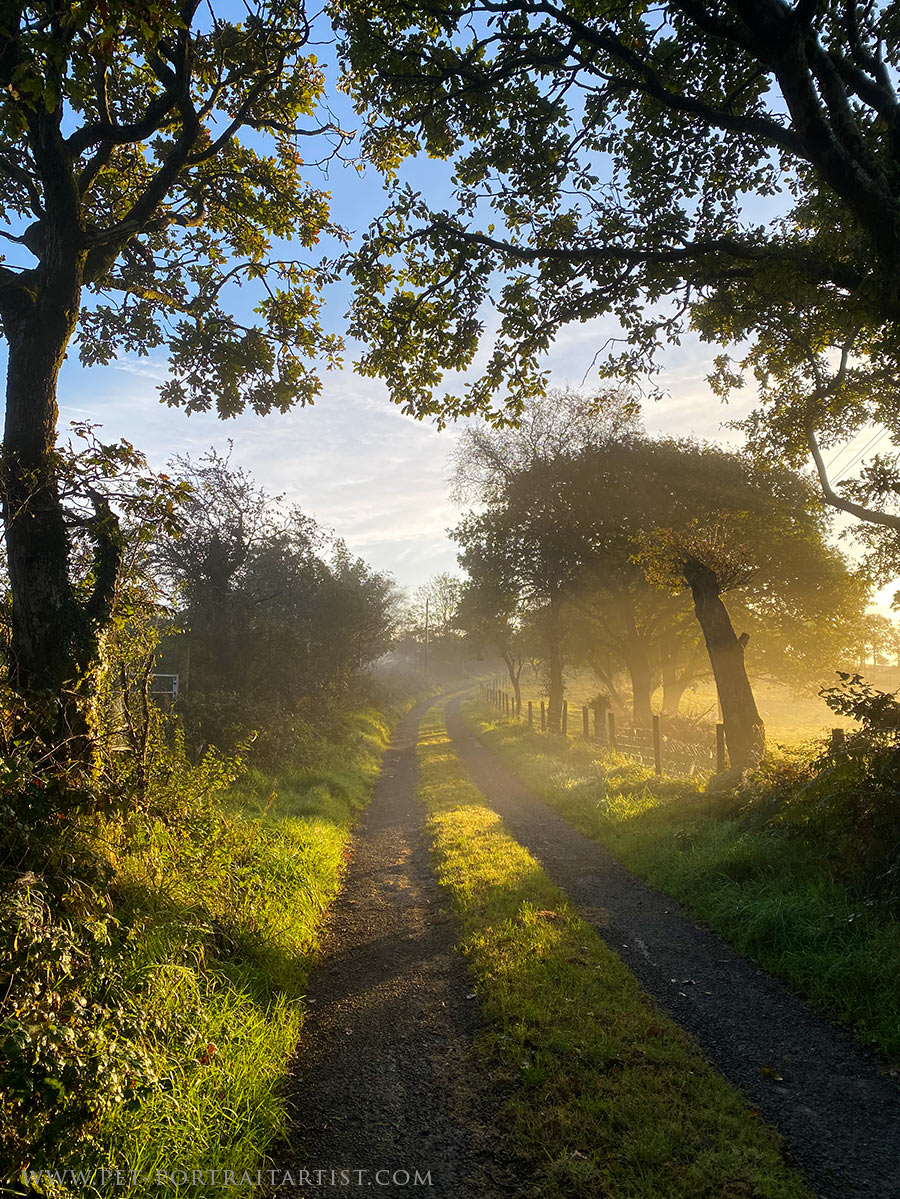 I thought I would add a couple of landscape photos. I love taking photos out and about with my camera, either my iPhone 11 Pro Max or I take out my SLR camera we use for work.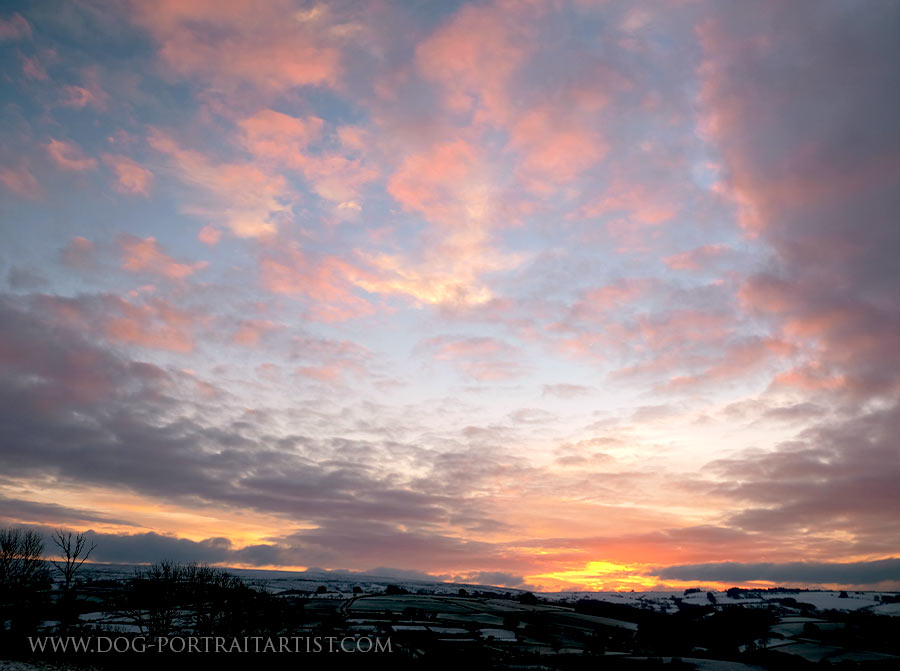 Taking photos of sky and clouds are my favorite, and also macro shots of plants and foliage. The two photos below were taken early in the morning and the weather and sky's were amazing. The rainbow we just happened upon along our lane.. at the right place at the right time!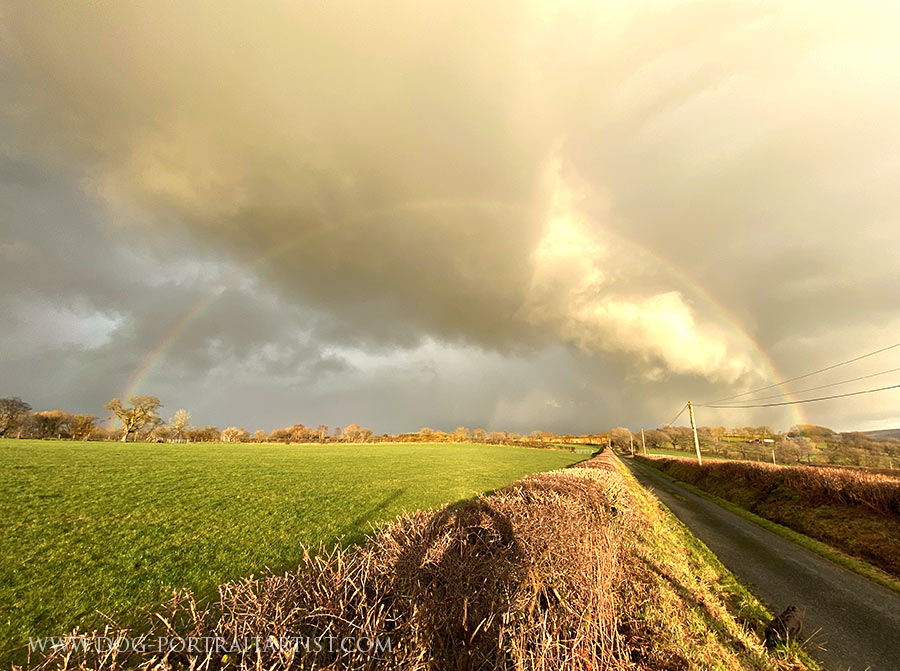 I hope that you have enjoyed viewing a few photos and reading about me. If you would like me to draw a portrait for you, don't hesitate to email me at any time - I would love to hear all about you!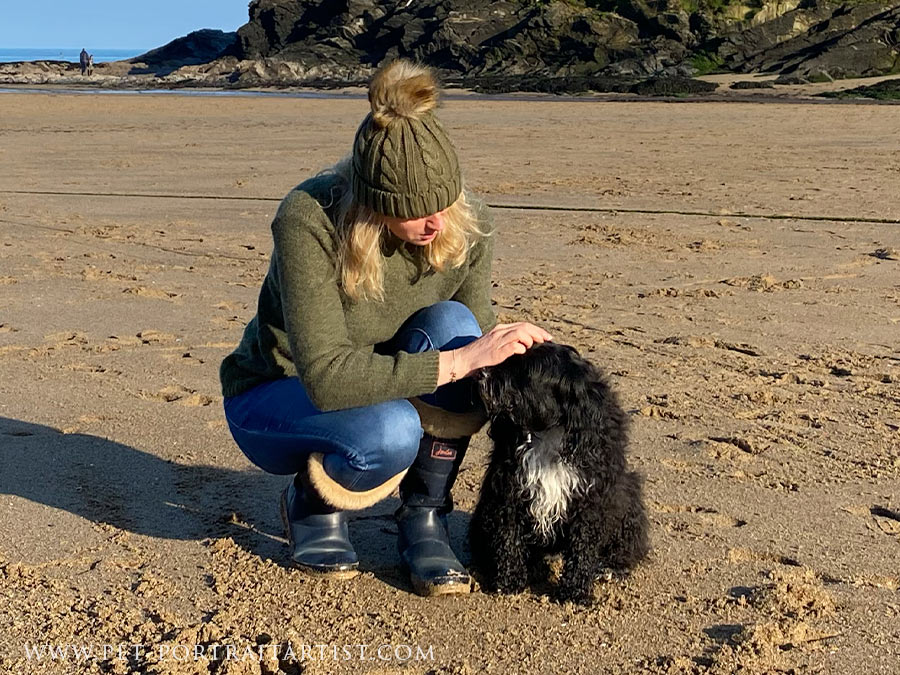 Testimonials.....

Hi Melanie,
Received the portrait of Max, it looks brilliant, my wife will be in for a surprise when she opens it. Thanks again,
Dave