Melanie Phillips
My name is Melanie Phillips and I am one half of our pet portraits business. Nicholas and I met at college and after spending a few years doing a variety of illustration jobs with London based publishers, we decided to set up on our own..and here we are today. Every business is unique and I don't think we know a husband and wife artist team quite like us! It has taken us a lot of time and effort to become successful in what we do and we are very proud of our achievements. The photo below is of myself and our Tibetan Terrier Lily in our Art Studio.
I grew up on a smallholding surrounded by animals. I was in my element. Chickens, ducks, guinea fowl, geese, a goat, pigs, piglets, cows, calves, sheep and lambs. They all had names, they were my best pals and I loved it. I had 15 acres to roam in and build camps, a little stream to dam up to make little puddles and ponds for the ducks and trees to make houses in. It was a great childhood!

Nicholas and I met at art college in Bournemouth and Poole Art College and studied there for 2 years. We stayed in Bournemouth after college ended, however with both of us having grown up in the countryside we knew our aim was to move back to a slower pace of life.

We moved into our cottage, our first home, in the heart of the rural countryside in Wales and we love it here. We have a fairly large garden, just under a third of an acre to play with and this enables me to have chickens and care for the garden. My garden is my haven and it's great to escape the bustle of our pet portraits studio for some tranquil peace and quiet. To hear the birds singing and the distant sound of a tractor is heavenly.
Taking time out of our busy schedule is so important and we love traveling and plan to do a lot more in the coming years. There are so many places I would love to go. The photo below was taken on a very cold but beautiful day in Cornwall, which is where Nicholas hails from so its great to go back and visit family each year and explore the countryside down there.
We try to meet clients if we can and the photo below was one Nicholas took of me feeding carrots to a clients horse and foal which he was commissioned to paint in 2018. They loved their carrots!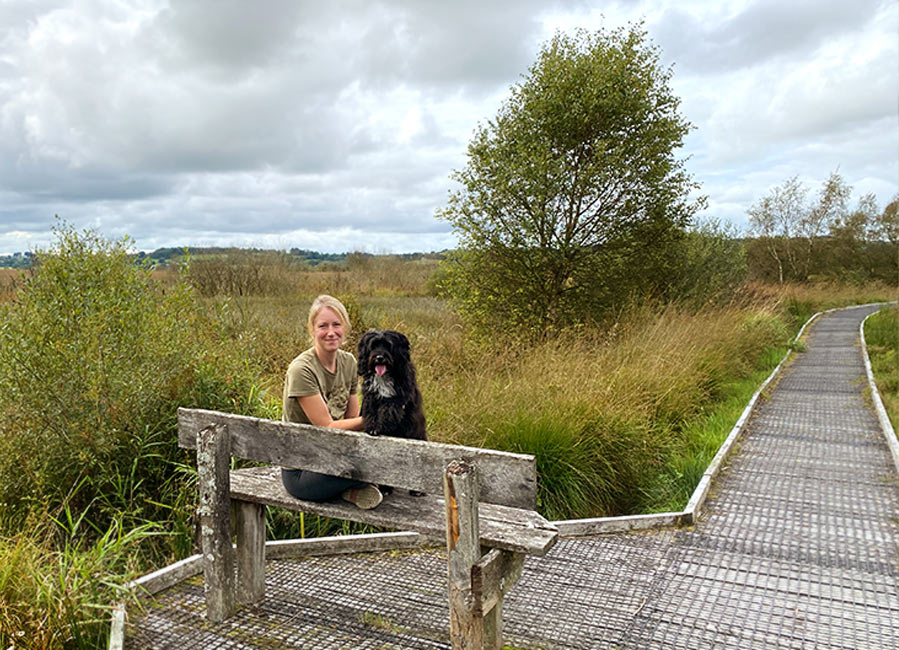 Lily is our Tibetan Terrier. She is my shadow and follows me everywhere! She sleeps under my desk while I am working during the day and when not sleeping...she is quite the mischievous character. Tibetan Terriers are known for their personality and she makes me laugh a multitude of times per day. We go to dog obedience classes once a week which is not so much for obedience, but for Lily to meet with other dogs and be the star pupil...as she is always the top of the class in my eyes! The photo below was taken after passing her Kennel Club Good Citizen Gold award at our local dog club.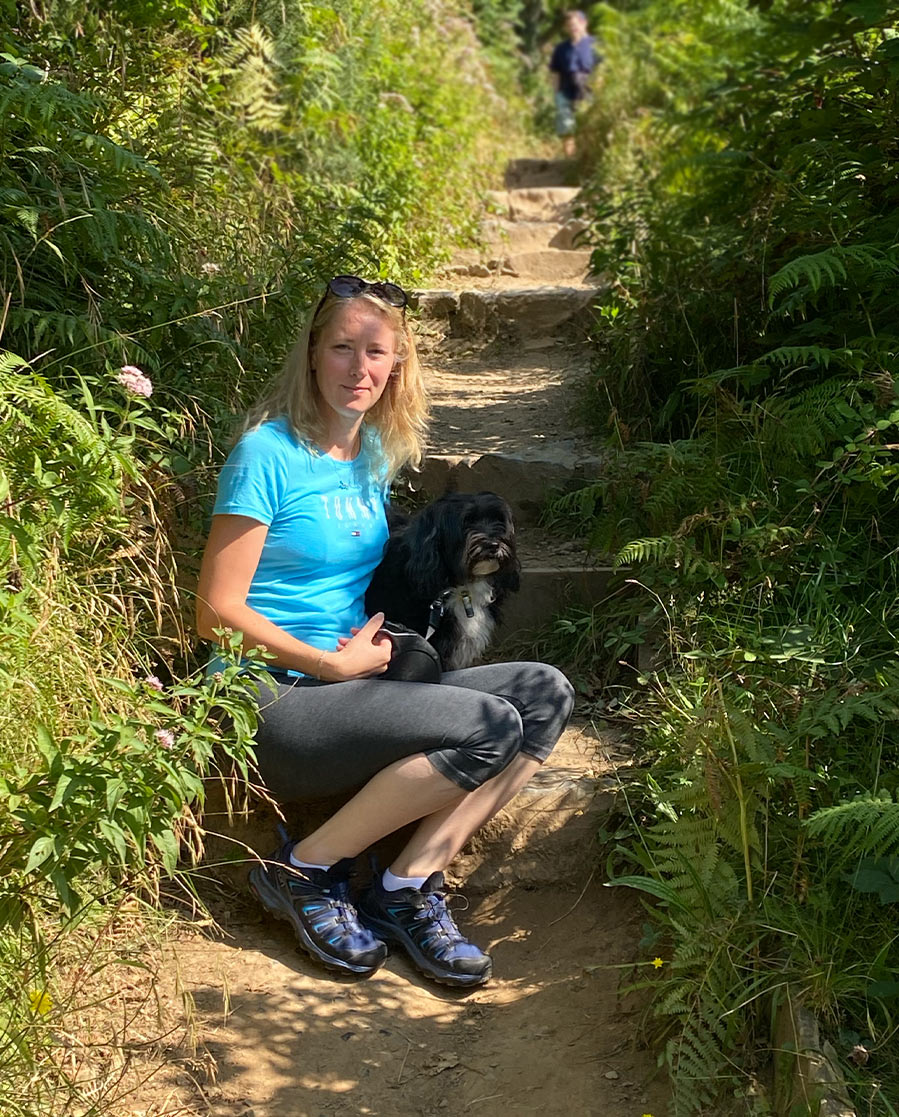 The photo below was taken on a spring morning when the chickens came to the studio door for their daily cream cracker treat. I have kept chickens all my life and couldn't be without them. My brood at the moment consists of three retired and fairly aged Buff Orpingtons. They don't really lay eggs anymore...they are pets. Lily is very used to them and they are very used to her. She does like to sniff their bottoms on occasion though!
I hope that you have enjoyed viewing a few photos and reading about me. If you would like me to draw a portrait for you, don't hesitate to email me at any time - I would love to hear all about you!
testimonials.....

Hi Melanie,
Received the portrait of Max, it looks brilliant, my wife will be in for a surprise when she opens it. Thanks again,
Dave
Visit next...
Read about Nicholas Beall who paints all of the oil paintings of dogs, cats and horses.