Pet Portraits Gallery by Melanie Phillips
Welcome to my pet portraits gallery. All of the pencil portraits have been created by myself, Melanie. I'm a professional pet portrait artist working from my dedicated studio in the UK. I am commissioned worldwide for my graphite pencil portraits. I receive many commissions from the UK, USA, Canada, Singapore, Hong Kong, France, Italy and Australia to name a few. I have collated a few of my personal favourite commissions here from over the last number years for you to view. You can find out more by taking a look at my dedicated website, head on over here - Pencil Pet Portraits Website »
The Pencil Portrait of Moo the Cocker Spaniel
Tracy, a returning client, commissioned me to draw her beautiful cocker spaniel called Moo. They are one of my favourite breeds to portray and i thoroughly enjoyed drawing her. Tracey had our local framer frame the drawing and visited our studio to collect the completed portrait. We took the opportunity to take some photos of myself, Tracey and Moo with the portrait. Scroll down for more....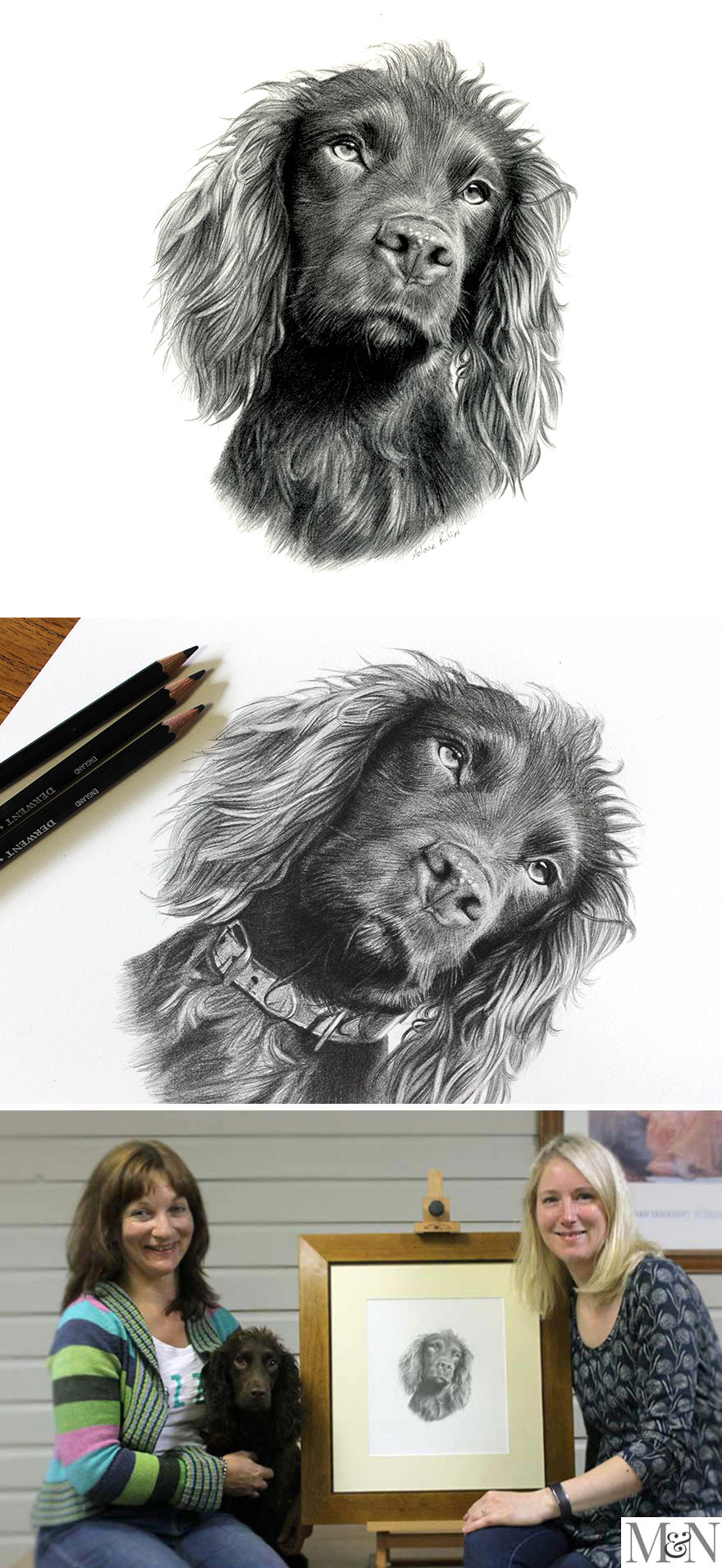 Teasel's Portrait
In 2016 Paula commissioned me to draw Teasel, who had sadly passed away. She was just so beautiful and her eyes were wonderful to portray. Paula was thrilled with her portrait and said it felt it was like having Teasel back with her, which is just amazing. You can read a snippet from one of Paula's emails below.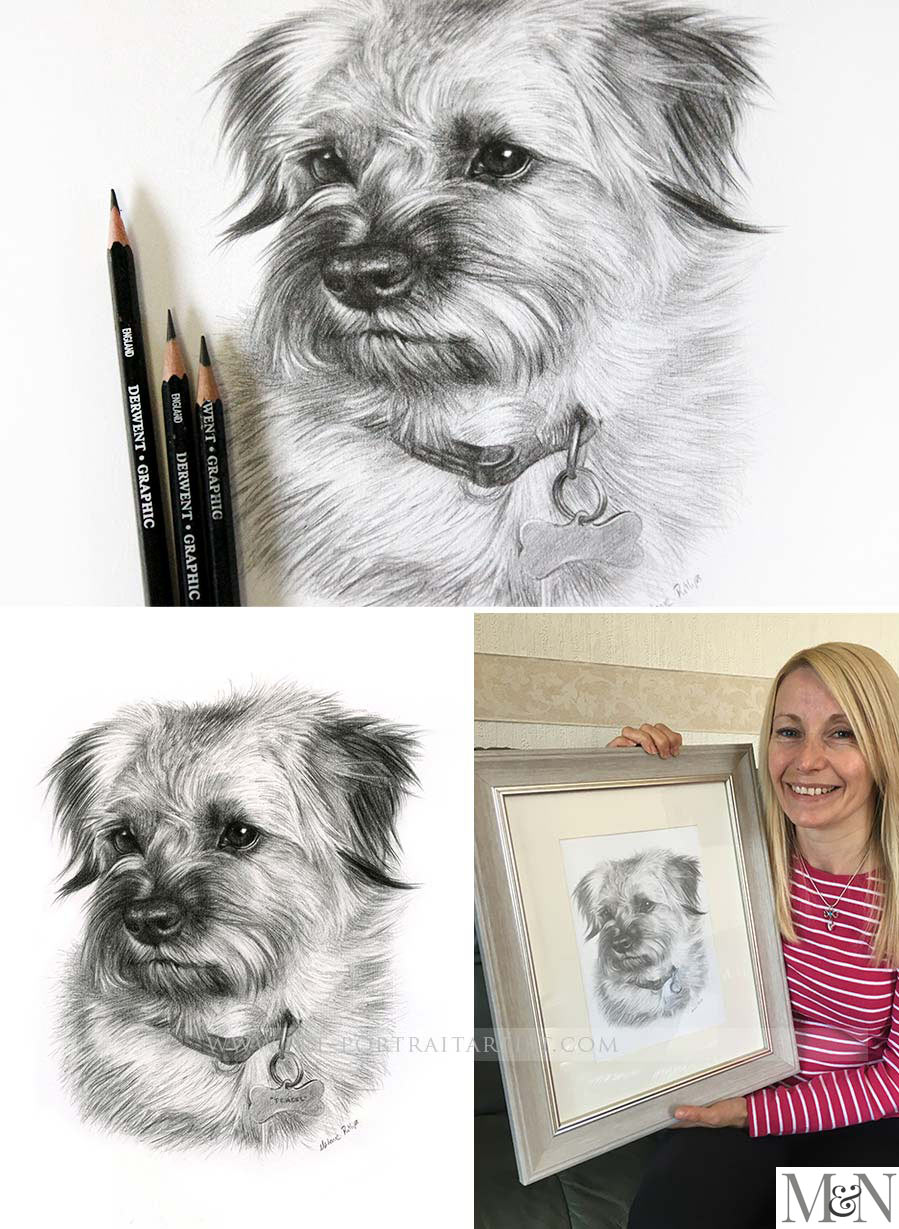 Paula sent me the most wonderful email as a testimonial, it was really appreciated and it makes my job so worth while. You can see a photo of Paula with Teasel on my home page - Pencil Pet Portraits » I know what its like to loose a dog and so having a portrait of them can be very comforting. Why not read more of my testimonials from my clients on my dedicated pencil portraits website. You can see lots more client photos too! Read more testimonials »
The Portrait of Daisy
Mary from the USA, commissioned me to draw their families lovely dog called Daisy just before Christmas in 2015. The portrait was to be a surprise gift for her daughter and you can see photos of the portrait, the reference photos used and the portrait framed in the image below.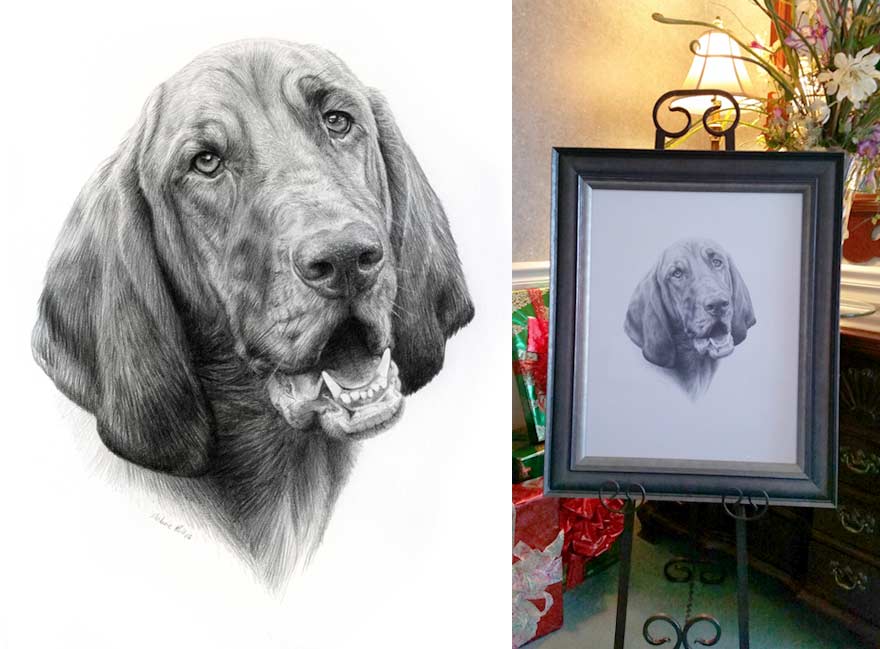 It is important to view the photo and compare it to the artwork to see that I am able to capture not just any pet - but the pet in the photograph - or your pet as an individual character. I have had many happy clients over the 20 years I have been a commissioning artist.View prices »
Tibetan Terrier Hollie
One of my first portraits of 2016 was of a gorgeous Tibetan Terrier called Hollie. I absolutely loved every minute of drawing Hollie as I also have a Tibetan Terrier and I could see so much identifiable character in Hollie, which was similar to my own dog Lily. Hollie was very well received and presented to the recipient as a surprise. I hope that it will be an ever lasting memory of their very best friend.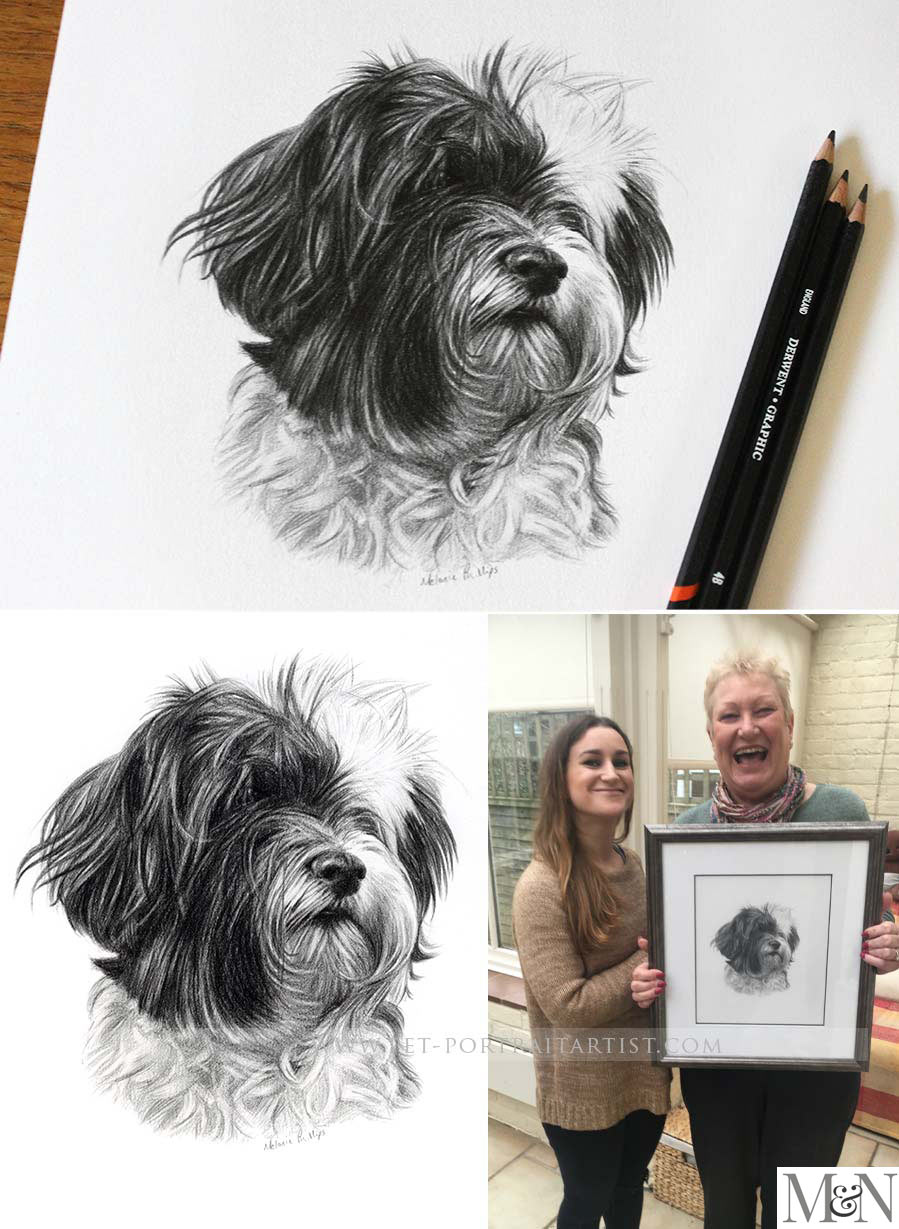 Visit my Pencil Portraits Website
If you have enjoyed viewing my pet portraits in pencil and wants to see more, why not pop over to my dedicated Pencil Portraits Website. You can view my prices and information, with lots of videos and photos of my drawings in the up close in detail gallery. I have lots of testimonials from my clients there too. Pencil Pet Portraits »
Contact me for a Pencil Portrait
I have had many happy clients over the last 20 years and if you would like me to create a portrait of your horse, please don't hesitate to contact me at any time »