Horse Oil Portraits Gallery by Nicholas Beall
Welcome to our horse oil portraits gallery. Nicholas traditionally hand paints his oil paintings using time honoured traditions in oils on canvas. He has been a commissioning artist for over 25 years and loves every minute of painting not only horses but dogs and cats too. Nicholas' paintings are a beautiful gift for any occasion for friends and family, as well as a treasured memorial. Message anytime if you have any questions.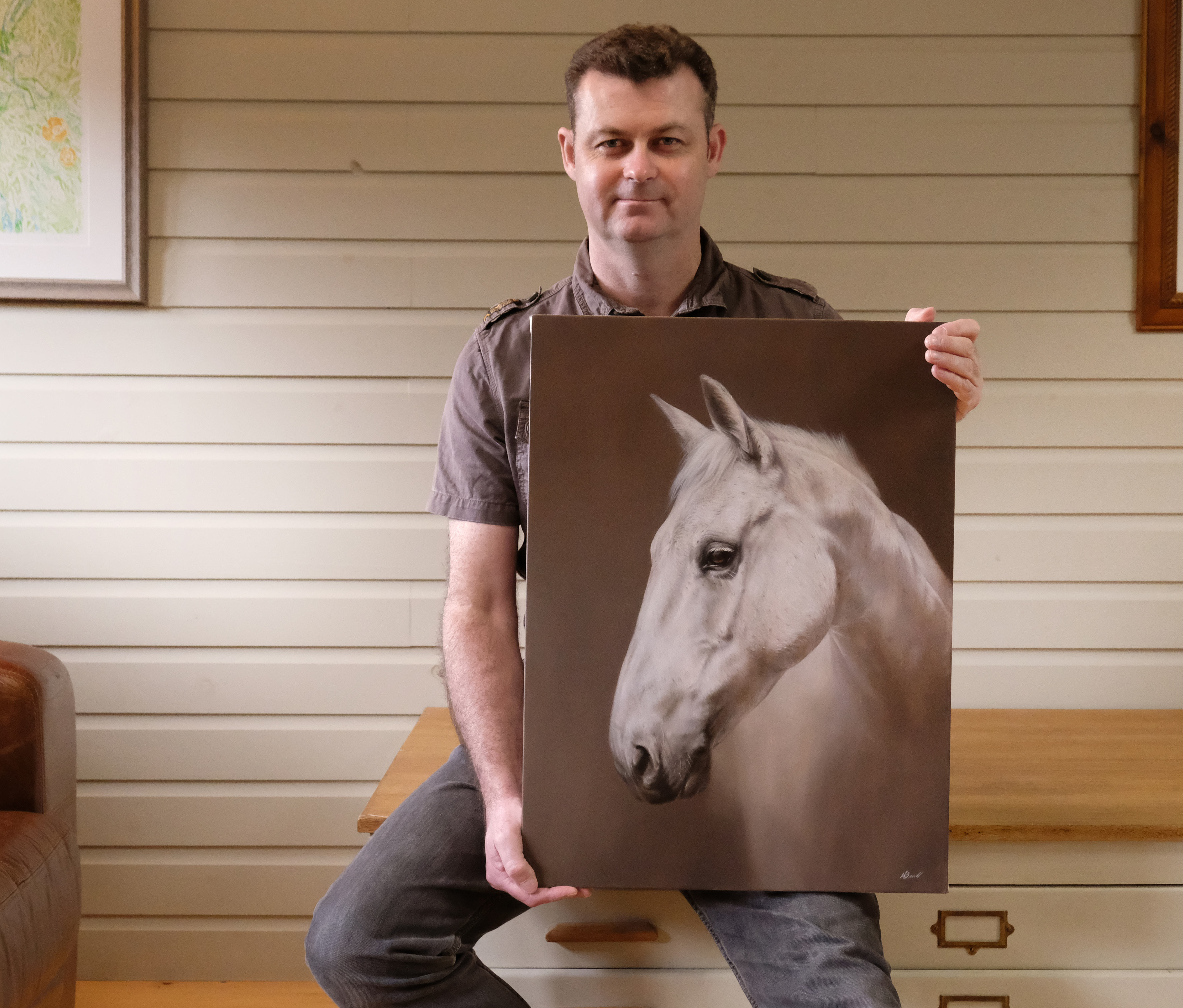 Horse Portraits
Nicholas and myself always work from clients photos of their horses and so good quality photos are essential. Please email clear and in focus photos taken outside in the yard or field. A good tip is to take off any tack or coats that you don't want seen within the portrait before taking the photos. If you need any help or advice, please do message or email us at anytime, we are always happy to help.
Horse Portraits with Neutral Backgrounds
As well as the neutral backgrounds you see in the horse portraits here, Nicholas can also paint full scenic backgrounds too. This can either be with your horse head and shoulders or full body. The most popular design is to have an oil portrait and a neutral style background though. This really allow Nicholas to focus on the features of the horse along with their personality and character shining out of the canvas.
Horse Portraits with Scenic Backgrounds
The three horse portraits above and the detailed image below are all scenic style backgrounds. Most often these come as no extra charge, however this does depend on the complexity of your background. If you are looking at having a full background, we can create this for you to any size. We order our Italian Linen canvas bespoke for each portrait so they are perfect for landscape paintings with horses in a field. We are often also asked to create square paintings which hold quite a contemporary vibe and look fabulous when framed. Whatever your ideas, just let us know when sending us your photos.
Hand Painted Horse Portraits
All of Nicholas' horse portraits are hand painted and bespoke to each client. No two paintings are ever the same, as no two horses are the same either. Clients have opted to commission a head study so they can see the detail in their face, and also a larger full body painting in a landscape so they can see them as they do in the field. If you would like to see your horse painted in a full body pose, some of the larger sizes might be best for you, from 18 x 14 and above. Drop us a line with your photos and we can discuss your options!
Waiting Lists and Special Occasions
If you are looking at having a horse portrait painted by Nicholas for a particular occasion, do drop us a line as soon as possible. Nicholas has quite a long waiting list for his portraits and we always like to meet our special dates for clients if we can. Nicholas is often booked up to 6 months in advance at various times of the year, especially Christmas time, so its always best to save your space in our commissions list as quickly as possible to avoid disappointment.
Horse Portraits with Backgrounds
Our clients who commissions one of our horse portraits, whether it is a pencil drawing or an oil painting, quite often tell us how much they enjoyed the experience of commissioning a portrait. They love the interaction with us from start to finish. They look forward to the moment the artwork is about to start and then waiting to see the finished painting or drawing. We love received feedback and emails from clients when they have seen the final photos, it really makes our job worth while.
Taking Photos for your Horse Portrait
As mentioned already, photos of your horse really do need to be high quality. If you are using your mobile phone, try not to zoom in, walk towards your horse and fill the frame. This will add more detail within the photo. Take your photos outside in natural daylight opposed to taking them in a shed or stable. If you would like any help or guidance, pop over to see our Photography Tips » If you are struggling to take good quality photos of your horse for an oil painting, or your horse lives away at stables, we can help you arrange a professional photographer to visit and take a range of photos for you. Just let us know the area of the stables and we will research and recommend some photographers that might be able to help.
Double Horse Paintings
Adding two or more horses together in one painting can work beautifully. Especially if you are able to take plenty of photos of your horses so that we can fit them together. We will always create you a design for your portrait for you to see before any work starts. The portrait above is very similar to the Three Kings painting which is a popular composition.
Horse Portraits Gift Voucher
If we are unable to meet your special date, our gift vouchers are the next best option. We often feel they are a better option as the recipient has full input into their painting. They can choose the photo, even take new photos for the painting and also choose the frame or the text they would like on the engraved plaque.
Horse Portraits in Progress
I often take photos of Nicholas working, especially when he is adding in the final details on the horses. Clients and readers love to see them up close and we have added quite a few on the gallery page for you to zoom into!
Horse Portraits with Tack
If you would like to see your horse painted in full tack, we really need to work from photos of them with tack on. If you would like to see them without tack it is important to take photos of them without. It is very difficult to paint a horse when it is wearing tack as the fur, skin and mouth all lay slightly differently. it can sometimes be done, but on the whole, if you are able to take new photos, its best to take them exactly how you would like to see your horse in the portrait.
Dog Cat and Horse Portraits
Nicholas not only paints horses but he paints dogs and cats too. If you would like a head and shoulders portrait of your horse and dog together, this is definitely an option we can explore. Drop us a line with your photos and we can create a mock-up for you along with a bespoke quote.