Race Horse Portraits - Oils On Canvas
Welcome to Nicholas' race horse portraits in oils on canvas of Riguez Dancer, Resplendent Light & Fol Hollow. The composition of this piece works beautifully. It all depends on clients photographs in how well the painting can be designed. In this instance the client has three photos that fitted well together - ie one horse looking to the left, one to the right and one straight on. We are unable to make up poses so the photos clients provide must show them in the exact pose you wish to see them in on canvas. Scroll down to read more about the commission.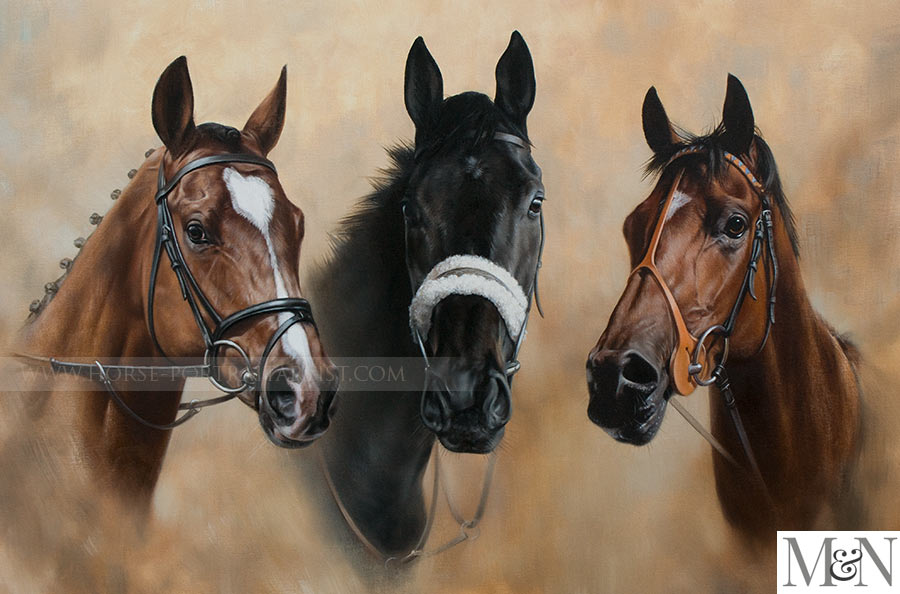 Horse Portraits Reference Photos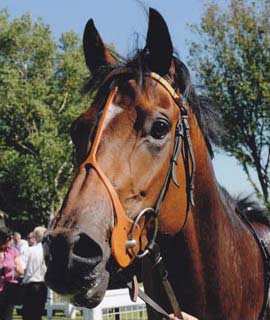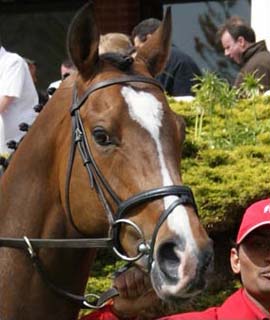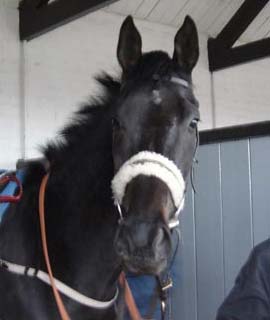 'Riguez Dancer, Resplendent Light & Fol Hollow'
John Sutherland, UK emailed us in 2009 enquiring about Nicholas' race horse portraits. John had a commission in mind for his three racehorses Riguez Dancer, Resplendent Light and Fol Hollow, which are well known racehorses. He wanted the portrait to be fairly large, in oils at 30 x 20 in size on linen canvas. Johns idea was for it to be very similar in composition to the famous painting of the Three Kings.

When trying to create a particular composition, it means that the photos of the horses need to be taken at those particular angles. So in this instance we needed one of the horses looking left, one right and one straight on. John came up with the perfect photos and the composition was set! You can see the three reference photos and the final painting above.

Nicholas thoroughly enjoyed painting the portrait for John, it has been one of his most enjoyable paintings to date. John was extremely pleased as you can read from his emails below.
Hi Nicholas,
Absolutely delighted with painting, a truly well painted portrait. I cant wait to get the painting in my trophy room.
John

Hi Nicholas,
Received the painting and I have to say you have done a tremendous job, caught the real character of the three horses.
Thanks again, now I am of to get it framed.
John
Photo of the race horse portrait
We took a photo of the race horse oil painting in our studio prior to packing and sending. This is our old studio, lots of happy memories there! If you would like to see our new studio, pop over to our studio and materials page. We try to take photos of all of our portraits in a more relaxed setting so that clients can really get a feel for their painting. As time and technology moves on our photos improve, this was taken in 2009, more than 10 years ago! We hope you enjoy viewing the painting.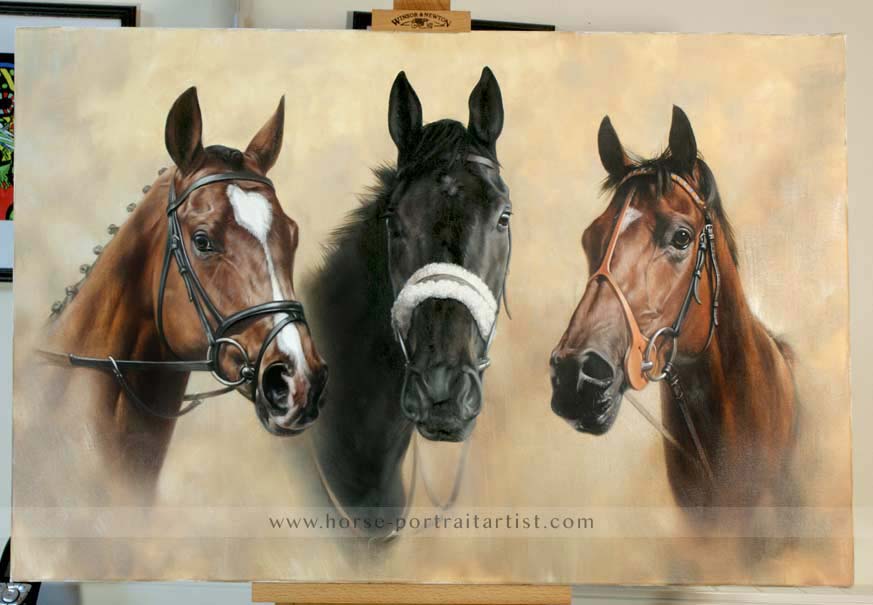 Race Horse Portraits
We hope that you have enjoyed reading about the race horse portraits commission and if you own a race horse and would like to have it depicted in oils, we would love to hear from you. Why not email us your photos and we can help you come up with a composition and design for your portrait. Contact us at any time from our contact page.