Horse Jumping Portraits in Oils by Nicholas Beall
A popular pose for an oil painting is horse jumping portraits, whereby the rider is depicted on the horse either at an event or just practicing in the field. The photo for this kind of portrait is key and many clients opt to have a professional photographer take photos of them jumping as they will have all of the necessary camera equipment good enough to capture movement. Once the perfect photo has been taken, Nicholas can paint it for you in oil on linen canvas. Read on to find out more about the commission of Frizbee.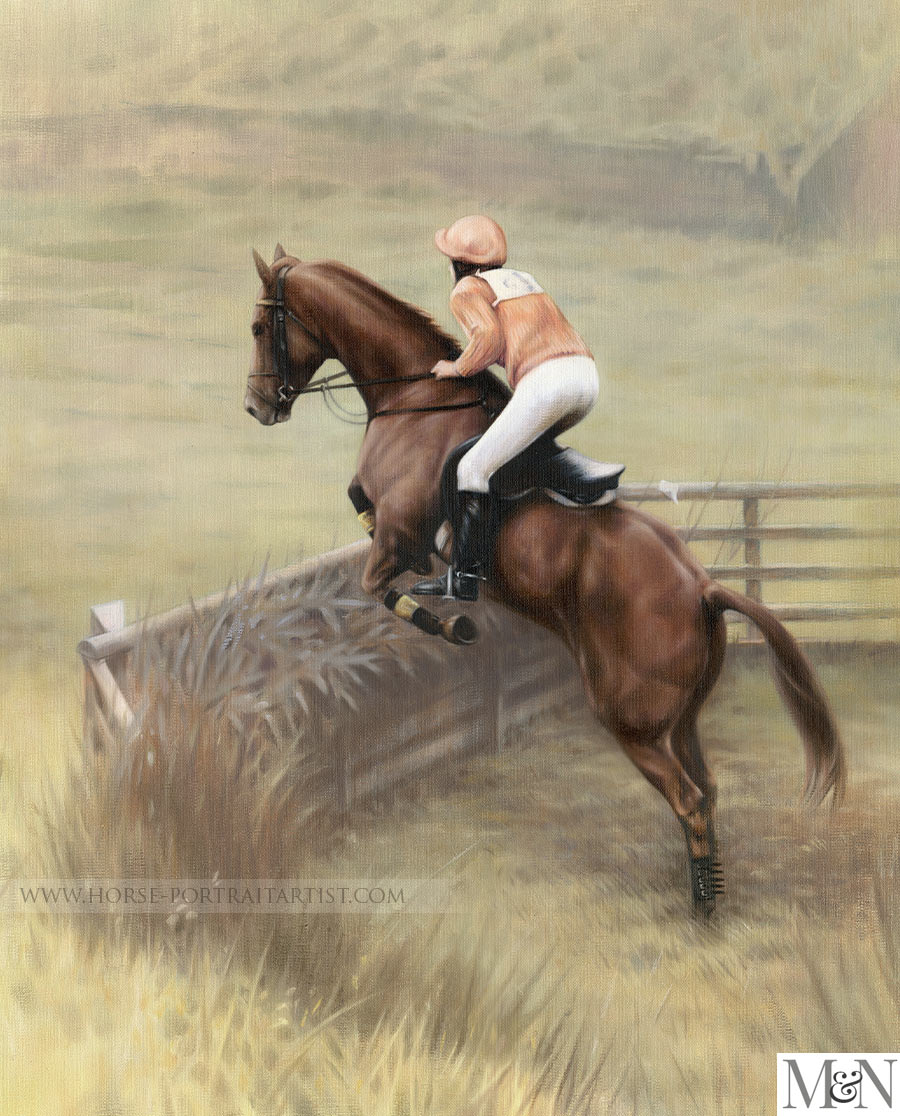 Commission of 'Frizbee' - Horse Jumping Portraits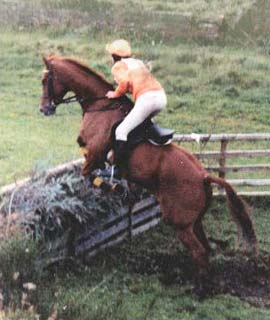 Lynne Furniss commissioned Nicholas to paint her horse Frizbee in 2011. Lynne had a favourite photo of both her and Frizbee jumping from many years ago. Lynne worked closely with Nicholas to make sure every part of the portrait was true to the day that Lynne was jumping with Frizbee. From the riders outfit, the positions of the tack and detail on the brushing boots. Lynne collected photographs of tack and equipment and collated them on a web page with written explanations. It was an invaluable resource for Nicholas to refer to during the painting process.
Nicholas spent many hours at his easel painting the portrait at 20 x 16 size. It was quite a challenge, however with a combination of Nicholas studying the photos and Lynne's help, together they have created a successful painting that everyone is really happy with.
Happy Client Testimonials
Lynne very kindly emailed us some photos that she had taken once the portrait had been displayed in situ, along with Lynne and a glass of Champagne. We are thrilled and delighted to add them to our website and are so pleased that Lynne is happy with her portrait!
Hi Melanie and Nicholas,
Ian and I have a bottle of champagne ready for that big day. Patience - must wait for 'sticky edges' to dry out! :) Thanks again for being such amazing artists. I enjoy looking at all of your work. It is always of such a consistently high standard. But I like my painting best of all (big surprise!) All best wishes
Lynne
xx

Hi Melanie and Nicholas,
We received the painting early this week. It is beautiful! I will get you a picture once it is framed and up! Thanks again,
Erin

Hi Melanie and Nicholas,
I've taken a look at the final stages pics and think it is a very skilled and beautiful tribute to the horse who 'stole my heart' forever. I can't begin to convey the joy that this painting gives me. I LOVE IT! It all looks accurate, and I appreciate that it may look a bit darker than it actually is due to cameras, lighting of the time, etc. Please do a final scan, so everyone can see how beautiful it is. You will recall that I'd like a giclee print of this painting (when ready) to go to the photographer. THANK-YOU BOTH for being such talented, professional and friendly artists. *Hug for Nick* (for bringing my 'big boy' Frisbee to life). All best wishes
Lynne
xx

Hi Melanie & Nicholas
Frisbee's portrait arrived just after 10am today - safe and sound. Very robust packaging! I saw, once again, what a very handsome boy my Frisbee was. Nick has captured him beautifully. The prominence of horse and rider and the muted background are absolutely perfect. In addition, I am very glad that this portrait will be left unframed, as I feel that solid borders would 'imprison' the dynamic movement of the subject. I really do hope that other horsey folk will see Frisbee on your site and think: 'Mm, I'd like an action painting too'. I have already taken some photos of the portrait in our conservatory - against a pale cream background (the best light on a dull day). Tomorrow, some sunshine is forecast, so will take more photos of the portrait in situ..... :) All best wishes
Lynne
xx

Hi Melanie and Nicholas

My husband took this photo this morning, as we both enjoyed a champagne toast to our new Frisbee oil portrait.  There was a brief sunny spell, before the skies went grey again, so we grabbed the opportunity of using natural light. As you can see, I am delighted with this commission, which Nick created for me. It's fine to have photographs of a cherished pet, but oils have an almost magical quality. I really do believe that Frisbee is going to land over that fence and keep on galloping. So yes, this painting is very special indeed.

Many thanks, once again, to you both for being professional artists who really care about their clients. I shall follow your current and future commissions with interest. All best wishes, Lynne :)
xx
Happy Client Photos
Here are a few photos Lynne took of her portrait.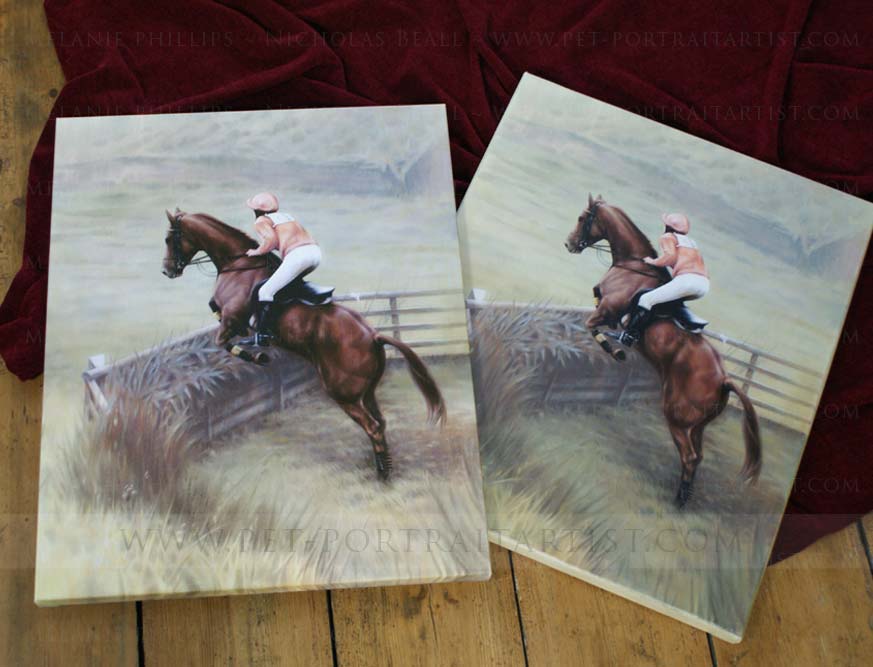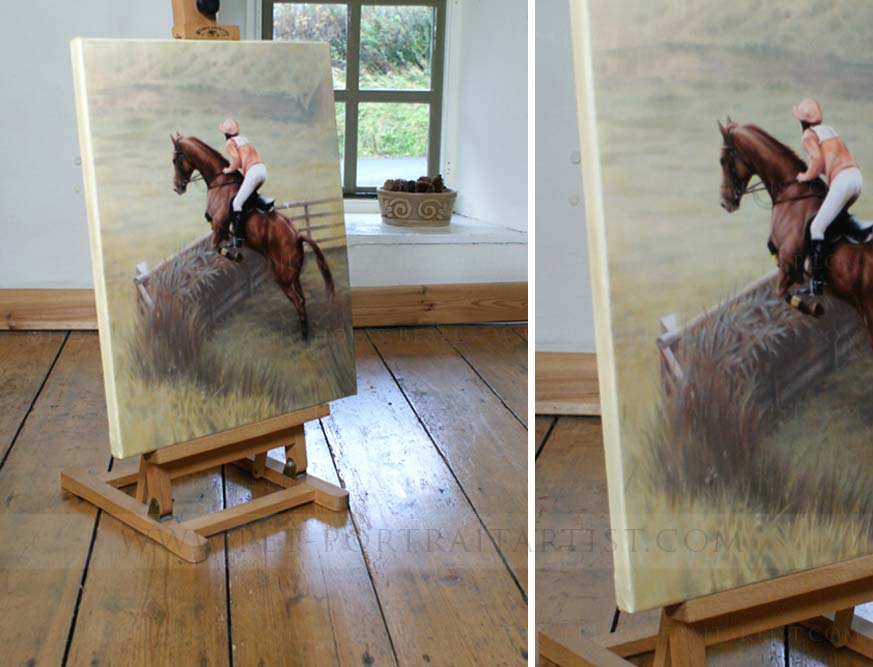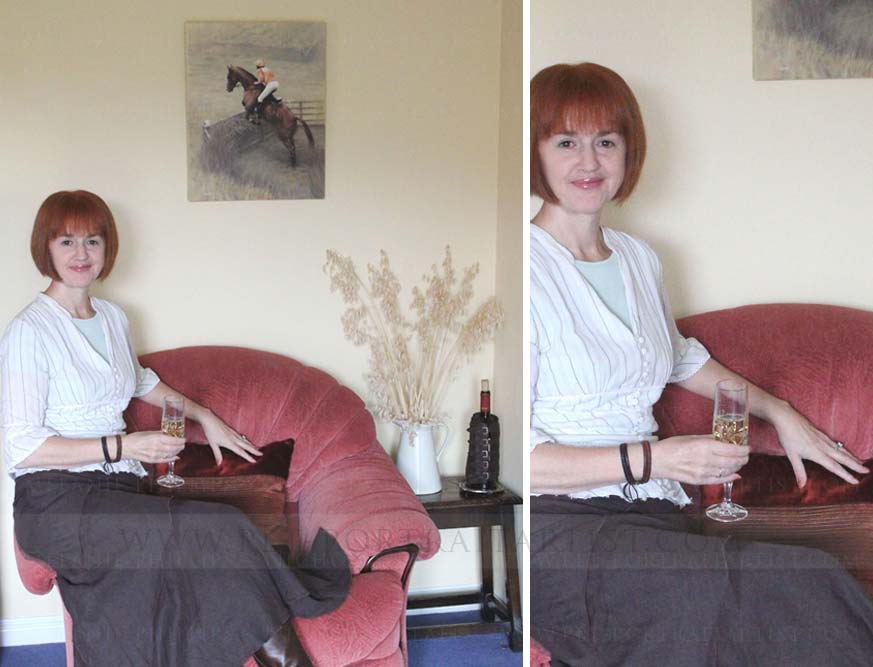 Horse Jumping Portrait
If you have the perfect photo of your horse jumping, or perhaps it is a great photo of your horse but the background isn't so good, we can create you an oil painting incorporating a different background scene into your horse jumping photo and turn it into a beautiful, hand painted portrait for you to treasure. Why not email us from our contact page and chat to us about your requirements.