Horse Landscape Painting - Horse Portraits
Imagine a beautiful window looking out into a field with your horse looking back at you. This is what many of our clients commission. They want to see their horse, when walking past the painting, as if they are looking out of their window at the beautiful scenery and their horse at that moment is looking back at them. What a perfect way to see your horse every day. This is exactly what our clients requested in the painting of Gypsy for a special birthday surprise. Read on to find out more about the commission.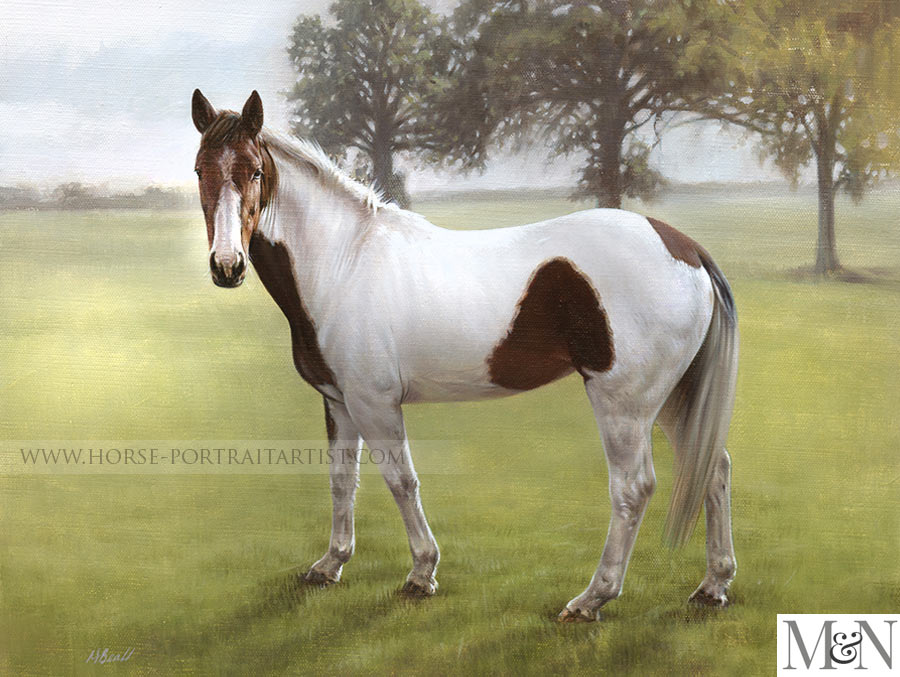 Commission of 'Gypsy' - Horse Landscape Paintings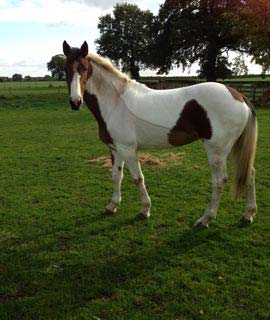 Val Davies telephoned our studio in 2015 to enquire about saving a space in Nicholas' schedule to paint her granddaughters horse for her birthday.
Val placed a deposit down and asked her daughter in law to take lots of photos of Gypsy without her granddaughter knowing.
After taking about 30 photos of Gypsy both our in the field and in the stables, along with sending some photos of her granddaughter riding which had been taken previously, we had plenty of reference to work with.
Val opted for an 18 x 14 inches oil painting and was happy to let Nicholas have free reign on the colours and feel of the background. We created a much more warm and sunny feel as you can see from the photos of the final painting.
Happy Client Testimonials
We received a lovely email and testimonial from Val...
Dear Melanie and Nicholas,
The portrait arrived safely on Saturday morning. Elizabeth was delighted and wants to hang the picture in her bedroom much to her Mothers disappointment who wants it in the sitting room, I will send a photograph when it is in place. It is a hectic week tidying up garden and driveway ready for the party Saturday night. I have been over with some baking today, just to keep them going. Tomorrow it's flowers. So pleased it has stopped raining. Thanks to you both Nicholas had a very busy time to meet the deadline. Please thank him very much.
Best Wishes
Val
Horse Portrait Framed
We took a range of photos of the painting when it was completed. We hope you like it!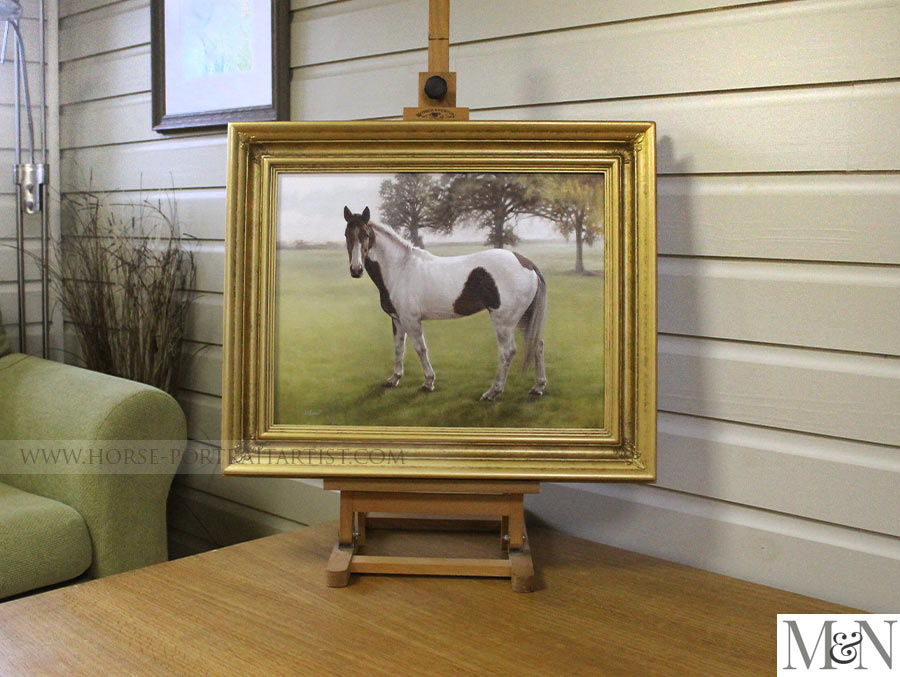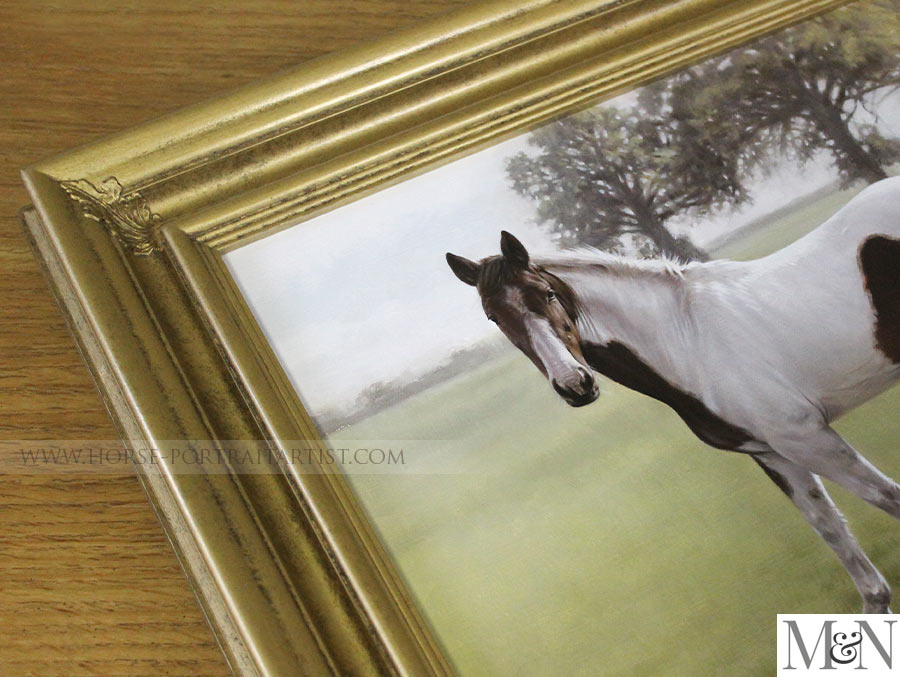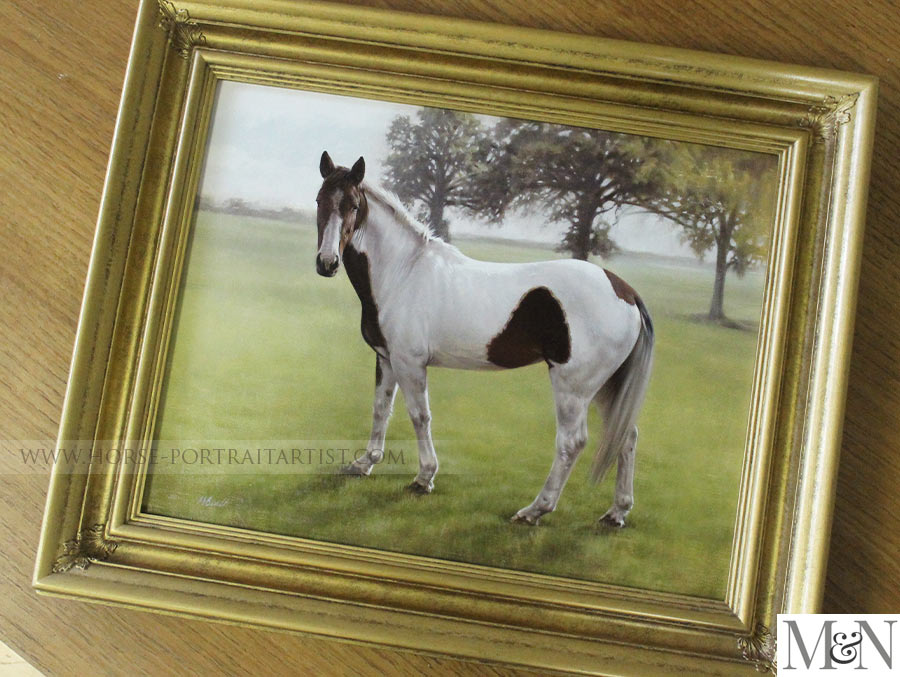 Horse Landscape Painting - Horse Portraits
We hope you enjoy reading about the horse portrait of Gypsy. If you would like an oil painting of your horse in a landscape, we would love to work with you. Ideally paintings of this nature need to be on the larger size so if you have a beautiful place to display a stunning oil painting framed in your home, just drop us a line with your photos via our Horse portraits contact page and we can discuss your ideas.