Horse Portrait Oils
Welcome to our horse portrait in oils of Trinity and Jubilee. Double portraits of horses start at our 18 x 14 size as it gives them plenty of space to breath within the painting. Composition plays a large part and the designing process is extremely important. When working with clients we make sure that they are given a mock-up to show what the design of their portrait will be like prior to painting. Nicholas and myself work closely with the clients photos for both our oil paintings and pencil drawings to make sure the whole composition is aesthetically pleasing - and also possible to create a portrait from. We hope you enjoy reading about Jubilee and Trinity's oil painting.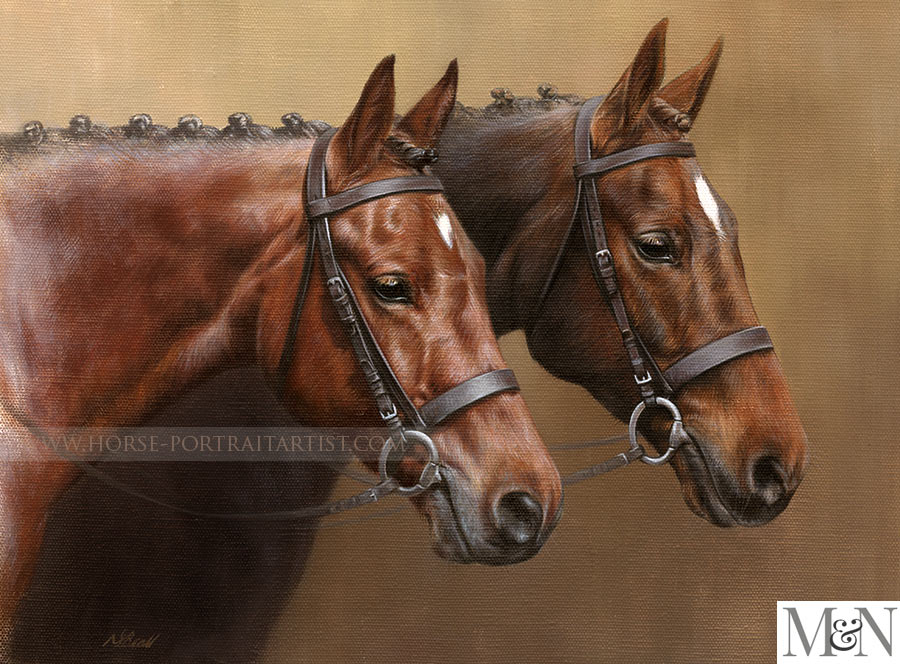 Commission of 'Jubilee and Trinity' - Horse Portrait Oils
Clive Fairclough contacted us in 2017 to see if Nicholas could paint their horses Jubilee and Trinity. Clive email the following -
"We bred two lovely horses and as we are moving abroad we are selling them. We have been asked what we want for a leaving present from my parishes (I am a parish priest) and we have decided a painting would be good. We like your husband's style and want an oil painting 16 x12 of or two horses heads on a plain background like your gallery 'Gatsby, Missy and Moriarty'. It would be good to have them painted with plaits in as they are hunters...."
We were thrilled to receive the beautiful photos, one of which I have added left. Placing them on a plain background would be a great idea as the brick wall behind in the photo would have detracted from the main focus of the horses. As you can see in the final painting above the simple studio style background works really well. Clive emails us below when he received the painting...
Hi Guys,
We are delighted they look amazing. Well done to Nicholas!
Clive and Jo Fairclough

Dear Melanie and Nicholas,
Love the painting in progress.x
Horse Portrait in Oils
We very much enjoy working with clients who have been given a portrait or voucher as a gift. We often create portraits for retirement or birthday however this commission was exceptional being a collection from the parish to their priest who was moving away to Europe. Not able to be with their horses any longer was going to be very difficult. An oil painting of them must have been a comfort in their new life abroad. If you have a friend or family member who is moving, why not give them a portrait or their horse as a gift - either a pencil or oil painting, depending on your preference. I'm sure they would be thrilled. Email us at any time with your details by visiting our Horse portraits contact page.