Lily - Our Tibetan Terrier
As some of our client are aware we sadly lost our rescue dog Tom at only 5 years old in June 2013. When Tom passed I didn't want to think about getting another dog, but as the weeks went by I thought about it more and more. On a walk one day I said to Nick I'd like a puppy and I'd like to call it Lily. I don't know where it came from, it just seemed to pop into my head and that was that. We started to look on rescue sites for a girl pup that we knew wouldn't grow too big, but to no avail.
We are familiar with the breed of Tibetan Terriers. We have dog sat multiple friends who have Tibetan Terriers, so we thought we would look to see if there were any puppy's locally to us. We found a lovely family who recently had just had a litter of puppies in South Wales. Their dogs are family pets but they also show them and amazingly they had three pups left, two boys and one girl. I saw a photo of the girl, her registered name was Blue Velvet, she looked gorgeous so we visited.
Upon arrival the lady got all the puppies out of their pen one by one, they were all clean and fluffy as they had just had their first bath!  She told us they all had registered names, but her grandchildren had given them pet names, one was called Chico, one was called Messy, one was called Van Percy…..and my one was called Lily….
I did actually think I had miss heard Linda, the owner, at first and I kind of looked at Nick as if to say…did she just say Lily?? After a while cuddling all of the pups who were running everywhere, playing, rolling around, wanting to be cuddled, I double checked with the lady. The one I had come to see, she is called Lily? Yes said Linda, my granddaughter named her. I cant get over the coincidence and I felt it was meant to be.
October 2018
Testing out our new camera on Lily, how much detail!
April 2018
Lily passed her Good Citizens Kennel Club Gold!
December 2017
Lily went out in the snow and got it all over her face! She goes tot he goormers every 8 weeks and in between times her fur grows quite a bit. This was when she had quite long fur and the snow just stuck to her! Ask any tibatan terrier woner, they will tell you snow sticks into clumps on their long fur! She looks quite funny and I had to melt her snow with a warm cloth!!
September 2017
Lily passed her Novice test with our dog trainign club. This is a separate thing to the Kennel club tests, this is with our dog club. It shows all of the rosetes she had at this point!
July 2017
Lily passed her Kennel Club Silver test!
December 2016
Went out for Christmas cenlebrations with freinds and the barman had a huge jar of biscuts for very well behaved dogs. I think Lily visited the bar many times so I'm not sure how well behanved she was!!
June 2015
Lily fresh back from the groomers, looking tidy for once!
May 2015
Lily enjoyed her little weekend break in North Wales with us, here she is watching whats going on intently, as down the garden Nicholas was getting the bbq ready and the sausages were waiting!
January 2015
Here is Lily having a whale of a time on the beach at Llansteffan, in Carmarthenshire.
May 2014
This is what Lily looks like today! She is now due for her clip, she's booked in a week on Tuesday and so currently you can't see her eyes very well. We take her to a lovely lady in Carmarthen which is our nearest large town and she stays with Michelle (Michelle's Dog Grooming) for 5 hours so that she can work her magic.
March 29th 2014
Lily loves to play and this is her come and play with me and stop lounging on the sofa look....!
March 25th 2014
Lily had her first proper clips and looked so smart and tidy when the groomer took this photo. Tibetan terriers fur grows quite fast and if you leave it to grow it would be over their eyes and nearly to the to the floor! We don't intend on showing Lily and so this is a normal style clip for her. we don't want it too long that its a lot to brush but not too short either, so a mid clip is perfect for us.
December 20th 2013
Lily was the focus of our yearly christmas card, I must have taken around 50 photos to get one that worked as she is so lively, she didn't sit still for very long.... and the tinsel did get a little played with and chewed!
November 29th 2013
A month has gone by and Lily has been taking classes locally to socialize her with other puppies. She got on with most of them, apart from a Welsh Terrier who was quite feisty! We had a lovely time each week and Lily learnt a lot and amazingly passed her Puppy Foundation and received a certificate and rosette.
Lily at 16 weeks old (October 22nd 2013)
Lily had visited a local groomer for the first time, to get her use to being groomed. Here and she was utterly exhausted after her busy afternoon of a bath, trim, toenail cut and playing with the groomers dogs too. I think she was glad to be home after a busy afternoon.
Lily at 15 weeks old (Sept 16th 2013)
Here Lily was playing with her today and we were teaching her to sit and lay down! So eagar to please, although she does move around quite a bit so difficult to photogrpah! You can see that her fur is starting to grow much longer now, Tibetan Terriers don't shed so we will have her groomed periodically.
Lily at 10 weeks old (October 15th 2013)
These photos were taken when Lily was 10 weeks old. She has doubled in size since she arrived and has visited our local post office twice when we have posted portraits. Our friend the postmistress Polly weighed her on the scales each time to see how she has grown!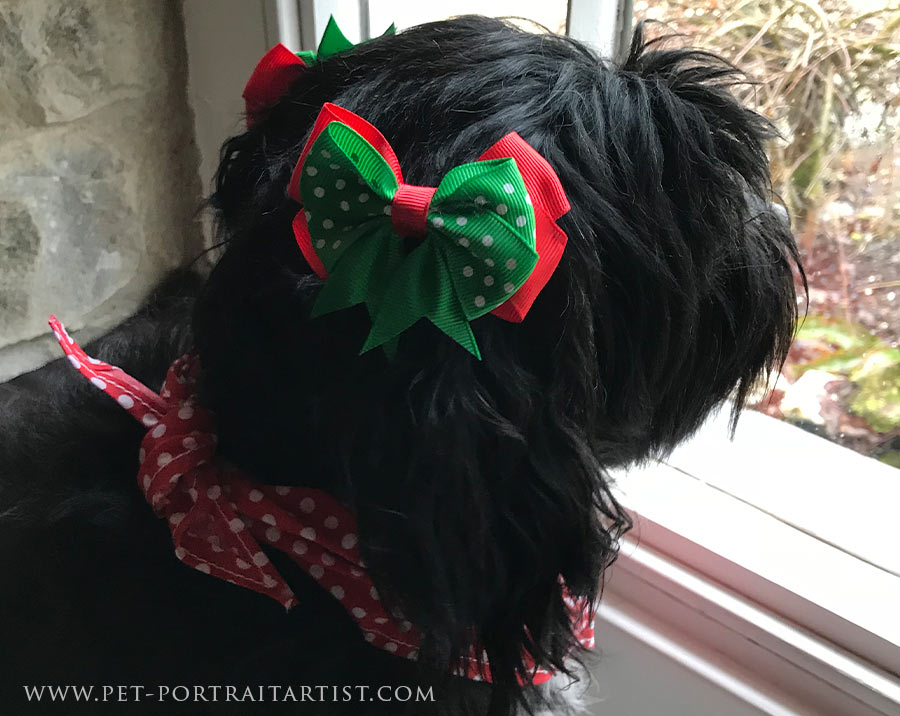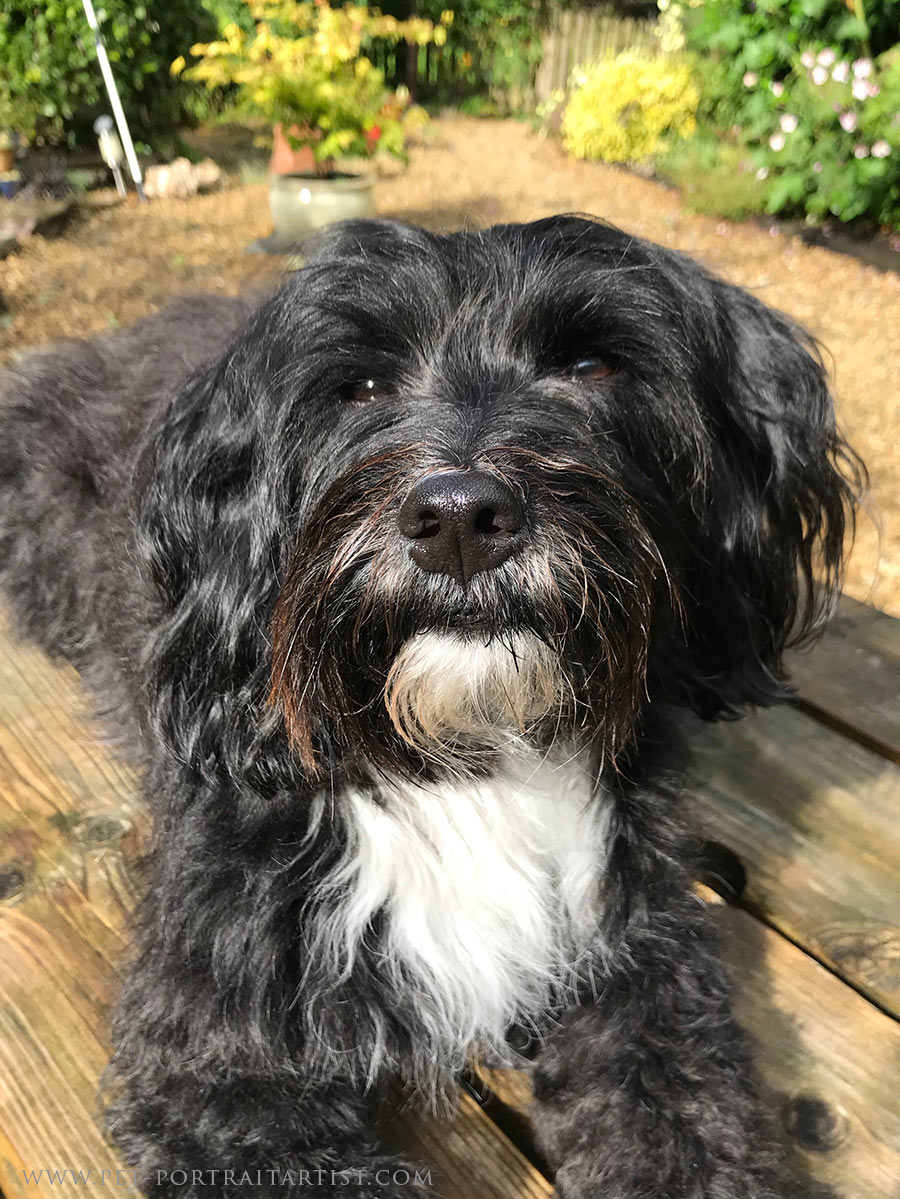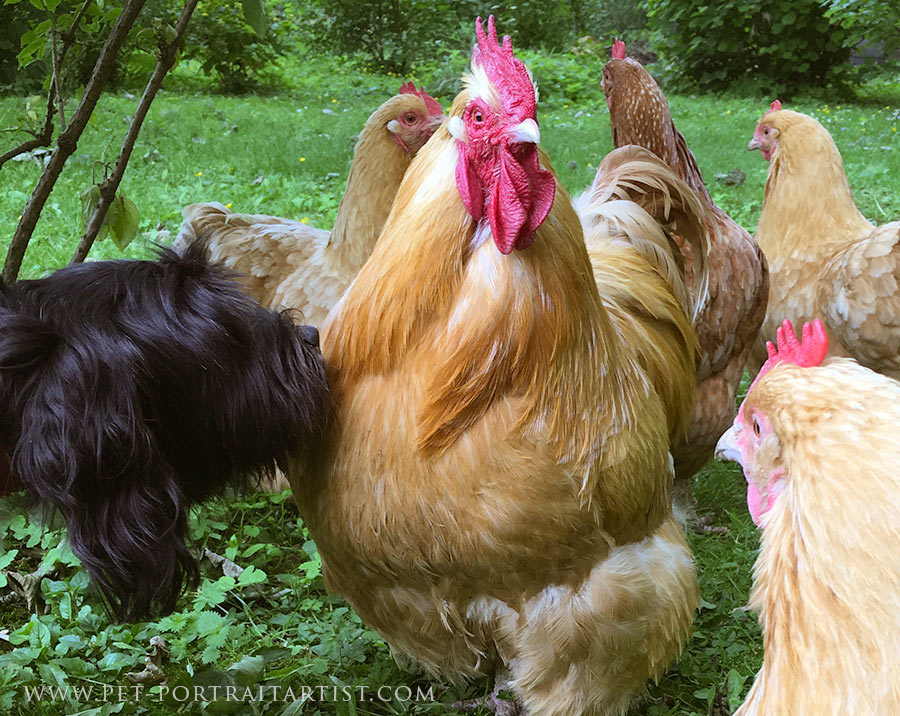 Lily at 8 weeks old (Sept 3rd 2013)
These photos were taken on second day with us, enjoying the garden!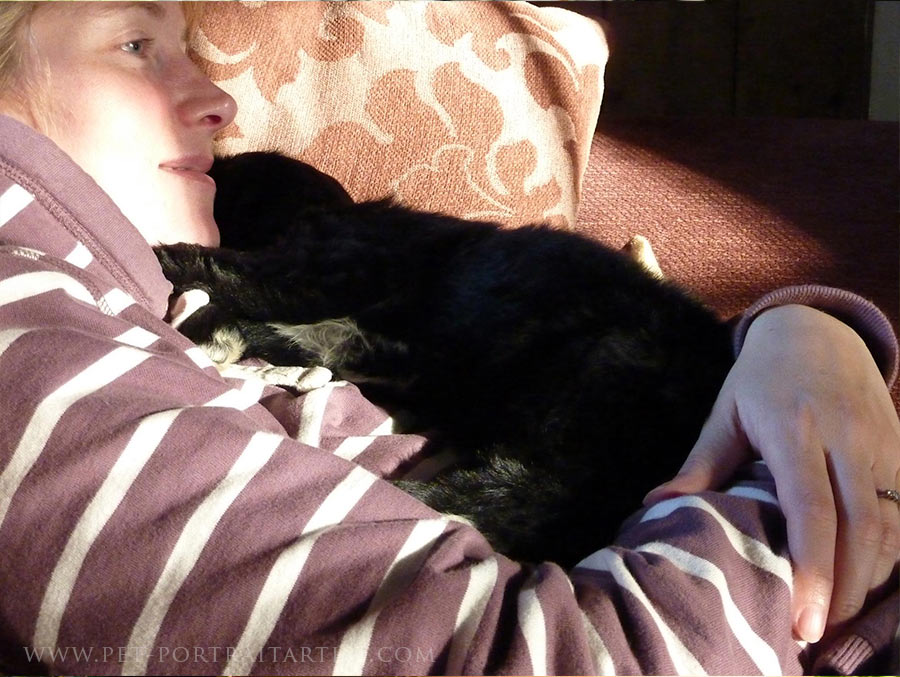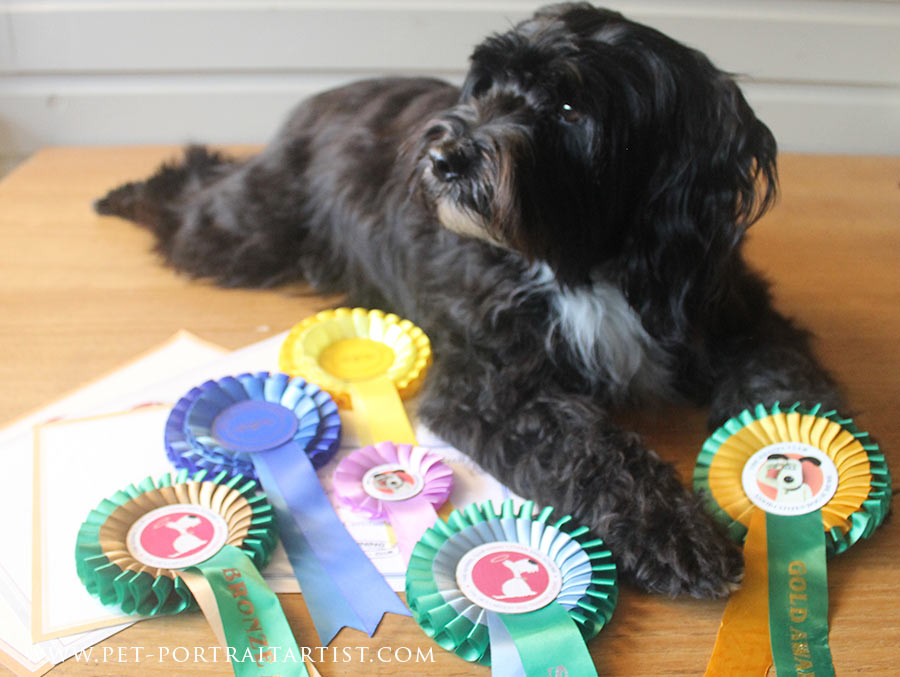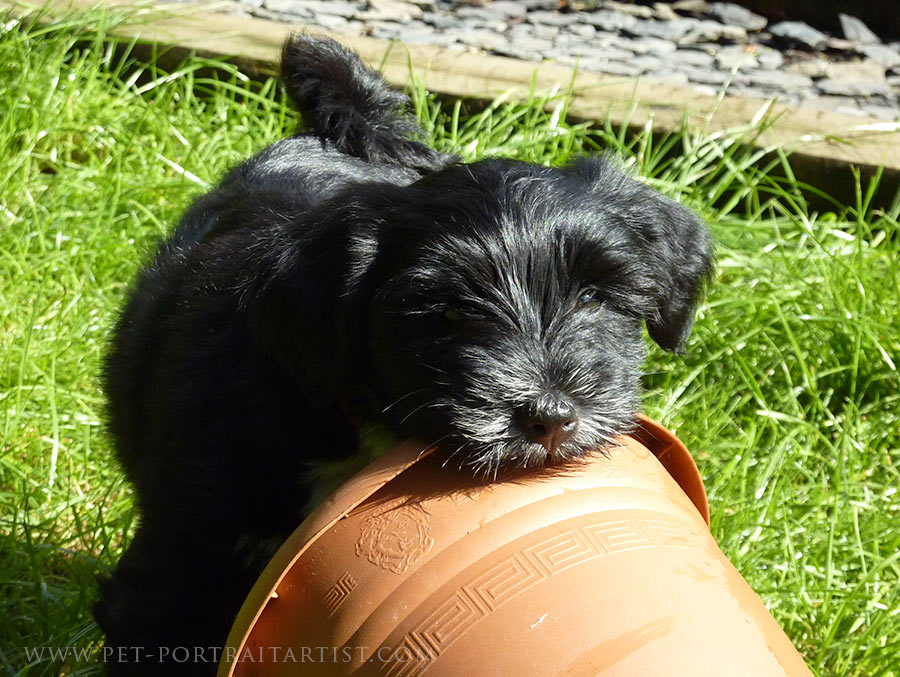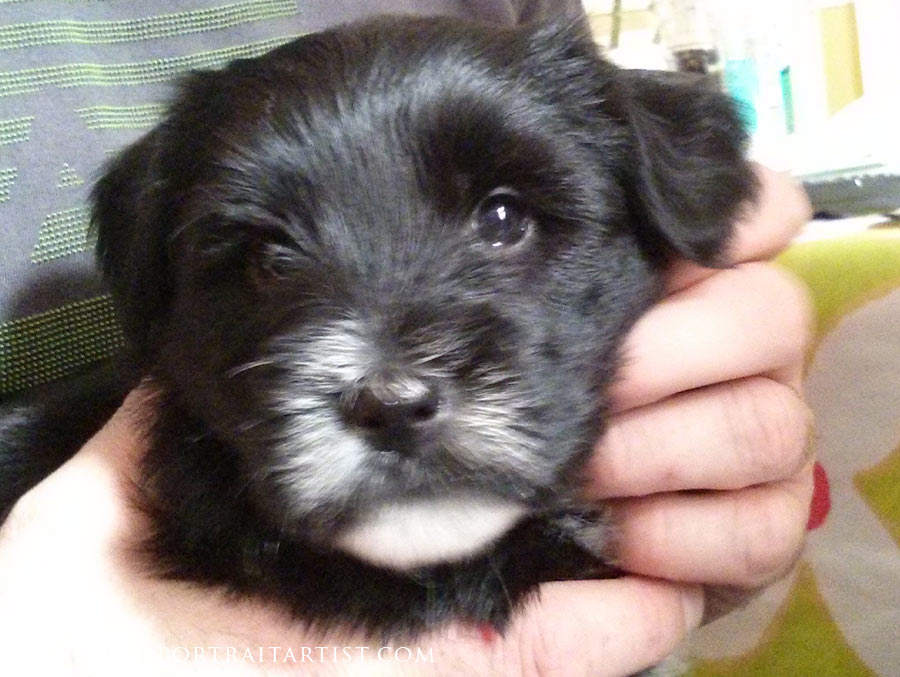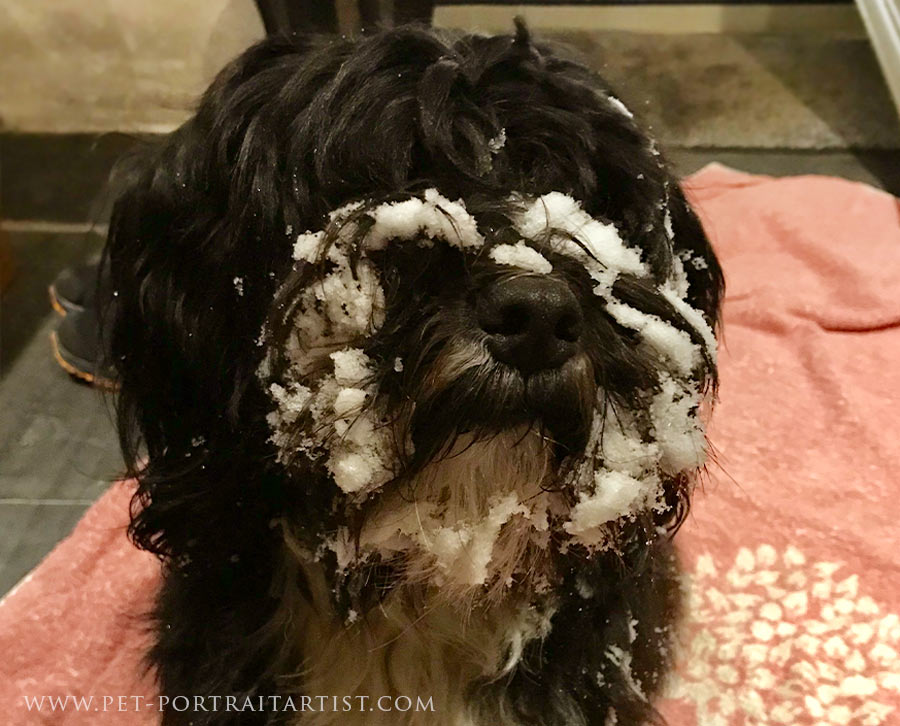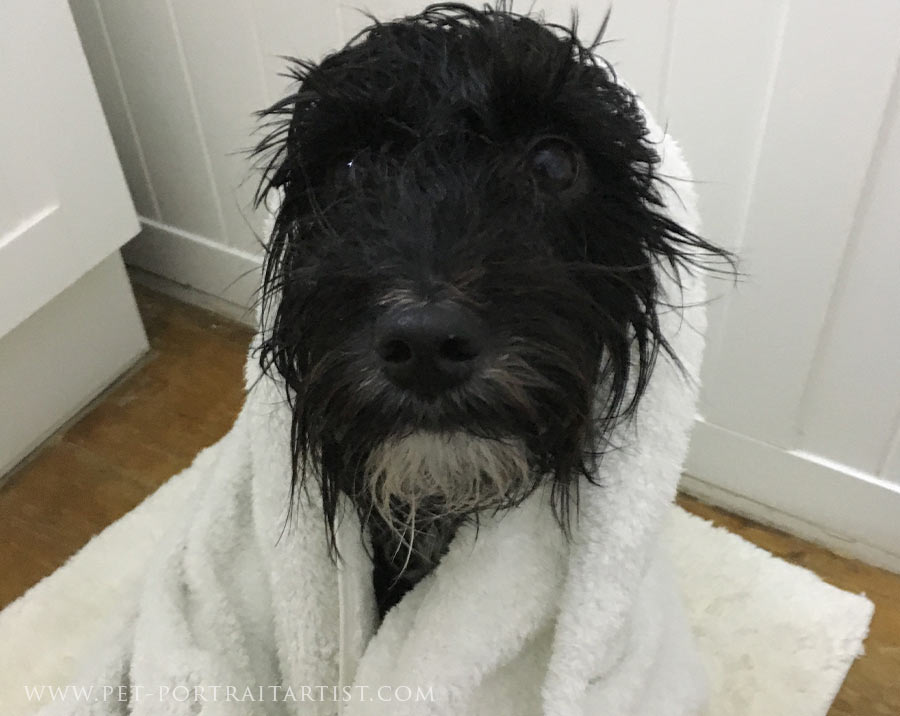 Lily's first day with us at 8 weeks old (Sept 2nd 2013)
These photos were taken on her first day with us at eight weeks old. She was tiny when she arrived :) A little bundle of joy. She was quite nervous as of course she had been taken form her safe environment with her mum and siblings, but she soon started to follow me around. She sat between my furry slipper boots while i was at the kitchen sink and Nicholas snapped such a comical photo of her. Then we both cuddle don the sofa and she took a nap. Its so tiring being a puppy!
Lily at 6 weeks old (Aug 19th 2013)
These photos were taken with her siblings and mum when we went to visit her. Her breed name is Blue Velvet - aka Lily!
testimonials.....

Hello Melanie! It was all fabulous!! The framer had hung the portrait in his gallery, just as he said. Eight of us had our first course in the restaurent, ordered our puddings, and then I suggested that while we were waiting, we just took a quick look at the gallery,which two of our friends had never seen. Everyone was "in on it" except David, so in we all went, and David spotted the golden retriever portrait almost immediately.We held back a bit, and he stared, and went closer, and stared, and stared... and then I went to him and gave him a hug and told him he wasn't seeing things, and yes! it WAS Jessie and it was his! Everybody was laughing and crying all at the same time, not least David - so I'm afarid no photos got taken right then. We're having an end-of -the-birthday-week celebration party on Saturday night for more of our dog training friends, and I'll make sure we take some then so I can get one to you. It's already hanging on our sitting room wall. The littlest puppy saw it last night and she could hardly believe her eyes - went up to it,looked, came to us,looked round to see where Jessie was: What better credentials for a true likeness could you wish for?!! The framer had done a brilliant job.He'd said to me earlier,"I expect there might be a bit of a cafuffle when he comes in?" That was to put it mildly!! None of us who were there will ever forget the look on David's face. Anyway, Sue or I will be back in touch with a photo or two so that you can see the portrait framed.I hope you feel the frame does the portrait justice. I can't thank you enough for everything - I shall keep an eye on your web-site just for my own pleasure - and so, of course, will David. I shall miss our emails (though not the anxious wait!). Just can't thank you enough. Perhaps one day we might make it to your studio in Wales. Enjoy your weekend. Mary, Jessie and David
Visit next...
Read about me - Melanie Phillips. I design our website and create all of the pencil pet portraits.