Dog Portrait - Bulldog Pet Portraits
Welcome to our Bulldog Pet Portraits commission of the stunning bulldog called Winston. Nicholas Beall traditionally hand painted Winston using oil paints on Italian Linen Canvas. The dog portrait was commission from clients in the USA. We are always delighted to work with people from all over the world and our oil paintings reside in many beautiful homes far and wide. Nicholas works on a select number of commissions each year and is always thrilled to paint the Bulldog breed. If you are interested in having your Bulldog painted, please don't hesitate to email us at any time.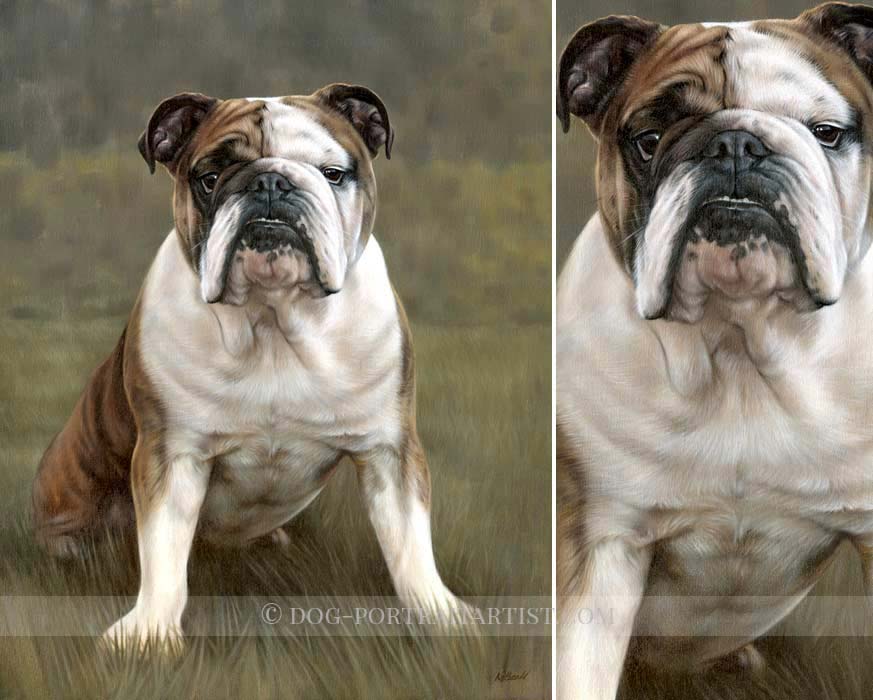 About the Commission of 'Winston' - Bulldog Pet Portraits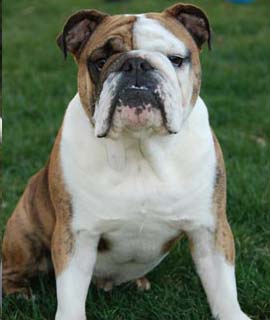 Robert Junk, USA, contacted us in 2012 enquiring about Nicholas' Bulldog Pet Portraits. Robert and his family had the most stunning dog called Winston and at the time of emailing, Winston was very poorly and sadly he passed away just before Nicholas started the portrait. It was extremely sad and we know just how important this painting is for the entire family.
Robert had some lovely photos of Winston in their garden and so Nicholas painted Winston in his favourite place, with a very natural muted green background, to allow Winston to be in full focus. Nicholas usually works from one main photo for the pose for the oil painting and uses other for detail. He loves to see as many photos as you have of your dogs however, as he likes to study them and their personality and character to help him create this in the paintings.
Dear Melanie and Nicholas,
The portrait is spectacular! Just beautiful. It captures Winston as we will always remember him. I agree with the decision to keep the background blurred. I appreciate this more than I could ever express in an email. Thanks again to you and Nicholas for all your efforts. You both are very talented and it comes through in your portraits. Eventually, we will want to commission portraits of our other two bulldogs. I hope Nicholas is not tired of bulldogs. I think it's ready to frame.
Robert
Dog Portrait - Bulldog Pet Portrait Framed
We have a number of framers that we work with, all specialising in varying types of frames. We are happy to hear form you if you would like your oil painting framed as we have plenty of choice.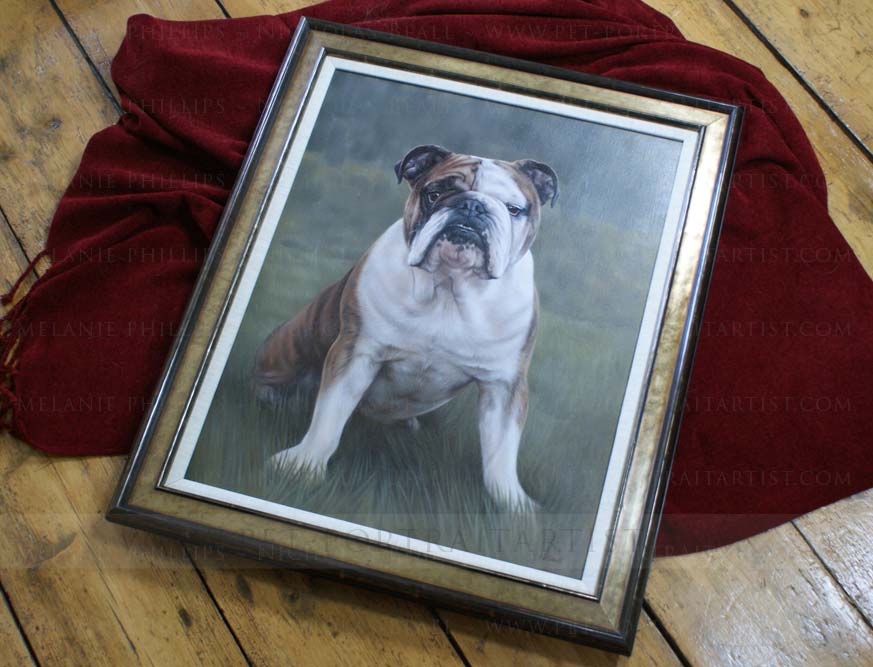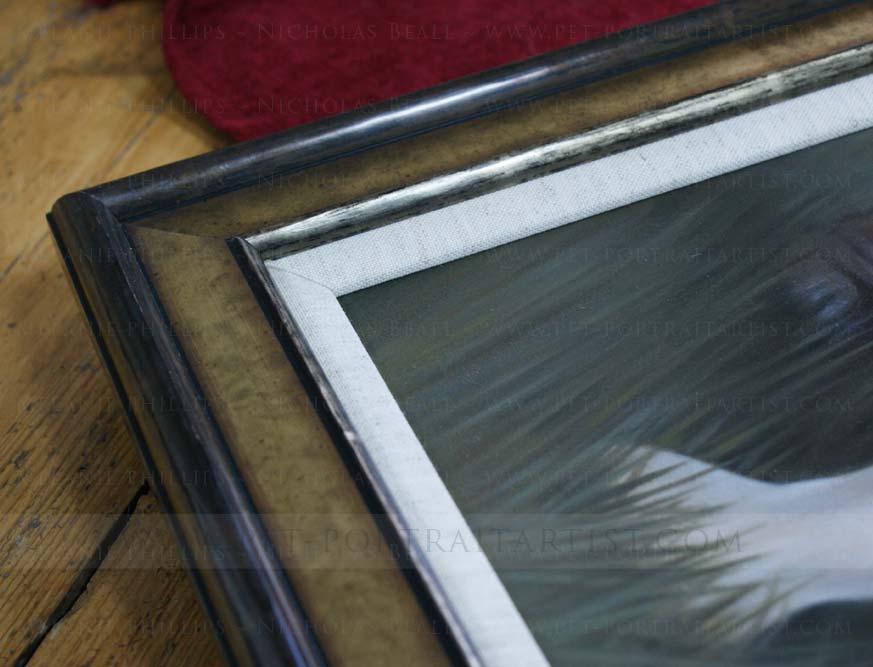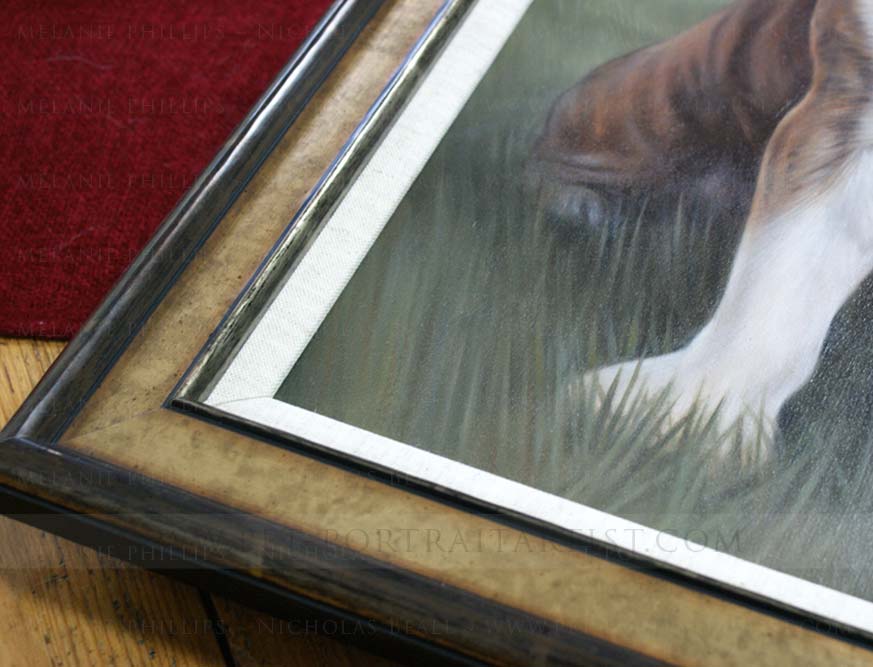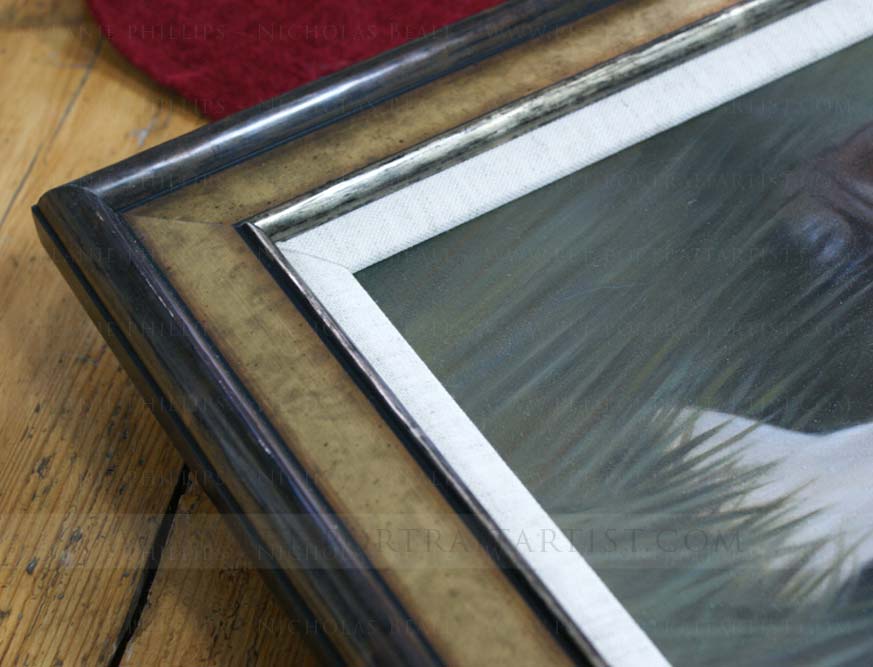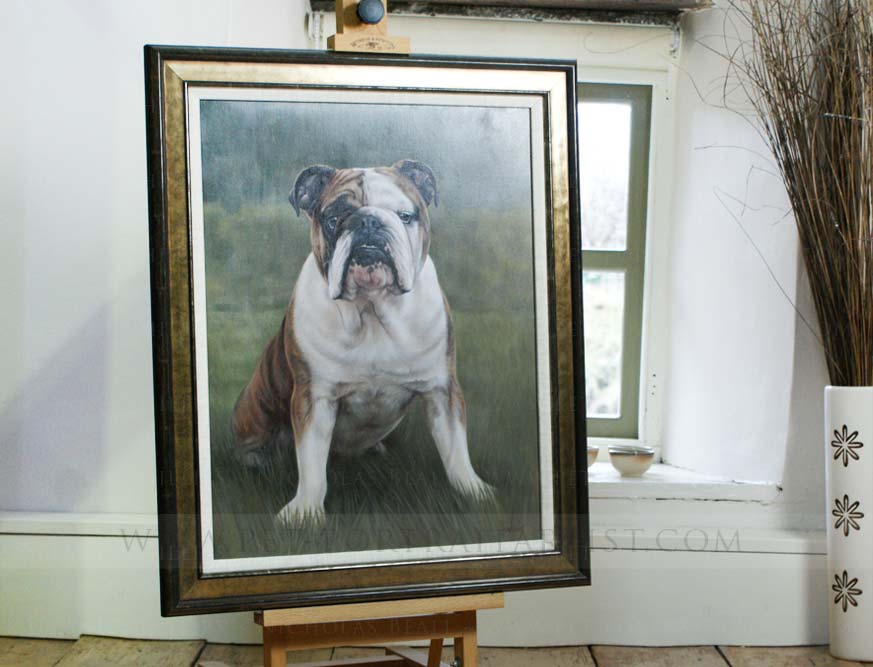 Bulldog Portraits
We would be thrilled to portray your Bulldog in an oil painting. Why not email Nicholas your photos and we can chat about your ideas for an oil painting. Visit our pet portraits contact page and let us know your ideas for a painting.