Dog Portraits - French Bull Dog Portrait
Welcome to our French Bull Dog Portraits of a stunning dog called Agarn. All of the oil paintings are created by professional artist Nicholas Beall. He traditionally hand paints portraits to our clients specification from their photos. If you scroll down you will be able to see photos of the commission the reference photos he used and the amazing frame too. Finally you can read a testimonial from our clients which we are so appreciative of. We hope you enjoy this page about the French Bull Dog oil pet portrait of Agarn.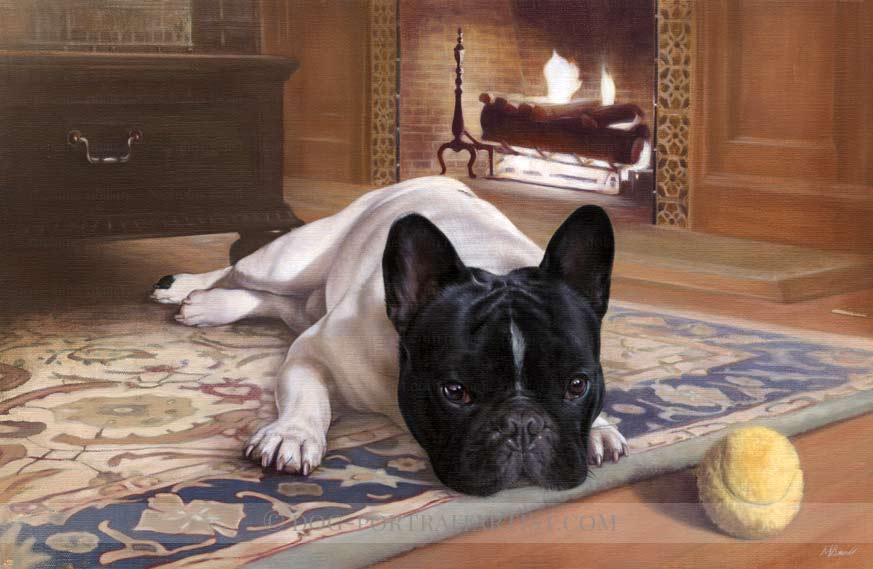 About the Commission of Agarn The French bull Dog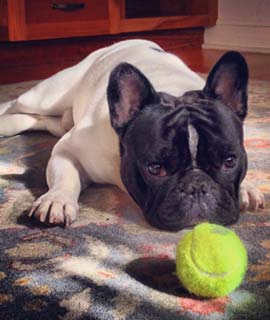 Bill Schllos emailed in August 2017 asking if we would be able to create an oil painting as a surprise for his husband Justin as a Christmas gift. Bill emailed us lots of photos of Agarn and we chatted about ideas for the painting. After a number of mock ups and designs later we all decided a painting of Agarn laying in his favourite room, with his tennis ball in front of the fire would be the best composition.
We like to see as many photos of your dog as you have when designing a portrait. We were lucky with the portrait of Agarn as our clients sent a full range of photos and also allowed us to view many on their Facebook page too. We work from one main photos for the pose, however can amalgamate photos together, so in this instance we used one photo for Agarn, one for the fireplace and one for the room.
The portrait was painted at 22 x 14 inches on Italian linen canvas. it was framed in the most wonderful gold hand crafted frames by one of our amazing framers. The photos below show the portrait nearly completed with Nicholas' hand and brush to show scale. You can also read a wonderful testimonial from Bill and Justin after Christmas when the portrait had been presented. We are thrilled to read it and hope you all enjoying reading too.
Hi Melanie and Nicholas,
The painting arrived today! I opened it just enough to see the painting, and it looks so beautiful and perfect. I then tried to wrap it back up carefully just the way it was sent for Justin to open on Christmas. I've loved following the photos and videos you emailed. I would check every day looking anxiously awaiting new updates. This has been such a wonderful experience for me. Thank you so much for giving life to our treasured Agarn once again. This means the world to us. Many thanks again, and best wishes to you for a happy holiday season,
Bill

----------------------------------------



Justin and I are incredibly grateful to Melanie Phillips and Nicholas Beall (Pet Portraits by Melanie and Nicholas) for making possible the beautiful portrait of our beloved Agarn who passed away in May.

They are a talented couple living in the UK and they share our love of pets. Melanie captures them in drawings, and Nicholas captures them in oil paintings. And by "capture," I mean not only the appearance but also the spirit of those animals.

In Nicholas' painting of Agarn, Justin and I feel like Agarn is actually there with us. I don't know if it's the fur that looks like you can reach out and hold in your hands, or the loving eyes looking over us always, or just the whole portrait with all of its thoughtfully composed elements that come together so magically.

They went through every photo we took of Agarn, read what we had to say about his personality and life with us, and came up with a composite of two photos as the source for the final portrait. I'll attach below those source photos and pictures of the portrait in progress as well as blog posts by the artists who share their thoughts, more photos, and videos along the way. We couldn't be happier to have this representation of Agarn live forever in our home and hearts.

Bill & Justin Schloss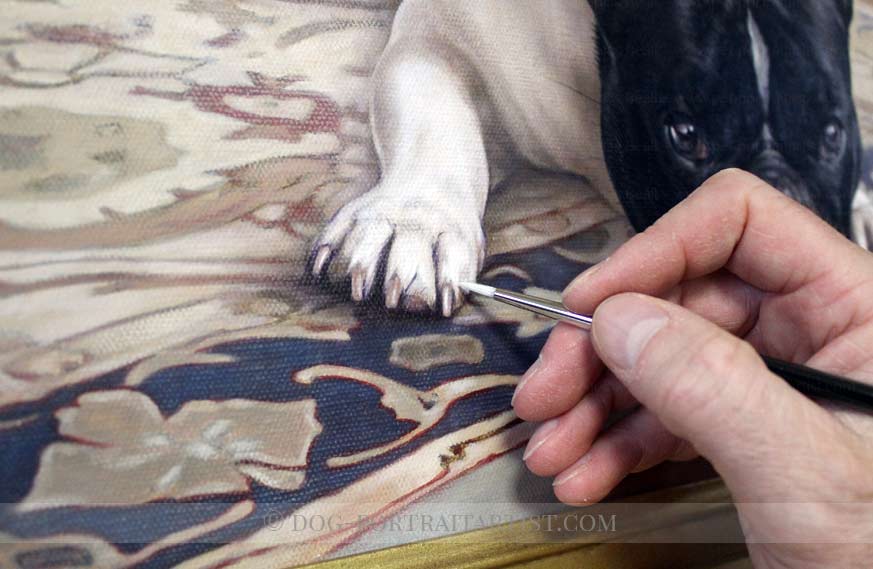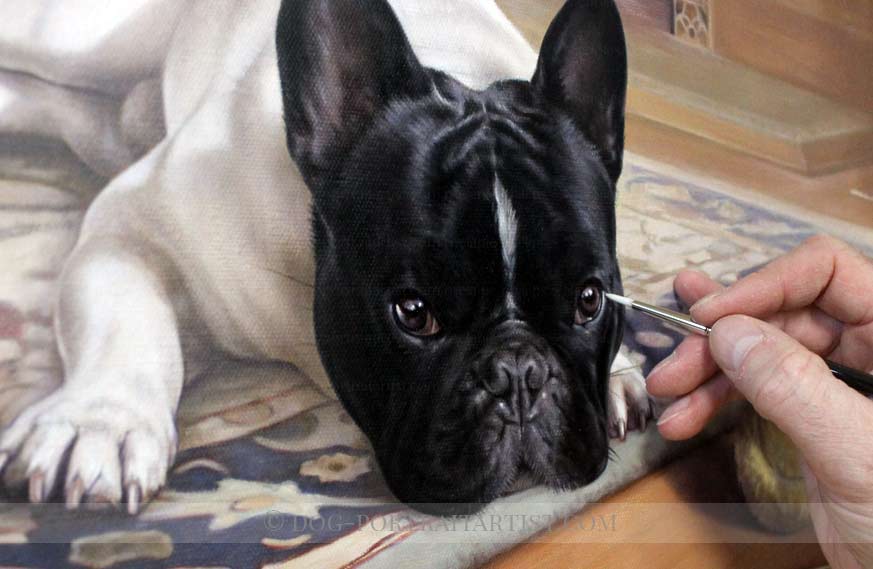 The French Bull Dog Portrait Framed
Here are some photos of the painting framed, we feel it looks absolutely exquisite!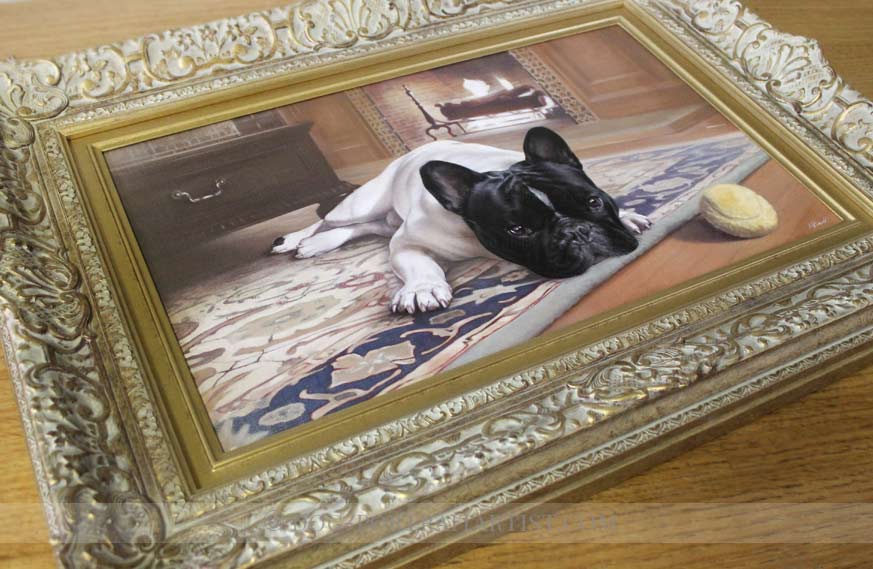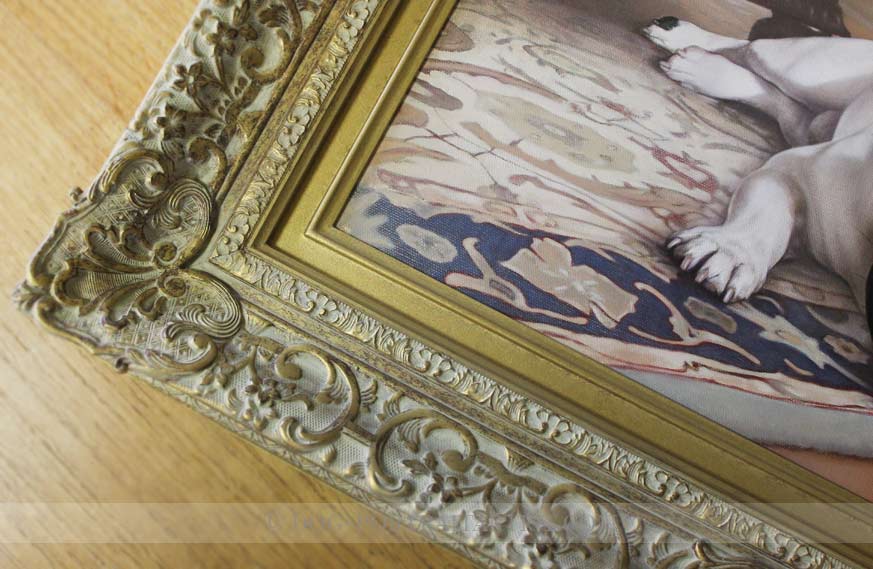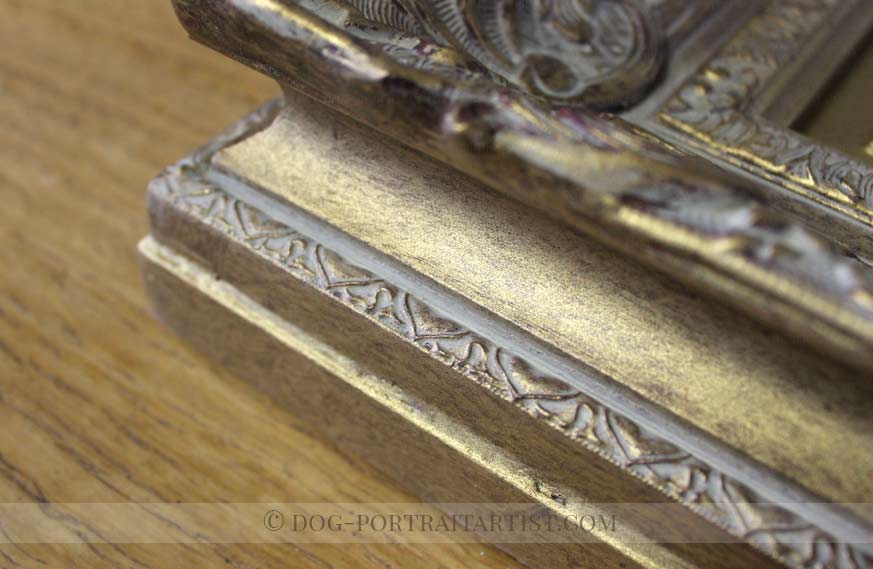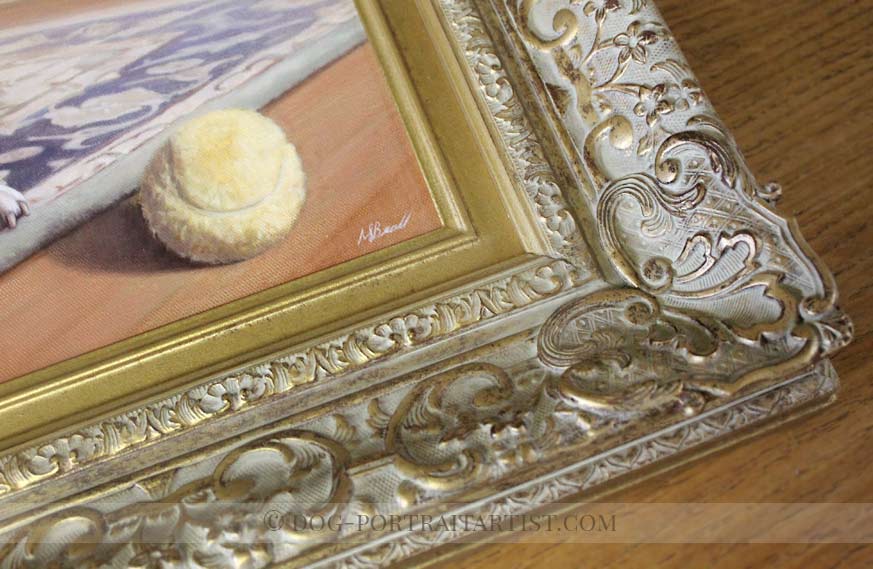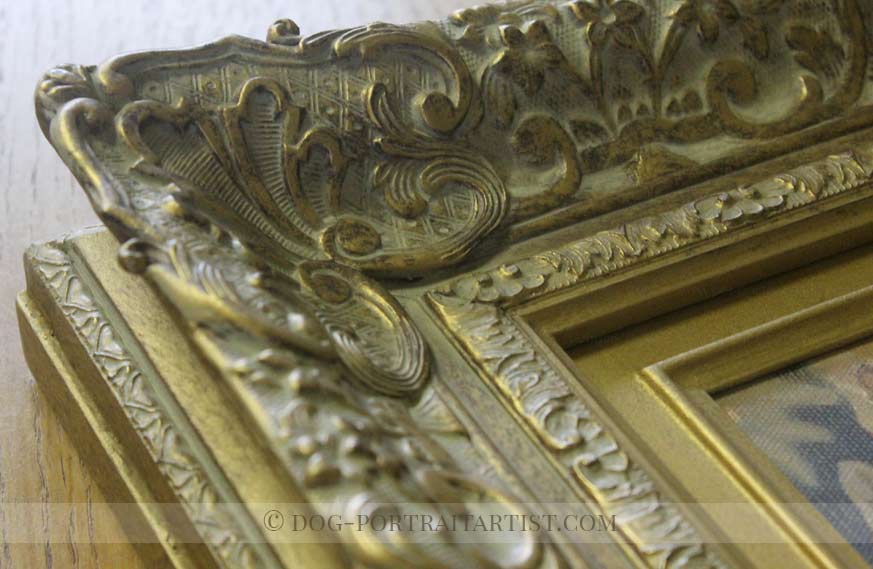 French Bull Dog Pet Portraits
If you would like Nicholas to create a dog portrait of your French Bull Dog, we would love create one for you. Email us a few high resolution photographs of your French Bull Dog that you feel capture them well. You are more than welcome to email them to us and we can send you some designs for a portrait within 24hrs. Visit our pet portraits contact page and drop us a line at any time.