Rhodesian Ridgeback Dog Portraits
Welcome to the portrait of Amba and Maddie's Rhodesian Ridgeback Dog Portraits. The portrait was commissioned by Neil (UK) as a surprise birthday present for his wife Jackie. The painting was traditionally hand painted by professional dog portrait artist Nicholas Beall in oils on Italian Linen canvas. Scroll down to see lots of photos of the oil painting, the portrait framed and some wonderful photos of the recipient Jackie with Amba and Maddie and the painting too.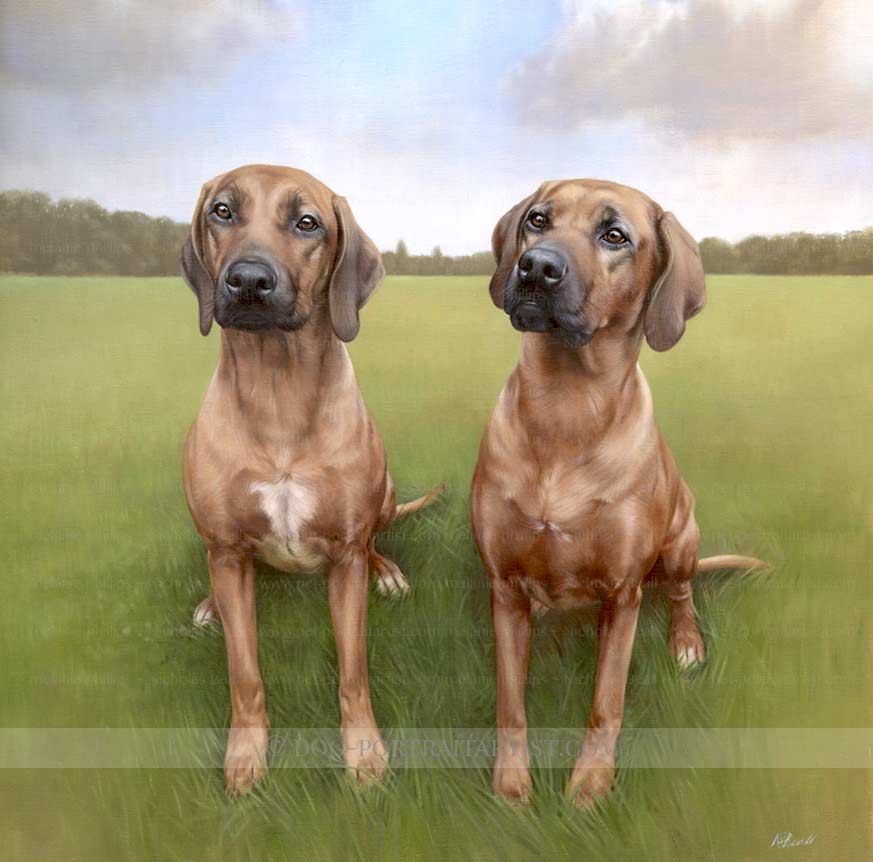 Commission of 'Amba and Maddie' - Rhodesian Ridgeback Dog Portraits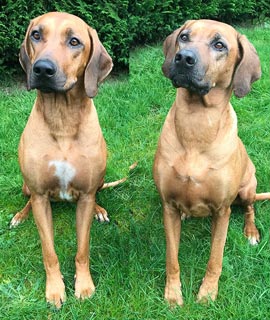 Neil contacted us in 2017 to find out if there would be enough time to create an oil portrait of their two Rhodesian Ridgebacks as a surprise present for his wife's birthday in January 2018. Neil had emailed us in plenty time and we like to meet deadlines if we possibly can.
Neil took a number of photos of Amber and Maddie both in his garden and in the field that they often run in. Neil wanted the dogs to have the field as the backdrop of the painting and you can see the photos that Nicholas used below right. He brightened up the sky so that you could see some blue sky which was an improvement to the overcast grey day the photos were taken.
Neil requested that the portrait be of his two dogs sitting in the field where they walk frequently. The portrait was painted on a 20 x 20 inches in size. Both Neil and Jackie were delighted with the finished result and you can read Neil wonderful email below....
Wow…Wow!
It looks fantastic, I couldn't be happier with it and given that Amba and Maddie are really Jackie's loves I just can't wait to see her reaction, I will let you know. The hard bit of course was packing it all back up again ready for presentation on Sunday but with the help of Lyndsey I think we've done it. Thank you once again, and please send my thanks to Nicholas.
Regards
NEIL xx


Hi Melanie and Nicholas,

I gave Jackie the painting on Sunday morning before we headed out to a rather lengthy birthday lunch with friends and family. Jackie's first reaction was one of disbelief and she just stared at the painting. This was swiftly followed by floods of (happy) tears. She absolutely loved the painting and insisted on looking at it from all angles and distances.
She took a few quick photos of it and once we were at lunch I think everybody was treated to Jackie's story and saw the shots and I have to say everyone thought the painting was beautiful. The painting is now hung, although it is really planned for a new house we will be moving to soon. I will send you a shot of Jackie alongside the painting.
Thank you once again, it could not have gone better.
Regards
Neil x
Rhodesian Ridgeback Dog Portraits Framed
Here are a few photos of the painting framed.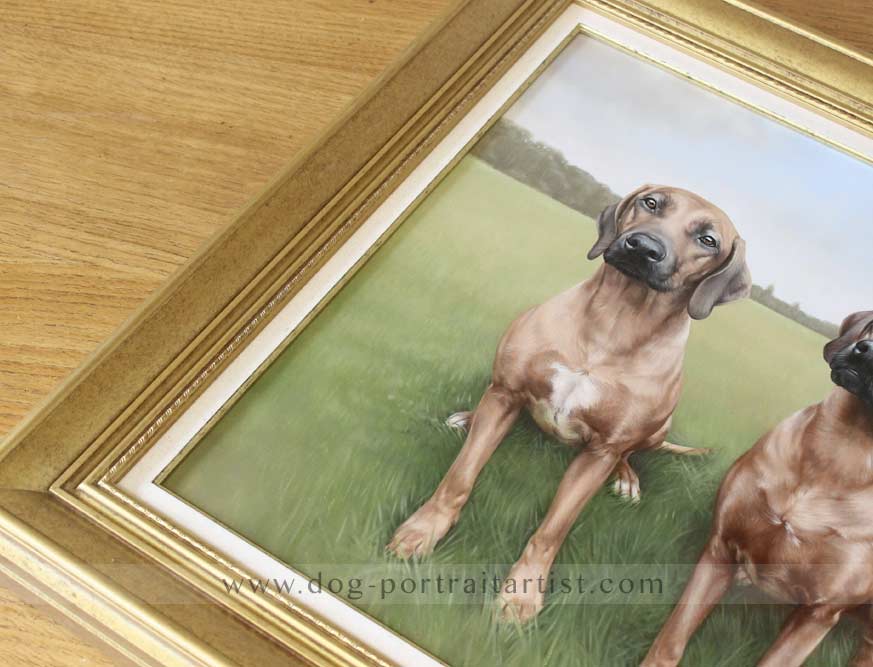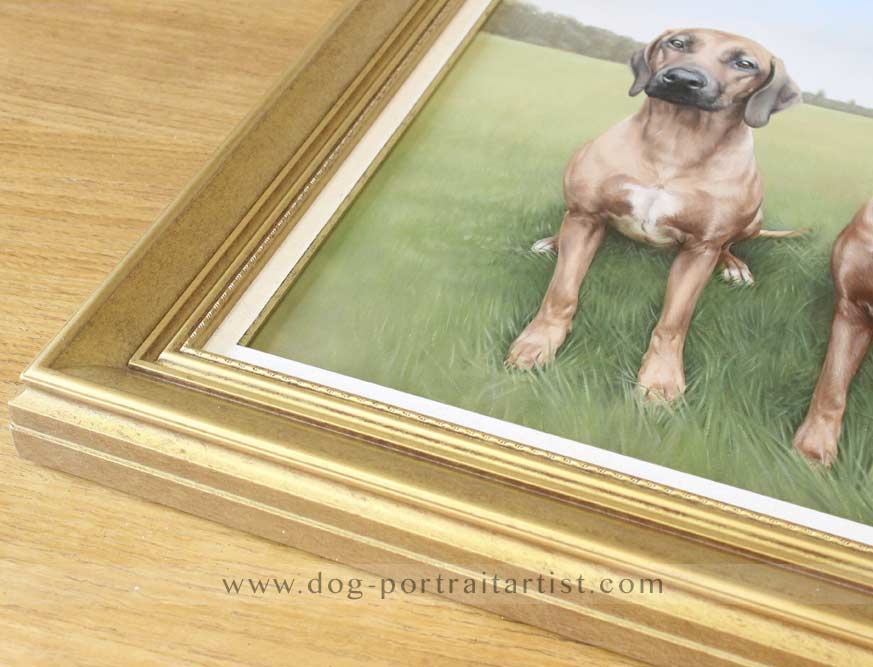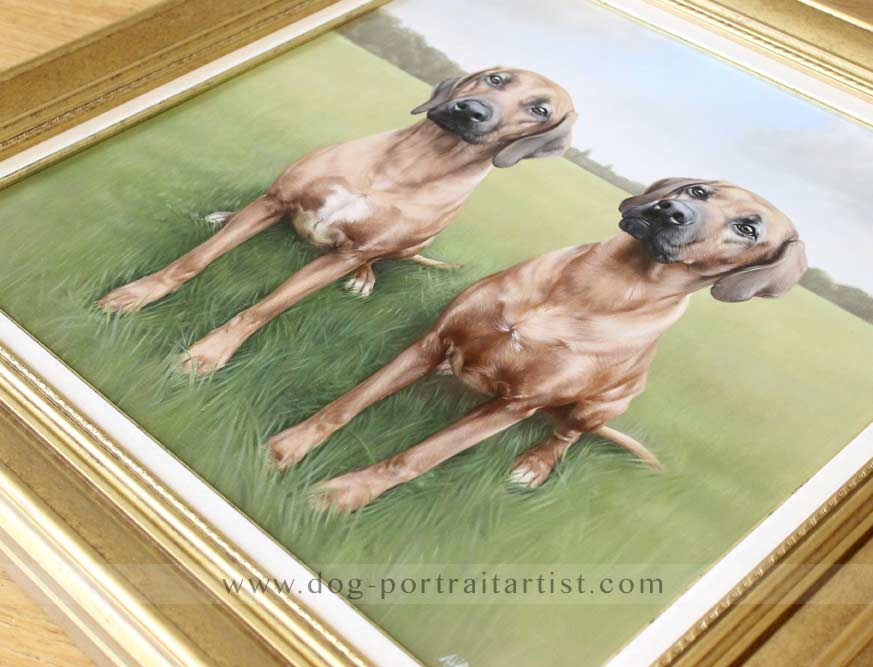 Rhodesian Ridgeback Happy Clients
Here are a couple of photos of Jackie with the Rhodesian Ridgeback painting in situ in her home. We love the photo of Jackie with Amba and Maddie...just perfect! We cant thank Jackie enough for having the photos taken and allowing us to use them on our website. Thank you!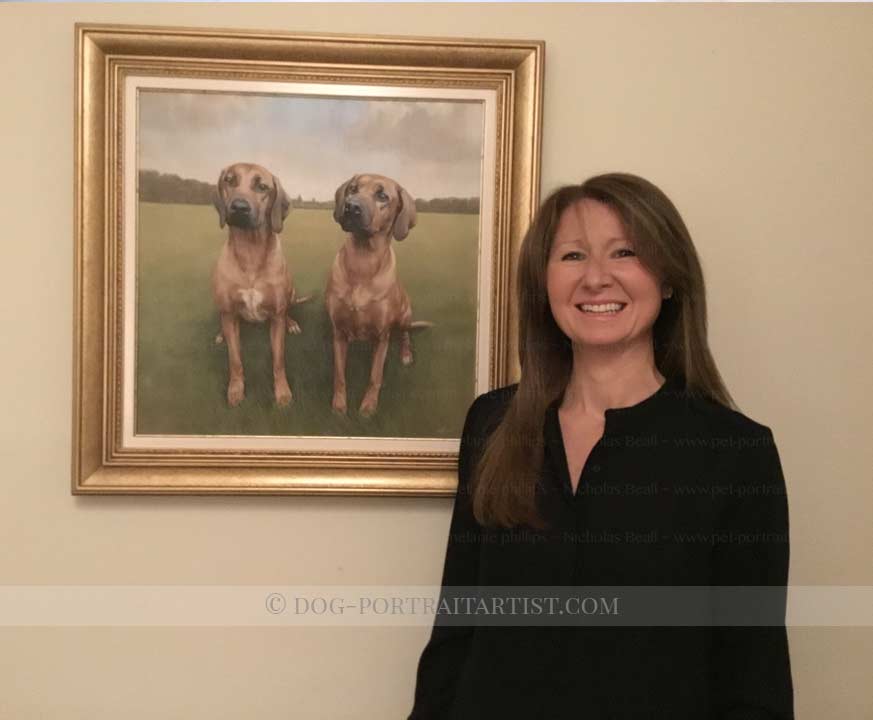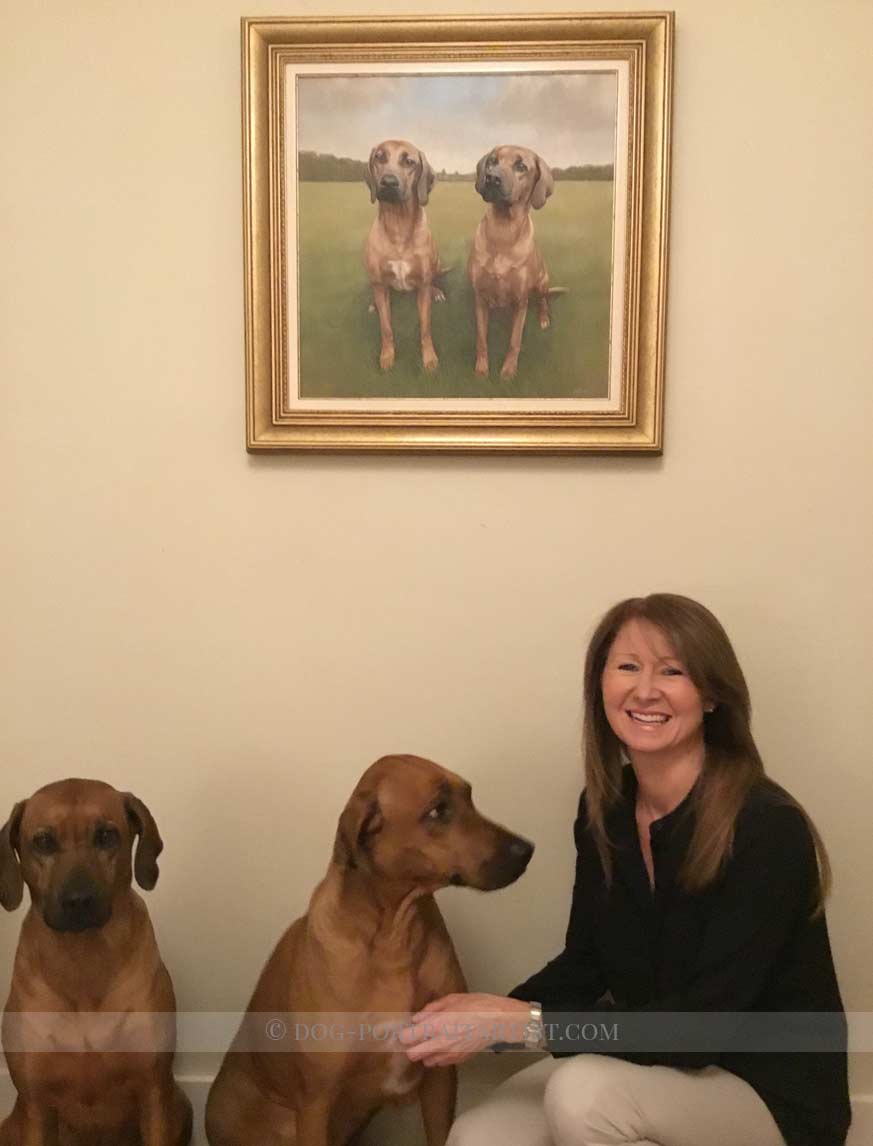 Rhodesian Ridgeback Pet Portraits
If you would like to have an oil painting of your Rhodesian Ridgebacks similar to this, why not drop us a line via our pet portraits contact page and let us know your ideas. Send us your photos as we would love to work with you.