Rhodesian Ridgeback Painting - Pet Portraits
If you are looking to commission a Rhodesian Ridgeback painting, then look no further as Nicholas Beall is a professional dog portrait artist painting Rhodesian Ridgebacks in oils for commission. He works closely with you to create a design for your portrait, making sure that the photos he uses, really captures your Rhodesian Ridgebacks perfectly. He will create a mockup for you so that you know what your painting will look like before putting brush to canvas. His oil paintings are traditionally hand painted on bespoke high quality gallery wrapped canvas ordered specifically for each client who orders. So clients can have any size or shape oil painting they would like. Read further down the page to find out about the commission of the Rhodesian Ridgeback oil painting below.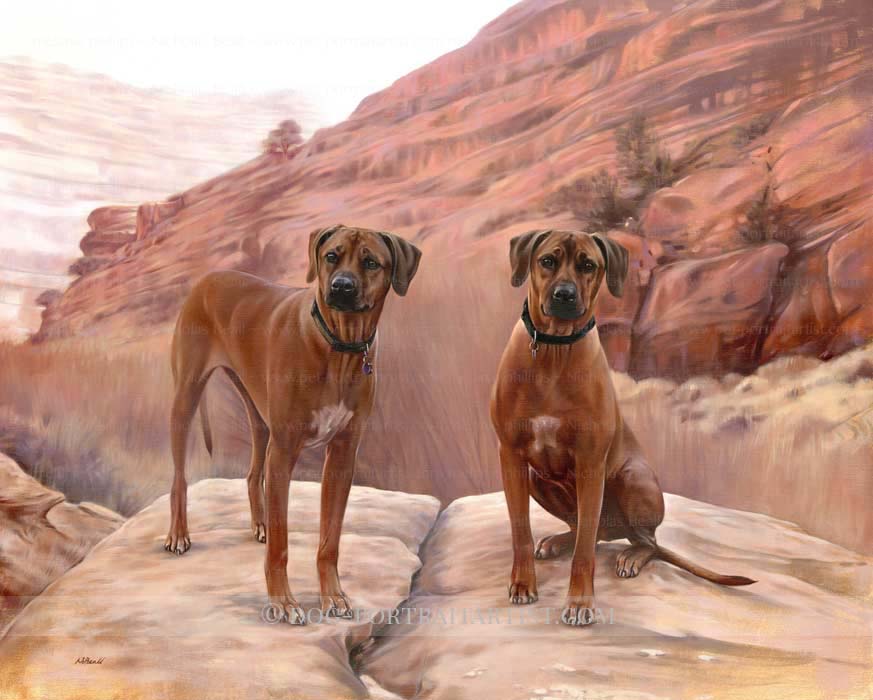 Commission of 'Manu and Haka' - Rhodesian Ridgeback Pet Portraits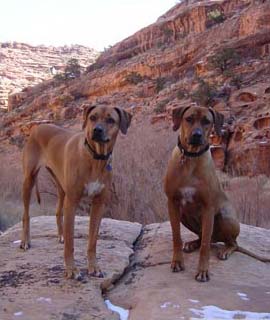 Kirsten Timms, USA contacted us in 2012 enquiring about our Rhodesian Ridgeback Portrait as she had particular photo she had taken of her two Rhodesian Ridgeback's Manu and Haka while they were on holiday.
The photo was perfect to paint from and Nicholas was thrilled to be given the opportunity to paint this for Kirsten and her family. Kirsten wanted quite a large painting and we were pleased to hear this as there was a lot of background involved.
If clients want their pets in a landscape painting, it needs to be a good size to enable the dogs to be paintable within the scene. Nicholas painted Manu and Haka at 30 x 20 and it was perfect for them.
This has allowed Kirsten and her family to not only have a stunning piece of artwork in their home, but to bring back wonderful memories of their beloved dogs and their holiday. Kirsten and her family were delighted with the painting as you can read from the emails below. Since this painting has been completed we have created another portrait for them of their twin daughters playing in the garden.
Hi Melanie and Nicholas,
I just checked the website for the first time in a couple of weeks and saw the photos of Manu and Haka's portrait. Seeing Manu's face coming to life in the painting had me tearing up. I can't wait to see the finished painting!
Kirsten

Hi Melanie and Nicholas,
The portrait looks amazing. There is no mistaking them - from Manu's missing toe to Haka's perpetually puzzled expression they are perfectly captured. I'm so excited to see the painting! Regards,
Kirsten.
Rhodesian Ridgeback Pet Portraits Framed
We have added some photos of the painting framed below using a plain wood frame with inner slip which worked well with the oil painting.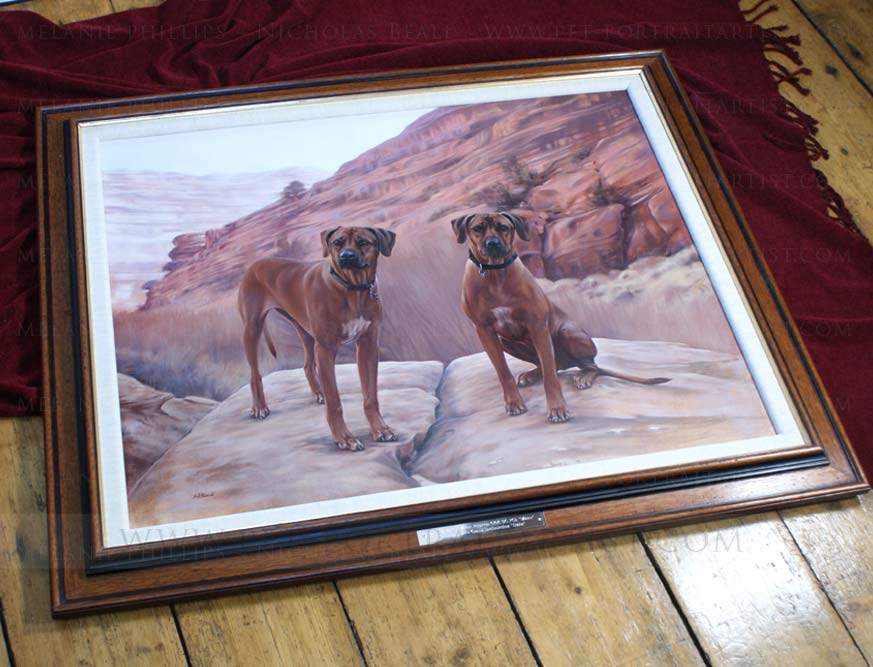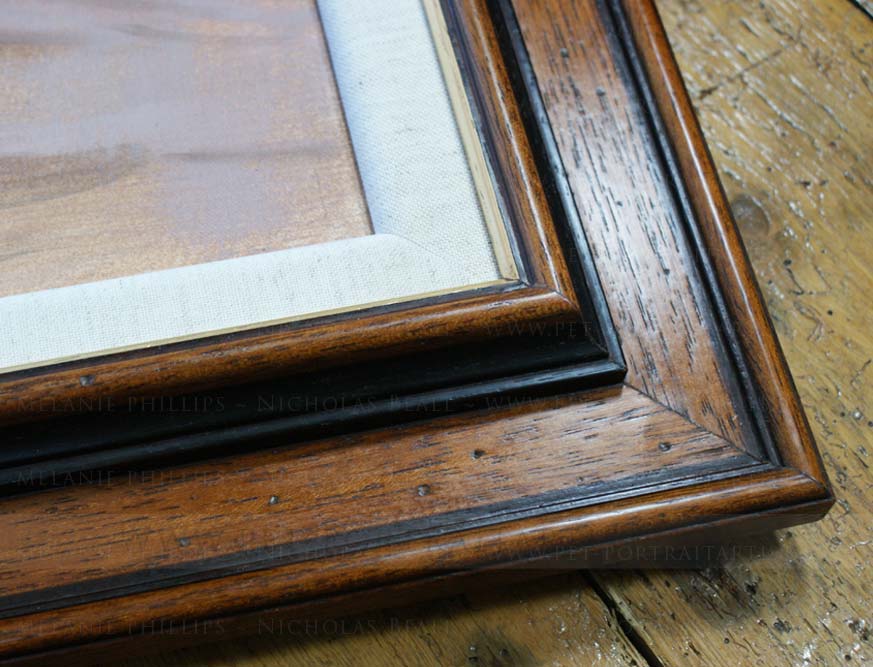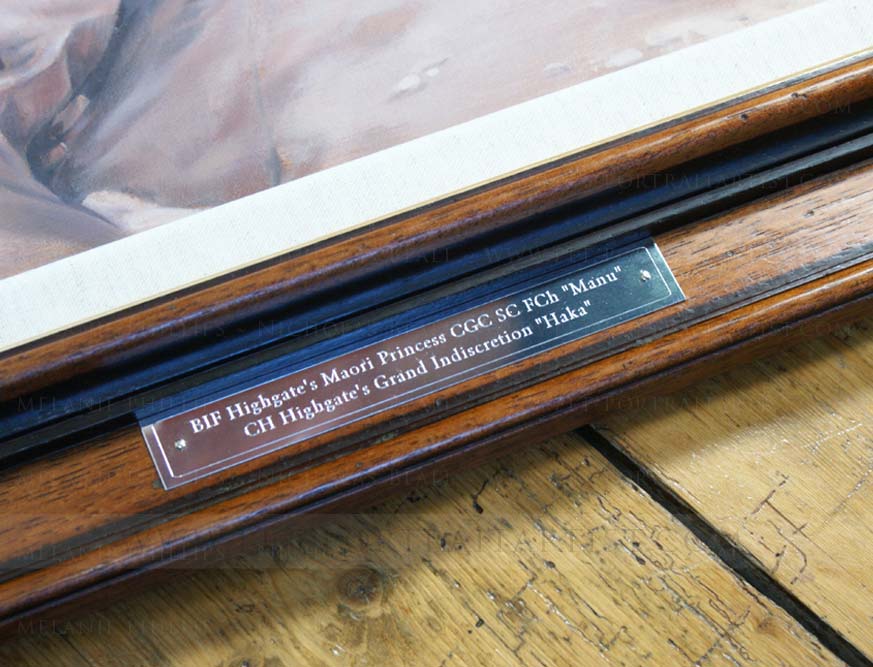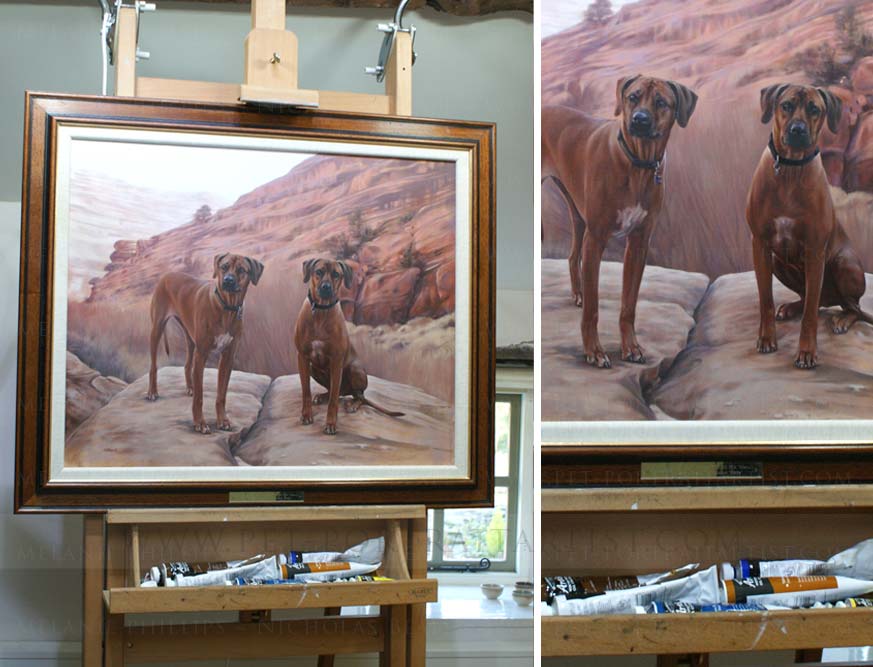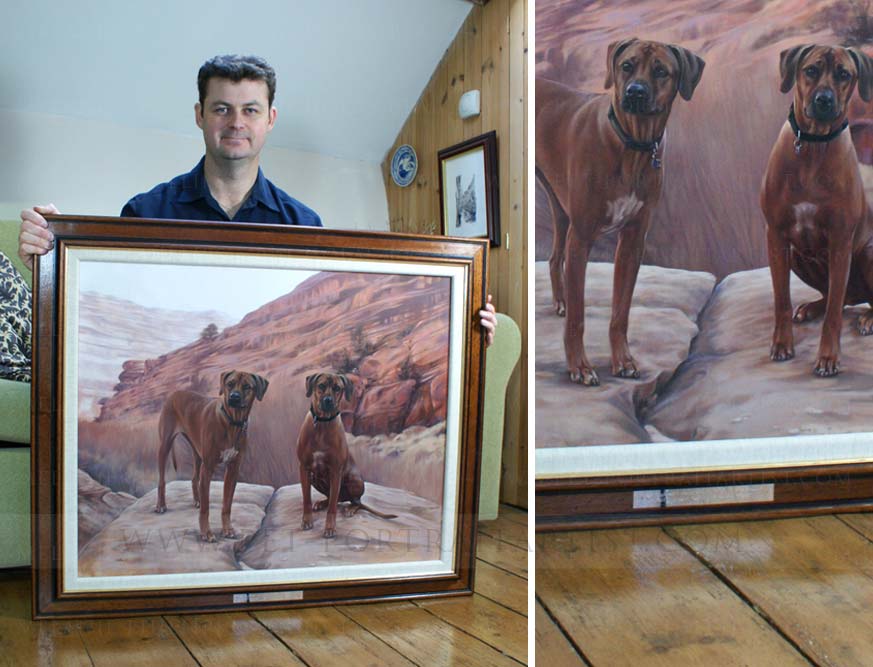 Rhodesian Ridgeback Pet Portraits
We are always thrilled to hear from prospective clients and if you are thinking of having an oil painting of your Rhodesian Ridgeback, we would love to hear from you. We take on a limited amount of oil paintings per year so drop us a line from our pet portraits contact page and let us know your ideas!