Sheltie Pet Portrait - Dog Portraits
A very warm welcome to our sheltie pet portrait in oils on canvas by artist Nicholas Beall. Shetland Sheepdogs (Shelties) are one of Nicholas' favourite breeds to portray and our portrait of Joey below is no exception. I believe it has to be in the top tier of his favourite dog portraits to date. Nicholas' Shetland sheepdog head study was painted in oils on Italian Linen canvas, using traditional oils for clients in the USA. Nicholas stands at his easel for many hours per week to hand paint his sheltie oil portraits for customers worldwide. He creates all of his dog portraits from clients own photos and has been working for commission for over 25 years. Take a look below at Nicholas' beautiful pet portrait of Joey the Sheltie, view our oil portrait in progress along with reference photos and some wonderful testimonials from our client!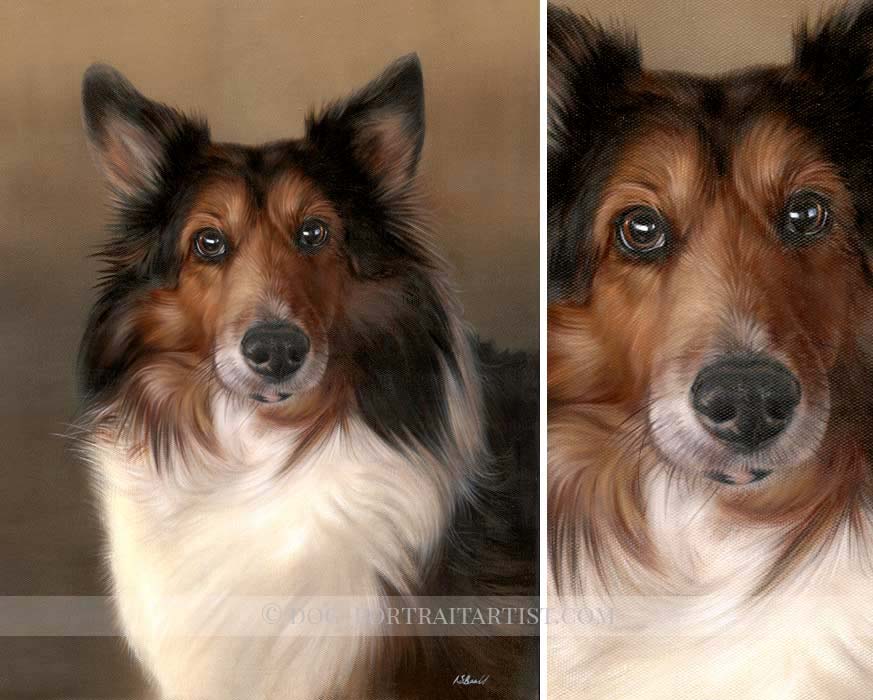 About the Commission of 'Joey'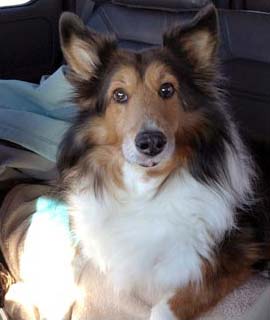 Kimberly Bielan, USA contacted Nicholas enquiring about his Sheltie Pet Portraits. Kimberly's husband had recently lost his Sheltie and Kimberly was looking for a professional pet portrait artist to create a bespoke painting to give as a gift to Craig.
This portrait of Joey was commissioned by Kimberly Bielan as a surprise for her husband. Kimberly emailed us lots of lovely photos and had one particular favourite photo that she wanted us to use of Joey sitting in the back of their car.
She wasn't sure if Nicholas could use this photo as she didn't particularly want to have the surroundings depicted in their painting. This wasn't a problem as Nicholas was able to paint Joey in oils, with a studio style background, which allowed Joey to be in full focus without the distraction of the car interior. Joey's oil pet portrait was created at 18 x 14 size, which was a perfect size for Joey. Kimberly was thrilled with the outcome.
Happy New Year Nicholas and Melanie!
The portrait of Joey is even more stunning in person! After Joey passed away last spring, I searched for a pet portrait artist that would be able to create a sheltie portrait that looked like Joey. Obviously, by beautiful imagery on your website, I knew that we would be receiving a painting that looked like Joey.  What was unanticipated is how much the painting feels like him. Craig and Joey were together for 15 years and has been a great loss to our family.  Craig told me that when he opened the portrait for the first time it was as if Joey was looking back at him and that painting captures Joey's soul.  As I stated to Melanie upon seeing the first final scan of the portrait, it is beyond words. Joeys portrait is already hanging in our family room, and we can feel Joey's presence all the more now.  We love it and are so appreciative for the beautiful painting. I will be sending along photographs of our painting in situ, and I look forward to working with you both again! With Many Thanks, Kim

It is beyond words. I'll give you some further feedback once I can think of something clever. Absolutely stunning. Kim
Sheltie Portrait In Detail
Photos of our sheltie head study of Joey below show just how much fine detail Nicholas adds into his oil paintings of dogs. You can also see his tiny paintbrush in there on the portrait itself to show scale. You may see our camera has captured shine on the canvas however when ever you see this in our photos, it's only how our camera has taken a photo where light was hitting. Viewing the oil portrait in our studio under normal lighting shows Nicholas' painting much more naturally. Nicholas uses a very strong LED photography light so that he can see everything really clearly!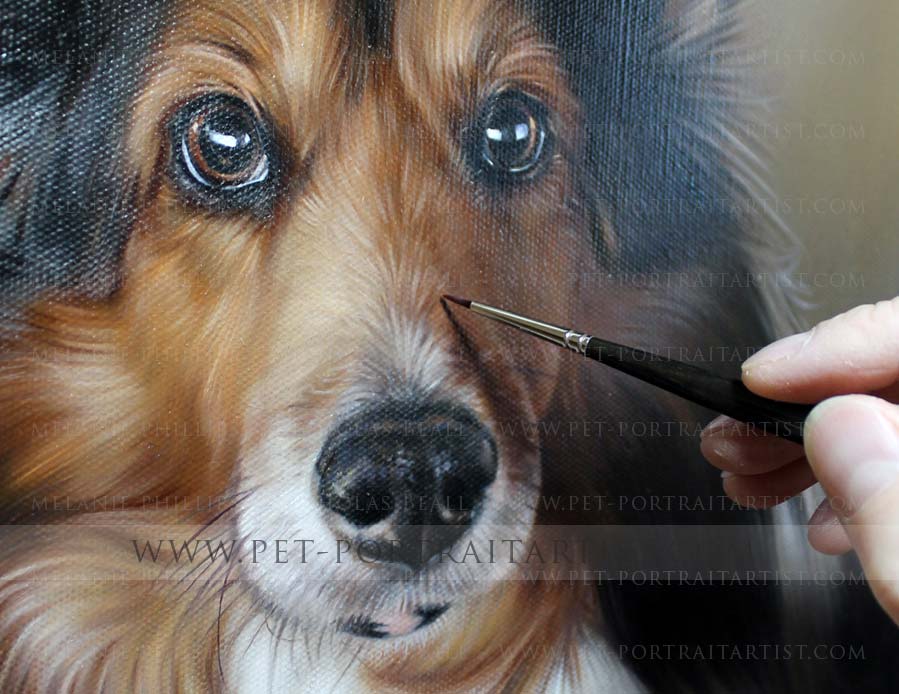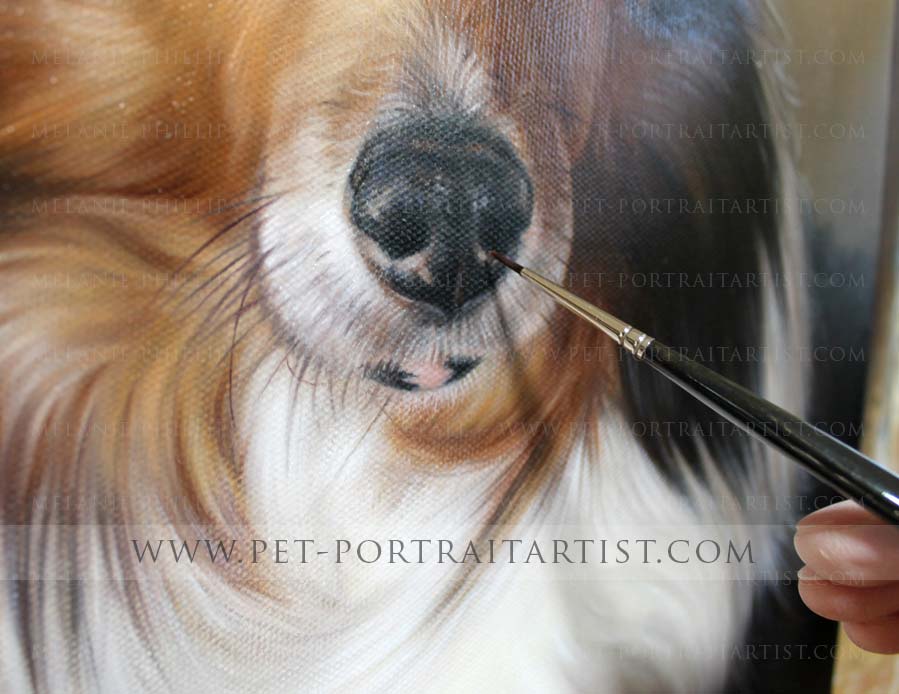 Sheltie Portrait Framed
Here are a few photos of the portrait framed in a traditional wooden frame with inner linen slip.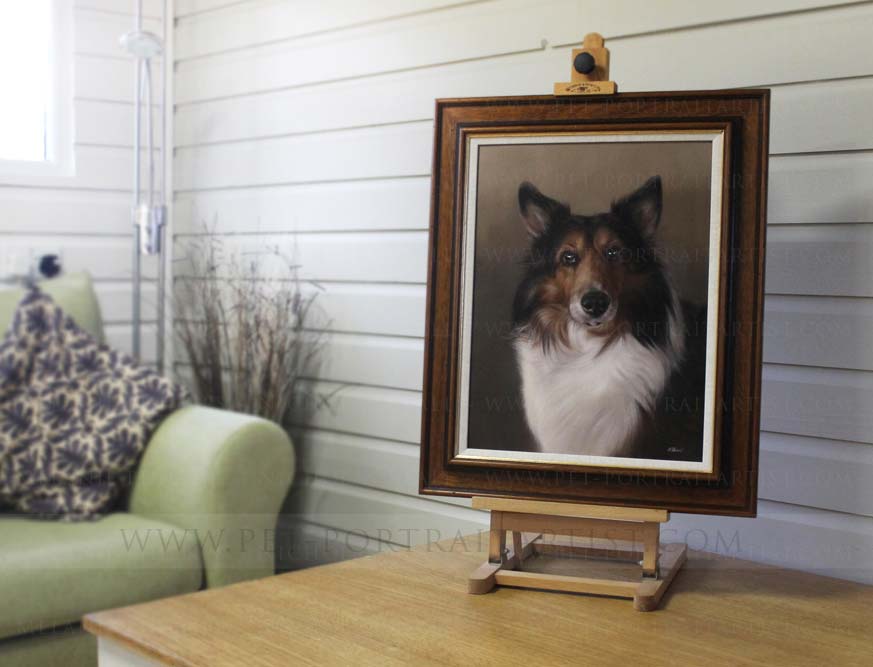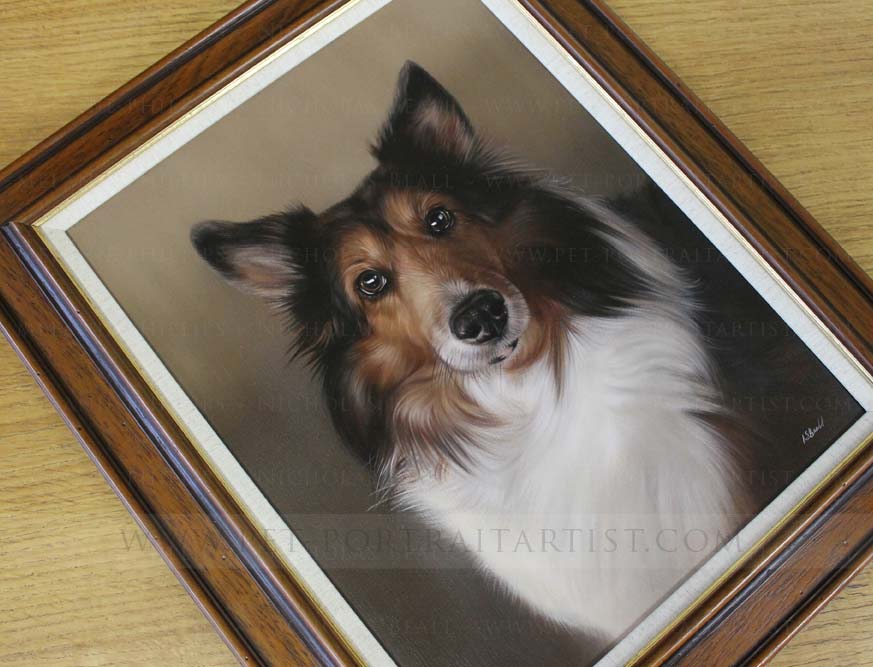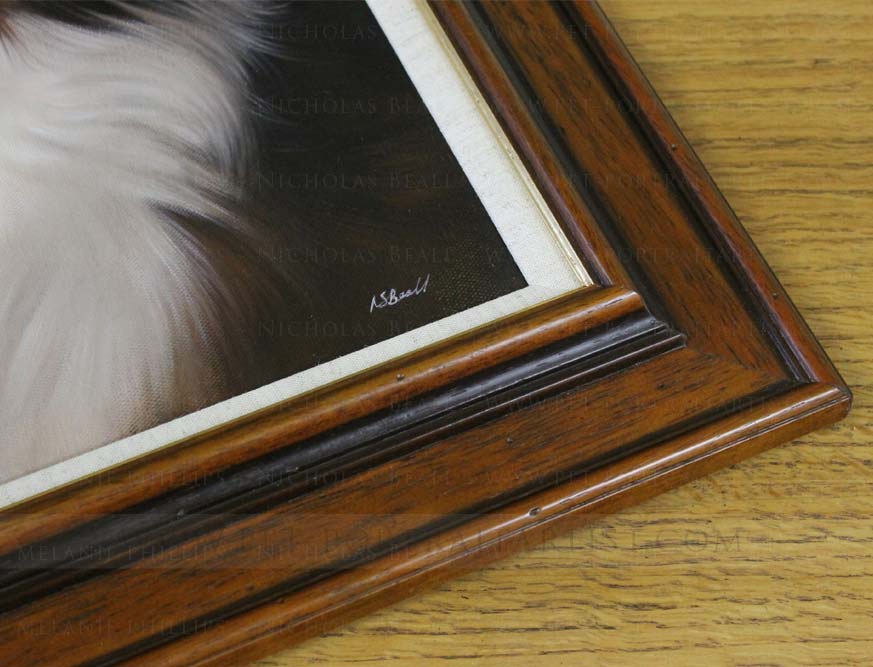 Sheltie Pet Portrait
Do you have a sheltie similar dog to Joey that you would like to have a pet portrait of? If you have dog photos that you think are good enough to paint from, drop us a line with them and we can chat about your options. Pop on over to our pet portraits contact page and drop us a line today.