Dog Painting - Oil Paintings of Dogs
Welcome to our dog painting oil painting of dogs Harry and Oscar both being Labradoodles. Our clients received one of our Gift Vouchers a few years ago and got in touch with us to arrange a portrait for an oil painting. We are always excited to hear from our clients who have ordered one of our vouchers. They are am amazing gift to give to friends and family and we have even been commissioned to give vouchers as retirement presents which is wonderful. Scroll down to read about the commission and also read the beautiful testimonials from Judith and her husband when they received the oil painting of Harry and Oscar.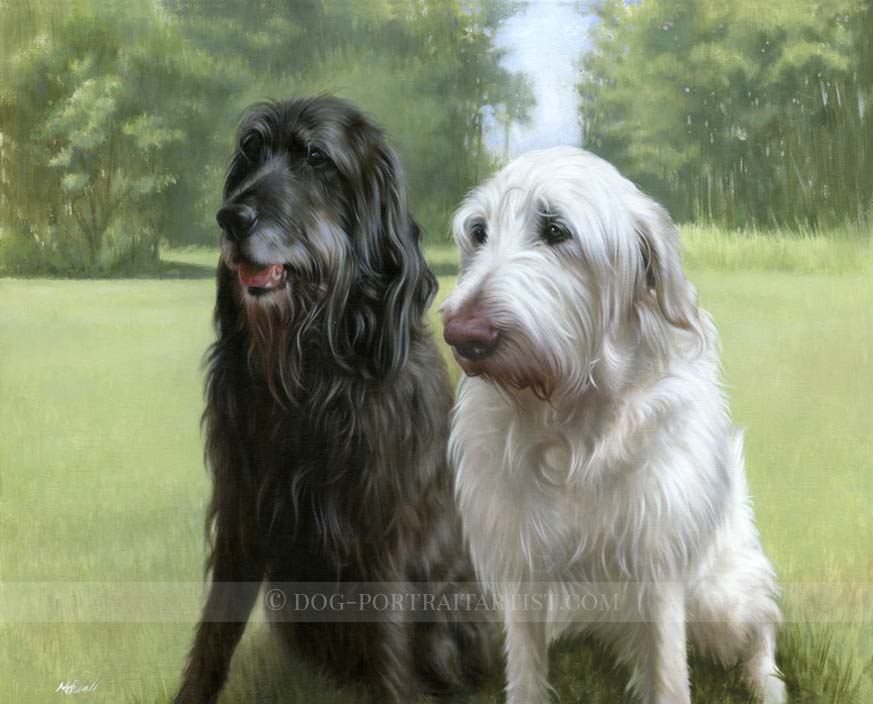 About the Commission of 'Harry and Oscar'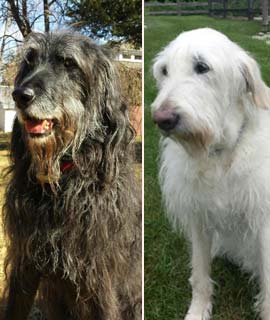 The oil painting of Harry and Oscar was created at 20 x 16 inches in size. Judith wanted both dogs to be in the foreground along with a background of their garden with their Pear trees behind. Initially Judith emailed photos of Harry and Oscar and their garden in the winter months, as you can see in the reference photo left. However we mentioned that perhaps it might be a good idea to take new photos in the spring or early summer specifically for the painting.
As Nicholas constantly has a client list of a few months, this worked out well and Judith was able to take photos for the painting at the same time her portrait rose to the top of our commissions list!
As you can see from the photos above and below the portrait came out beautifully. Judith and her husband were thrilled. I have added a testimonials from Judith - one when they received the portrait and took a photo of them with the portrait framed on their wall. Another email was to let us know that Harry had passed away which was so very sad to hear. We were pleased to read though, the portrait was such a comfort to them after Harry had passed. Please do read them below...
Melanie and Nicholas,
It's just beautiful and captures our "boyz" looking very natural in their best poses!! Thank you, Thank you! We're so happy that we have this while they are still with us, too. This hot humid summer is hard on elderly animals, but we invested in a portable air conditioner which we use as necessary to make our kitchen/family room, where the dogs spend much time, fairly comfortable. We'll see our daughter, Kerry, next week and I'll be anxious to show her the results of her idea.
And we remain most grateful for your talents,
Judy & Dave, Harry & Oscar

Hi Melanie and Nicholas,
We are very sad to report that we had to say goodbye to Harry last Saturday just exactly 6 weeks short of his 15th birthday. He had a good life and though we understand that, we and Oscar miss him terribly. Oscar is the same age (9 days older & from a different litter), has a little dementia and has always been the consummate follower. It's hard, but we'll do our best to help him be happy for whatever time is left.
I want to add that we are SO grateful to have that beautiful portrait and to have received it when things were still going along normally. We understand better that this is the time we need it most and it will always be a treasure.
Gratefully,
Judy & Dave
Dog Painting
Here are a couple of photos of the dog painting just prior to packing the portrait to send to Judith and her family. We hope it gives you a more natural view of the portrait.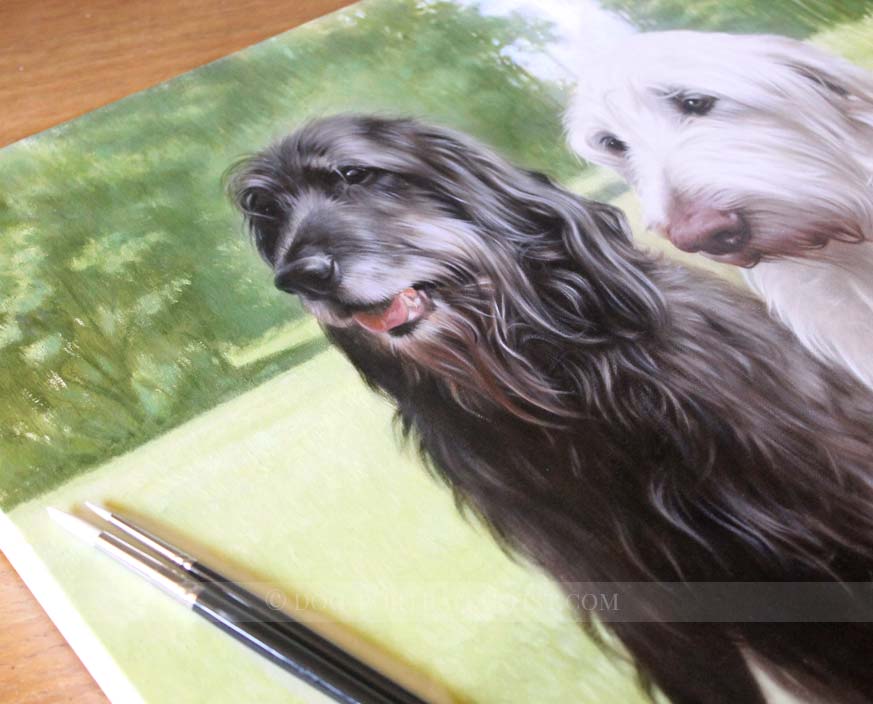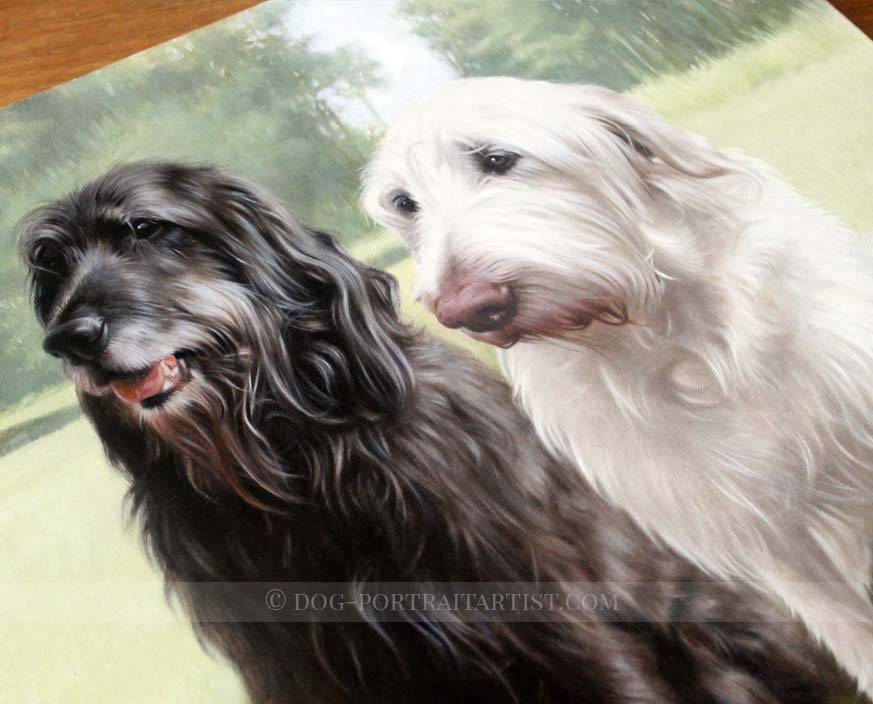 Dog Painting
The Judith very kindly emailed us a photo of them with both Harry and Oscar and the painting behind on the wall. _ Simply wonderful!!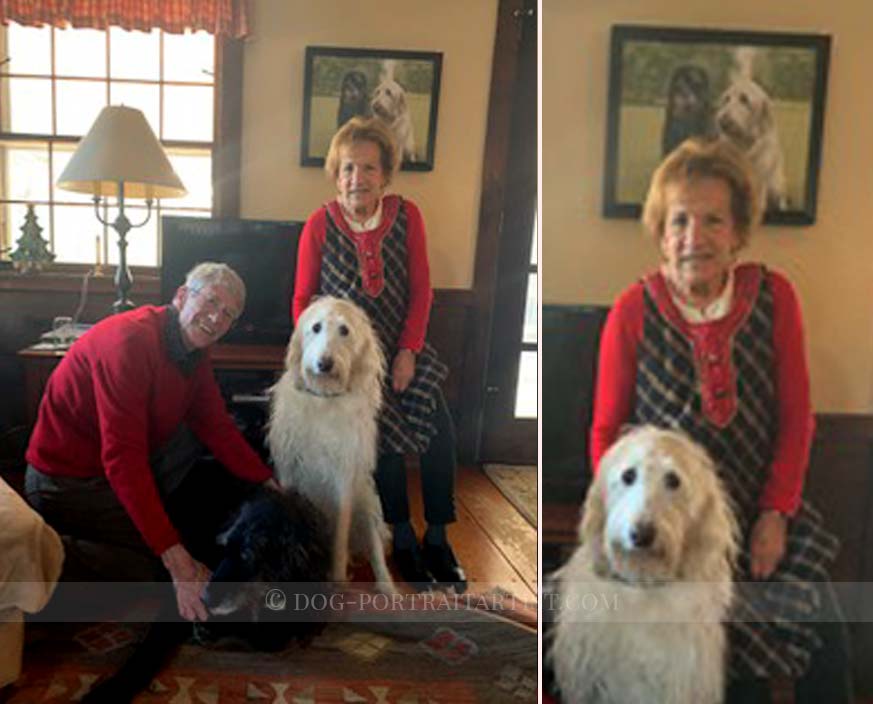 Dog Painting
We really hope that you have enjoyed viewing the portrait of Harry and Oscar and enjoyed reading all about the commission. If you have a Labradoodle and would like a dog painting of them please do email us at any time. We would love to work with you. Please email us via our pet portraits contact page and let us know your ideas for a portrait.