Tibetan Terrier Dog Portraits
Welcome to our Tibetan Terrier Dog Portrait of Lottie. This was a very special oil painting commission as Lottie is a Tibetan Terrier, just like our dog Lily. There were a lot of similarities between Lottie and our dog Lily. Read more about the portrait and commission below.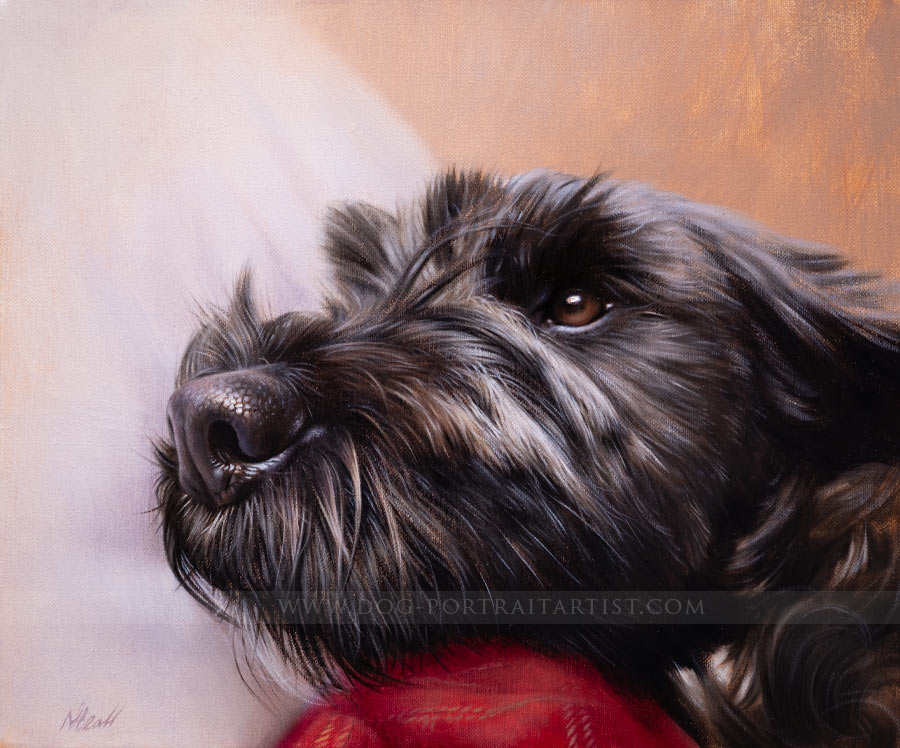 About the Commission of 'Lottie'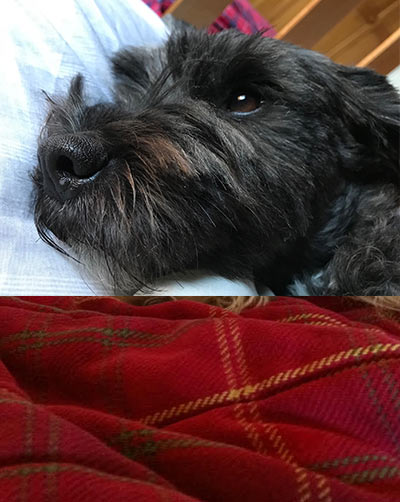 Mike contacted is 2020 via Messenger to ask if we would be able to paint his Tibetan Terrier called Lottie. Sadly Lottie has recently passed away and the whole family, including their other Tibetan Terrier Moses missed her terribly. You can read an email from Mike below..
Mike said .."Thank you so much for our chat on Messenger earlier. I can't begin to tell you how therapeutic it was. I was looking online to find a dog portrait artist whose style I liked, and then when I found you too had a black TT it sealed the deal. Thank you again, Mike"

Mike sent many wonderful photos of Lottie and some were so very similar to our dog Lily. We all settled on the photo that you can see below along with including her favorite red tartan blanket within the scene too. We always love it when clients personalized their paintings by adding their pets favorite toys, beds or blankets within the scene, it really makes each and every painting so personal and individual. Read two lovely emails from Mike below and scroll down to see the oil painting framed.

Hi Melanie and Nicholas,
It really is a stunning picture and captures her in her thinking pose. Hearing work had started, and then getting previews and now the final picture has been lovely. I'm sure having her 'twin sister' there must have helped, as you know all their funny moods, and how they're fairly scruffy dogs really.
I can't wait to see the painting in real life.
Thanks again,
Mike


Hi Melanie
Just to let you know the picture has arrived safely. I opened it up (I can see what you mean about all the packaging) and it's gorgeous. The color and the detail is amazing. I'm so happy with it, and now need to work out where to put it.

I'm also happy that I did get you to frame it too. As you say, the quality of the frame, and the colors, really do compliment the painting. It makes a big difference, and makes the picture look much larger.

Thank you again.
Mike
The Painting in Detail
Here is a photo of the Tibetan Terrier portrait of Lottie in close detail. Any Tibetan Terrier owner will recognize the eye and the 'look' so well and Nicholas did a wonderful job in painting her. The fur detail is exquisite.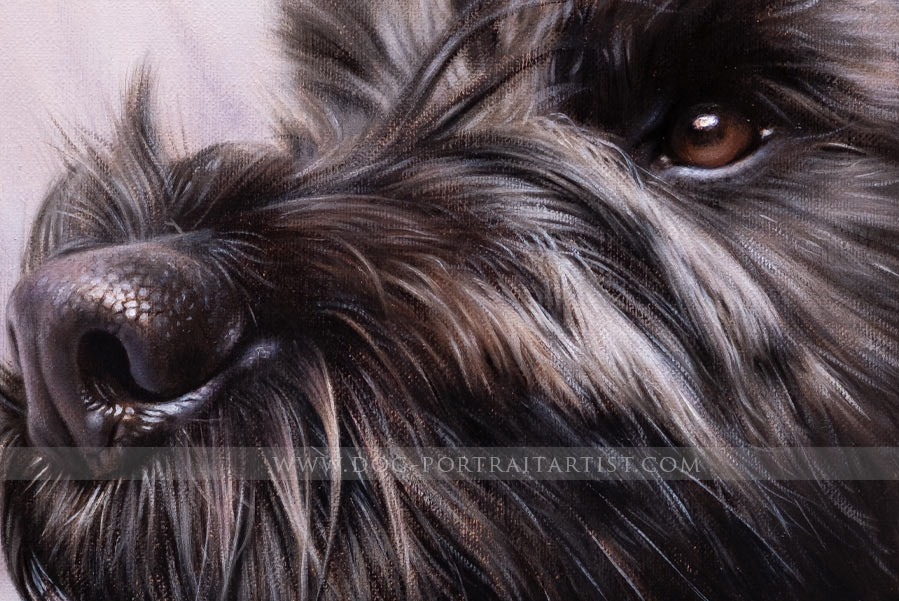 The Tibetan Terrier Dog Portrait Painting Framed
All of our frames are handmade and handcrafted from scratch and each one can be finished bespoke to our clients requirements. This frame has been commissions especially for the painting of Lottie in a more cream finish than the previous one we commissioned which had a more antique sage feel. Both come under the Belgravia range and they can be finished in any colour or gold if required. The options are endless so if you would like something similar to Lottie's frame just let us know your ideas.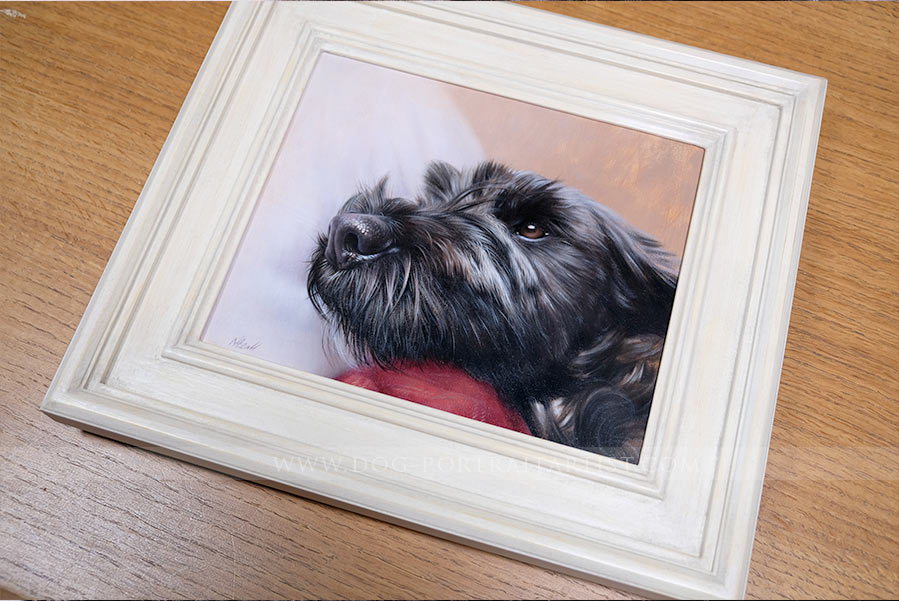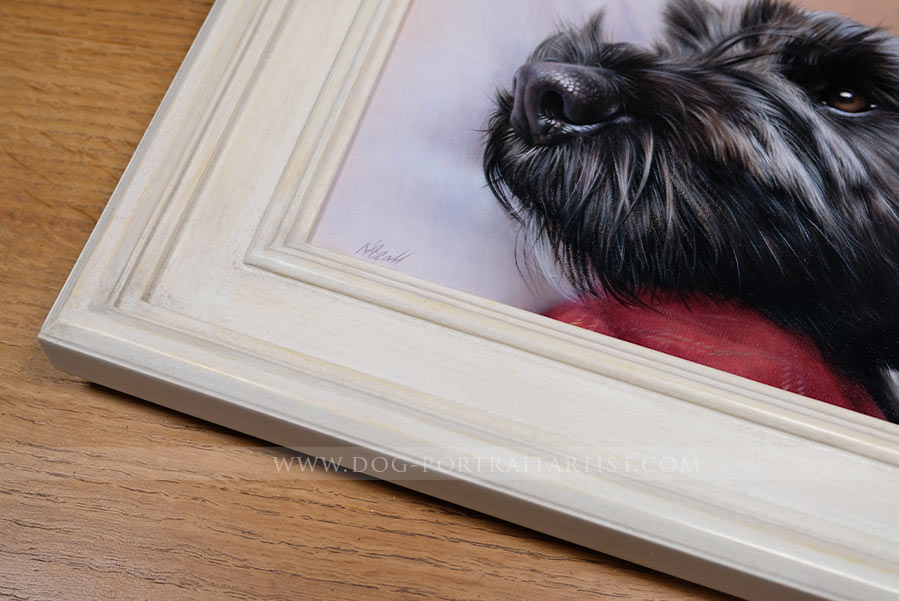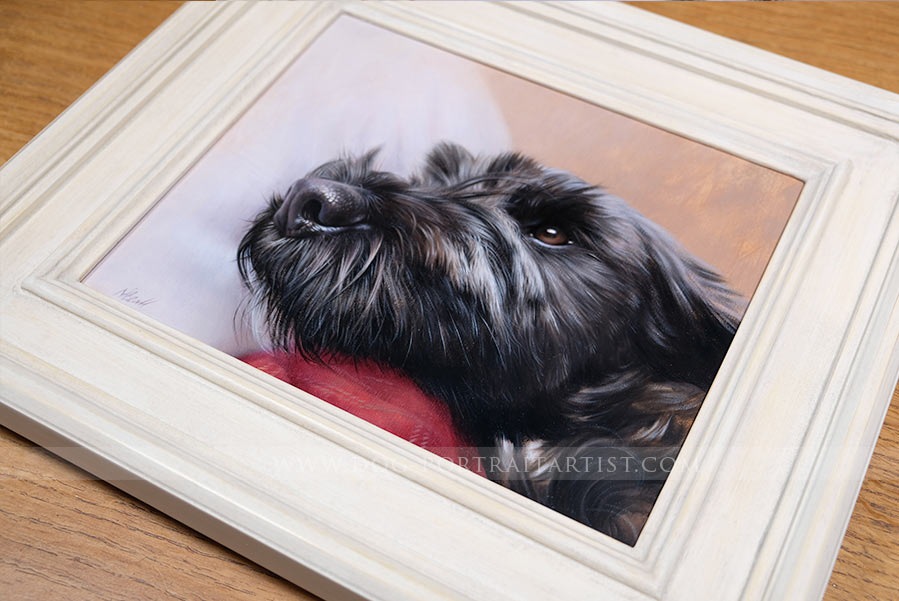 Tibetan Terrier Dog Portrait Painting
Lottie's portrait was a very special one for us all, particularly as it was of a Tibetan terrier a breed very close to our heart. if you have a Tibetan please do drop us a line as we would love to work with you. Email us via our pet portraits contact page or message us at any time. Wed love to hear all about your TT!