Weimaraner Portrait - Oil Paintings
Weimaraner Portrait by Nicholas Beall of Keo in oils on canvas. Welcome to our Weimaraner Portrait traditionally hand painted in oils on Italian Linen canvas commissioned by a family in the UK. Nicholas loves painting Weimaraner portraits and they are one of his most favourite breeds to paint. Their stunning eyes, silky smooth coat and dynamic shape fascinates him greatly. They are strong and bold, yet so and kind hearted dogs with a lot of love for us human companions. Nicholas has painted a number of portraits of Weimaraners over the years and Keo is definitely one of his favourites.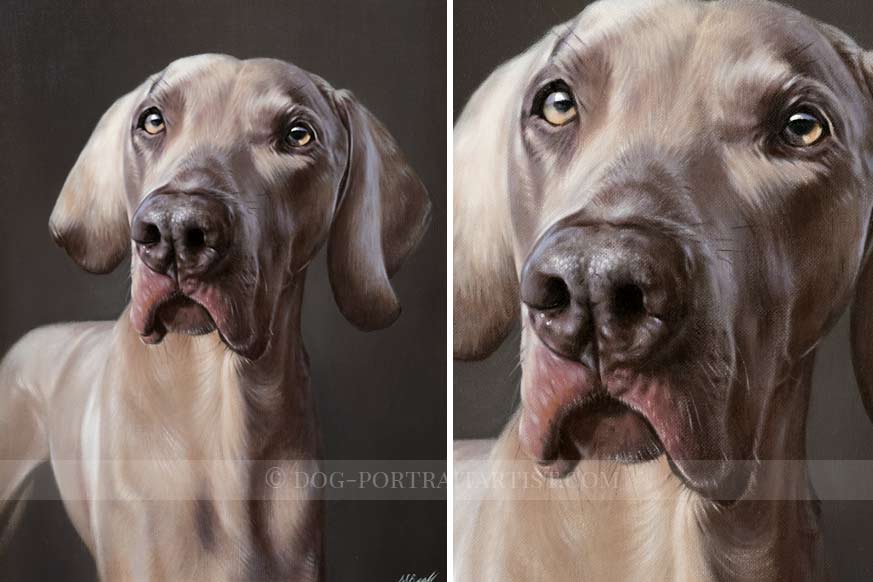 About the Weimaraner Portrait of 'Keo'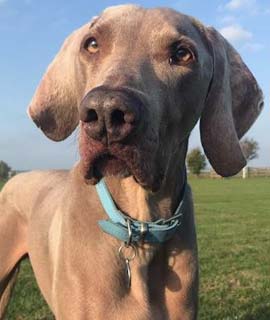 Lyndsey saw the Weimaraner portrait of Ramses on our Instagram account that you can also find on our dog portraits gallery page, a commission which he completed in early 2018. Lyndsey immediately wanted to commission a painting of their own Weimaraner called Keo. Lyndsey emailed us an number of photos however particularly wanted us to use this photo you can see on the left with Keo in the fields where they live. She didn't want the sunshine background however, she wanted a dark tone behind Keo just like the portrait of Ramses. We were thrilled and knew that it would make for a very dynamic painting. Lyndsey was over the moon as you can read from her email below...
Hi Melanie and Nicholas,

Well....... I'm well and truly lost for words?!!! I've never seen anything so beautiful in all my life and I don't just mean the most handsome dog in the world, I mean the work that Nicholas has put into it, is just out of this world! Thank you both so, so, so much. I'm gobsmacked and I love it. Jon isn't here to see it yet and I may not show him and just wrap it for Christmas, he will be speechless, as am I.

Thank you both for creating a piece of art that we will keep for the rest of our lives, it's jut wonderful and as simple as that and I love the frame and the plaque too. Thank you both once again, a real masterpiece!!!!
Lindsey xx

Posted on Lindsey's personal Instagram..

Our amazing joint Christmas present this year. We are biased because of the subject, but that aside, what pure talent and an amazing piece of artwork. Thank you so, so much @petportraitartists (Melanie and Nicholas), we love it so very much and can't wait to hang it with pride in our hallway.
Video of the Regent Frame and Keo's painting
We hope you enjoy watching the video below. I try to take some video of our portraits for our website if time permits so that clients can see the frame in a more three dimensional way. We hope you enjoy viewing it.
Weimaraner Portrait in the Regent Framed
The photos below were taken by myself just prior to packing the portrait to send to Lyndsey.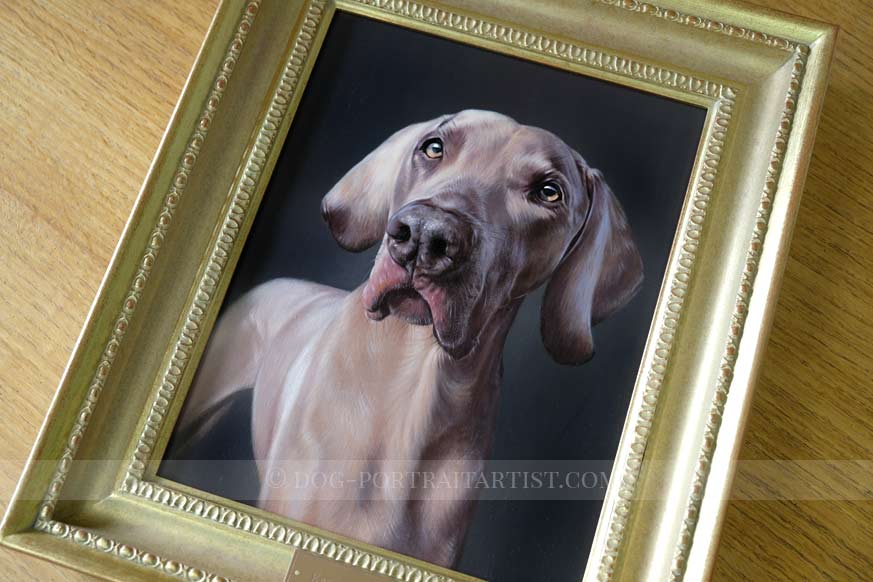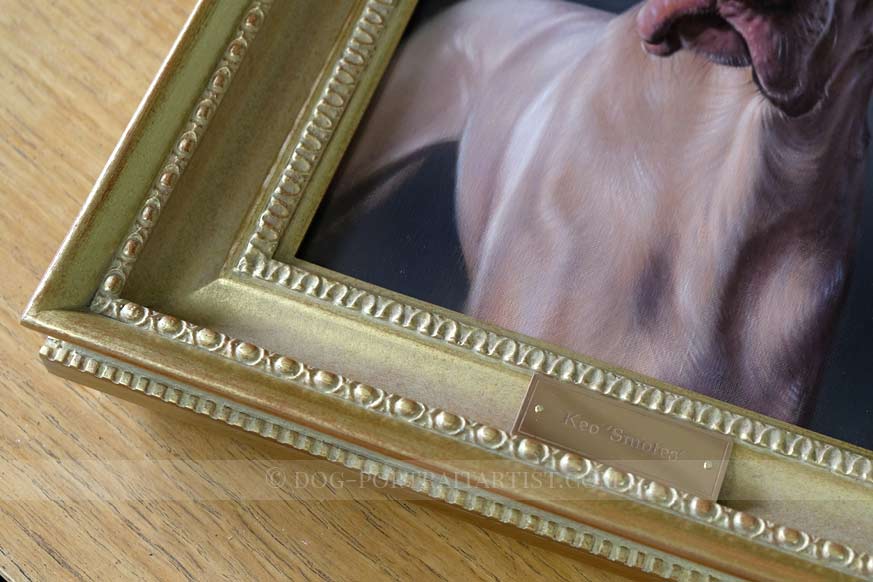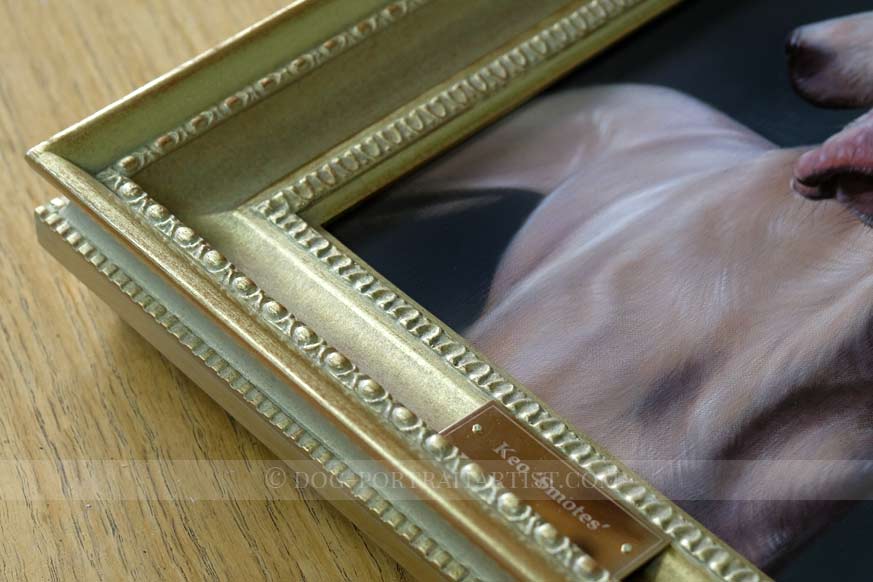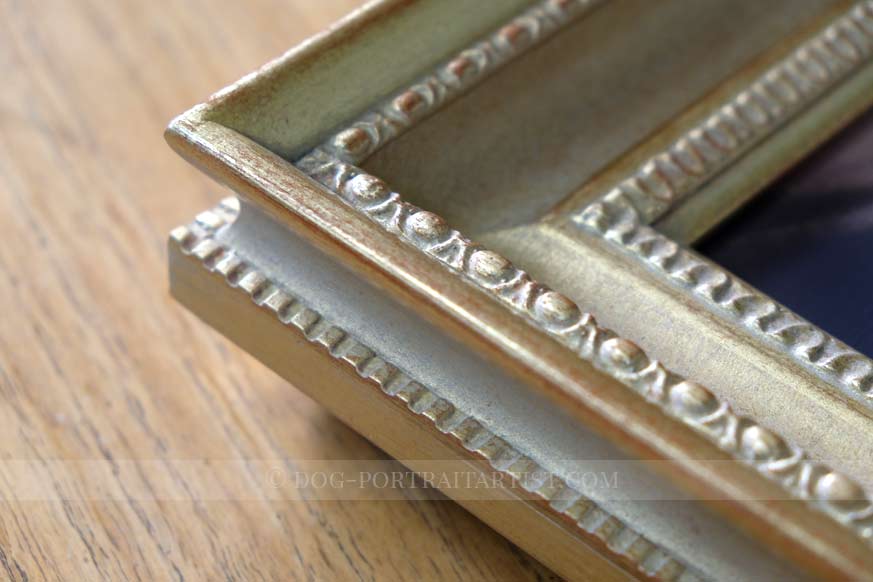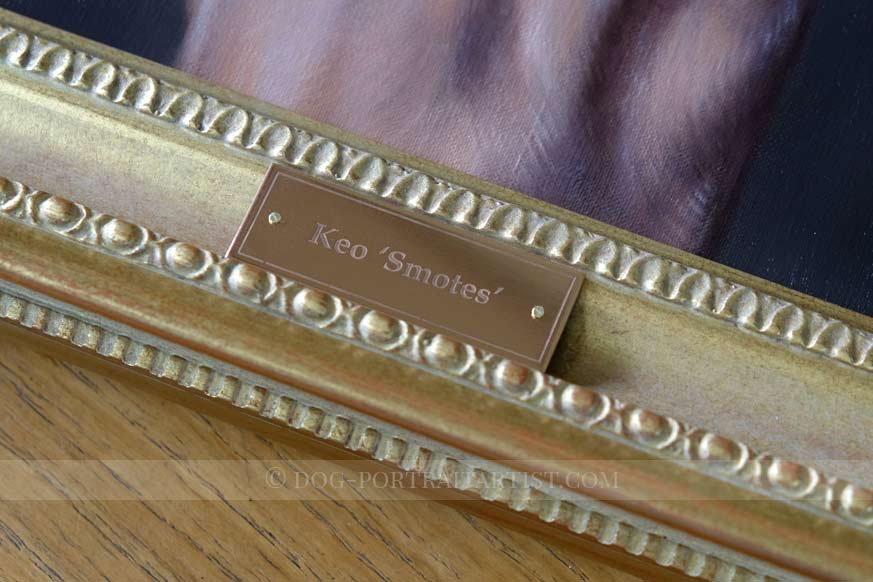 Weimaraner Portrait - Dog Portraits
The Weimaraner Portrait of Keo was a thrill to create and if you would like Nicholas to paint your Weimaraner we would be delighted to work with you. Why not email us your Weimaraner photos via our pet portraits contact page and tell us all about them - we always love to hear about the dogs we paint and draw!