Oil Pet Portraits - Dog Portraits in Oil
Welcome to oil pet portraits - dog portraits in oil of Boomer. This oil painting was traditionally hand painted by professional dog portrait artist Nicholas Beall. Nicholas has been painting dogs in oil for over 20 years and was professionally trained in the South of England for animal and wildlife painting and illustration. His final show was held in ' Mall Galleries' London where he exhibited his oil paintings and illustrations. Since completing his extensive studies, Nicholas has specialised in painting dogs in oil for commission from photos, for clients worldwide. This particular pet portraits commission was from the USA which is where the pet portrait currently resides. Scroll down to read more about Boomer's pet portrait and view his oil pet painting in progress.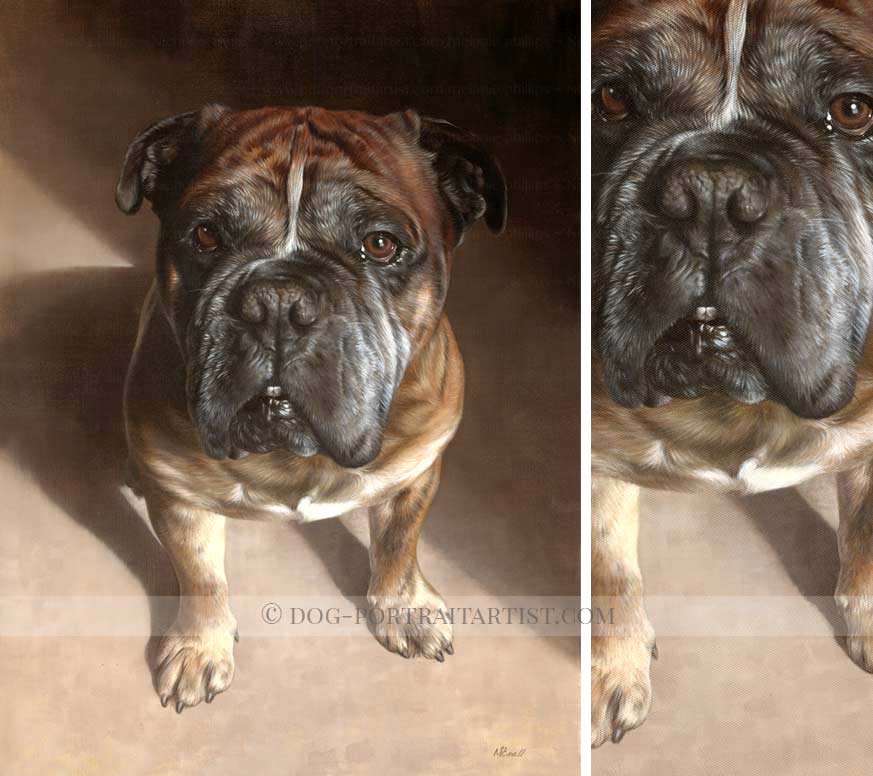 Commission of 'Boomer' - Oil Pet Portraits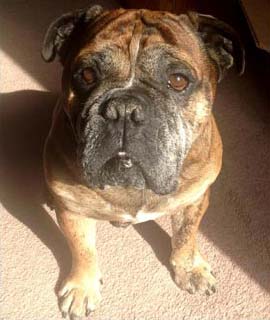 Kristian Hewett, USA emailed in 2015 enquiring about Nicholas' oil pet portraits as he wanted to commissioned Nicholas to paint their loved and very much missed dog called Boomer.
He was planning a surprise pet portrait painting for his girlfriend and wanted us to frame our pet portrait too.
Kristian had already taken a lovely photo of Boomer a few years prior that captured his personality and character well. Nicholas was able to use this for the basis of the oil portrait as it was superb quality to work from. He has painted Boomer's pet portrait, at 24 x 18 in oil on Italian linen canvas, in exactly the pose in the reference photo, sitting in the sunshine.
The colours and tones overall are very natural, almost a limited pallet and bring a contemporary feel to our pet portrait painting. Our framer framed the portrait beautifully to allow Boomer to almost jump out of the canvas.
Hey Nicholas,
Wow, our finished pet portrait looks amazing. I could have never pictured it looking so detailed and accurate.  I'm sure my girlfriend will love it. This past year has been difficult for her with Boomer's passing, but hopefully this will help, it was one of her favourite photos of him.
Kristian

Hi Melanie and Nicholas
The painting is amazing, I can't thank you enough for your hard work. My girlfriend broke into tears when I surprised her with it. She misses her Boomer dearly and I'm thankful she can hang something up that will always remind her of him. She loves the painting and we will be sending a photo in soon.
Thanks again, Kristian

Hello,
I received my oil pet portrait of Boomer a few weeks ago from my boyfriend, Kristian. It is by far the most beautiful picture I have seen! It is so accurate to how my dog looked like and looks so real that it makes me emotional every time I glance at it. What an amazing gift that I will cherish for the rest of my life; I really don't think it will ever be topped. Thank you for helping us honour Boomer's life, he will always be missed and never forgotten. Thank you,
Deepy Sidhu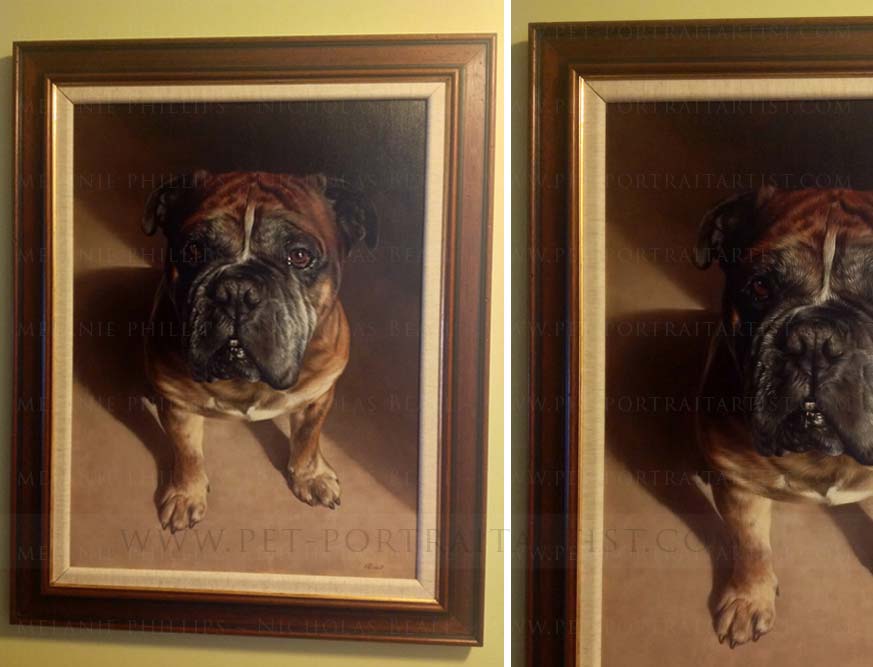 Oil Pet Portrait up close
Our photos below were taken at the end of the oil painting process. We try to get really close to the oil portrait with our camera showing Nicholas' paintbrush so that clients and visitors can view our oil painting in more detail and see scale between the brush and canvas. You wouldn't normally stand this close to an oil pet portrait, however its wonderful to be able to see brush strokes and detail up close.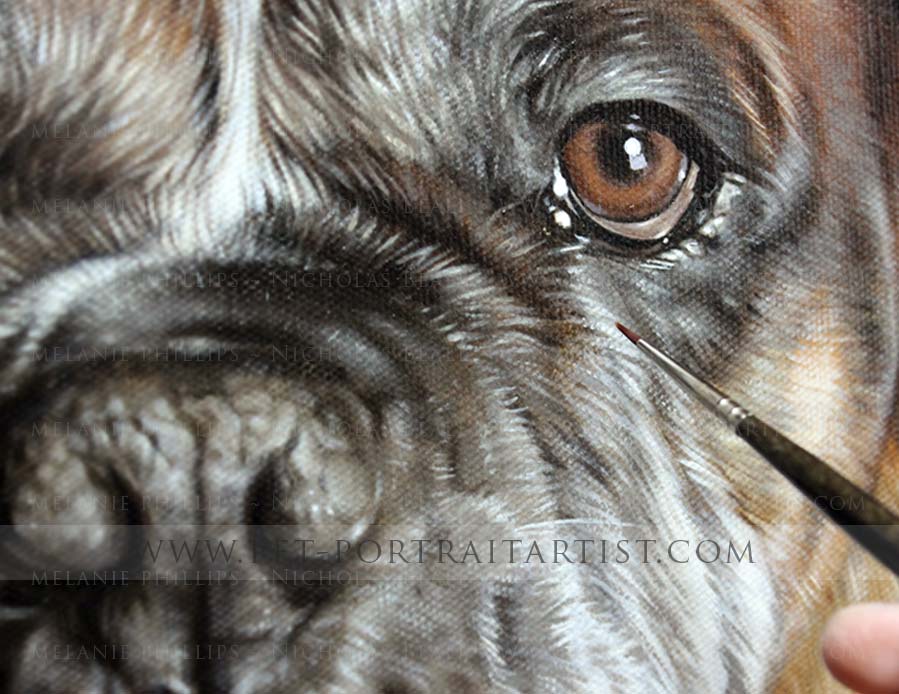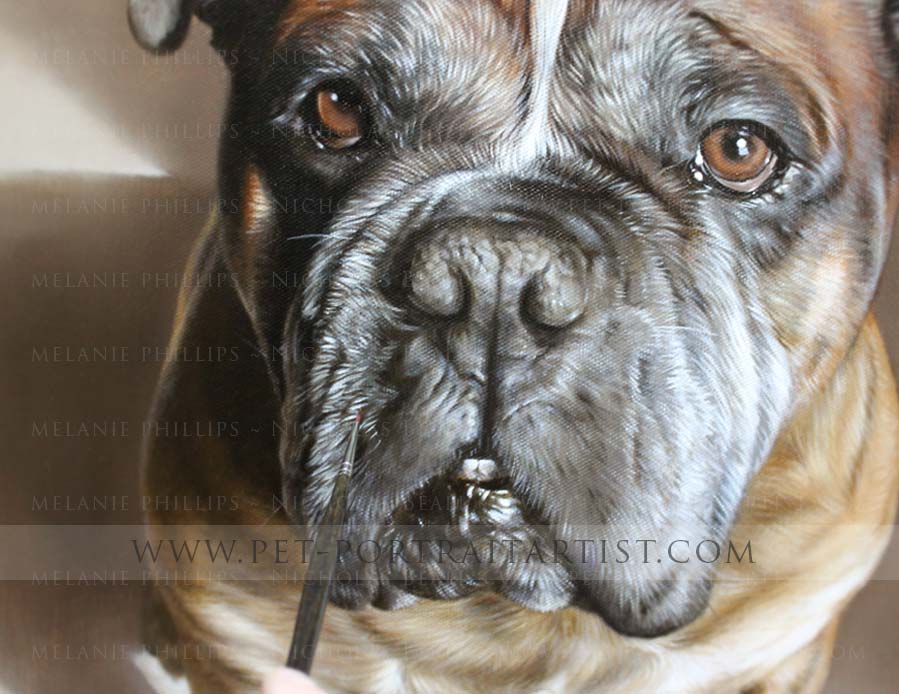 Oil Pet Portrait Framed
Boomer's oil pet portrait was framed using our stunning Traditional Flat Frame with inner linen slip and we have taken some photos of the completed oil pet portrait framed for you to view. The inner linen slip really enhances our pet portrait and acts as a buffer between the oil painting and the wooden moulding.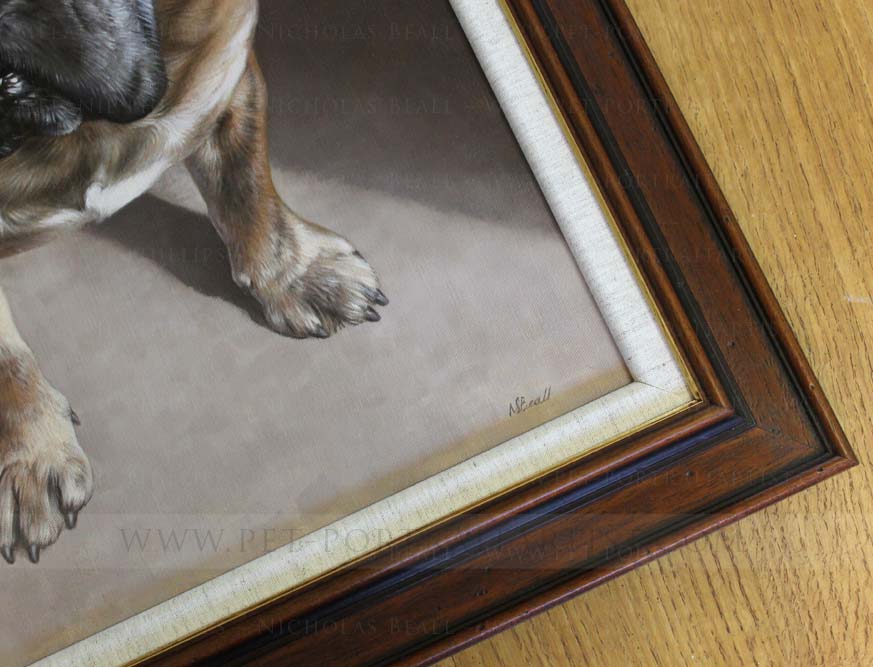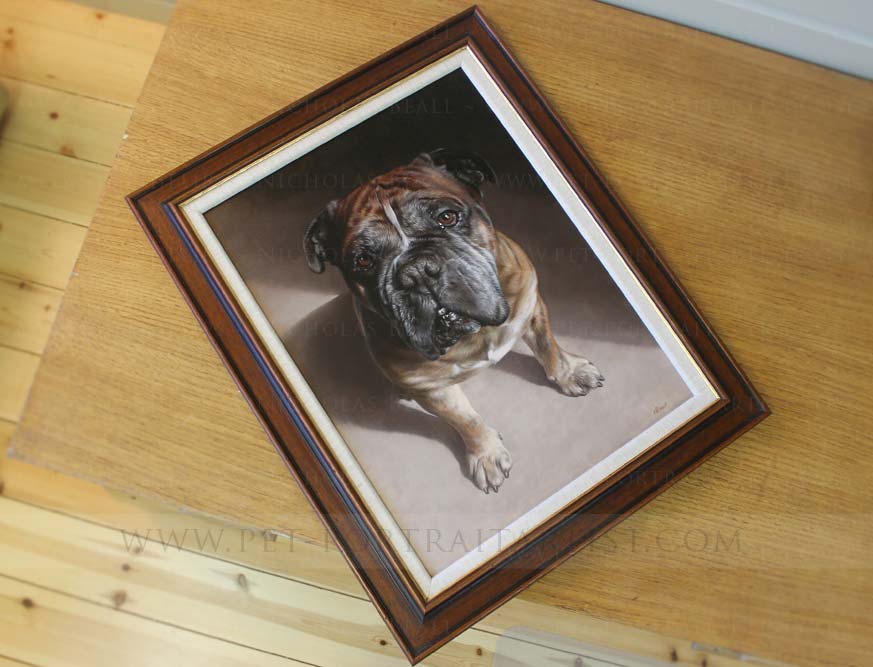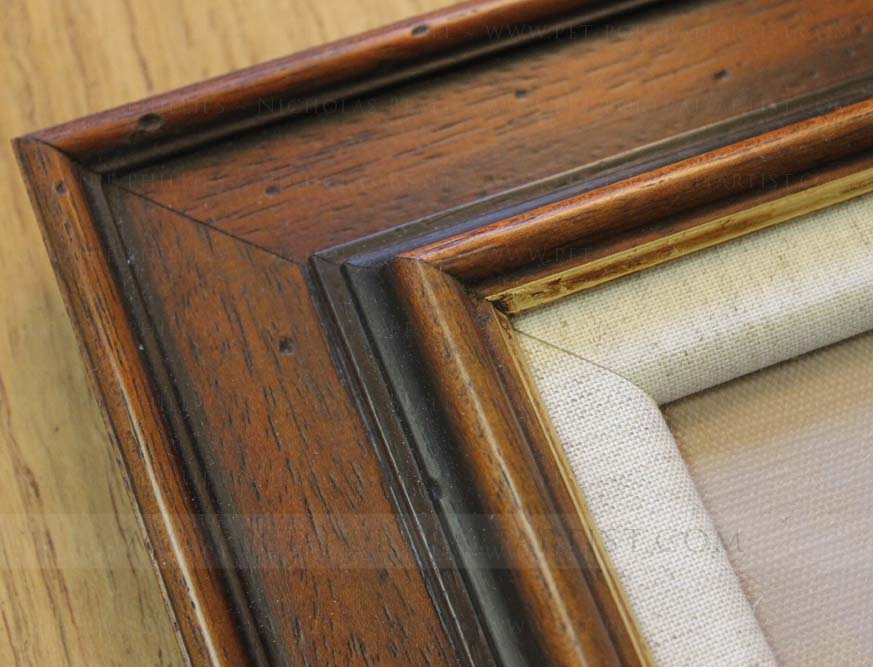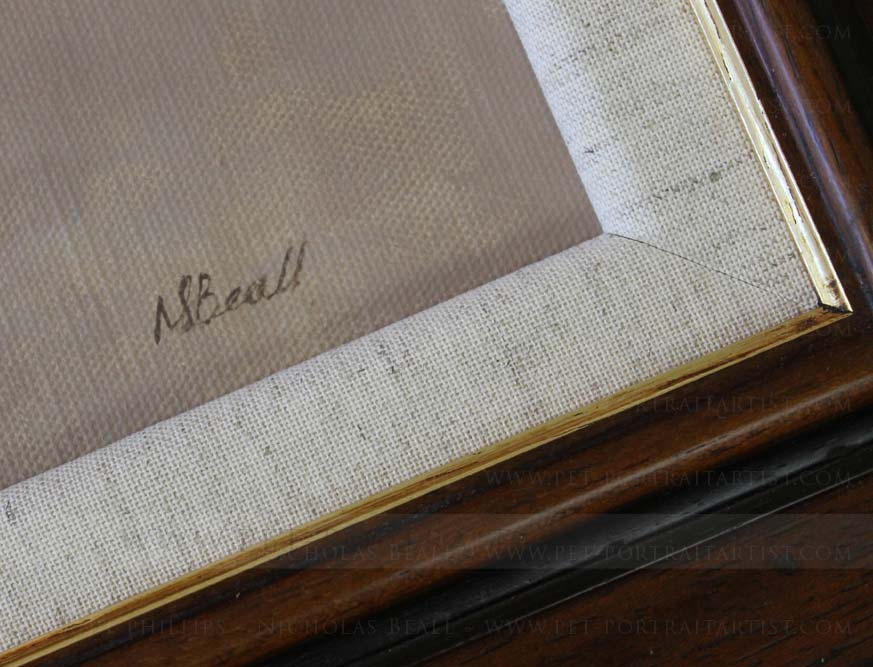 Oil Pet Portrait in the studio
You can also see a photo of Boomer's oil pet portrait in our studio below. We often photograph our pet portraits of dogs standing on our artists plan chest. We often find it helps to give scale to the overall oil painting.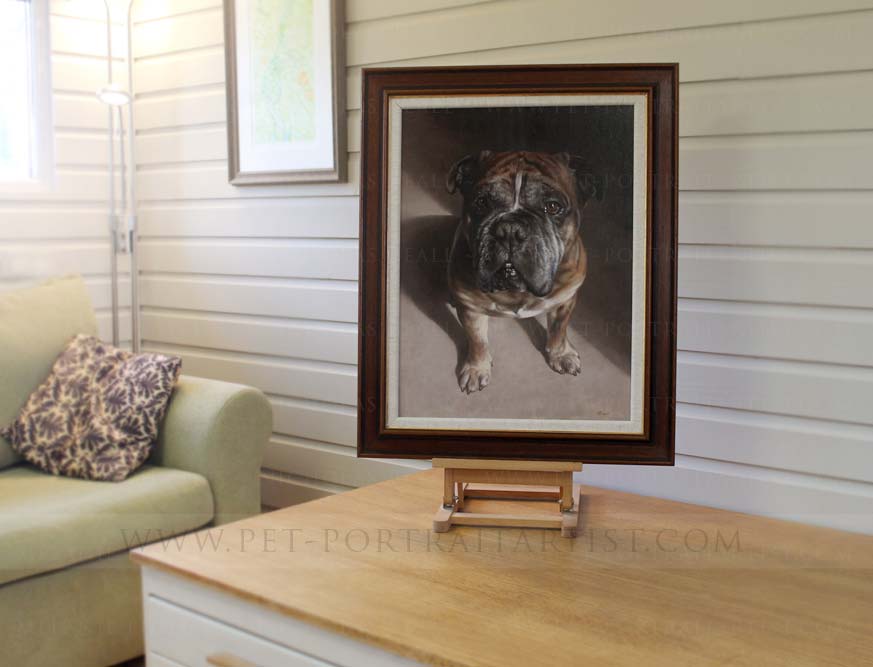 We hope you have enjoyed viewing our oil pet portrait and dog portrait of Boomer. We have tried to take lots of photos during the pet portraits process so that prospective clients might have an idea of how they would like their pet portrait to be. Why not send us your ideas! If you would like Nicholas to paint your dogs pet portrait, why not drop us a line via our pet pet portraits contact page and send us your photos today. We look forward to hearing from you soon.