Dog Portraits - English Bulldog Pet Portraits
Welcome to our English Bulldog pet portraits in oils on Canvas painted by professional artists Nicholas Beall. English Bulldogs are an iconic breed and Nicholas was thrilled to be able to accept this portrait commission from a returning client in the USA. Bulldogs are associated with the UK however they are popular all around the world and this particular Bulldog lives a very happy life in the USA. English Bulldog pet portraits are on of Nicholas' favourite breeds to paint and he has completed a number of portraits of them over the years, this being his all time favourite. If you have an English Bulldog that you would like to have an oil painting of, please do email us your photos, we would love to see them.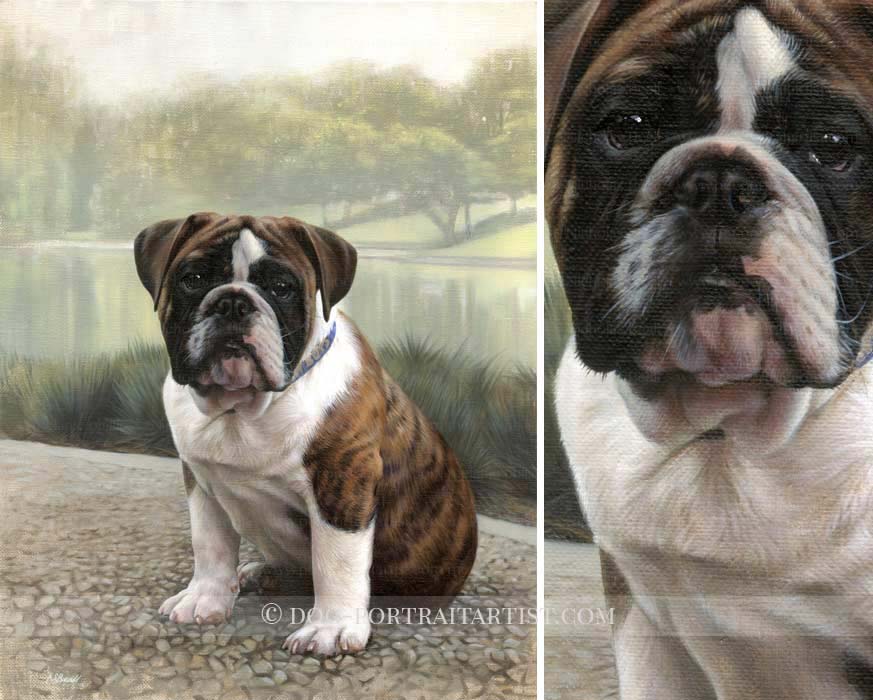 Commission of 'Otis' - English Bulldog Pet Portraits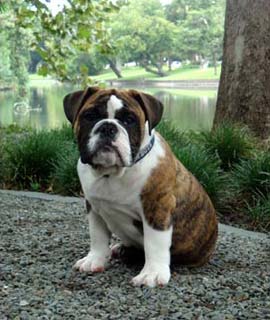 Karen Rankin, personal assistant of Harlan Crow, Crow Holdings, contacted us in 2014 to ask if Nicholas would paint their stunning English Bulldog Otis for Christmas 2014. Harlan and his family have commissioned portraits from us in the past and Otis will be the third painting in their collection. Nicholas was thrilled to be painting another bulldog, as he really enjoys painting the breed. This page is dedicated to Otis who is sitting in beautiful grounds of Harlan Crows residence, which makes for a superb backdrop to the 18 x 14 sized painting.
Nicholas works from one main photo for the pose of the portrait and can use others for backgrounds and detail. The photo left is a combined photo of Otis sitting in the background scenery in grounds of our clients home which worked well for his portrait. It makes the commission much more personal and unique.
We have added a selection of amazing photos that our client took of Nicholas's paintings. The center painting of Kipper was competed in December 2012 by Nicholas. Previous painting Patsy and Otis are either side and they look absolutely wonderful! Nicholas commented that it was like his own 'little mini gallery' in America! The family also commissioned a wood carver to make the beautiful frames for the paintings with personal motifs on the frames for the family. We think they have turned out beautifully and we look forward to working with the Crow family again in the future.
Oh my goodness…this is PERFECT!!! You have truly captured Otis so well. I can't believe how little he was. I'm so glad to have him captured as a puppy! He's a big hippo these days!
Please know that Harlan & the family love & admire your work. So pleased to have found you guys!Karen Rankin (PA to Harlan Crow)

"Yes, we had so much fun with this project! We are truly impressed with the portraits and how they turned out so beautiful in their new custom frames. :) Thank you so much for making this process so easy for the family. Love the mini-gallery!
Best wishes,
Karen
PA to Harlan Crow"
English Bulldog Pet Portraits Detail
I often take photos of Nicholas painting his portraits, especially with brush in hand so that our clients can not only see the portrait up close and in detail but they also get an idea of scale of the painting too. I also took a photo of Otis on our mini easel in our studio so clients and readers could see him in full from a distance.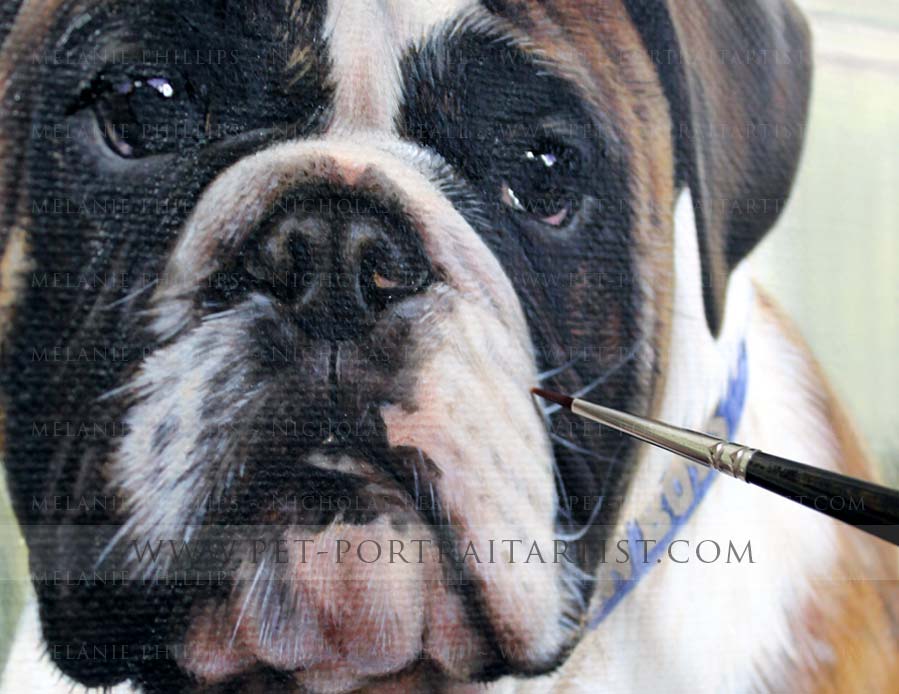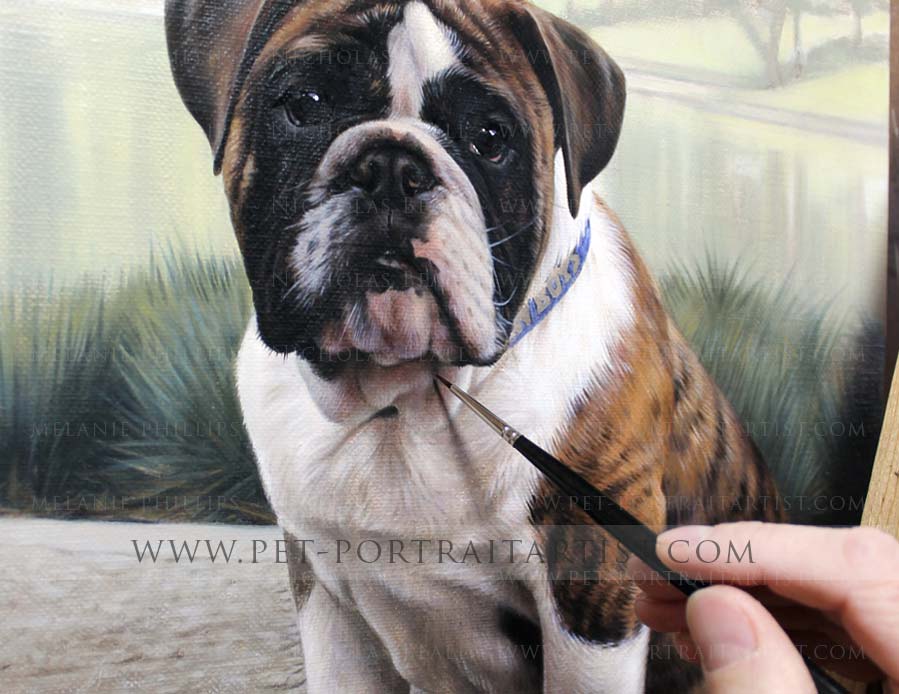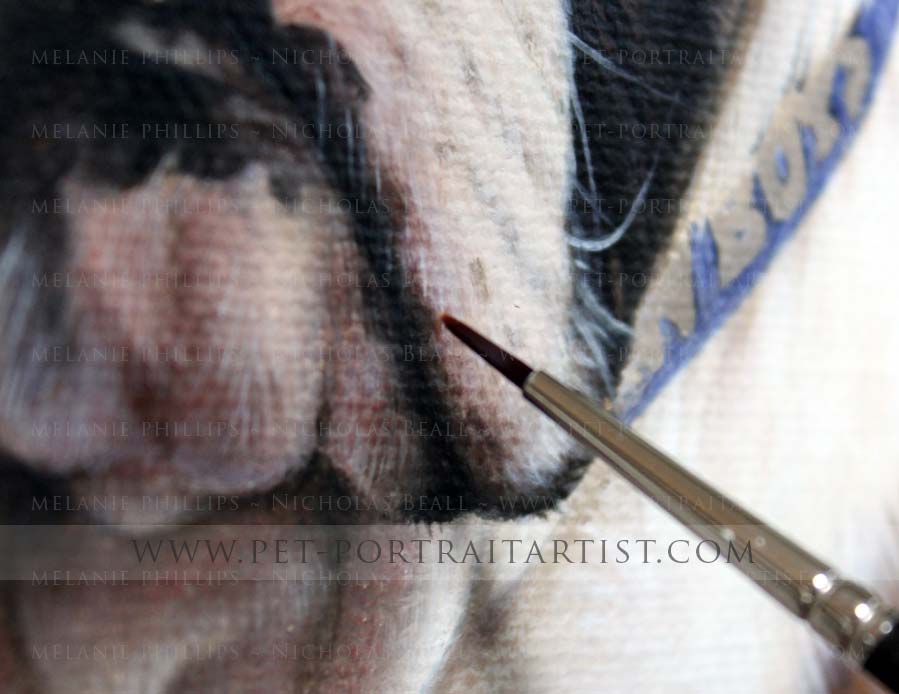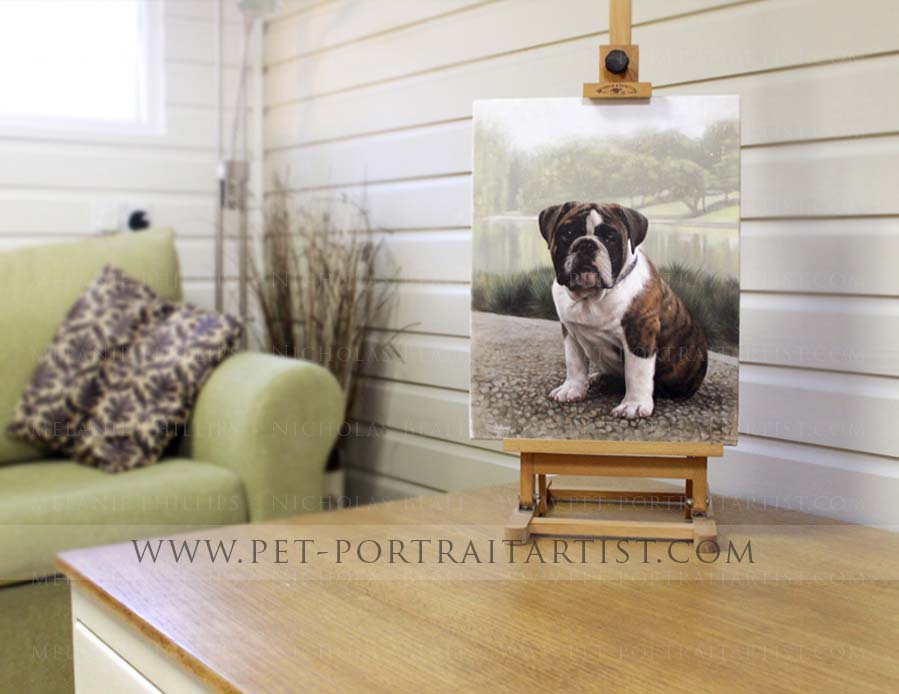 English Bulldog Pet Portraits Reference photos
We love seeing photos of our portraits framed and Otis the Bulldog was framed using a bespoke hand carved frame by an amazing USA based woodworker. You can see a photo of other portraits Nicholas has painted for their family in the photos below.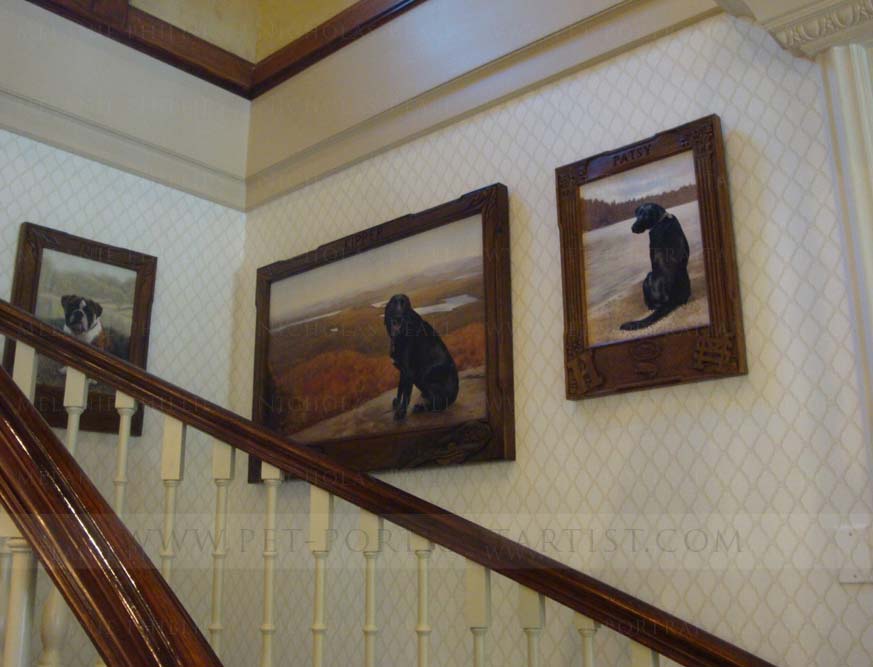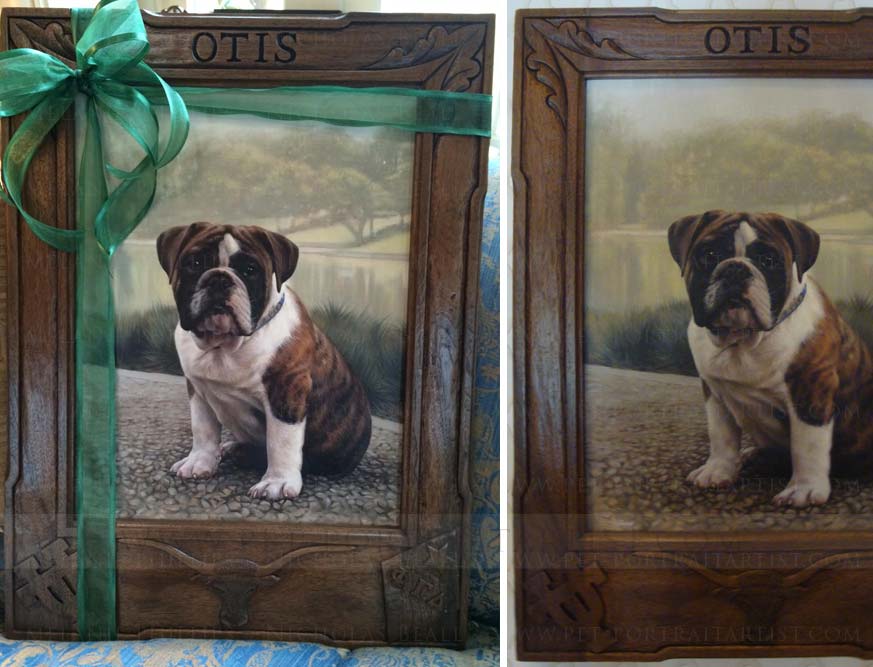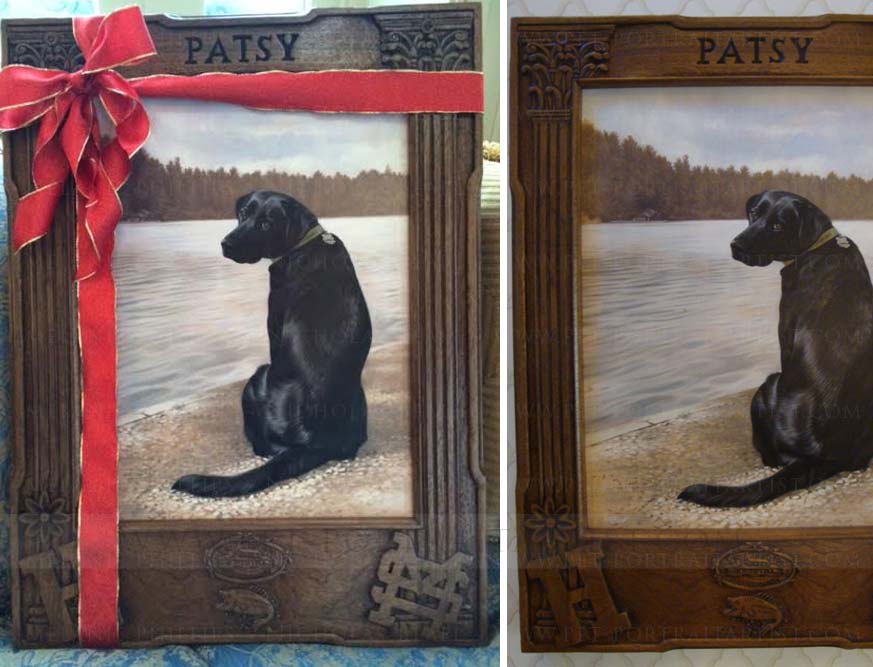 English Bulldog Pet Portraits
if you have an English Bulldog and would like an oil portrait of them, you are more than welcome to send us photos at any time. Nicholas takes on a limited number of oil portraits per year so please feel free to contact us to chat over your ideas and your required deadline date for receiving your portrait. Visit our pet portraits contact page and drop us a line today.