Dog Portraits - Bernese Mountain Dog Pet Portraits
Welcome to our Bernese Mountain Dog Pet Portraits in oils by Nicholas Beall. Nicholas is a professional dog portrait artists having been commissioned by clients worldwide for 20 years. He specialises in oil paintings and this medium lends itself beautifully to creating soft fine fur detail for all breeds of dogs, including the Burnese Mountain Dog. All of Nicholas' portraits are traditionally hand painted by himself in his woodland garden studio. Nicholas enjoys the peace and tranquility of his studio looking out onto fields and woodland, a perfect artists retreat for painting dog portraits. Accepting a limited amount of commissions per year, he was delighted to paint Yogi for his clients and you can read more about the commission below.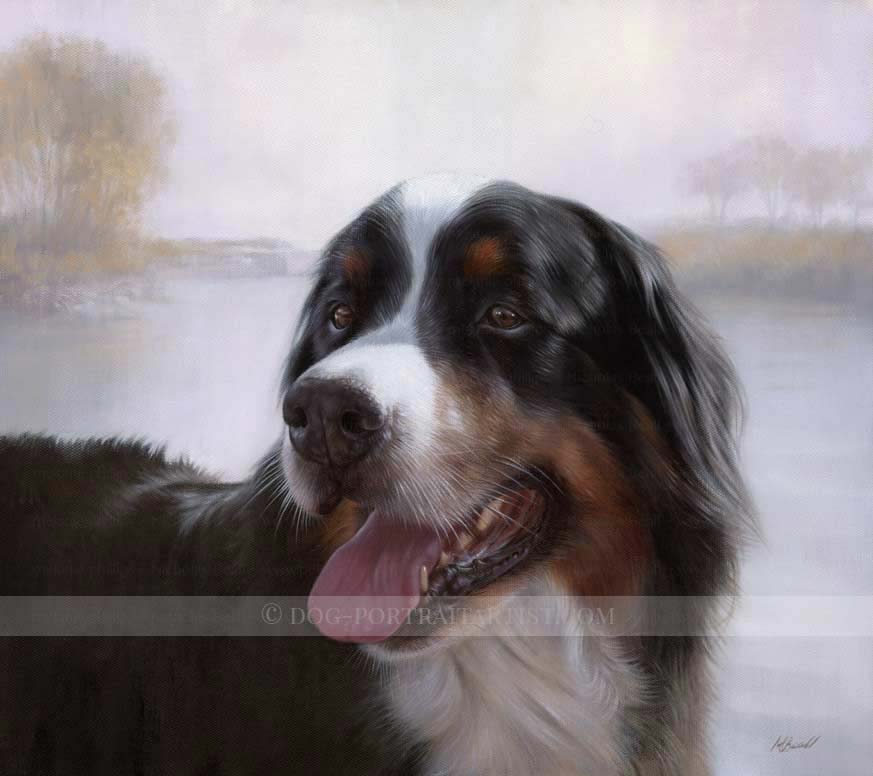 About the Commission of Yogi - Bernese Mountain Dog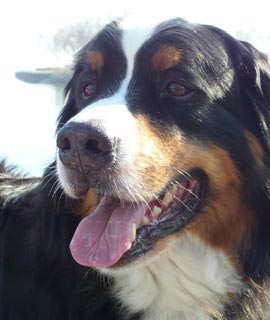 This portrait is of a beautiful and handsome Bernese Mountain dog called Yogi and Nicholas was thrilled to be able to accept the commission in 2017. The dog portrait was commissioned by Shane Maliteare as a surprise birthday gift for his wife Nikki. We worked closely with Shane on guiding him in getting a perfect photo of Yogi to work from. Shane wanted a head portrait but also wanted to have a more of a painting than a studio style portrait and so he took some photos of Yogi out on a walk early one morning. The photos has beautiful scenery behind and early morning lighting.

Shane requested his portrait to be a decent size so that they could see it from the other side of their living room and opted for an 18 x 16 inch portrait that worked well for the composition of the portrait.

Our portrait of Yogi was well received. We sent the painting to Canada and was thrilled to hear from Nikki once she had received her painting. You can read her testimonial and see some photos of the portrait framed below.
Hi Melanie and Nicholas,
I have to say that my breath was taken away when I laid eyes on the photo and especially the video! Our boy is a super star! Nicholas has captured this perfectly for us and words can not describe how much having this portrait of Yogi in our home means to our family! No changes necessary and you have the "OK" to continue!
Thank you and Nicholas so much for everything as we are truly touched!
Shane, Nikki, Jordyn, Liam and of course Yogi xo

Dear Melanie and Nicholas,

I hope you are both doing well. I am so sorry this took so long to get to you. Yogi arrived two weeks ago and I have been trying to come up with the words to say Thank you but I don't feel Thank you is enough. I have tears in my eyes, and I cannot believe how absolutely stunning his painting is. You have captured his beauty magnificently.

You have not only produced a work of art but you have touched my heart in a way that words just can't describe.

Yogi is very special to me and we have had our ups and downs many times. I know there will be a day when he will no longer be with us and to have that painting of him on the wall, will bring much comfort to us. Shane has really out done himself with this gift, this will keep him out of the "dog house" for years to come lol.

I just want to say Thank you so much from the bottom of my heart for the beautiful painting. You two are extremely talented and it has not gone unrecognized, I have told many people about how amazing you are.

Please take good care and If ever we find ourselves out your way we will be stopping in on you. I hope you don't mind.

Nikki Pavsic

Happy Client Photos!
We received this wonderful photo from our clients when their portrait has been received and presented to the recipient. We love to see where our portraits are displayed, it really makes our website unique and special and we cant thank our clients enough for taking the time to do this for us.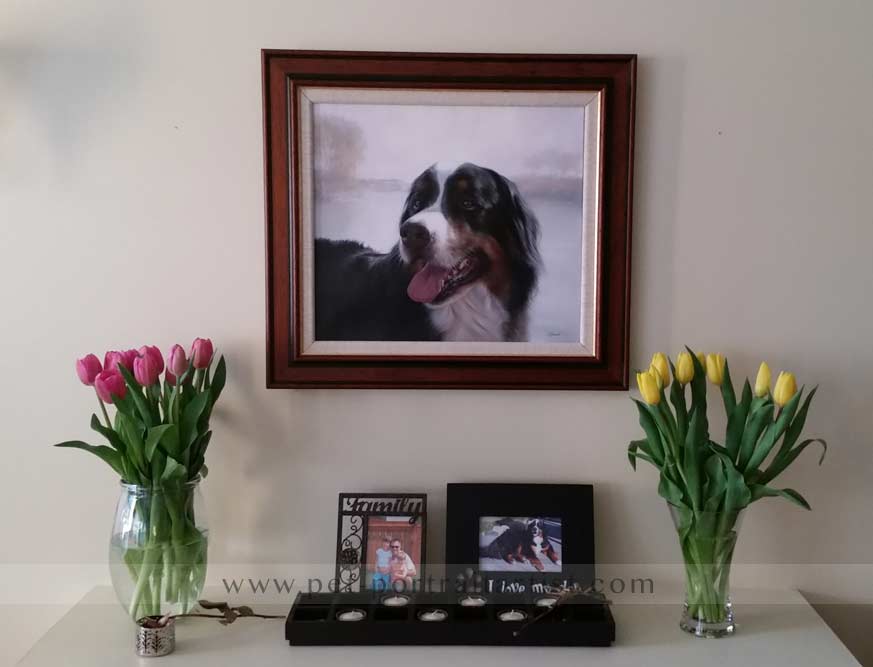 Bernese Mountain Dog Pet Portraits Framed
Here are some photos of the oil painting framed.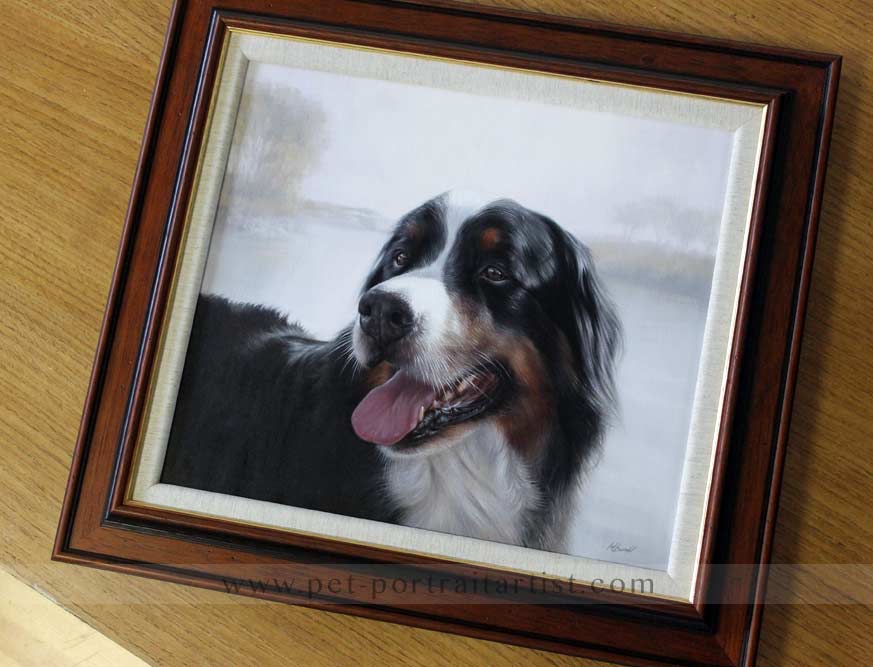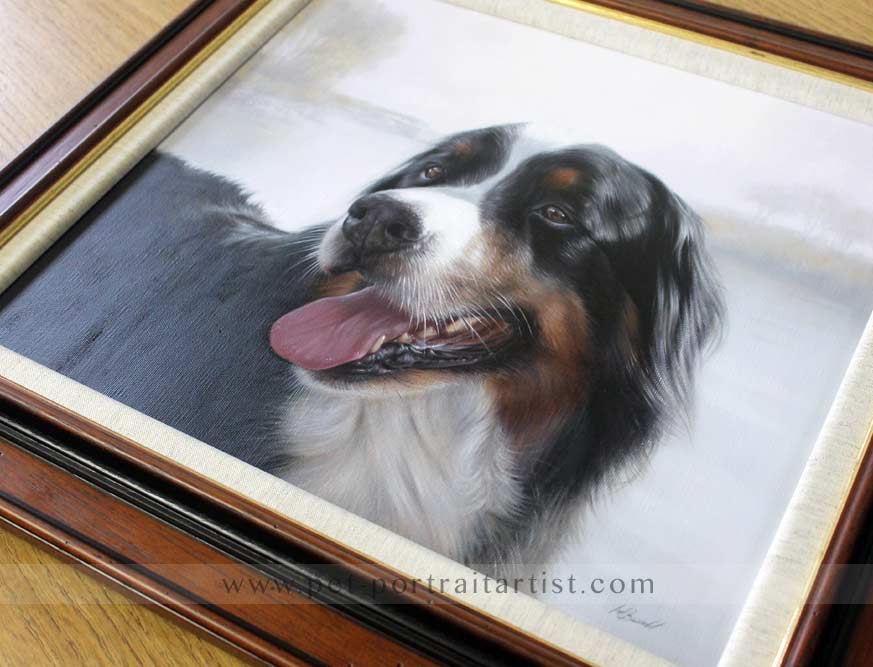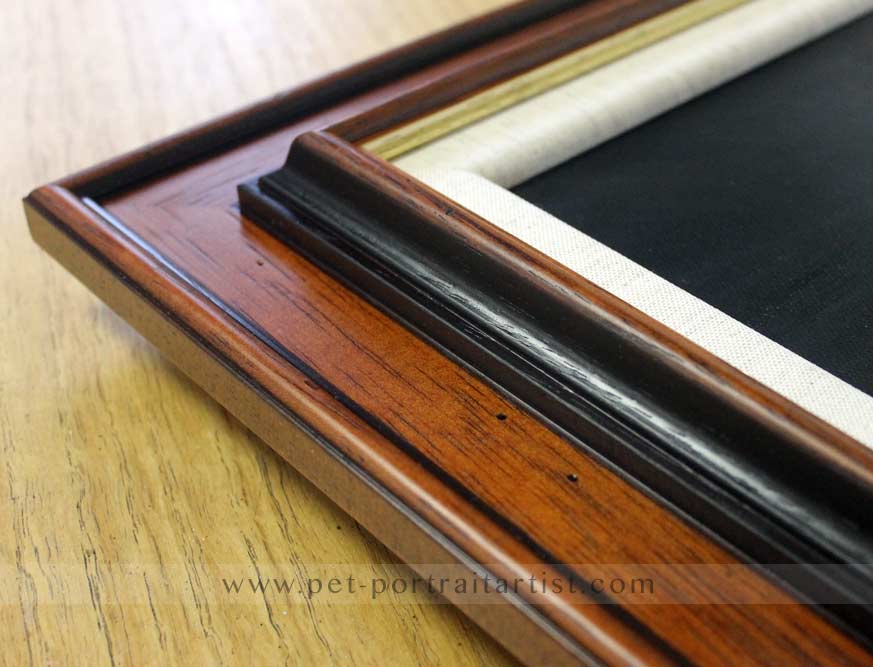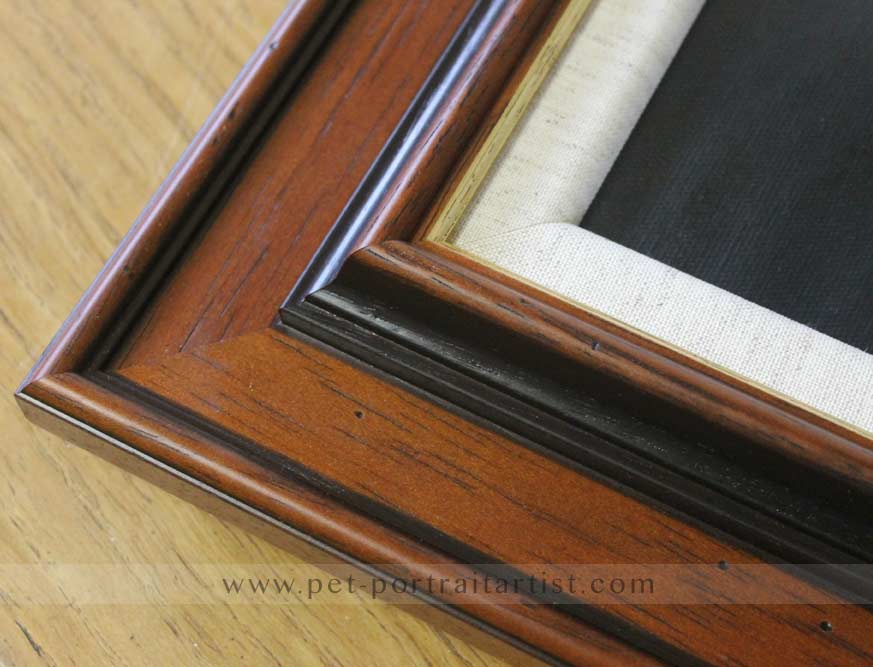 Bernese Mountain Dog Pet Portraits
If you would like Nicholas to create a Bernese Mountain Dog Pet Portrait for you, you are more than welcome to drop us a line. Let us know which size of dog portrait you would like and email us photos and we can design a portrait for you. We can email you a mock up so that you can see what your portraits composition would be like before you place a deposit. Email us from our pet portraits contact page and tell us all about your Bernese Mountain Dog, we would love to hear about them!