Bichon Frise Pet Portraits
Welcome to the Bichon Frise Pet Portrait of Lulu commissioned as a Christmas present. Nicholas Beall traditionally hand paints all of the oil painting commissions. He completes his oil paintings on bespoke professionally stretched Italian linen canvas which is a really high quality canvas stretched onto hardwood Tulip wood stretcher. You can feel the quality when you hold the canvas. It is so important to use high quality materials when creating oil paintings for commission, they need to last for many, many years. Scroll down to read more about the oil painting of Lulu and see some wonderful photos of the portrait with Lulu herself!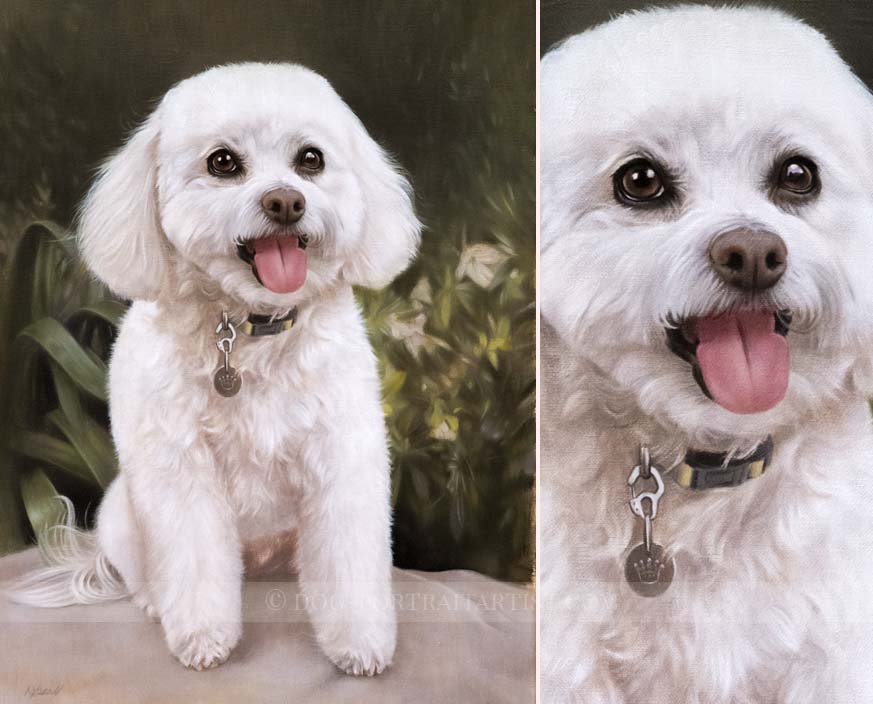 About the Commission of 'Lulu' the Bichon Fries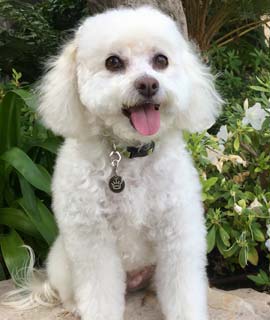 Jennifer contacted us in 2018 asking if we would be able to have an oil painting of her Mother In laws Bichon Fries called Lulu in time for them to give it as a Christmas present. We were thrilled to hear from Jennifer and see her amazing photos of Lulu. The timing was also perfect. Jennifer commissioned Nicholas to pain Lulu at 18 x 14 size and wanted Nicholas to try to replicate the garden background behind.
As you can see in the reference photo on the left there is a lot of foliage including a tree behind Lulu's head. We discussed this with Jennifer and she was happy for us to omit the tree as we felt it took the focus away from Lulu a little. As you can see the finished result above is spectacular.
Jennifer and her family were thrilled with the final painting. Scroll down to read some lovely emails and see some more photos of the portrait too. Jennifer very kindly emailed us some photos of the portrait framed and also with the recipient and Lulu too!
Hi Melanie and Nicholas,
This is great news!! It is absolutely perfect, thank you so much. They will love it!
Thanks again!
Best,
Jen

Hi Melanie!
Here are some photos :)) they love it so much!
Jennifer
Photos of the Bichon Fries Portrait
We often take photos of the portrait close up so that clients and viewers can see their painting a little more clearly. Also in a more natural setting too. As you can see this was a lovely size painting for Lulu, the perfect size.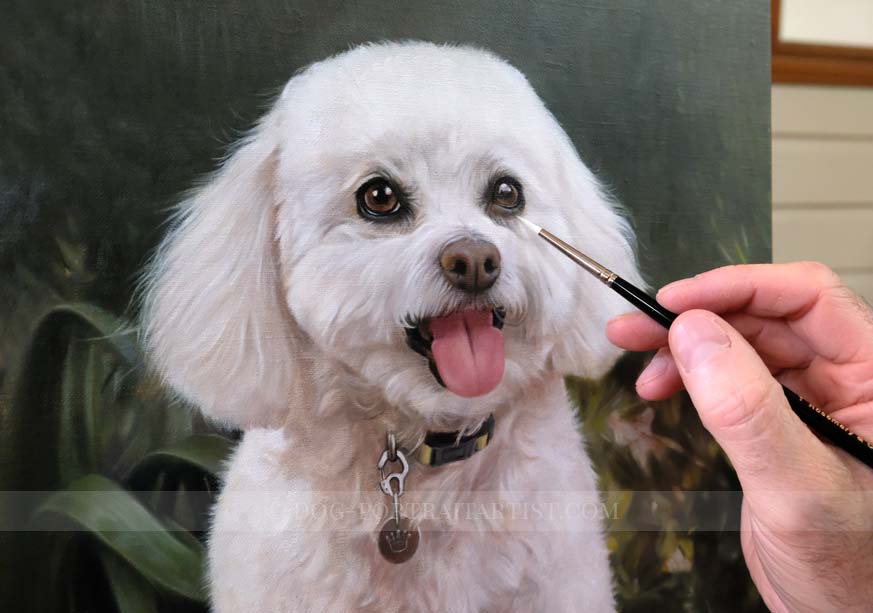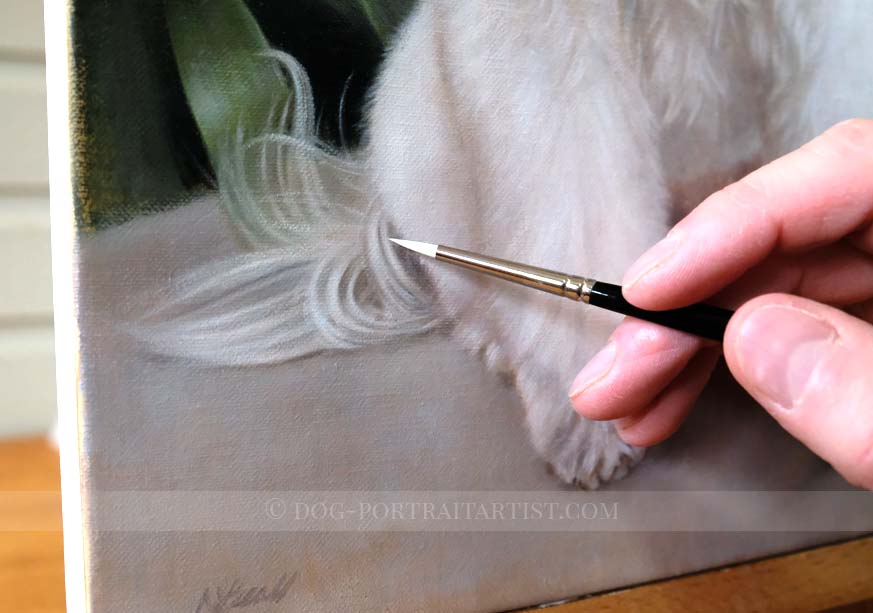 Happy Clients
Here are two photos Jennifer sent us of the portrait framed and the portrait also when it was received by the recipient. She was showing it to Lulu...I'm not certain how impressed Lulu was of it, however we know the recipients were delighted!!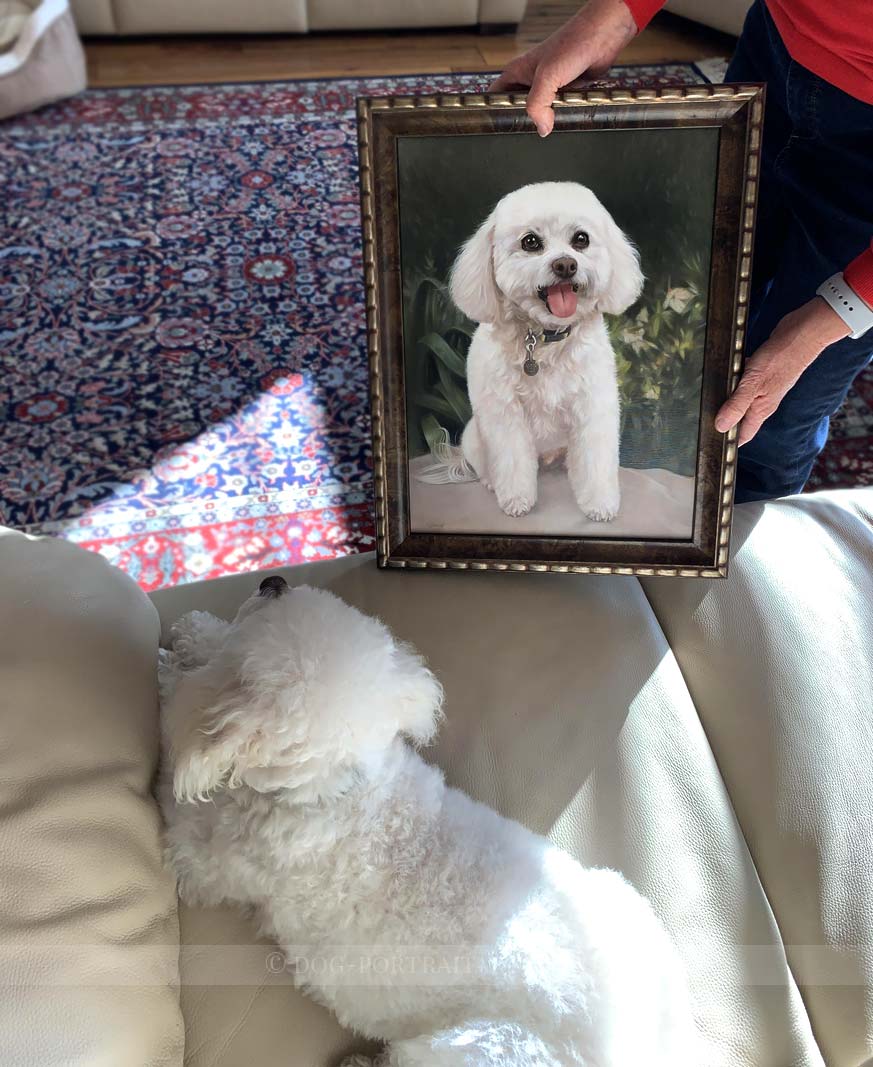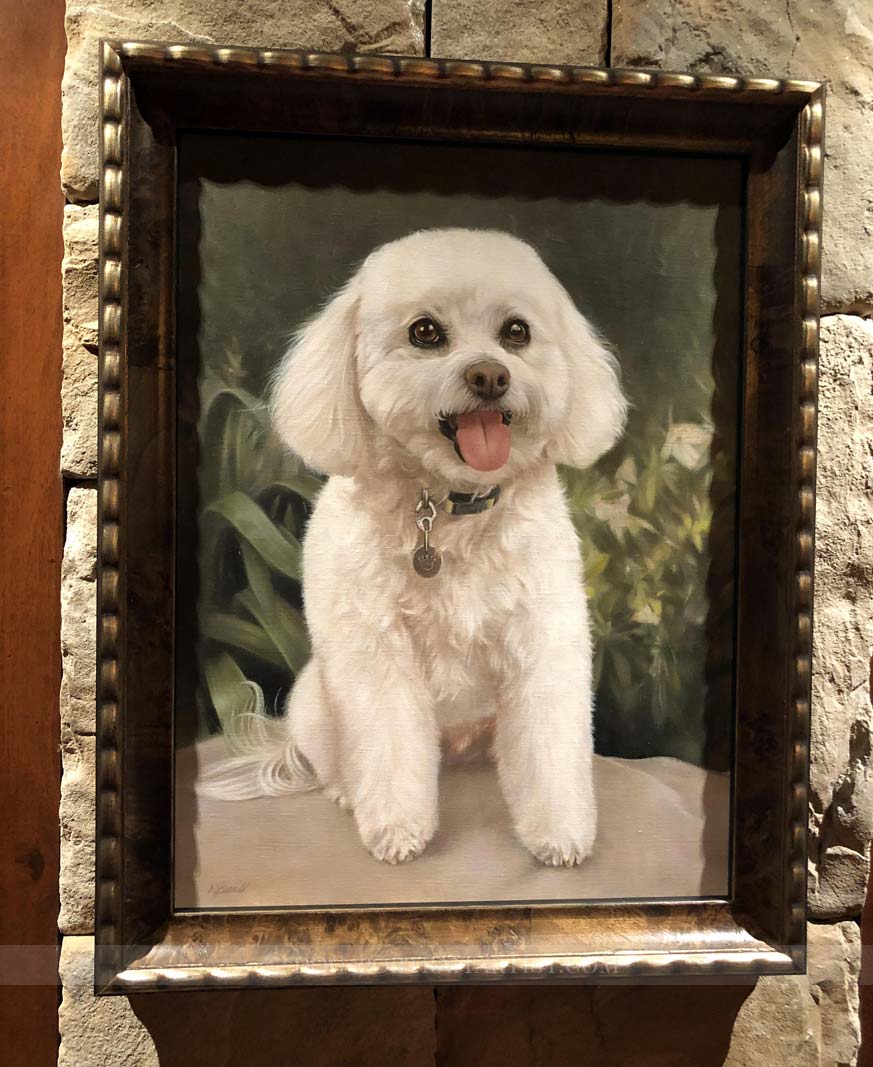 Bichon Frise Pet Portraits
If you have a gorgeous Bichon Fries like Lulu and you would like a a painting of them similar to this, please do drop us a line. Perhaps you might like a head and shoulder study with a plain background. Whatever your ideas, just let us know and we will be able to advise and help in in any way we can. Email us your photos via our pet portraits contact page at any time.