Golden Retriever Portrait
Welcome to the stunning Golden Retriever Portrait of H. This oil painting was completed by Nicholas in 2019 commissioned as a surprise birthday gift. We hope you enjoy viewing the framed photos and reading about the painting.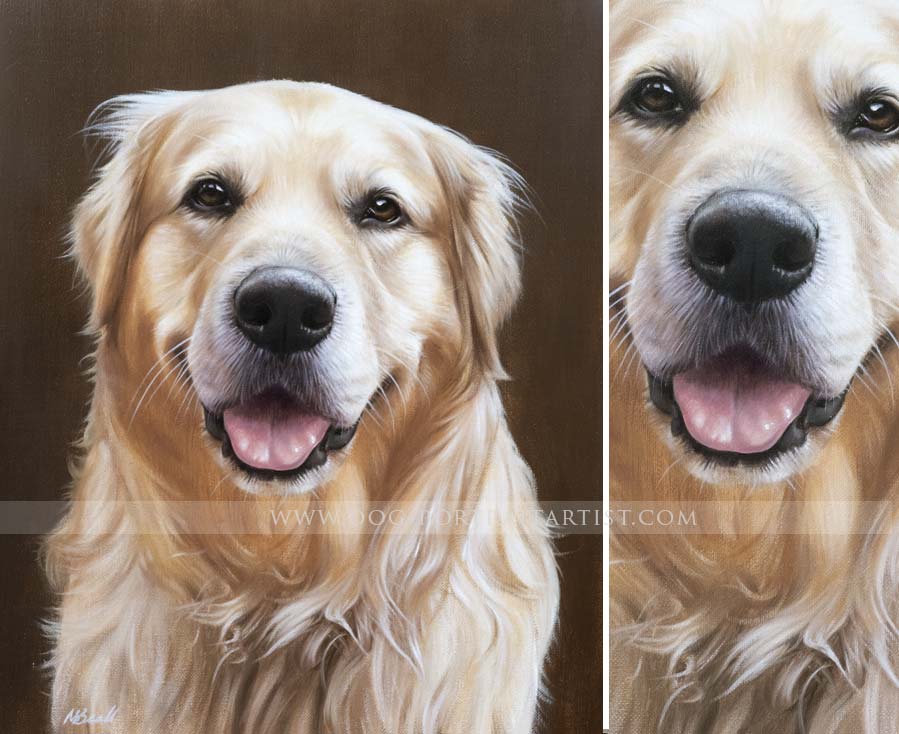 About the Commission of Golden Retrievers 'H'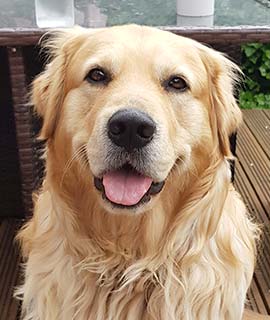 The portrait of 'H' was commissioned my Mal Podmore, UK, as a surprise gift for his wife's birthday present in 2019. Mal emailed us two photos to choose from, one of which was perfect for a painting, you can see the photo on the left. It was a good, clear and in focus photo of H and Nicholas was delighted to paint from it.
The portrait was painted at 12 x 10 size and framed in our Belgravia frame, which really allowed the background to recede and H to be in full focus. Scroll down to see some photos of the completed painting along with a video take prior to packing the portrait for our framing page. You can really see the painting in a much more three dimensional way in the video. Mal emailed us a lovely testimonial when he received the painting which you can also read below.
Melanie & Nicholas,
I have this morning received the portrait of H all in great condition. I am extremely pleased with the overall detail and quality of the whole portrait. It is truly amazing, the frame and portrait all go together superbly well. Thank you both so much for literally a fine piece of art. I will gladly have H pose with the portrait etc. I will be in touch.
Kind regards
Mal.
The Framed Oil Painting
The photos below were taken prior to packing the portrait when it had been framed. I also took video when taking photos, so I hope you enjoy viewing the video too!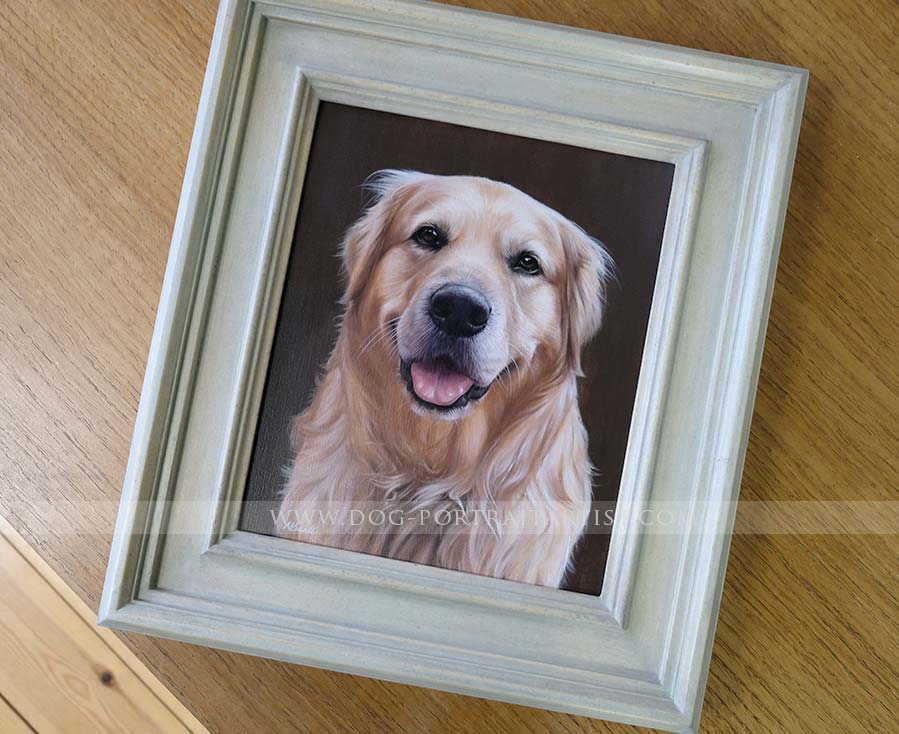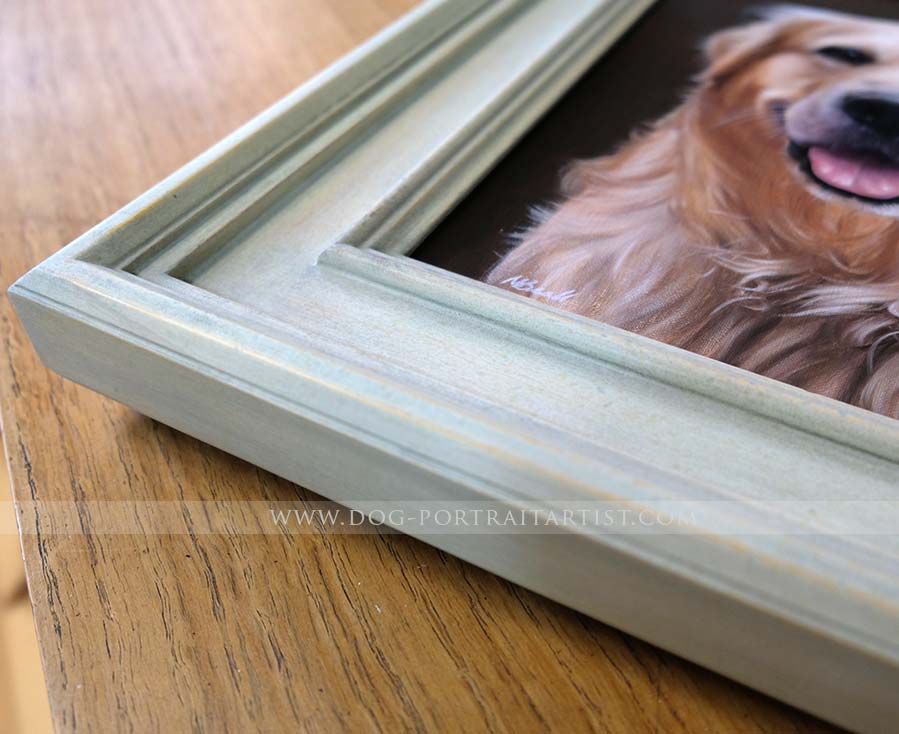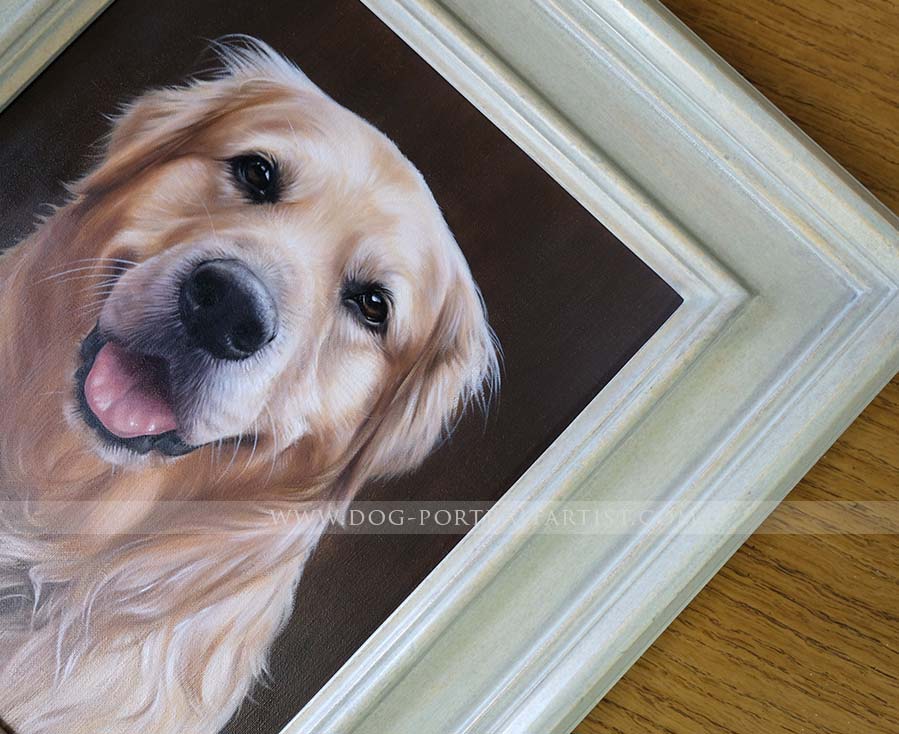 Golden Retriever Portrait
If you would like us to paint a portrait of your Golden retriever, you are more than welcome to contact us from our pet portraits contact page at anytime. You can also message via WhatsApp too. We look forward to working with you soon!