Corgi Pet Portraits
Welcome to the Corgi Pet Portraits in oil of Luke. We have quite a large community of corgis living locally to us and Luke is one of them! He is a gorgeous and beauty of a Corgi and Nicholas was commission to paint him in 2018. He has painted a number of corgis over the years however Luke is definitely our favourite. Scroll down to read about the commission and see photos of Luke with his portrait when he visited the studio to collect his painting.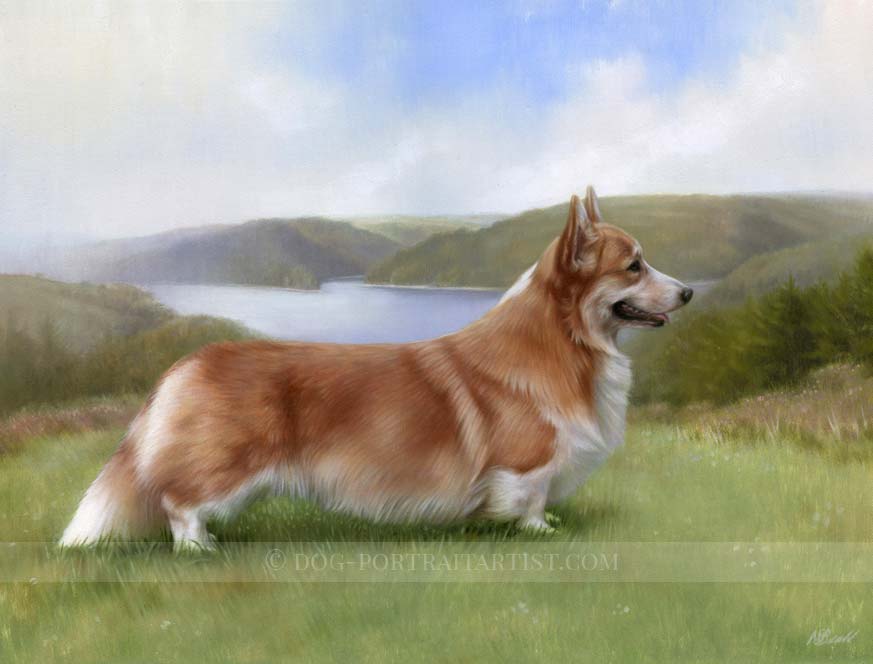 About the Commission of 'Luke' the Corgi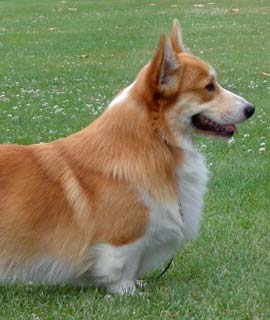 Suzanna commissioned an oil painting of her stunning Corgi called Luke. Luke's full name and title is Ch Nireno Luke Skywalker and he is a UK Champion. Suzanna and Luke live near to us and attend our local dog training club where I take our Tibetan terrier Lily for obedience classes.
Suzanna wanted the portrait to be painted at 16 x 12 inches and had taken the perfect photo of Luke for the painting. Suzanna however wanted a different background behind Luke in the painting. She provided us of a range of photos of the picturesque Llyn Briane here in Wales and it worked perfectly for the portrait. Nicholas really loves to paint landscapes in both oils and watercolour and so the thought of painting this beautifully scenery behind Luke was complete bliss for Nicholas. He loved every minute of it.
Luke visited the studio to collect his portrait in person...as you can see from the photos below he was thrilled. As was Suzanna too! She received many superb comments on her Facebook page and we know that everyone who visits Suzanna at her home comments on the painting all of the time too which is simply wonderful!
It is amazing, I am so pleased with it!!
Suzanna
The Corgi Painting up close
The photos below show the painting from a different perspective, on our plan chest, with some paintbrushes to show scale. I also took photos of Nichols' hand and brush next to the painting so that our viewers can see the fine detail in the portrait. The detail is exquisite. Scroll a little further down to see Luke with his painting.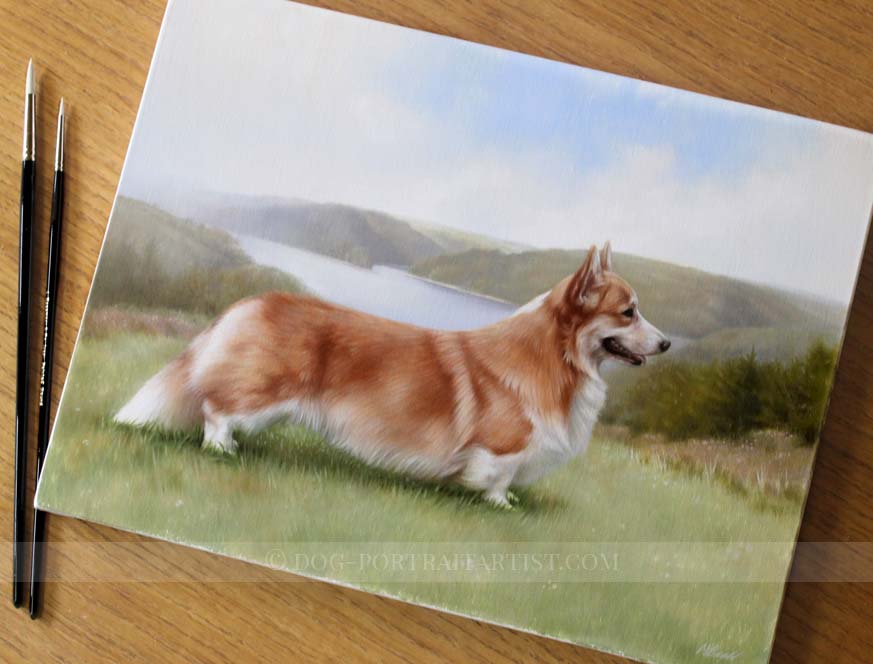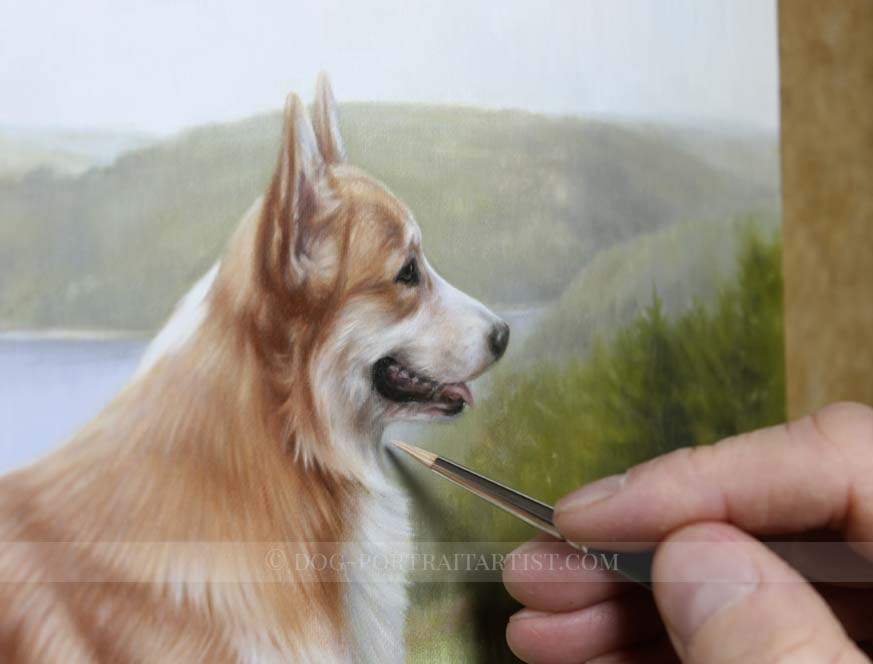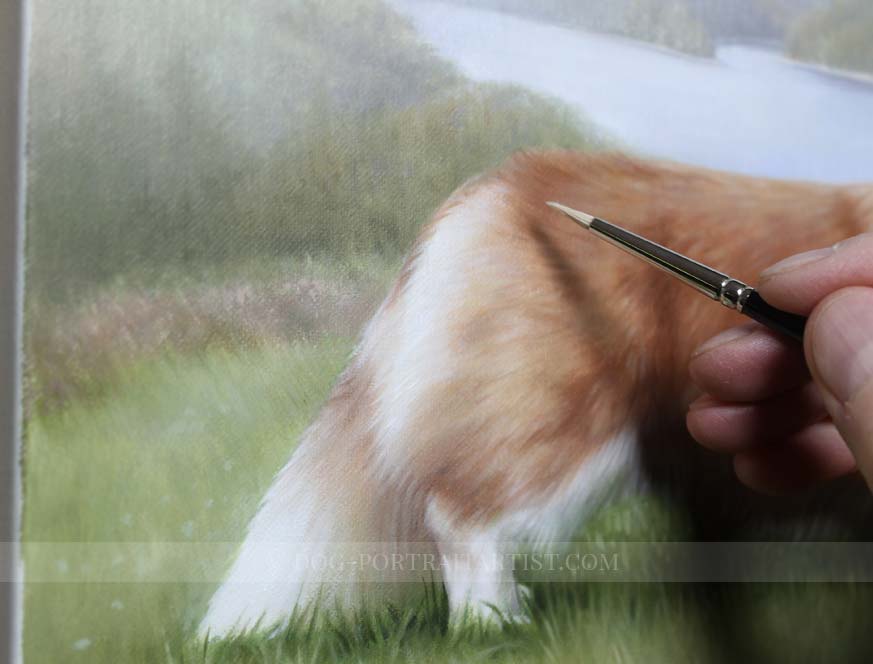 The Corgi Painting with the Real Corgi!
Luke was very excited to visit our studio and modeled really well sitting on our Plan Chest for photos. I believe he thoroughly approved of his portrait as did Suzanna!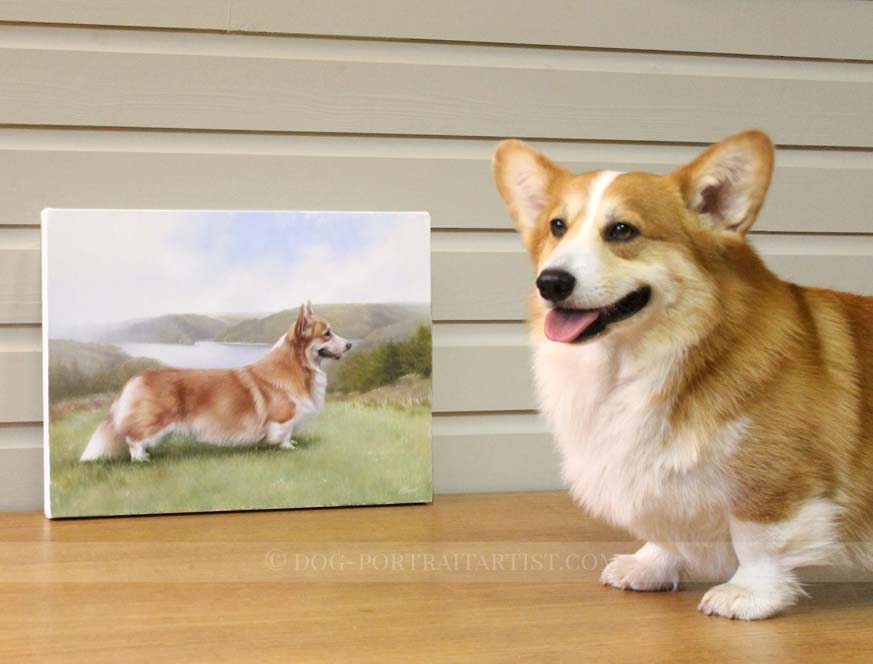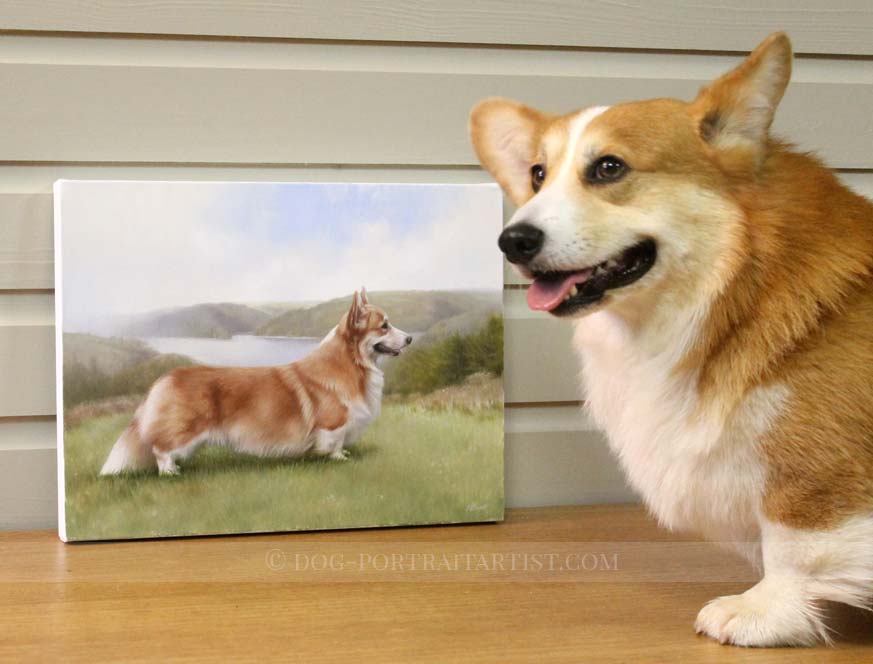 Corgi Pet Portraits
We hope that you have enjoyed seeing Luke with his corgi painting. if you have a corgi and would like a portrait of them painted in oils by Nicholas, please get in touch. We are always thrilled to hear from clients and we love seeing their photos. Tell us all about your corgi and the kind of portrait you envisage and we will help design a portrait perfect for you. Email us from our pet portraits contact page.