King Charles Spaniel Pet Portraits
Welcome to Nicholas' stunning King Charles Spaniel Pet Portraits in oils. The oil painting of Boone was traditionally hand painted on Italian linen canvas in 2018 for clients in the USA. Nicholas hand paints all of his oil paintings to an extremely high standard from clients own photos. They are all unique, one of a kind pieces of art painted bespoke for clients all of over world. If you scroll down the page you can read about Boon, the lovely King Charles Spaniel who was the focus of this oil painting and see photos of the painting framed, with the engraved plaque and the recipient too.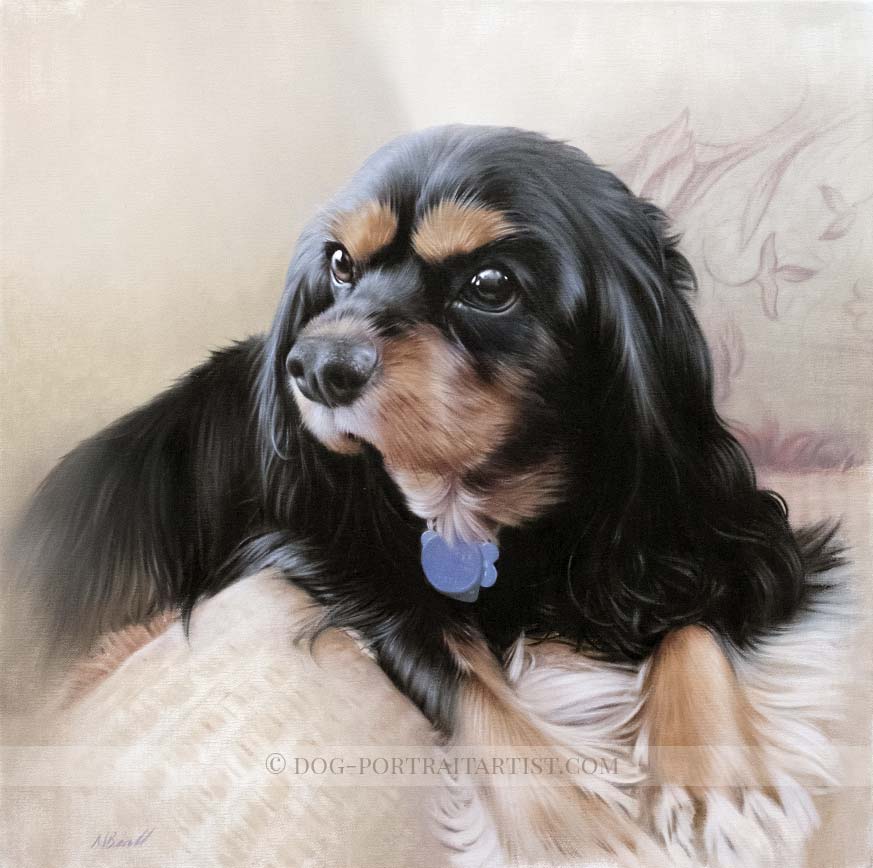 About the Commission of 'Boone' King Charles Spaniel Pet Portraits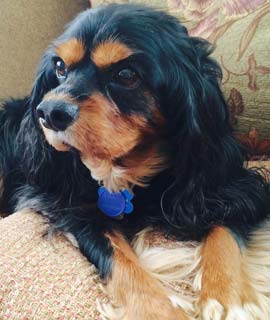 Cynthia Boone emailed us in 2018 to find out if we would be able to paint her King Charles Spaniel called Boone from her favourite photos. The best photo of Boone which you can see on the left was perfect for an oil painting. Nicholas painted a little more of Boone's feet and back to to create an aesthetically pleasing composition. The portrait was painted at the square size of 16 x 16 inches. We have our canvases made bespoke and although we don't have the 16 x 16 size on our prices page it is essentially the 18 x 14 size just in a different shape. We can paint your dog portraits to any size as we have our canvases made bespoke.
The painting of Boone was framed in our Hampstead frame and it works so well with Boone's portrait. The frame is truly gorgeous and extremely high quality. it is hand crafted and hand finished by our framers who are complete craftsmen. The portrait was then finished with an engraved plaque in Bronze with a brushed finish. If you scroll down you can see photos of the portrait framed, the engraved plaque, some testimonials and a lovely photos of Cynthia with her portrait of Boone displayed on her wall. We hope you enjoy viewing it!
Dear Melanie and Nicholas,

I wanted to share this picture of Boone's portrait in our home. It is beautiful and the frame was the perfect choice. I am overwhelmed by the detail and the lifelike quality of your work. You truly captured Boone's personality, especially in his eyes which are so realistic that I feel he could jump right out of the painting. There is no doubt, that is our precious Boone. The wall where we hung his portrait now looks complete as if it was waiting for him to come home all along.

Melanie, when I began this journey with you many months ago I was still mourning Boone's passing and from our very early communications I felt your compassion and kindness and that gave me the confidence and trust to begin this process. I know I will feel a connection with you forever.

Nicholas, your work is exquisite. I am in awe of how you conveyed his personality as if you had known him all along. Your talent brought us so much joy! I can't thank you enough for the happiness this portrait has given me and my family. We all feel that Boone is finally home and we couldn't be more pleased.

With deepest gratitude, Cynthia Crimi

King Charles Spaniel Pet Portraits
Here is a wonderful photos of Cynthia with the oil painting of Boone! Isn't it fantastic! We cant thank Cynthia enough for having her photo taken for us to see and to be published on our website. Thank you Cynthia!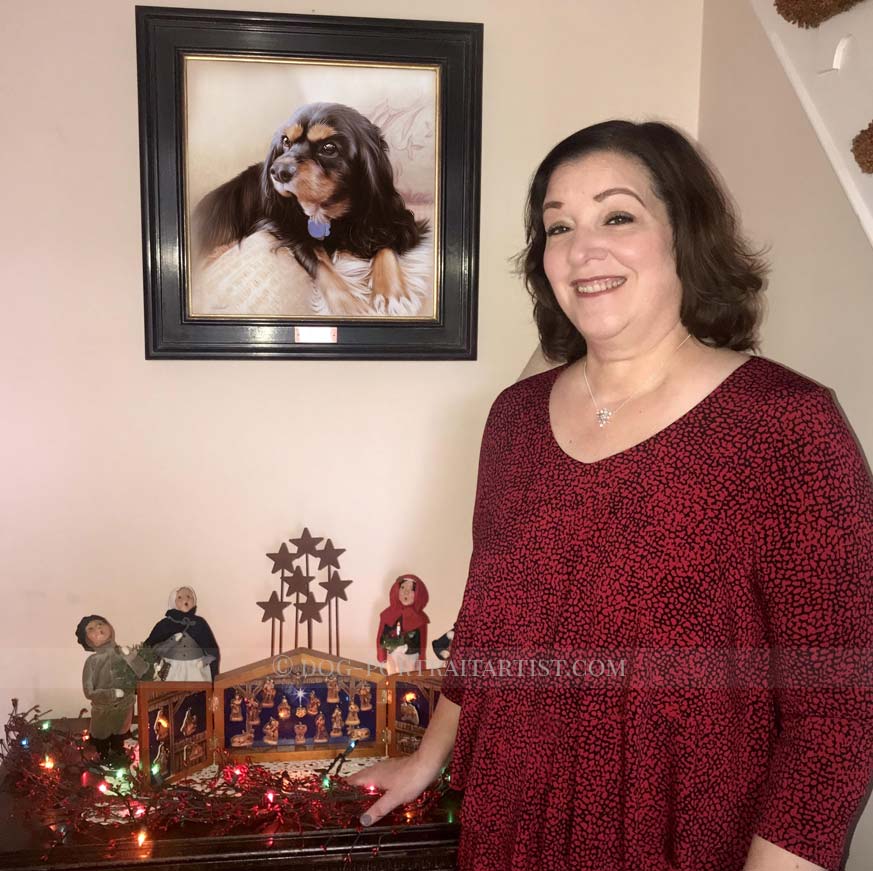 King Charles Spaniel Pet Portraits
I like We have our engraved plaques made by a specialist company here in the UK who offer two types of finish - brushed or mirrored and two colours - silver and bronze. All of the plaque we have made are absolutely perfect, the quality is superb and the plaques themselves are really heavy and just exude quality. Clients can have as much text as required, just drop us a line if you are interested in having a plaque made and we can chat about your requirements.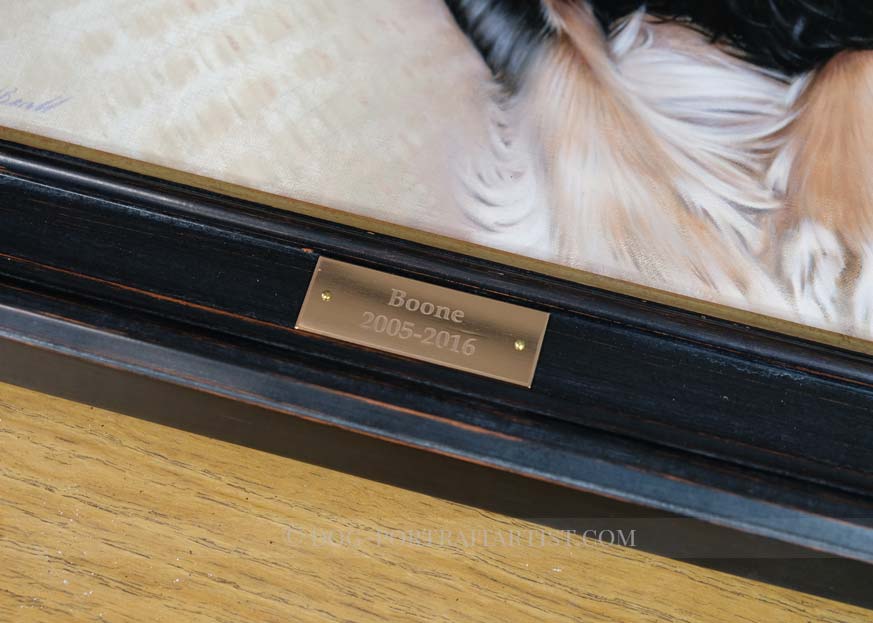 King Charles Spaniel Pet Portraits
Our Hampstead frame is the perfect match for Boone's oil painting. The colours and tones of the dark frame compliment Boone's coat and the inner gold colour matches with the warm background tones of the painting too. If you would like the Hampstead frame for your portrait please do drop us a line and we can make the arrangements for you.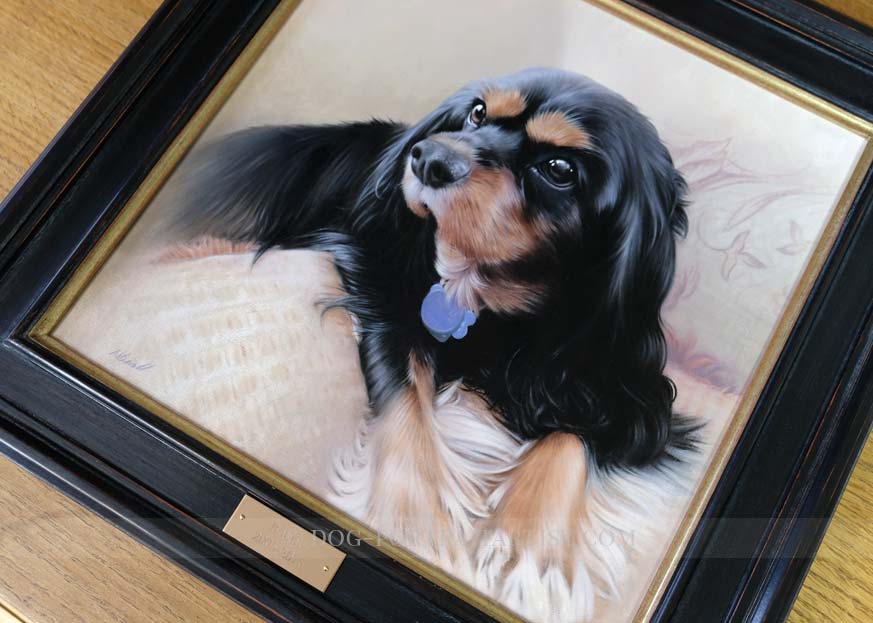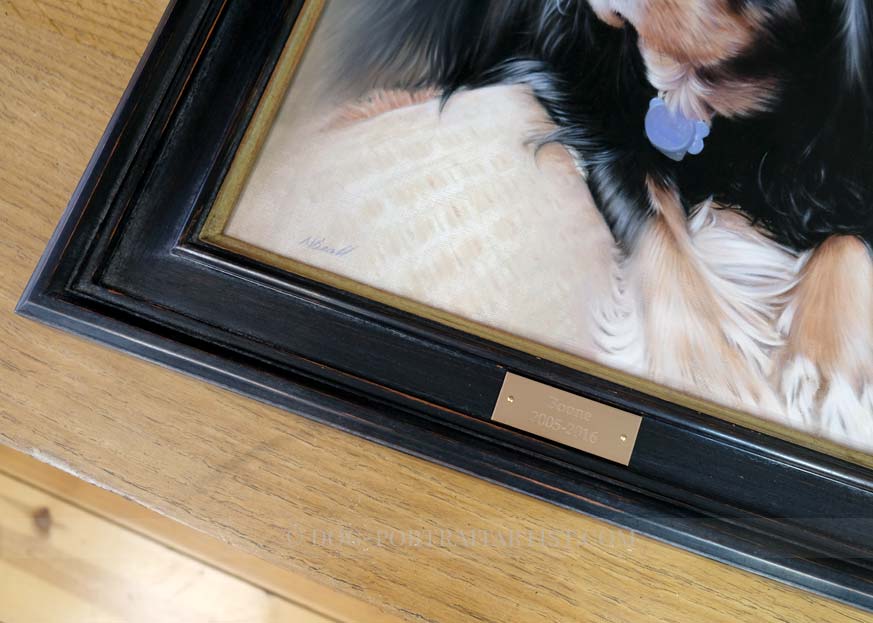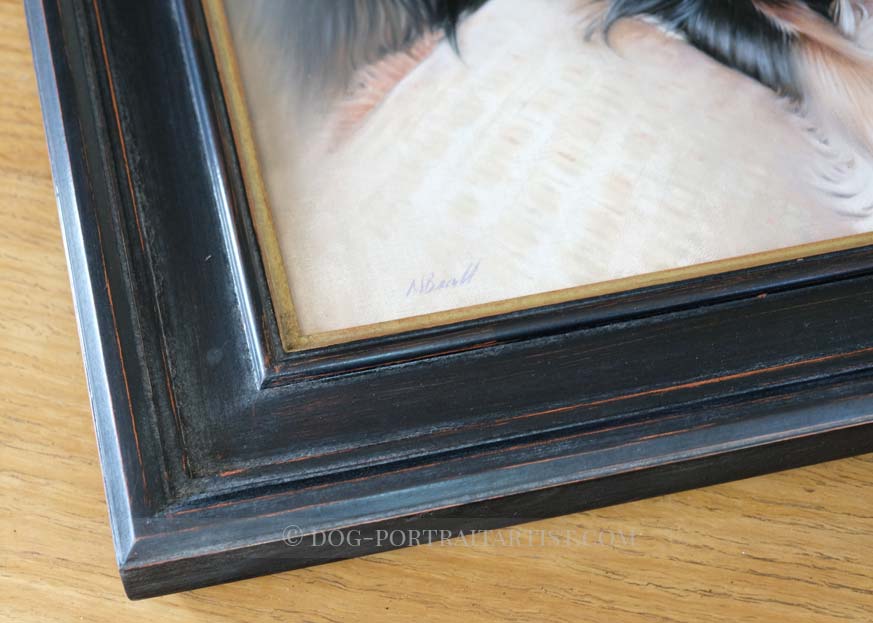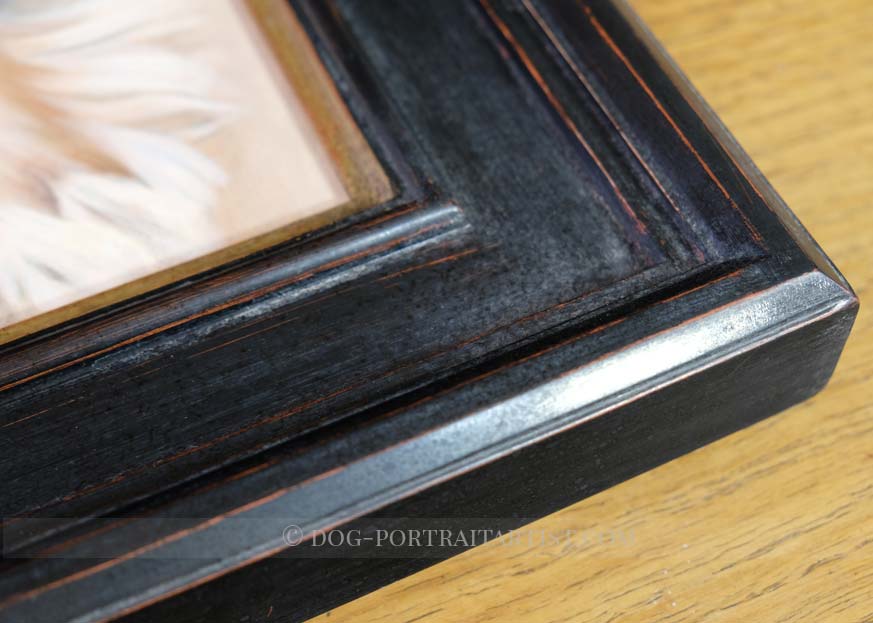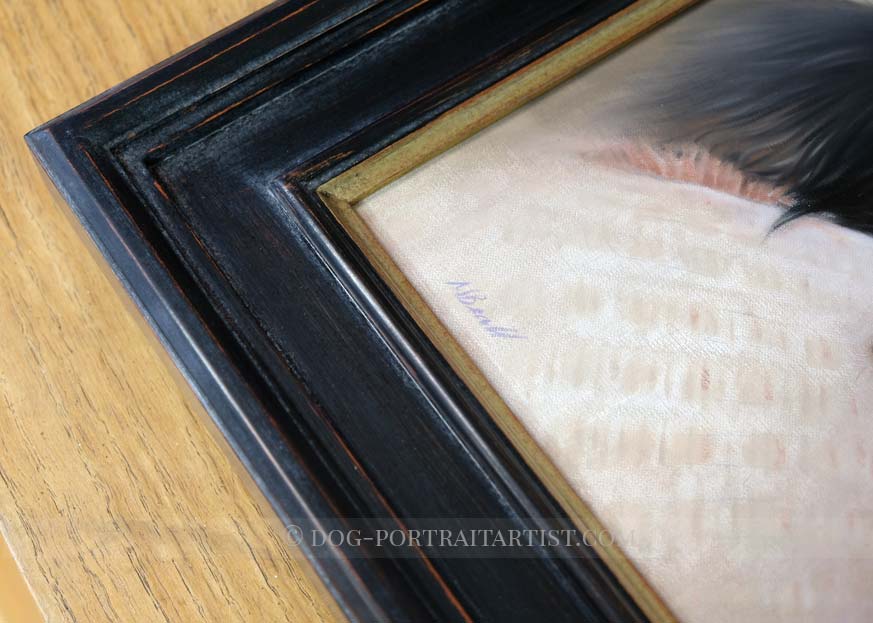 King Charles Spaniel Pet Portraits
We hope that you have enjoyed reading about the commissioned oil painting of Boone, the King Charles Spaniel and if you would like a portrait of your spaniel, please do let us know, we would love to work with you. Email us from our pet portraits contact page and tell us all about your dog and the kind of painting you might like.