Dog Portraits and Garden
We are thrilled to be able to show a dog portraits and garden oil painting by Nicholas of two beautiful dogs depicted in their garden. The dogs are called Bilbo and Mr Kipling. Nicholas traditionally hand painted them in our art studio located in the UK. We work in our woodland studio surrounded by wildlife and trees and it is the perfect place to paint. Nicholas uses traditional methods and painting techniques to create his stunning oil paintings. Scroll down the page to see more photos of the painting along with testimonials from our happy client.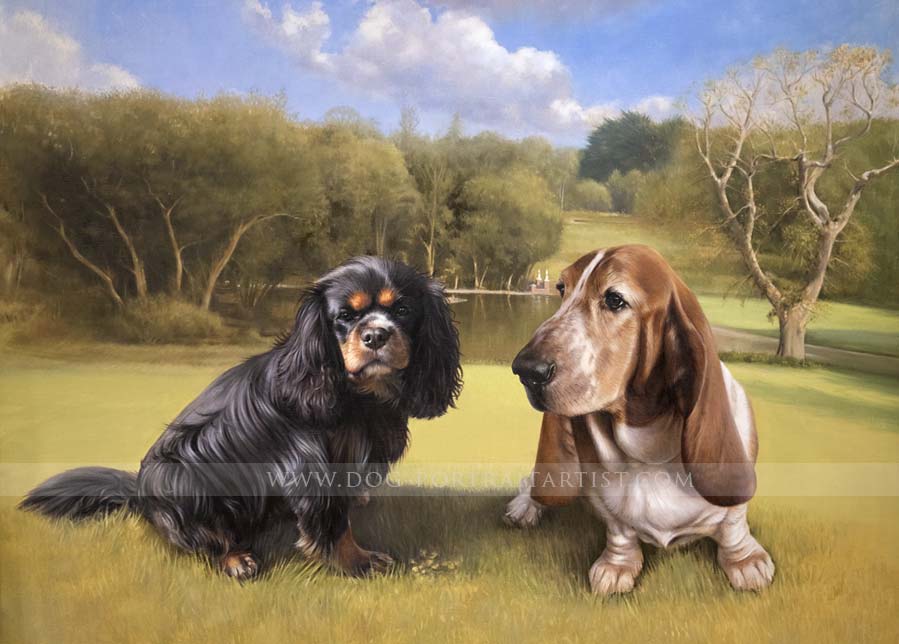 Commission of 'Bilbo and Mr Kipling'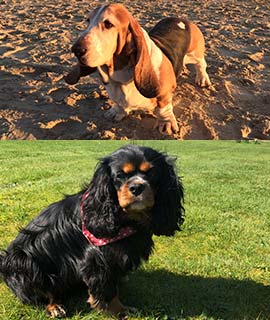 Our clients Lubka and Jamie Hallum commissioned Nicholas in 2019 to create a large 40"x30" inches oil painting of their dogs sitting in their beautiful garden. Jamie and Lubka took individual photos of each dog in their garden however wanted the head of Bilbo from a photo taken on a beach in the summer. We were able to combine two photos together, one for his head and shoulders and one for his legs, body and feet. The third photo was taken of their garden and works beautifully as the setting for the painting.
If you have multiple dogs that you would like us to portrait, it is important to take photos of each dog separately as well as some of them together. This way we can see them in lots of detail and see them together to help us see the size differences between them.
The portrait was couriered to our clients by a specialist art courier who helped unpack the portrait when it arrived.
Dearest Melanie, Nicholas and Lily,
There is only one way we can sum up the Painting and it is AMAZING !!!
really delighted with it... just having a dilemma on which wall we should display it on!
Jamie and I will have a go at putting up the painting ourselves. Nick the art courier was lovely and super friendly. He very kindly "unveiled" the painting for us. It has been a thoroughly enjoyable experience to deal with you... from the first email to receiving the painting. That makes the painting even more special.
Thank you again very very much!!!
Love and best wishes
Lubka, Jamie, Charlie and of course Bilbo and Mr Kipling xxx
Dog Portraits and Garden Framed
Jamie and Lubka chose the Mayfair frame for their portrait. The colours of the golds match well with the over all colour scheme and garden behind.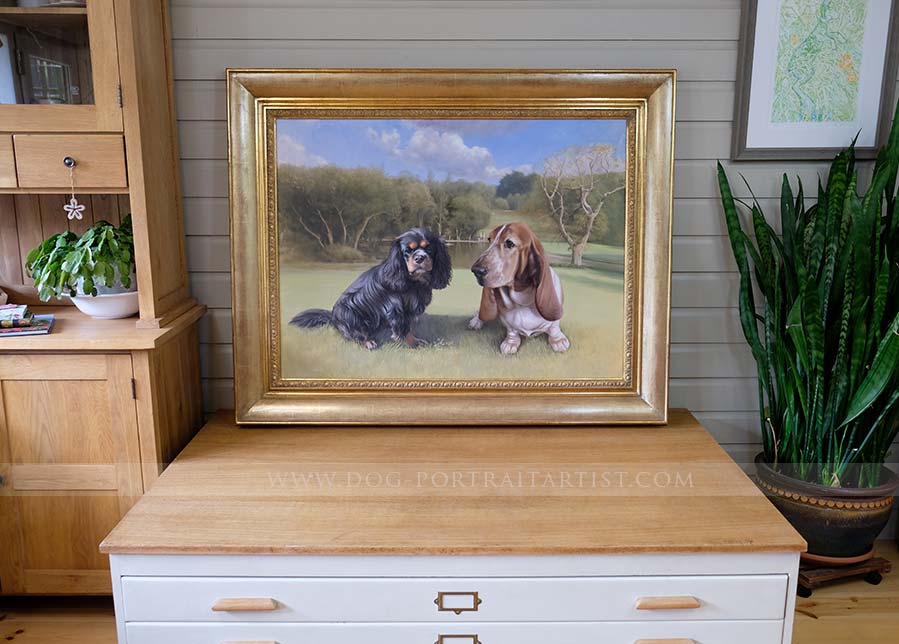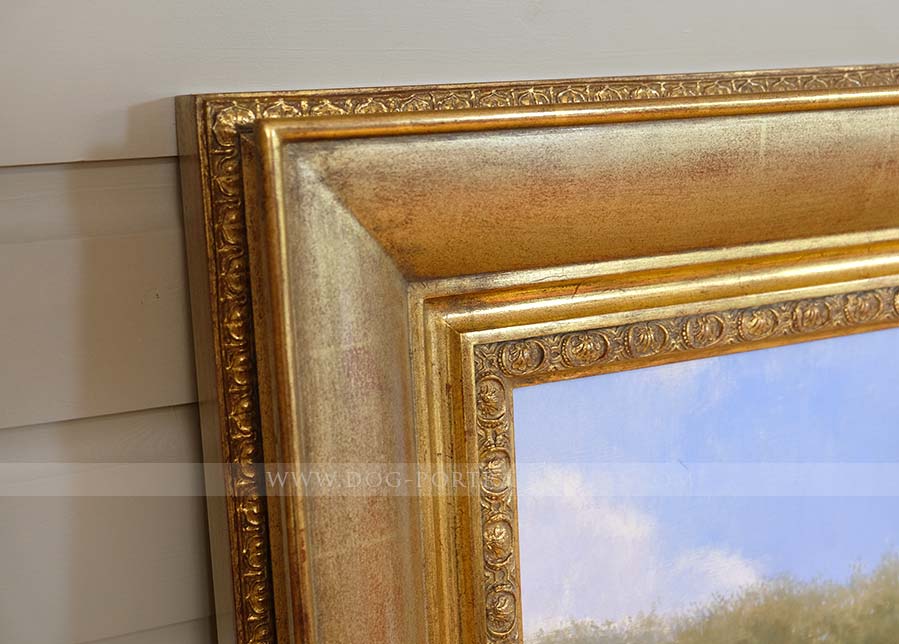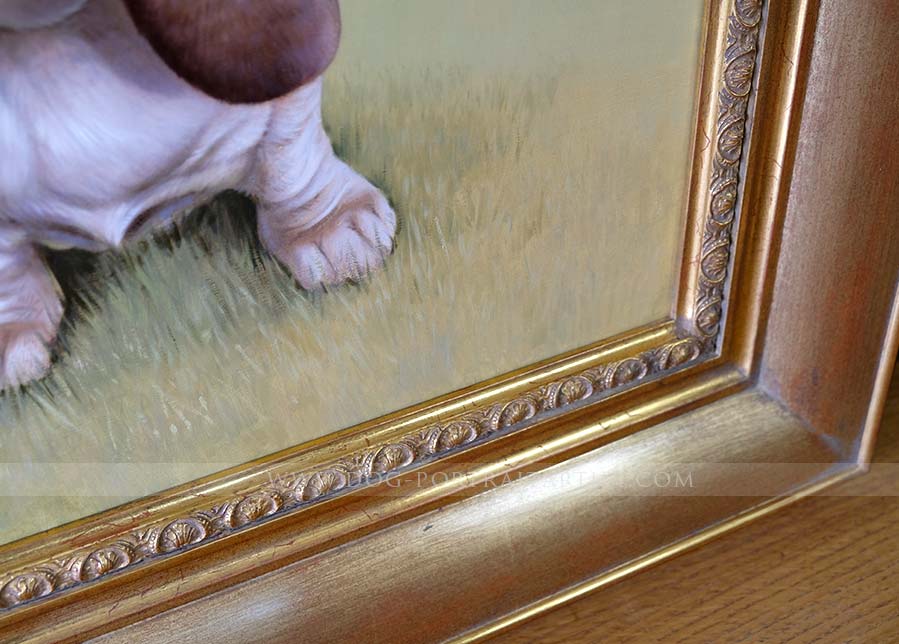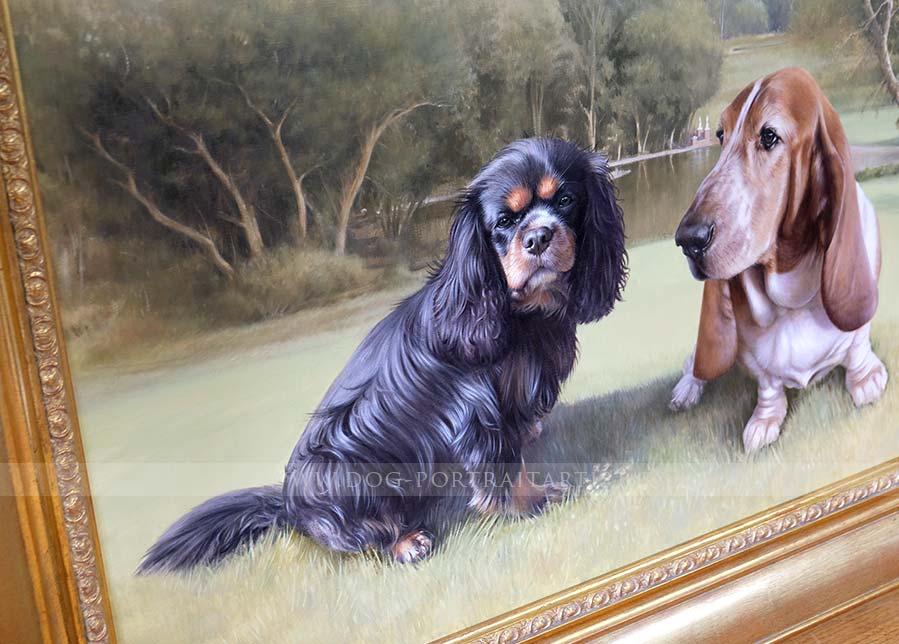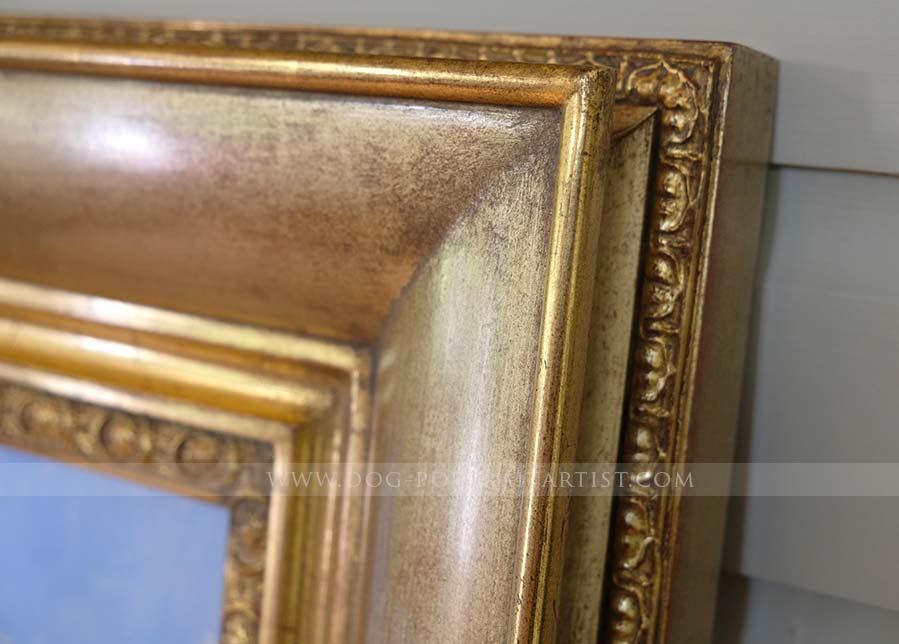 Dog Portraits and Garden
We hope that you have enjoyed viewing our dog portraits and garden oil painting and if you would like your dogs painted, either in a garden scene - or elsewhere, we would be thrilled to hear from you. Why not drop us a line via our contact page. Send us your photos and ideas for a dog portrait, we will be really looking forward to working with you soon!