Italian Greyhound Pet Portraits
Welcome to our Italian Greyhound Pet Portrait of Spyder which was traditionally hand painted in oils by Nicholas Beall. We loved working with our clients, Karen and Alan, on this commission and Nicholas absolutely loved painting Spyder too. If you scroll down you can see some amazing photos Karen emailed us of the portrait framed along with a beautiful photo of Karen, Alan and Spyder with the portrait.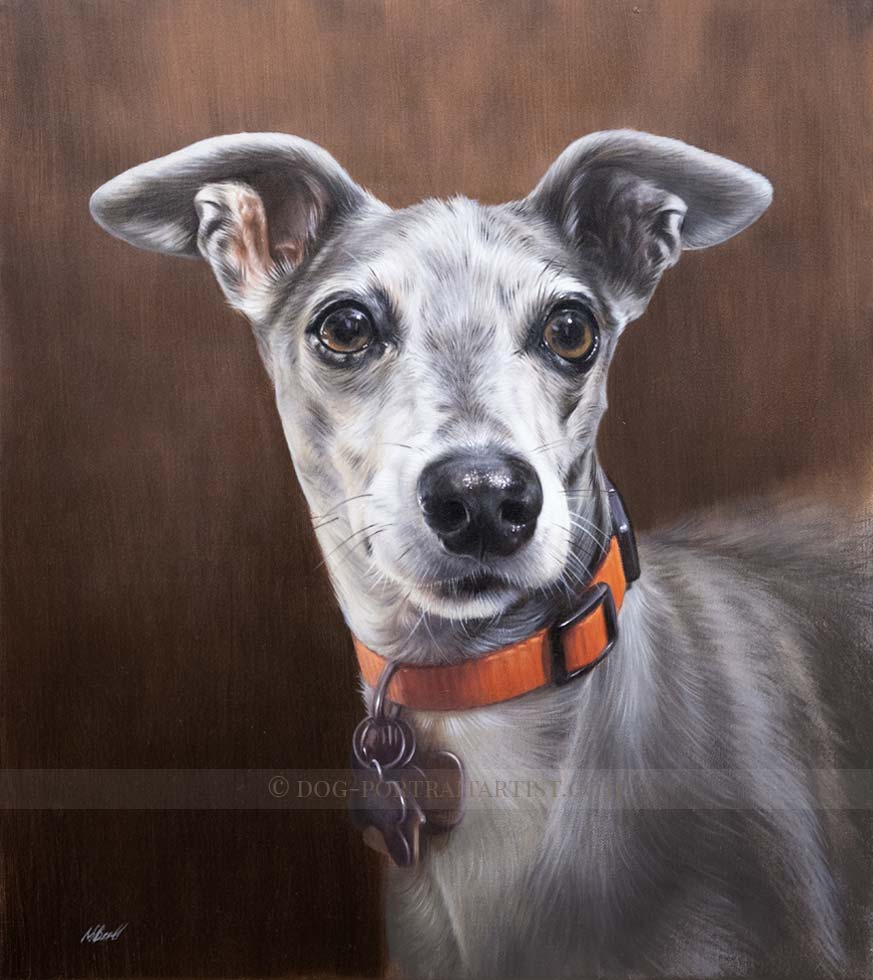 About the Commission of 'Spyder' Italian Greyhound Pet Portraits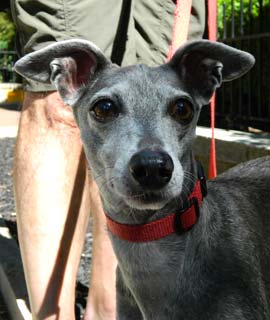 Karen and her husband Alan emailed us in 2018 to see if Nicholas would be able to paint their beautiful Italian Greyhound Spyder. Alan had taken a number of photos that captured him well, although their favourite photo didn't show his tags in the correct position. Luckily we had other photos showing the tags so Nicholas was able to combine both photos and paint them as one, as you can see in the original oil painting above.
We gave Karen the options of varying tones in the background to Spyder's portrait, from a pale colour, a mid tone and a very dark tone. Karen and Alan agreed that a combination of mid tone at the top and dark at the bottom would work best. We were thrilled with their choice and Nicholas thoroughly enjoyed painting Spyder's portrait. The painting was completed at 16 x 16 size which suited Spyder perfectly.
If you scroll down the page you can see photos of Karen and Alan with Spyder and their portrait along with some photos of the portrait framed too. Karen emailed below when she received the portrait, you can read her email below!
Hi Melanie and Nicholas,
The portrait actually arrived last night! It is even more beautiful in person than it was in the the pictures you sent. We are amazed at the detail and incredible likeness. My husband Alan said he felt he could reach out and touch Spyder's soft fur. I can't thank you and Nicholas enough. We are lucky to have gotten this while Spyder is still with us, but now he will be with us forever, both in our hearts as well as in the portrait.

The picture below shows Spyder looking at it when we were trying it out under the light....we were surprised he was so interested. He doesn't look at mirrors, dogs on tv or pictures of dogs.....but he definitely knew something was special with this!
Thanks again!! Karen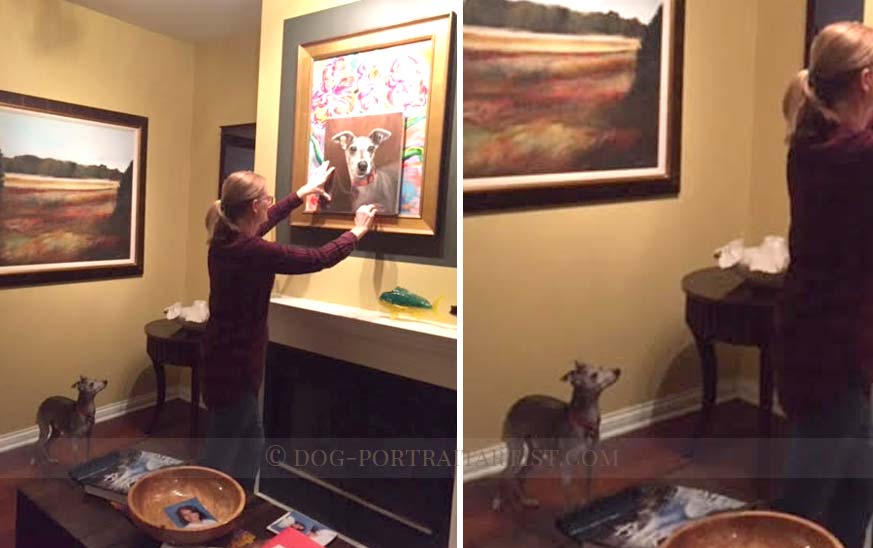 Italian Greyhound Pet Portraits
I often take photos of the portrait once completed with Nicholas' hand and brush to show scale. The two photos below shows Spyder's portrait in a more natural way.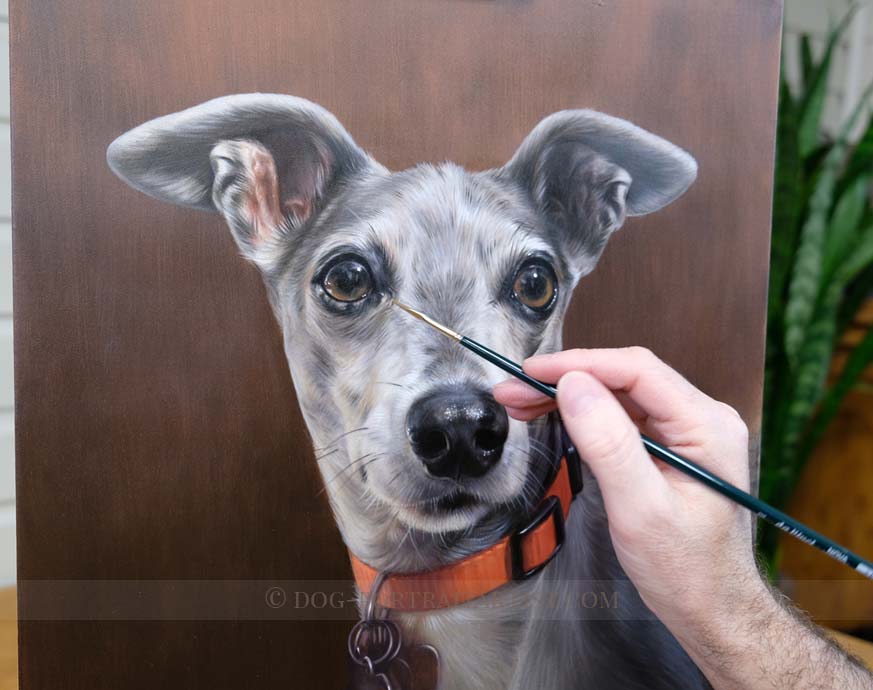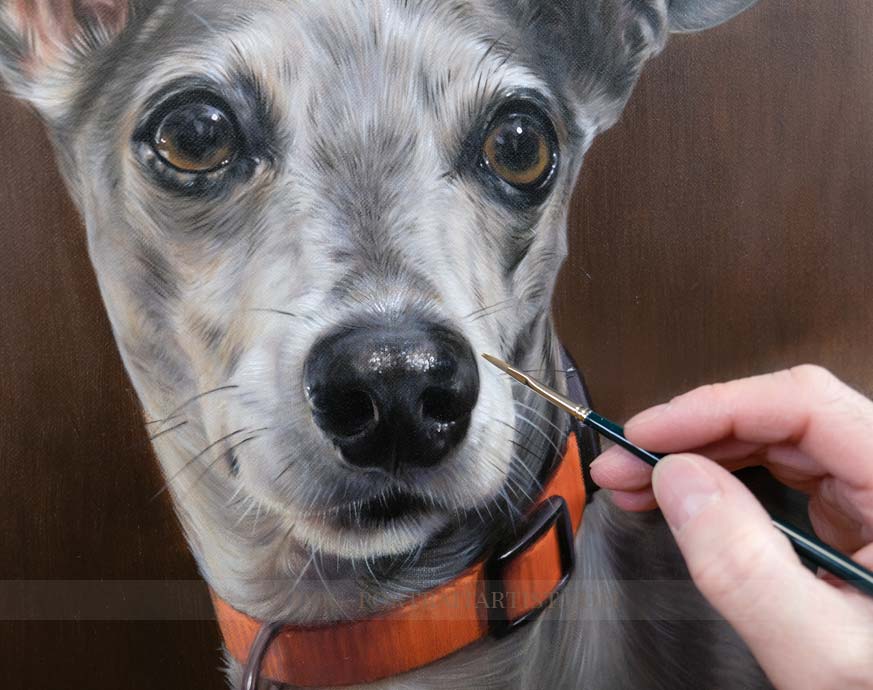 Happy Client Photos!
We were thrilled to received the photos below from Karen and Alan...and of course Sypder too!! The portrait looks stunning framed. We hope that you enjoy viewing them.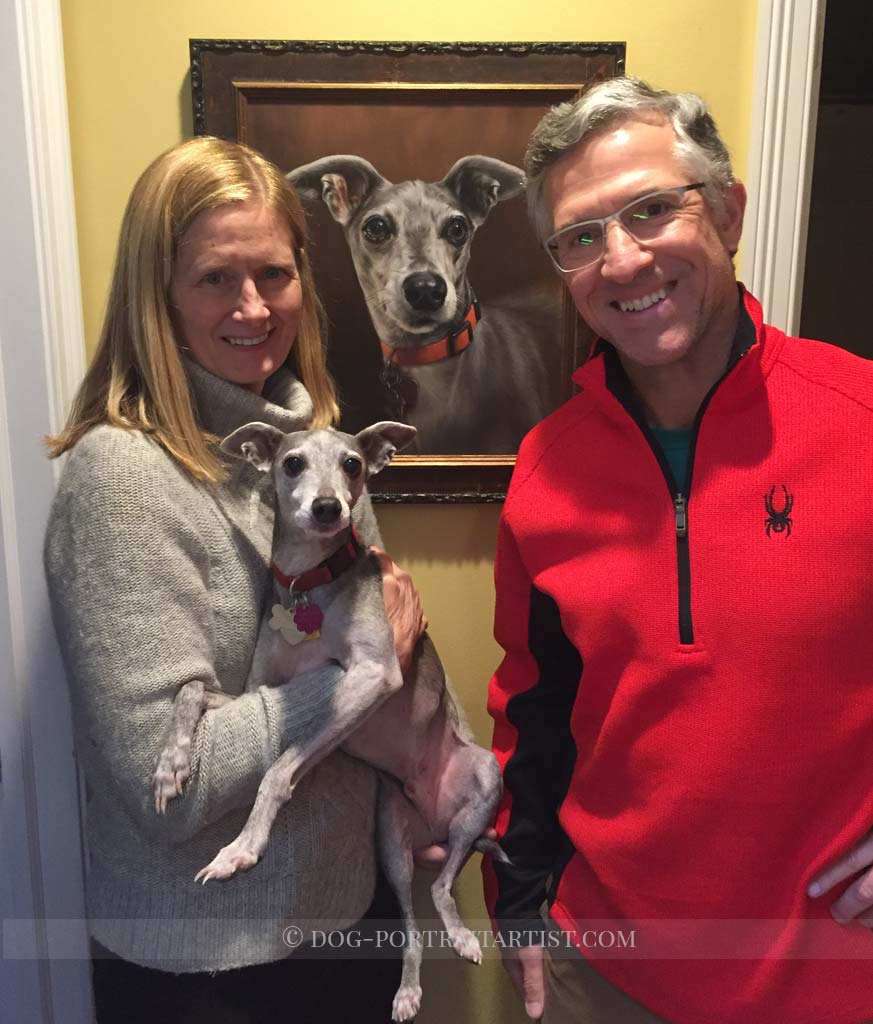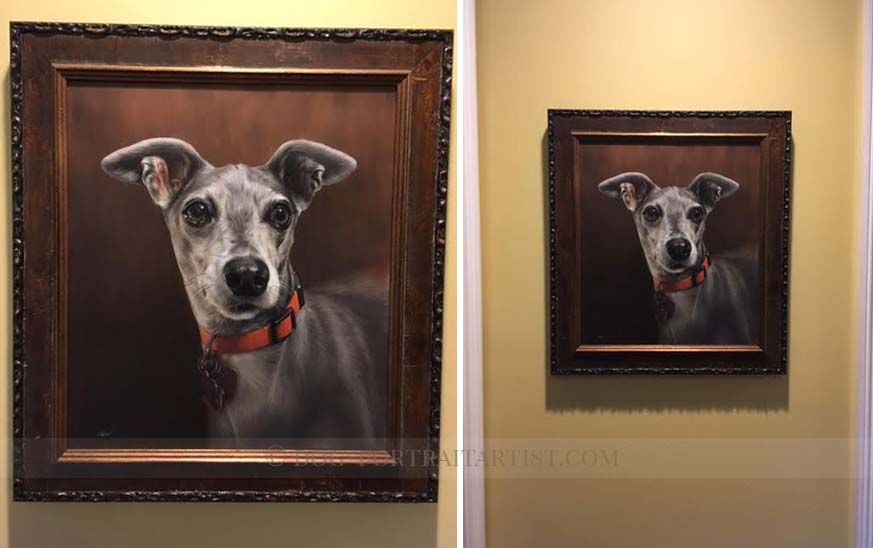 Italian Greyhound Pet Portraits
We hope that you have enjoyed viewing the portrait of Spyder and if you have an Italian Greyhound that you would like portrayed, just drop us a line. Let us know your ideas for a portrait along with an idea of the size of painting too. Email us from our pet portraits contact page at any time.