Spaniel Portraits - Dog Portraits
The Oil painting of Millie is one of our most recent spaniel portraits by artist Nicholas Beall completed in 2019. This was a lovely commission as it enabled Nicholas to compose a painting which included a full background combining a photo of Millie taken in her garden. Scroll down to read about the commission and view a lovely photo of Millie the dog, the recipient and the painting too!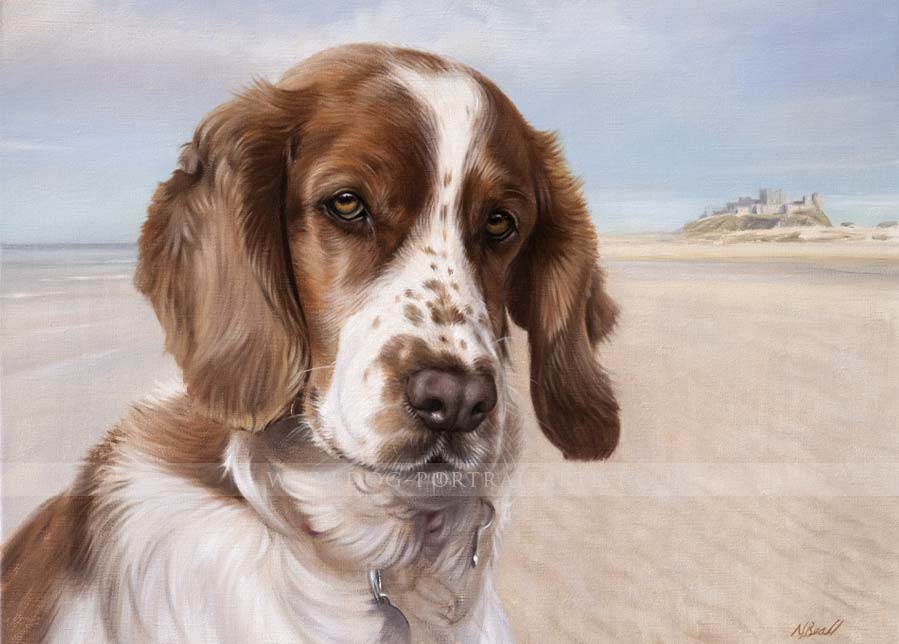 About the Commission of 'Millie'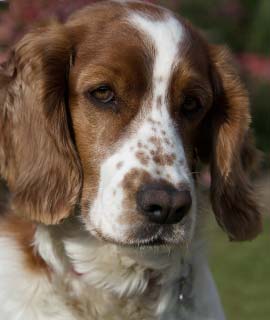 Peter Hall, UK, commissioned Nicholas to create an oil painting of their Spaniel Millie as a birthday surprise for his wife. He wanted to have an oil painting of Millie with Bamborough castle in the background. Peter took a number of photos of Millie in their garden and asked if we could find a photo of the castle as it is a place they all love to walk.
We are always happy to help out with background photos, we have access to a good selection and can purchase stock photos of backgrounds if required. We created a 'mock up' of how the portrait could look using the photo of Millie and a background which peter was delighted with.
If you scroll down you will see a photo of the painting in situ with Gill and Millie along with a lovely testimonial below too.
Hello Melanie,
Julie loved the picture of Millie, Millie has now been 'hung up' as you can see. Thanks again for the wonderful painting.
Kind regards,
Peter
Dear Melanie and Nicholas,
Wow - what can I say !! Painting is fantastic and I'm sure Julie will love it. Just need to find somewhere safe to store it now.
Thanks again.
Peter
Spaniel Portrait in Progress
I took this photo of Millie while it was on Nicholas' easel, you can see his hand and brush within the photo.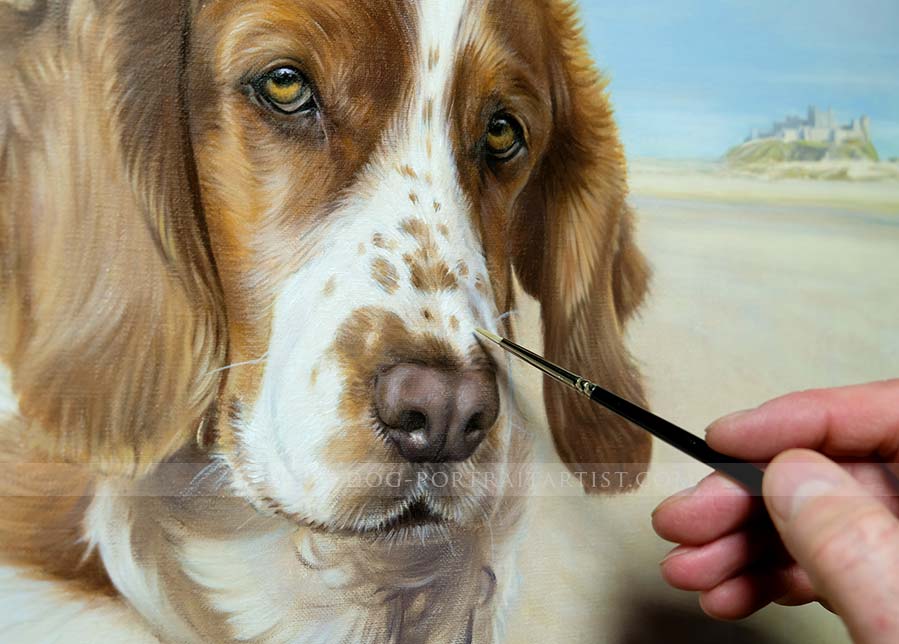 Spaniel Portrait In Situ
Peter took a photo of Gill, Millie and the portrait when it was displayed on their wall in their home. We are always absolutely delighted to receive photos of our client with their paintings. It makes it all the more special to us to see them in their forever home with the family.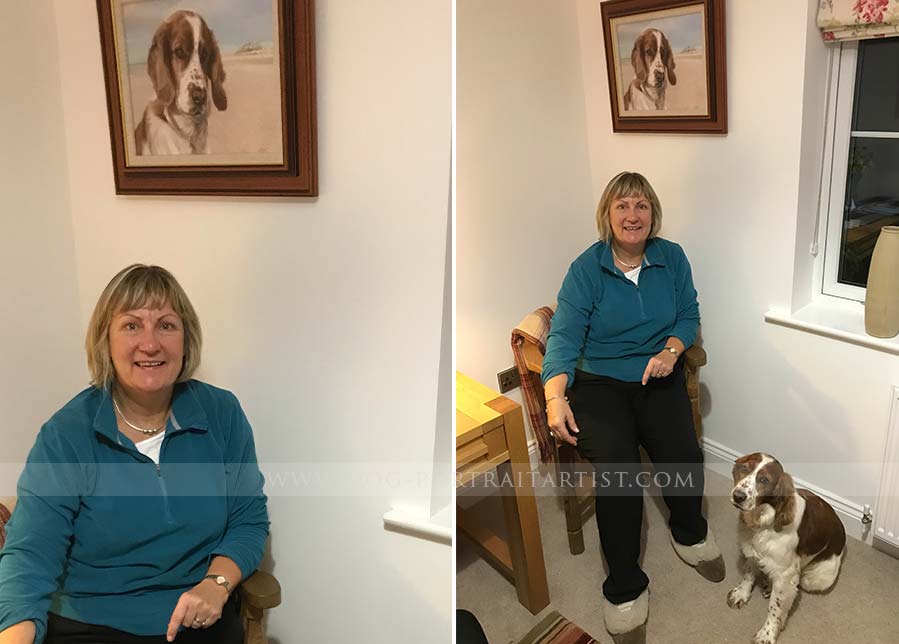 Spaniel Portrait Framed
The photos below show the painting framed with an inner linen slip.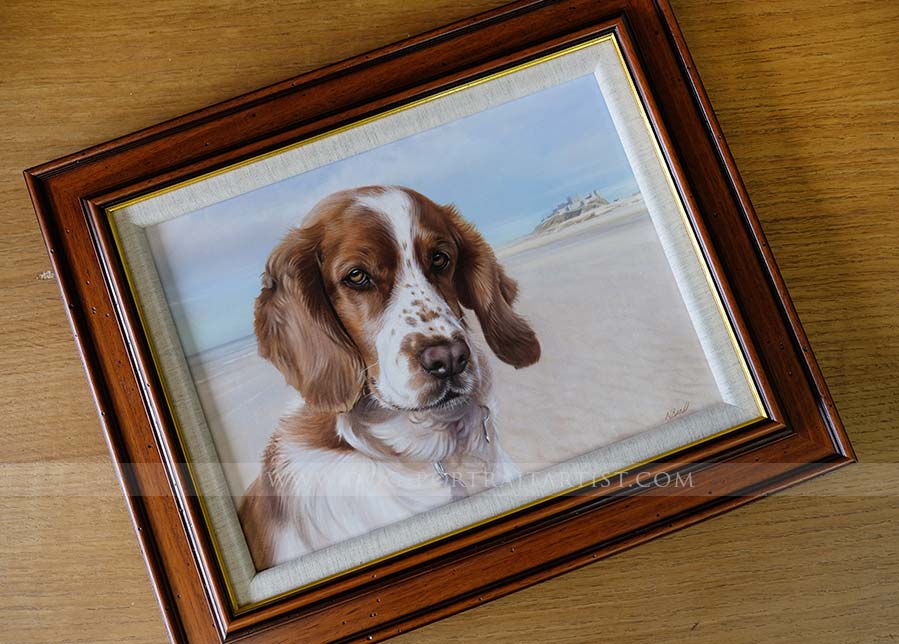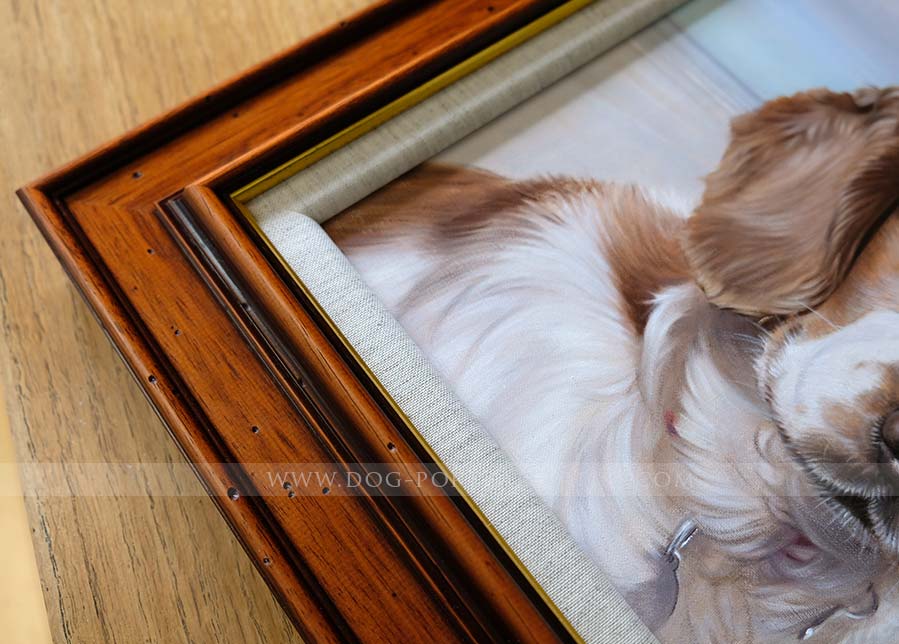 Spaniel Portrait
If you have a gorgeous spaniel similar Millie and would like us to create an oil painting of them for you, why not drop us a line from our contact page today. Send us your photos or message them via Whatsapp, we would love to see them.