Staffy Dog Portraits
Welcome to our Staffy dog portrait painting of Nell. Nicholas traditionally hand painted Nell's portrait for clients here in the UK and we were able to meet Nell which was fantastic?! She visited our studio in 2020 and we took lots of photos of her for the painting. Scroll down to see the photo we used as the basis of the portrait, along with a photo of Nell with her painting too.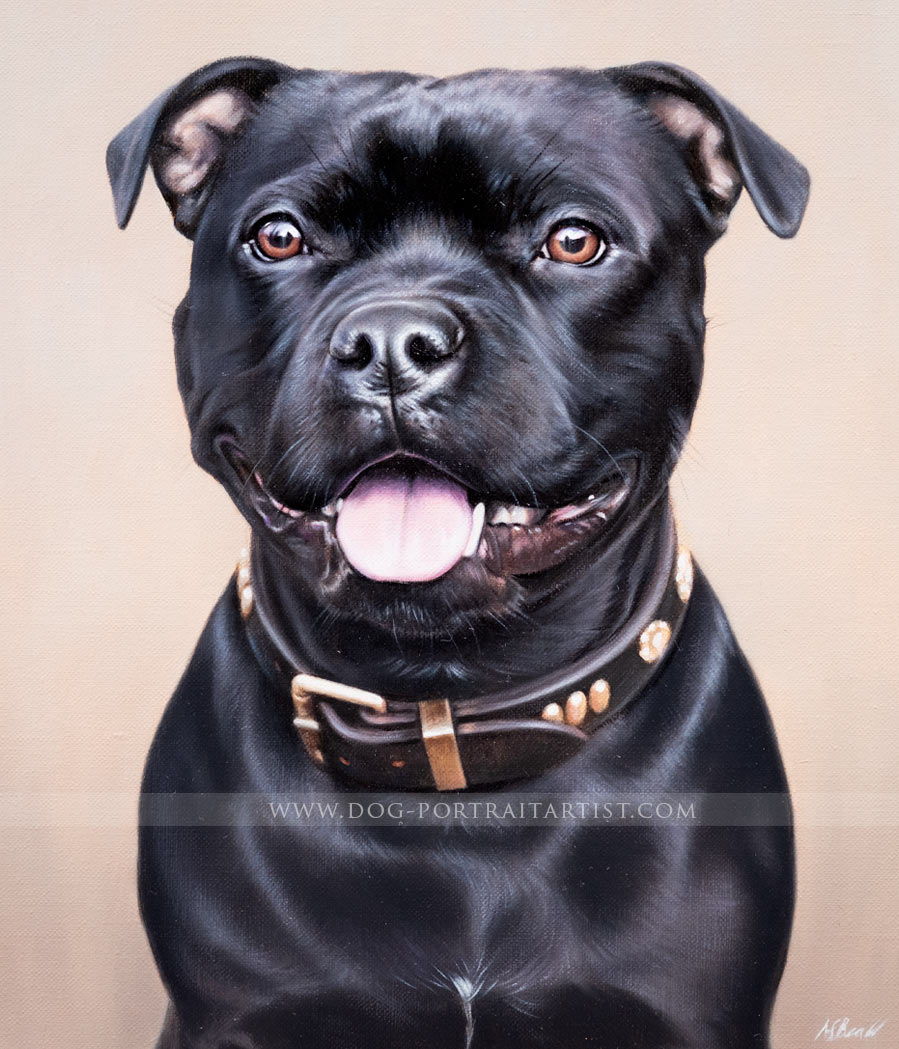 About the Commission of 'Nell'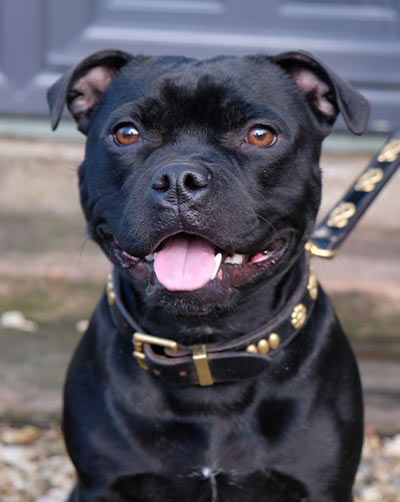 Tracey called me early one morning whilst I was traveling on the icy roads in early 2020 here to go food shopping. I spoke to Tracey while driving, hands free of course, answering lots of question about our services. We are always on call and love to hear from clients at any time of the day.

Tracey and her husband Kev asked if they could bring Nell to visit us to be photographed. We love meeting our clients and taking photos of pets. We have an SLR camera and make sure we take between 50 to 60 photos which the clients can then review in our studio on the computer.

The portrait was painted at 16 x 12 which was the perfect size for Nell. I have added two testimonials form Tracey and Kev below. Tracey called us when she saw the final scan and when they received the painting too as they were over the moon with the portrait and likeness.
Hi Melanie and Nicholas,
Tracey is absolutely gobsmacked
and I have only one word
STUNNING
Nell is snoring so no comment at the moment
Kev


Hi Melanie and Nicholas
Thanks for the photo that you worked from
Just the one will do as I wanted to show friends what Nicholas worked from and the remarkable likeness he has painted.
Couple of pictures for you one of the painting hanging and one with Nell admiring.
Regards
Kev and Tracey xx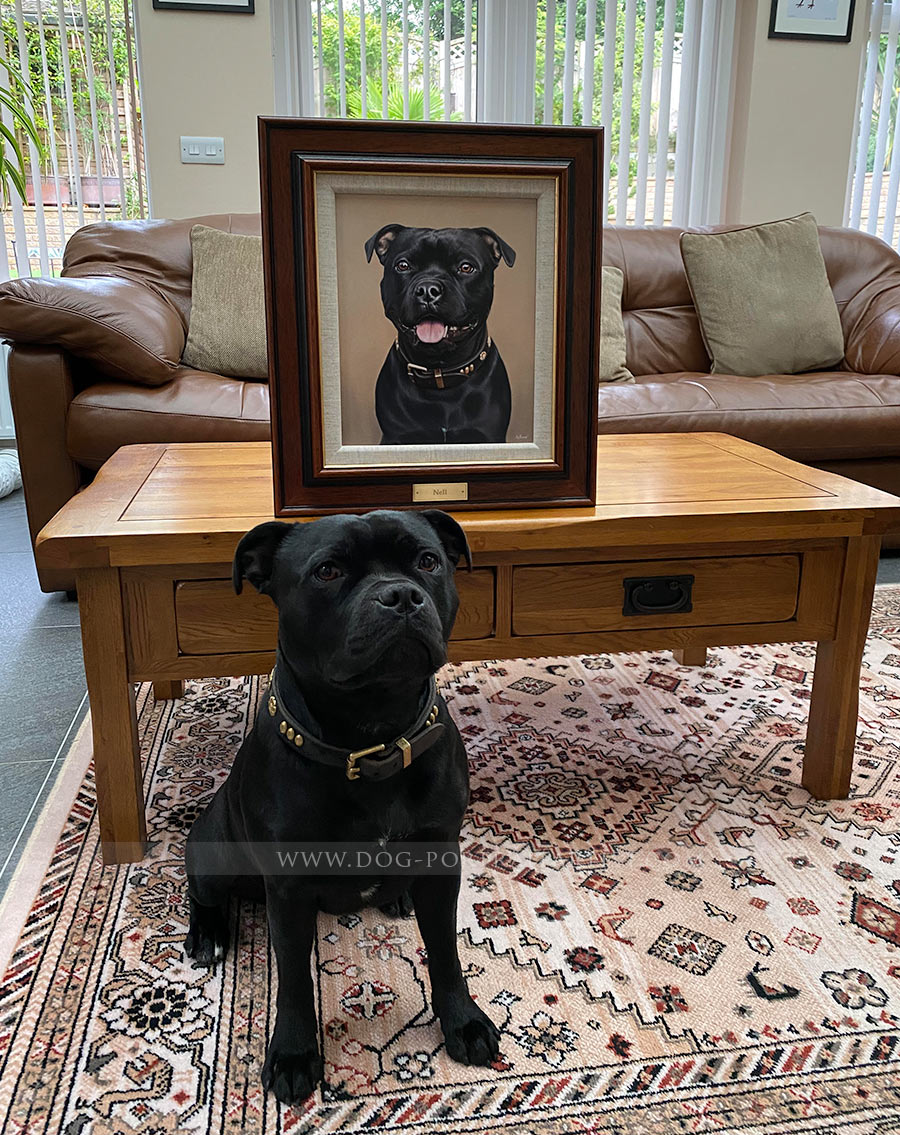 The Staffy Painting in Detail
Here are some photos of Nell in the studio just as Nicholas was completing the painting. We love to take up close photos so the clients can see them in detail. You wouldn't normally stand this close to an oil painting, you always stand a few feet away to admire, however the detail is there and is wonderful to see.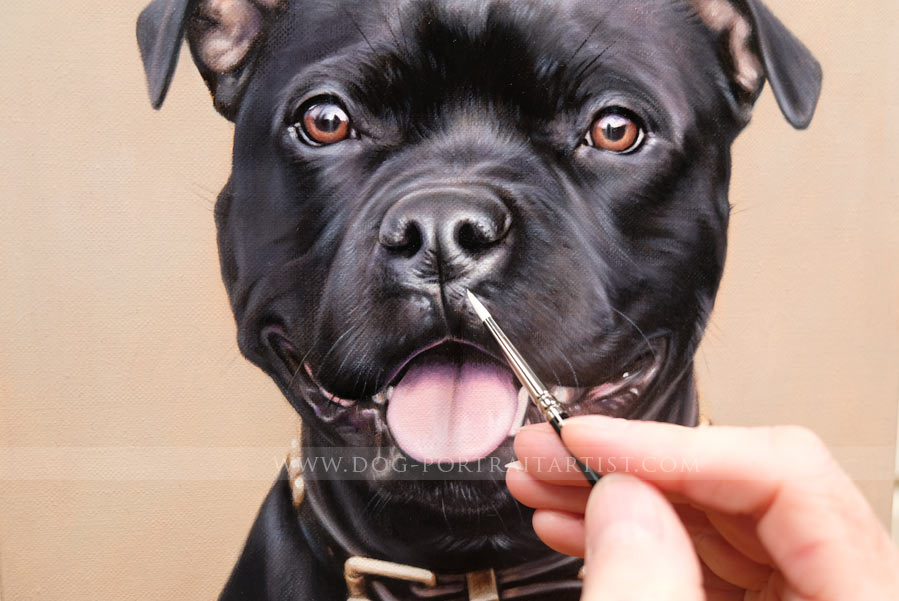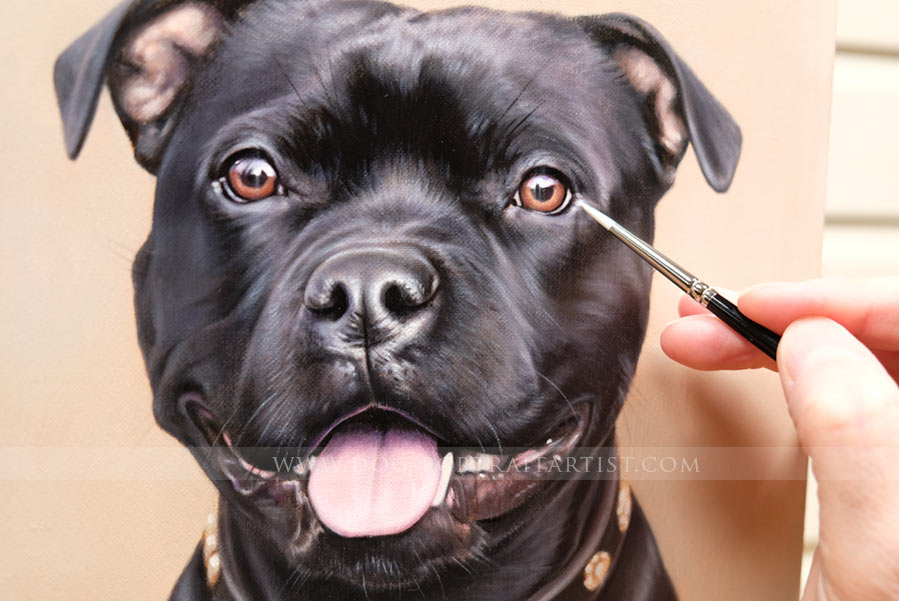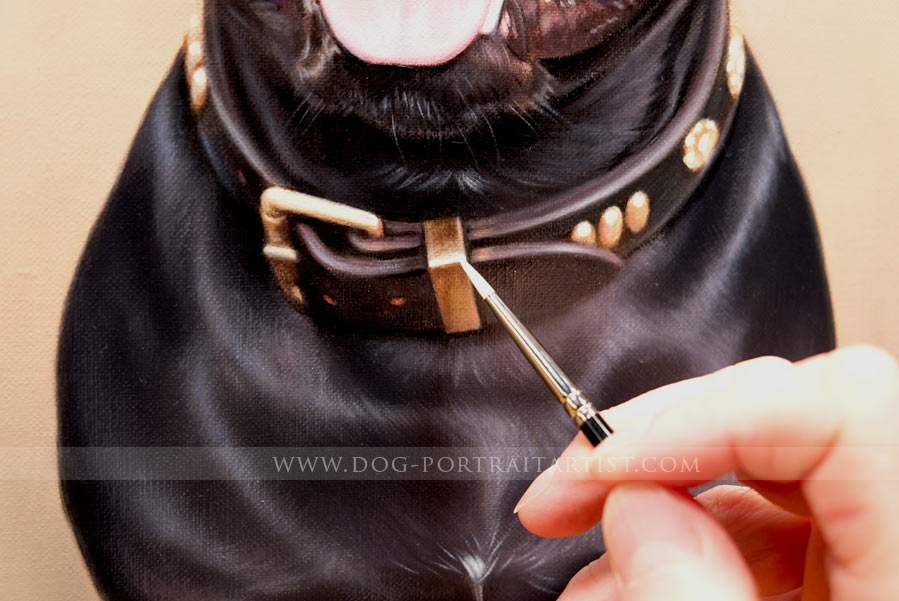 The Staffy Dog Portrait Painting Framed
Tracey chose to have Nell framed in our Traditional flat frame with the hessian inner slip. We do feel this frame compliments many of our portraits as it is a beautiful colour and natural in tone. The inner slip acts as a lovely spacer between painting and frame too. Tracey also oped to have a plaque on the frame too and our engravers can create these for our clients in silver or bronze, mirrored or brushed finish with an many words as required. They really completed the portraits beautifully.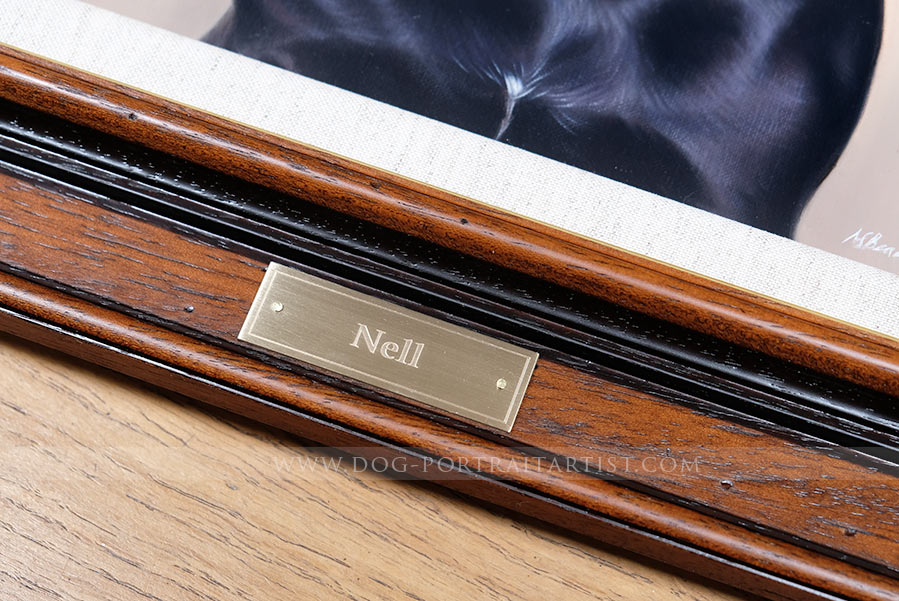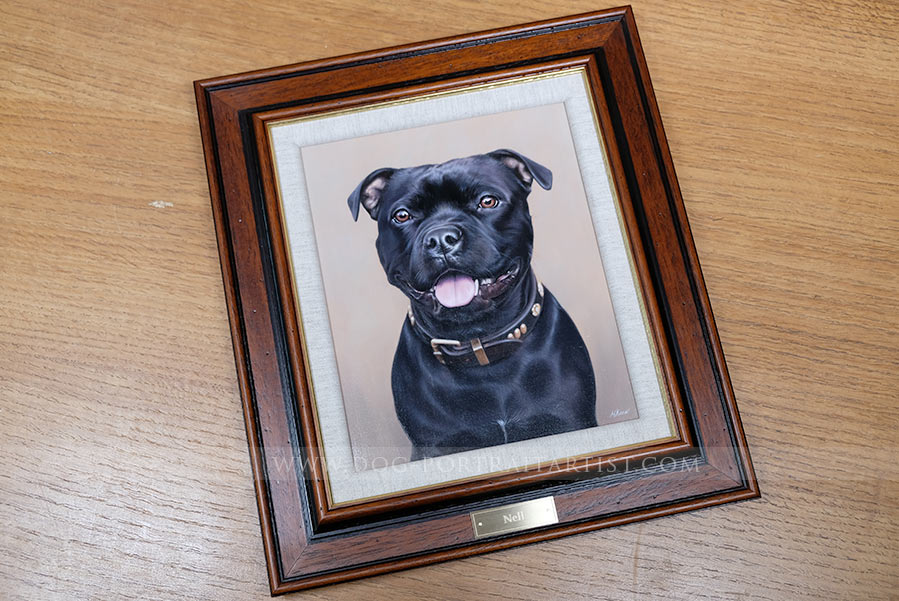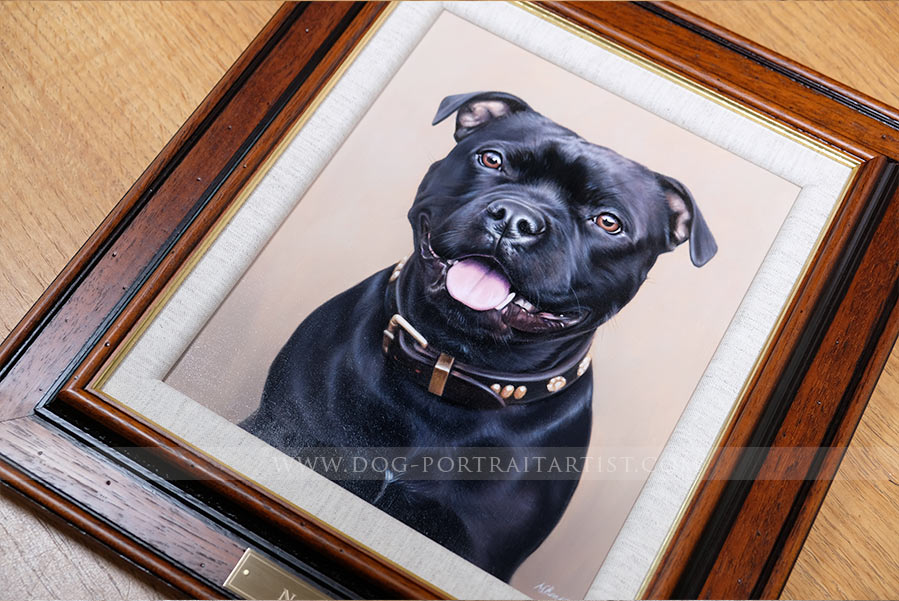 Staffy Dog Portrait Painting
If you have a dog similar to Nell that you would like a painting of, why not drop us a line from our pet portraits contact page. We can create portraits to any size and shape, so if you are looking at having a huge painting for over your fireplace, or a small portrait for your kitchen we can accommodate all needs.