Pet Portrait - Oil Painting
Welcome to our pet portrait oil painting of Stella sitting in the garden of the family's holiday cottage in Wales. This portrait was commissioned as a birthday surprise. Scroll down to read about the commission and see how the painting was created.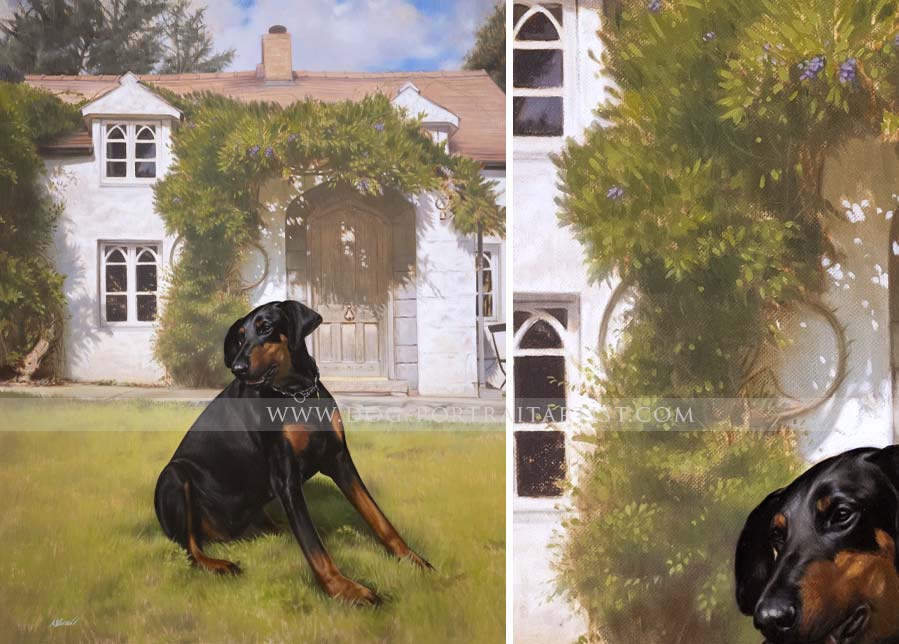 About the Commission of 'Stella'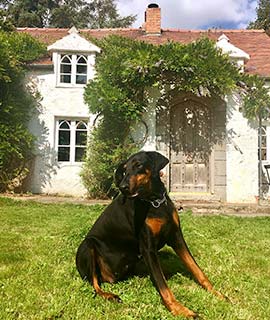 The oil painting of Stella was commissioned by Richard Bedford as as surprise gift for his wife Sally Anne. The portrait was to be of their beautiful Doberman Stella sitting in the garden of their holiday cottage. All complete with the wisteria in flower over their cottage door. There couldn't be anything more idyllic and no better way to remember Stella by.
The painting was traditionally hand painted by Nicholas Beall in oils on Italian Linen Canvas at 18 x 14 size. This was the perfect size for Stella, any smaller and it would have been too small to paint Stella comfortably.
Scroll down to see photos of the portrait all framed. We hope you like the portrait as much as Sally Anne and Richard did, read their testimonials below.
Hi Melanie and Nicholas,
Absolutely fantastic you have captured Stella perfectly !
I am so excited to see the painting. I will struggle not to give it to Sally Anne before her birthday on 28th June !!!!
Regards
Richard

Melanie and Nicholas,
I adore it! The best thing about having a portrait is that it immortalises them...Stella will forever exist within in painting xx S
ally-Anne
Pet Portrait in Progress
Here are a couple of photos of the pet portrait in progress while Nicholas is adding the final details on his easel. We hope it gives you a natural and closer view of the portrait.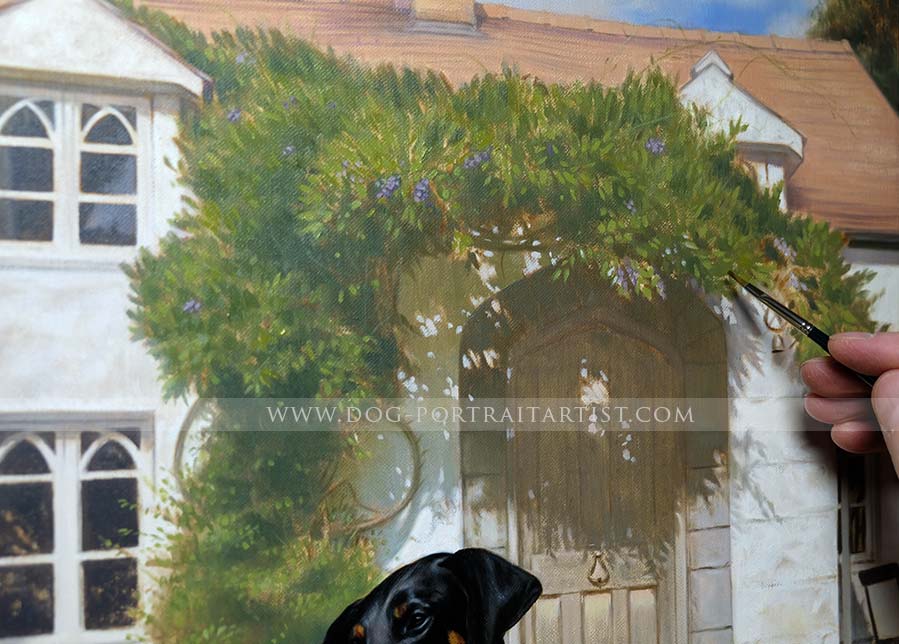 Pet Portrait Framed
The photos below show the portrait framed with a beautiful engraved plaque.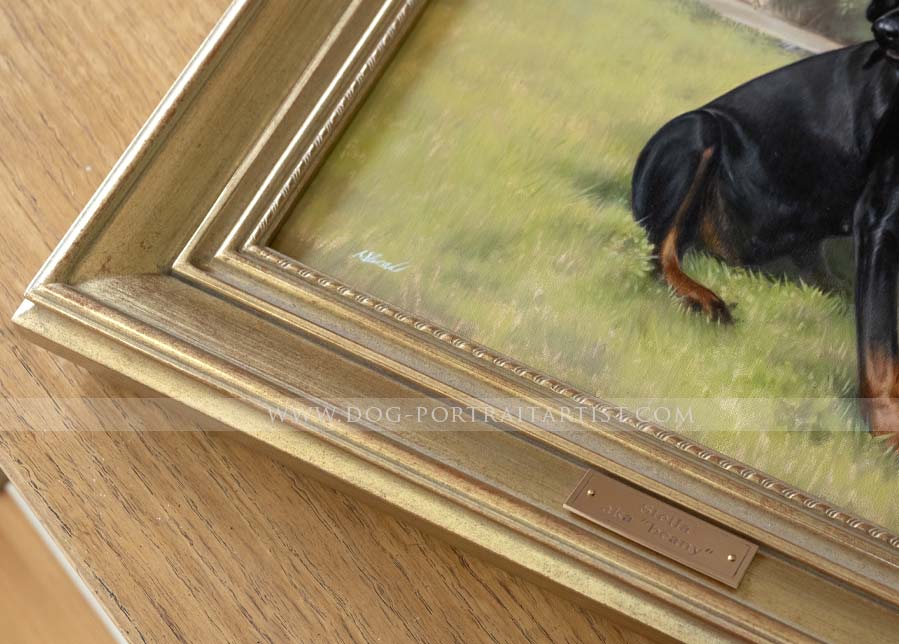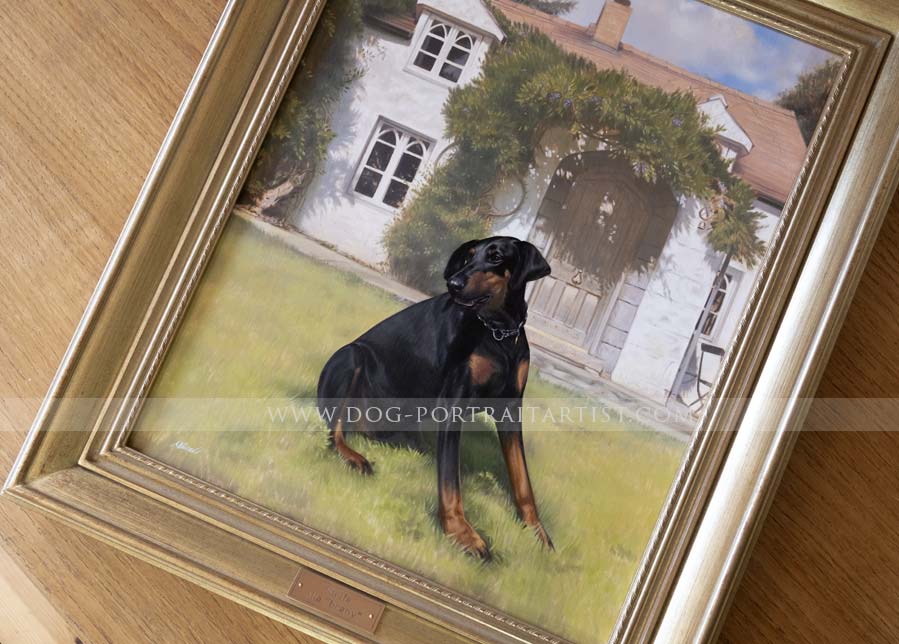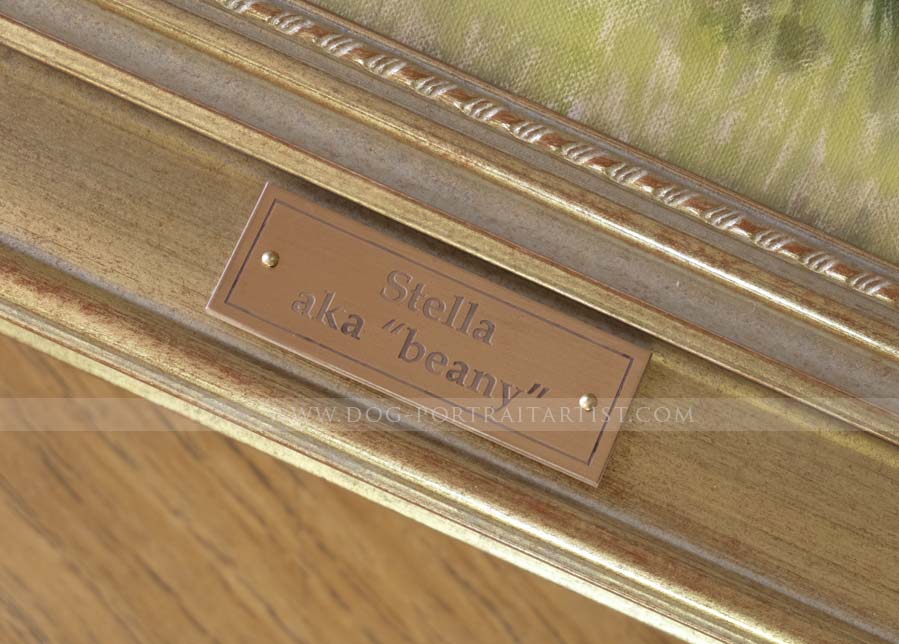 Pet Portrait
We hope that you have enjoyed viewing the pet portrait of Stella and seeing the photos of how the commission all came together. If you would like Nicholas to paint a pet portrait for you please do email at any time via our pet portraits contact page and let us know your ideas for a portrait.