Dog Portraits - Beagle Oil Pet Portrait
Welcome to our Beagle oil pet portrait of Christopher. This stunning oil painting was traditionally hand painted by dog portrait artist Nicholas Beall, using Windsor & Newton oils, on professionally stretched gallery wrapped Italian Linen canvas.  Nicholas thoroughly enjoys portraying Beagles and had painted a number over his 25 year career, however Christopher is one of his personal favourites. Creating pet portraits of Beagles in oils on canvas works beautifully for their soft fur and big soulful eyes. View the final scan of Christopher the Beagle below and scroll further to find out more about the commission, view the oil painting in progress and the Beagle portrait framed.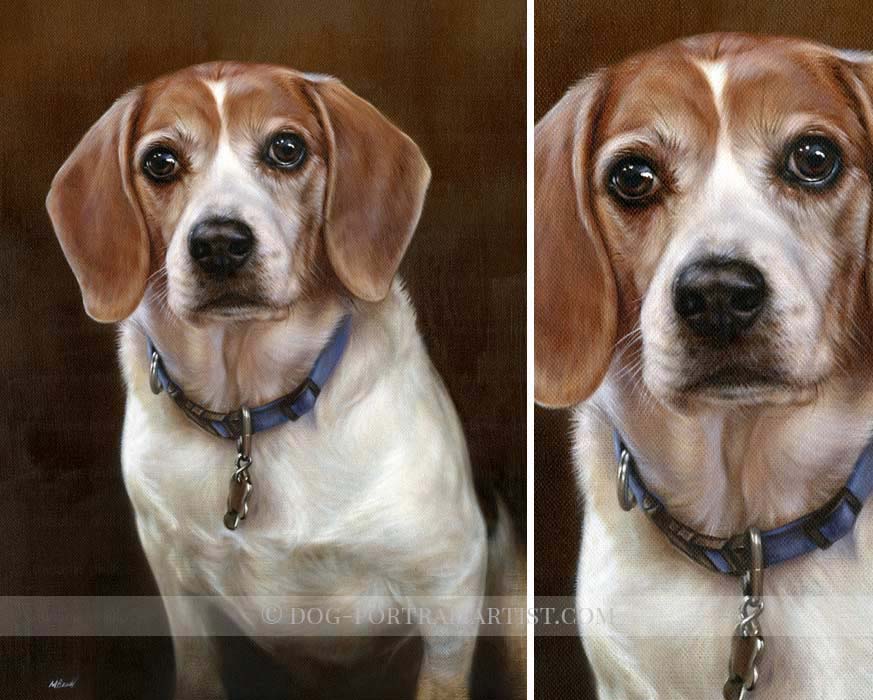 About the Commission of Christopher The Beagle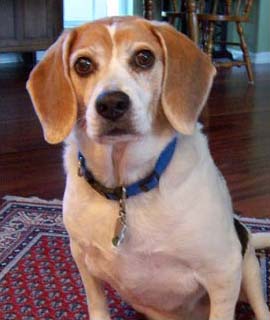 Dwayne Floyd and his wife Jo (USA) emailed us in 2014 to ask about our dog portraits of Beagles. Dwayne and Jo had recently lost their very much loved and missed family Beagle Christopher, who was with them for 16 years.
Nicholas painted from one main photo for the pose of Christopher, and used a few others for detail and colouring. Our clients emailed us a number of wonderful pet photos of their Beagle. They initially asked if we could paint him sitting outside in the garden. However after arranging the portrait, Dwayne and Jo viewed some of the portraits on our website and decided to opt for the studio style setting.
The pet painting is an oil portrait, painted on stretched linen canvas at 18 x 14 inches. We received two wonderful photos of Christopher from Dwayne and Jo. It was so lovely of them to send us photos of Christopher's oil painting displayed in their home.
Hello Melanie and Nicholas,
It is perfect! When we looked at the scan we do not see a painting of Christopher we see Christopher. Please tell Nicholas thank you and his ability to capture the personality and character from a photograph that I know was not of the best quality is simply astonishing. All I can say is it is perfect and thank you. Thank you very much
Dwayne

Hello Melanie & Nicholas,
The painting arrived today and we are speechless. We knew it would be of high quality but to see the painting of our Christopher in person was amazing and very emotional. My wife actually cried upon seeing it. We absolutely love everything about it. Everything about this experience has been perfect and the packaging of the painting was very professional, We thank you both very much and We will send pictures very soon. Thank You
Dwayne & Jo Floyd
The Beagle Portrait Framed
The photos below show Christopher the Beagle all framed and ready to send to our clients in the USA.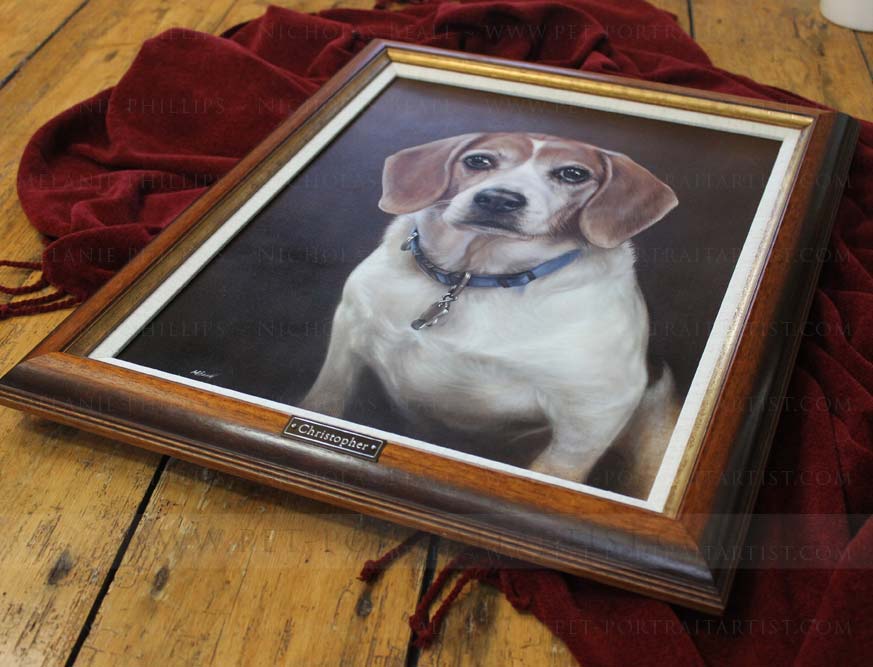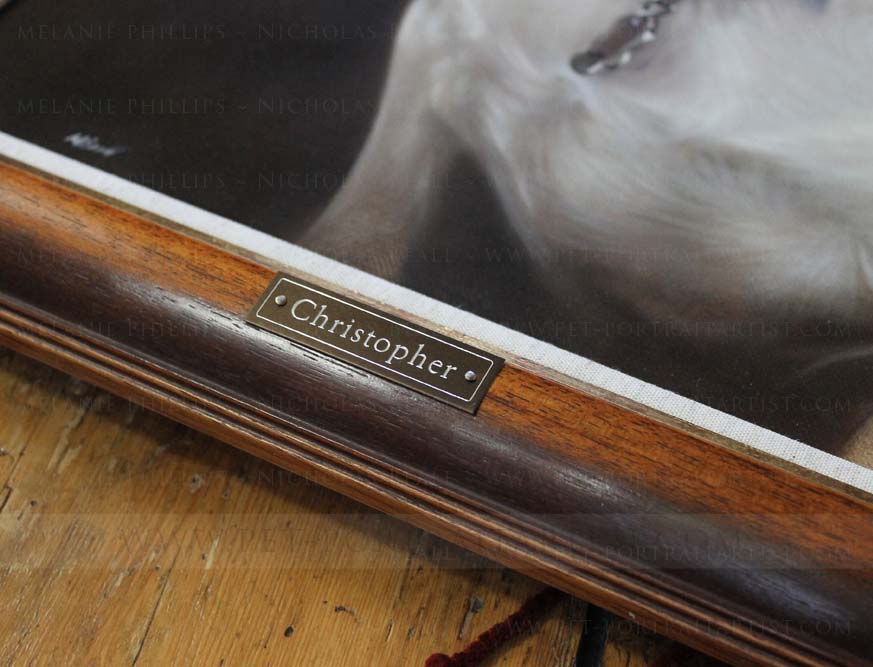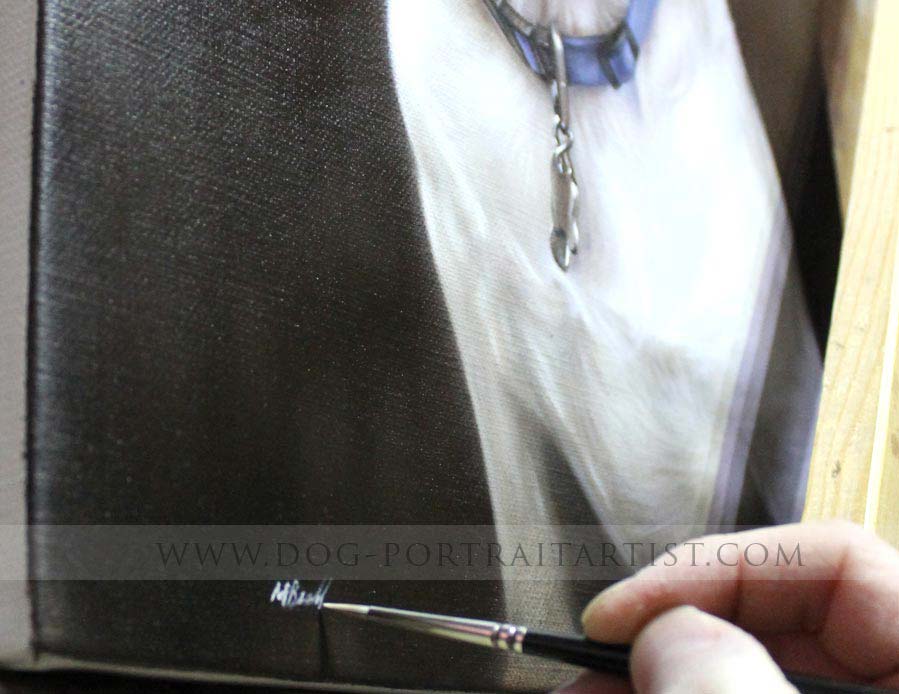 Happy Client Photos!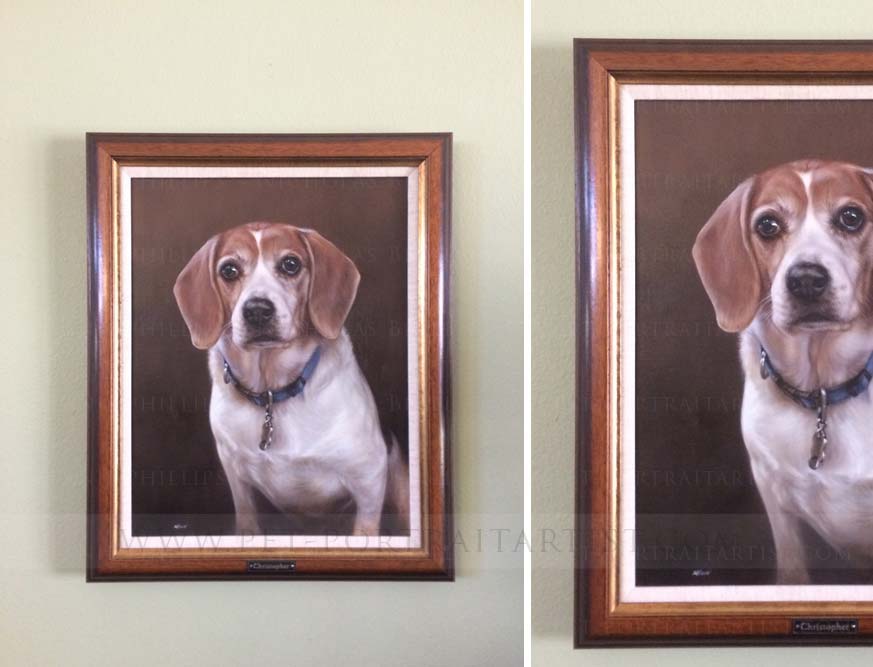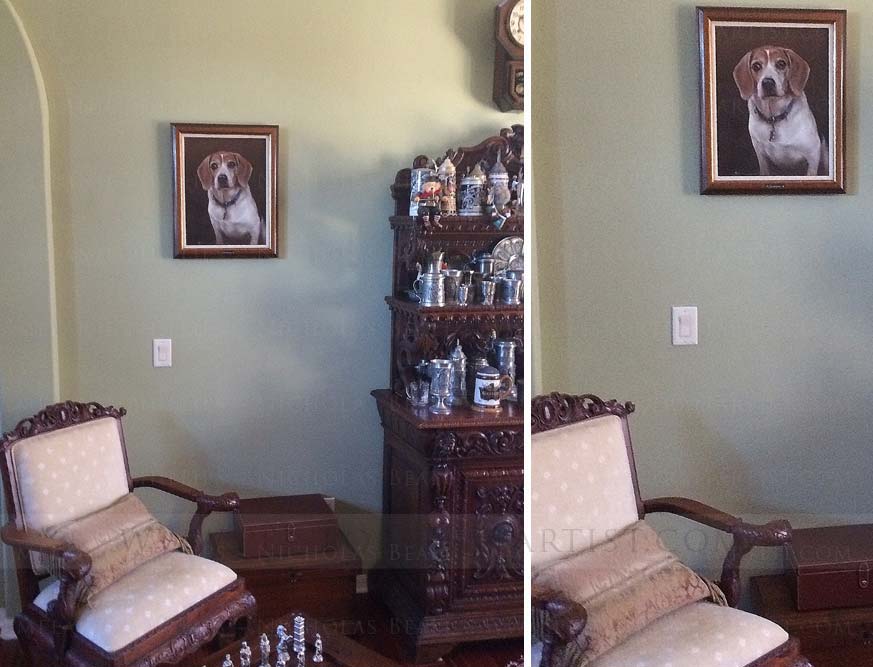 Beagle Dog Portraits
If you would like Nicholas to create a dog portrait of your Beagle, we would be delighted to work with you. All we need are a few good quality photographs of your Beagle to paint from. You are more than welcome to email them to us and we will be back in touch with some ideas for a portrait. Hop on over to our pet portraits contact page and drop us a line.