Pet Portraits Artwork Photo Comparison
Welcome to our pet portraits artwork to photo comparison page. Our job as a pet portrait artist is not just to create you a painting or drawing to display on your wall. Its our job to capture 'your pet' ....not just any pet. So how do you know we can do that? How do you know any artist can do that? We display all of our paintings and drawings in our galleries for all to see, but here we are trying to go a step further. we are trying to show that each commission takes a huge amount of work and effort to capture 'your' pet, its personality and character. We have done our job if you say... that's my pet!
So the paintings and drawings you see here 'side by side' are just a handful to show what to expect when working with us. We have been doing this for over 25 years and have honed our skills in that time to distill down exactly what's needed to create a pet portrait that you will love. You can be confident that we can provide a pet portrait and level of service both you and your pet deserve.
Please bear in mind - the paintings and drawings you see here are not exact replicas of the photo, so should be judged accordingly. We work closely with the pet owner to fine tune the artwork, particularly the paintings, so they are often an amalgamation of many photos, using some for colour and detail. Sometimes we will accentuate features, remove grey hairs and whiskers etc. An exact one to one replica of the photo would be pointless, we are trying to go further than that and achieve a timeless piece of artwork, which does justice to 'your' pet.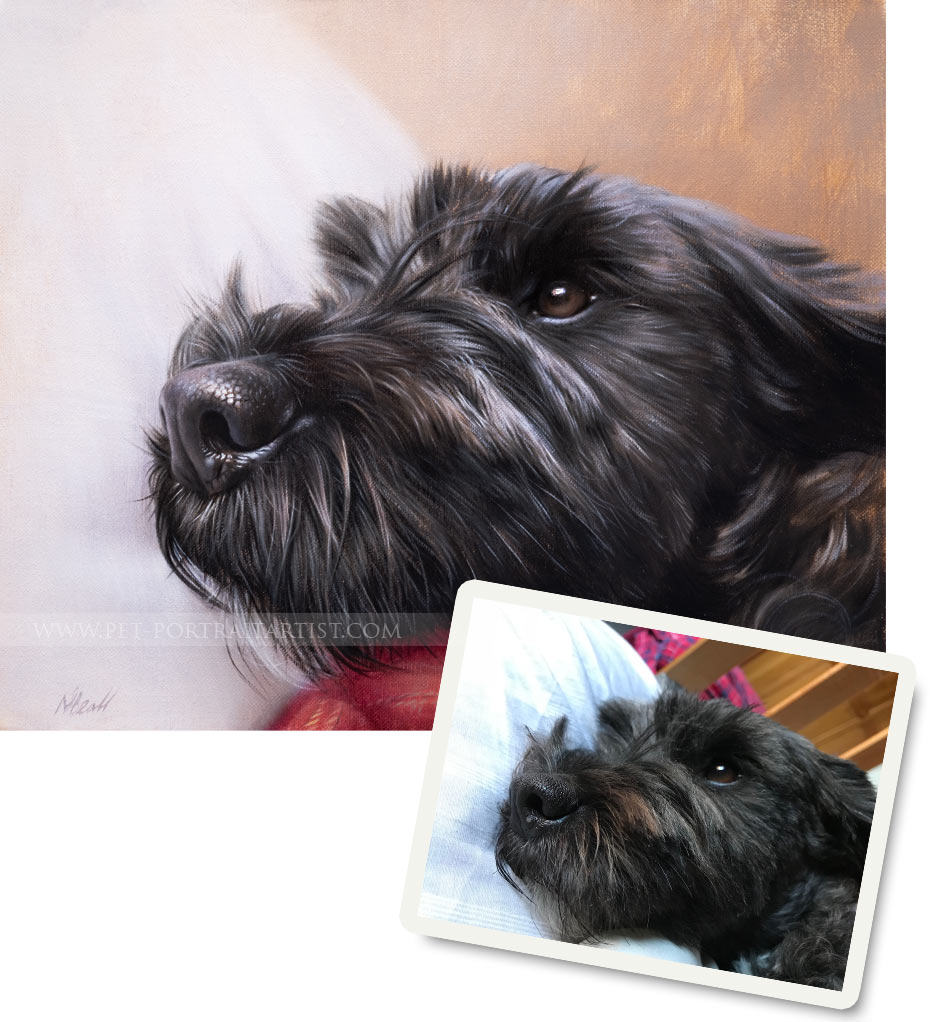 Nicholas added Lottie's favourite red blanket within the foreground of the scene and intensified her smooth shiny coat.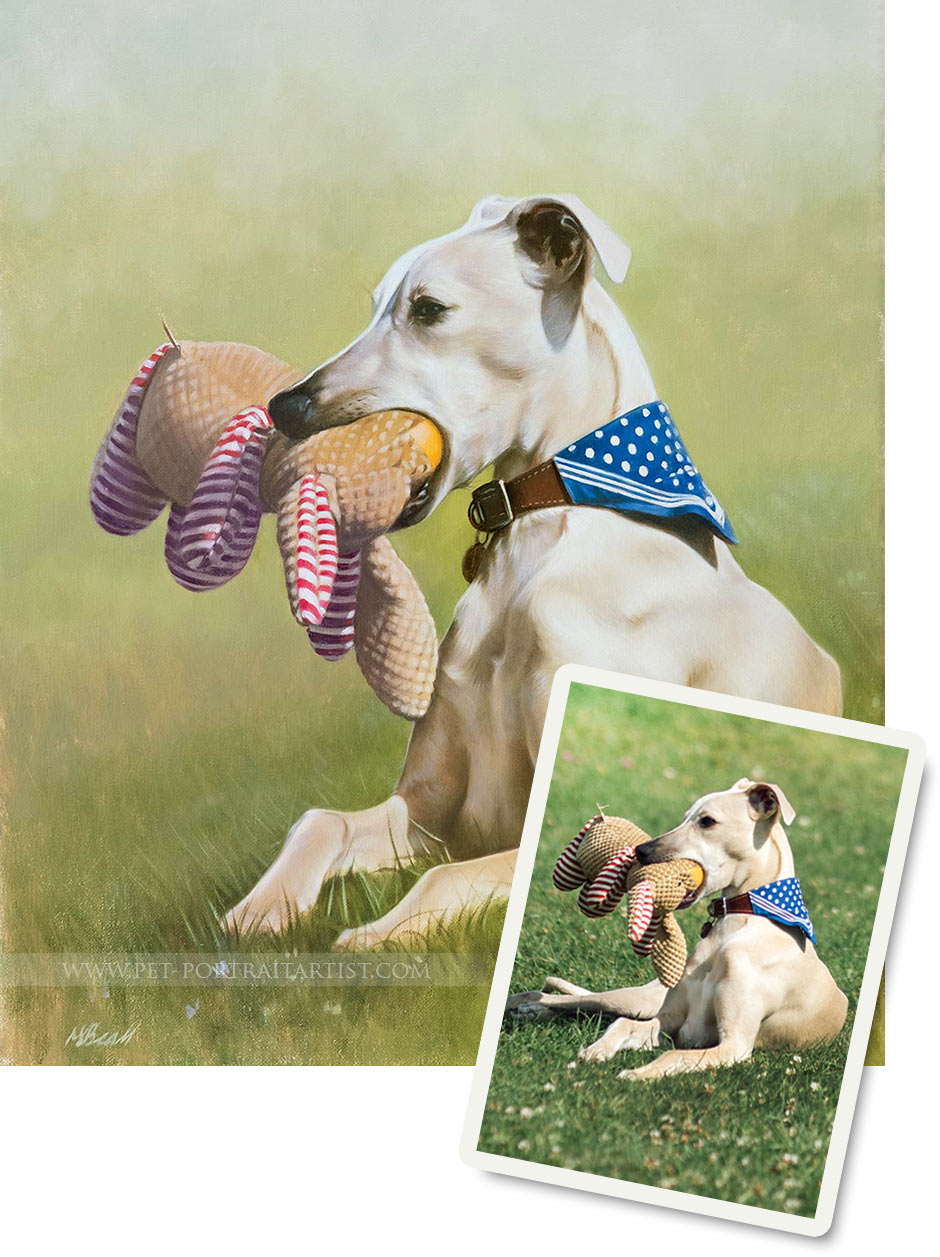 We, along with the owner, decided the back legs added confusion to the scene and simply weren't needed. Nicholas simplified the background and grass to allow Monty to stand out.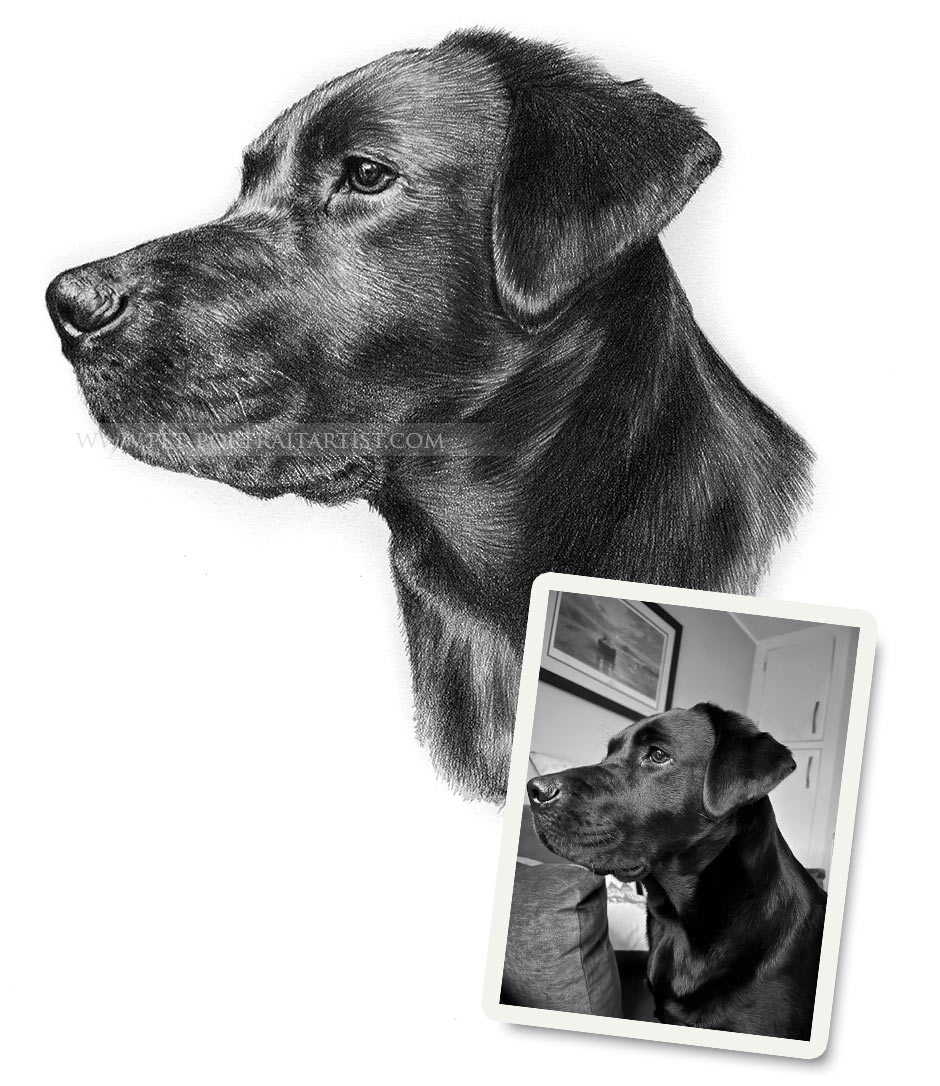 Very little was changed on Betty's pencil drawing, although giving her more space to breathe around the edge, opposed to where the photo was cropped was key.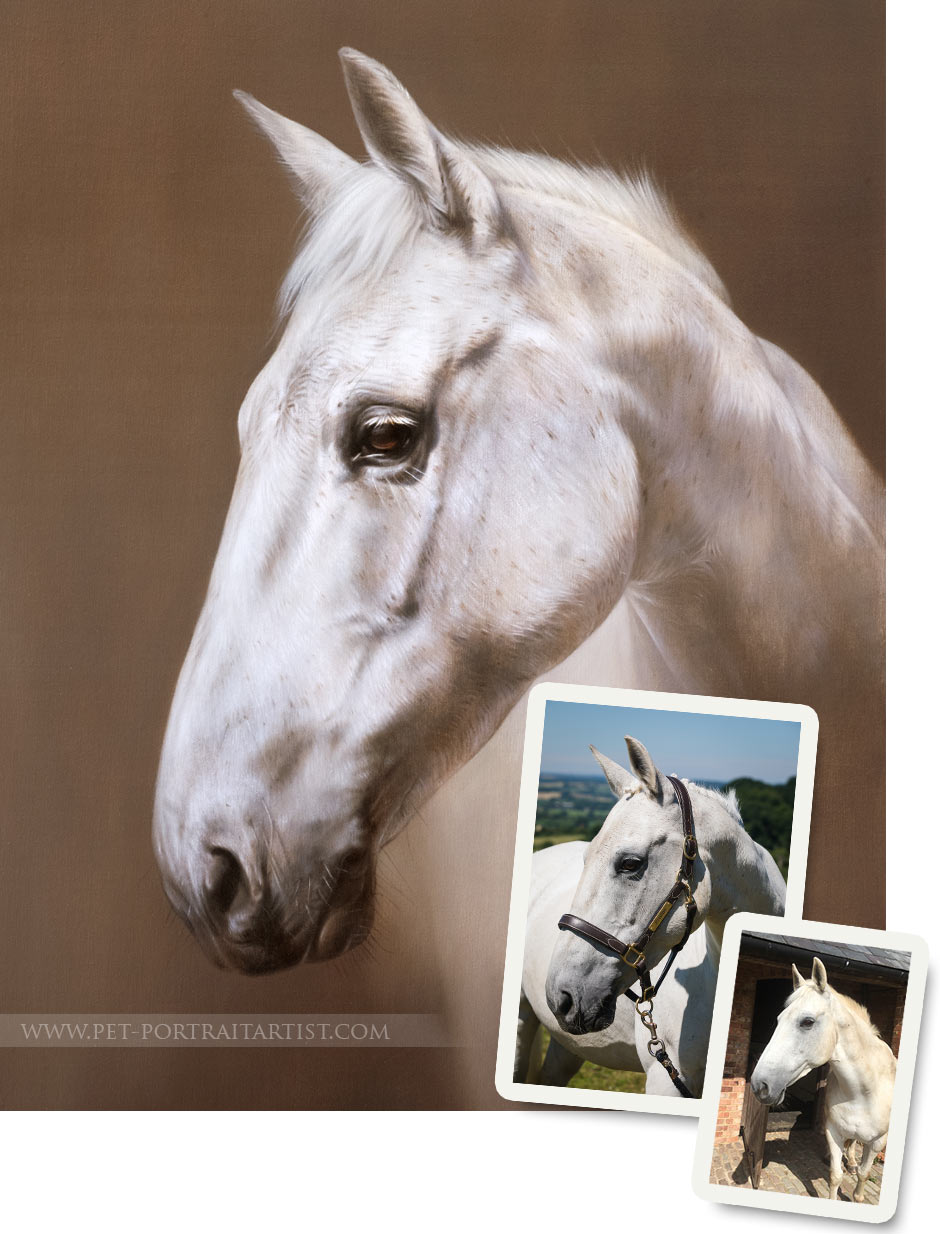 For this elegant painting of Elly, Nicholas used multiple photos for inspiration and obviously removed the halter from the main reference photograph.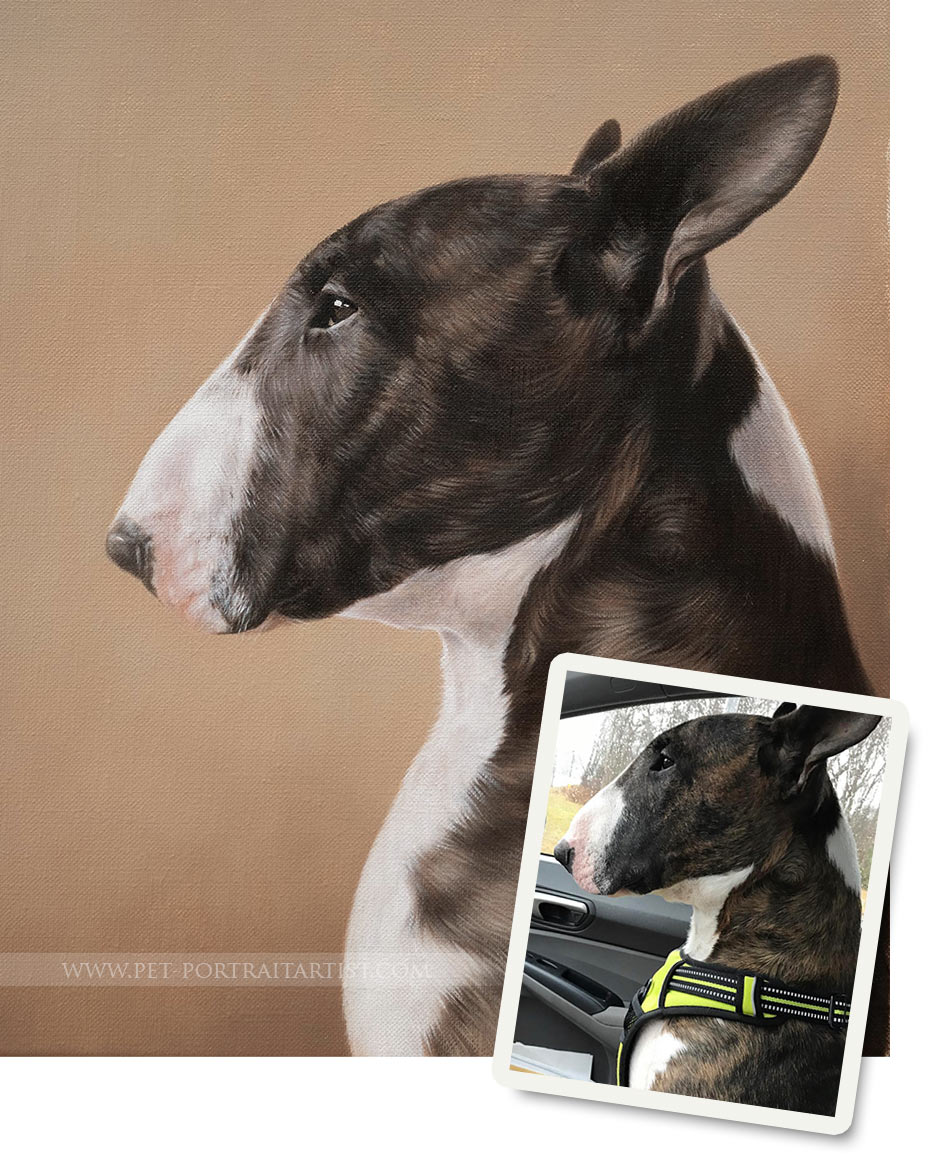 In this regal painting of Patton, Nicholas has transported him from the car to a much more serene setting with a tonal background. Nicholas was asked to remove his high vis jacket and he used additional reference photographs to fill in the blanks, including the addition of the tops of his ears.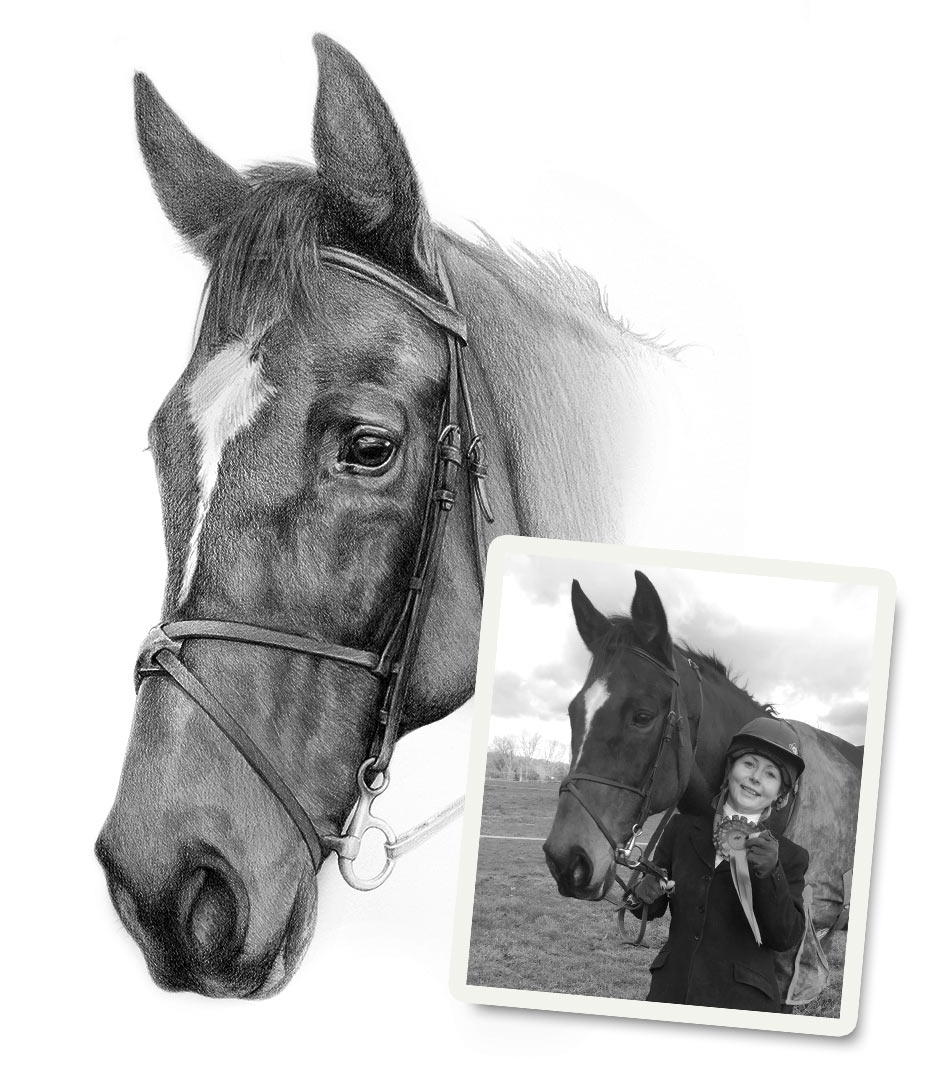 As you can see small snap taken of Freya with her owner, a lovely head portrait can be drawn, as long as there is enough detail within the photo to work from. It's then about deciding how to finish the neck to blend it into the background. I made the decision to have it slightly lighter along with the reigns, to allow the full focus to be on Freya's face.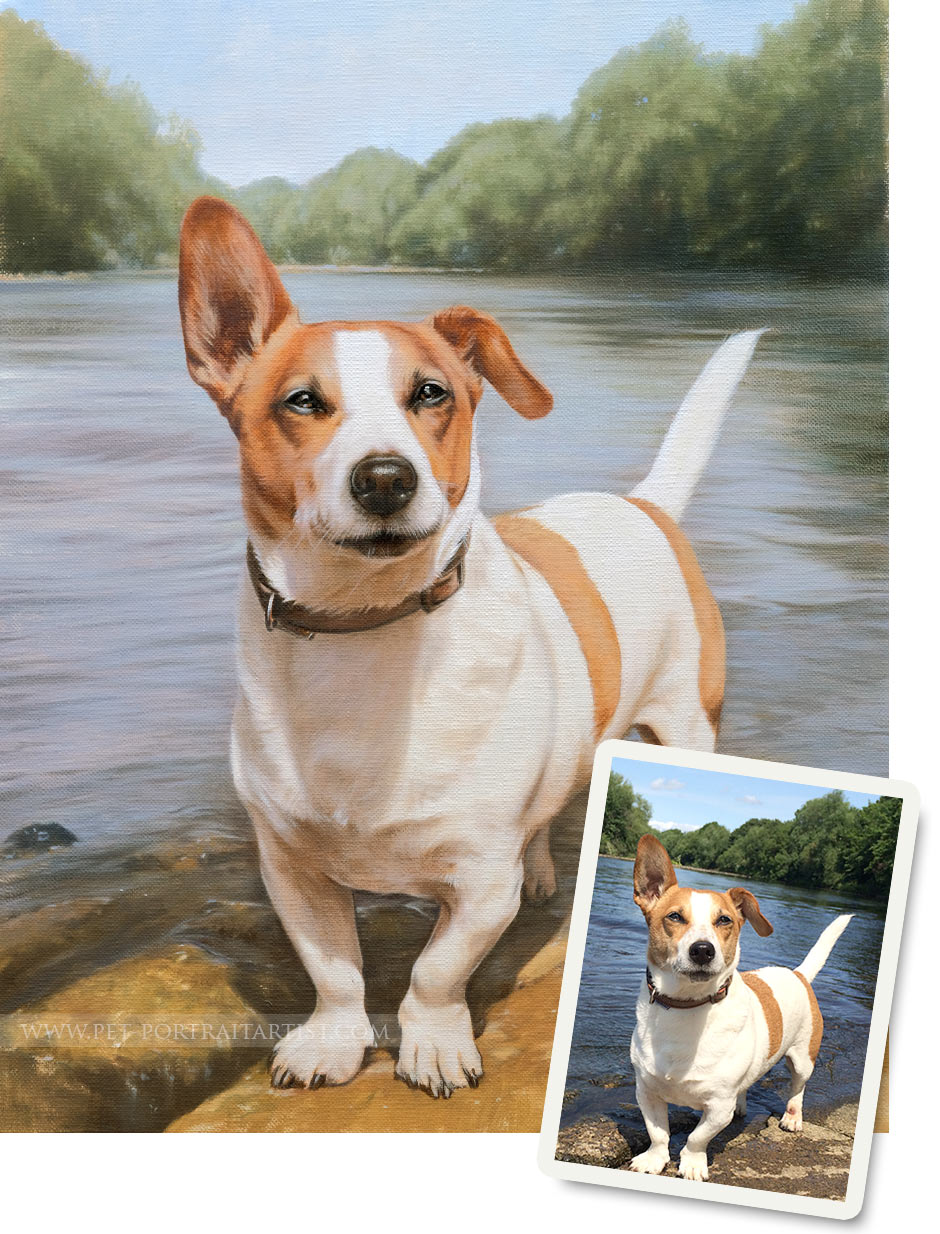 Nicholas simplified and softened the background to allow Toby to be the focus of the scene. He also opened Toby's eyes a little so that he is not squinting. Nicholas also added some warmer tones into the water behind Toby and some richer colours to the foreground stones.
Hi Melanie,
We got the drawing and absolutely love it! Thank you so much for capturing our girl Sasha so perfectly ❤️
Sarah Stinneford Equestrian