Welsh Cottage Kitchen Renovation
We renovated our kitchen in two phases and the photos below depict how our kitchen looks today in 2017. It has had a complete transformation from when we moved in 10 years ago and is quite unrecognisable from how it was before. We hope you like the photos and enjoy reading about how our cottage kitchen came to fruition. If you also scroll to nearer the bottom of this page you can also photo during the renovaiton process.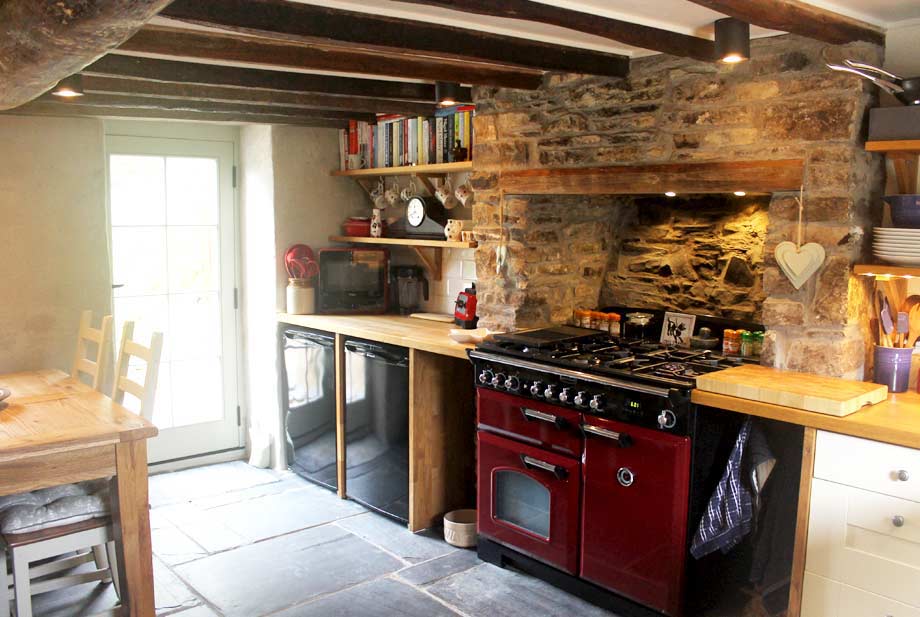 The builders took up the old concrete floor as well as the concrete render on the walls. I can't tell you how terrible it was under the concrete. There was at least 4 inches of sand and an array of drainage pipes where water has been draining under the cottage and pooling in places as there was no real way out. One of the pipes went to the corner of the room but didn't go anywhere. So you can see why there was a need to redo the floor.
We removed some old plasterboard and lighting on the internal wall of the kitchen and replaced it with tongue and groove panelling, down lighters and a new radiator to match. The ceiling in our kitchen is too low for a welsh dresser and there isn't really enough room. I asked our carpenter to make me a shelf to store some of my favourite plates on which worked out well as you can see. I also have some lovely oak shelving between the fireplace and the outside walls which is fabulous and very similar to a dresser. A good excuse to shop at Emma Bridgewater for crockery which you can see below!
As you can see our cooker is set back into the old fireplace, but when we moved in, the entire fireplace was blocked up and had been for many years. Previous occupants had used paving slabs and stone to block up the entire front and inside of the fireplace and you can see photos of what it use to look like in the renovations section below. Once revealed and renovated with a new lintel, we had a perfect space for our cooker to reside. We added an extractor fan which is connected to the unused chimney.
We have a new back door and kitchen window in engineered oak which you can see below. We lived for 10 years with an internal back door which previous owners installed. It was single glazed and very draughty. You may be able to see from the photos below the door is painted in French Grey as is the little cottage window to match.
The builders laid a new damp proof membrane and reclaimed slate flagstones which we had procured locally. We bought one batch from an old farm about 20 miles away, one batch from an old school in New Quay (Wales) and the final batch out of an old shop in Lampeter. It was originally a gentlemen's outfitters and the building dates back to a similar age as our cottage to the 1700's. The slate was perfect for our needs. It was extremely heavy and a huge task to fit and lay for our builders, they were brilliant! We are so pleased with how it has turned out.
Using the correct lighting is so important in an old cottage and over the years we have sampled a number of different ways to light our kitchen and we feel we have now found the perfect way. As you can see from the photos on this page we have used 'pillar lights' which are voice controlled by 'Alexa'. We can walk into the kitchen and say 'Alexa, turn on kitchen' and the lighting comes on. This will be very handy for us when we are working down in the studio in the winter when its dark. Coming up to a dark cottage in the evening and walking through the kitchen to find the light switch can be tricky, especially if you are carrying all and sundry back from the studio! So now we can either turn the lights on from the studio itself, set a timer with Alexa to turn them on at a specific time of day, or we can open the back kitchen door and tell her to put the lights on. She can also dim them or turn off individual lights too. It is a complete revelation and now we have experienced how versatile they are, we would never go back to normal lighting!
The sink is an absolute pleasure to use, as are the oak worktops which now flow into the kitchen window.
It all looks much nicer than before. If you scroll down you will see some photos of the renovation with before and after photos. We are completely in love with our new kitchen and its a pleasure to sit in there and have a meal now. No more draughts....a happy and relaxing place to cook, chat and have friends around. Perfect! We hope you like it too!
The Kitchen - Before!!
In the old days our kitchen would have been the 'parlour'. It would have been the 'best' room with the best furniture, only used for special occasions or entertaining when guests visited. The room was made into a kitchen in the late 80's, the fireplace was covered over and a fitted kitchen was added in the 90's. It was a functional and usable kitchen, however we had lots of ideas of how we could improive it.
The photo below shows the kitchen pretty much how it was when we moved in, although at this point we were getting ready for the build and many things were packed away ready for the builders to arrive.
The cooker below was getting really old and what look like right hand side ovens were just storage cupboards. The oven itself was very small and it was very difficult to cook a roast for Christmas. My aim was to save for a range style cooker with plenty of room to cook. As you can also see the cooker was set right out in the room. All in all it was taking up so much space there wasn't a lot of kitchen left!
We were so excited when they started to take the stones out of the chimney breast - revealing the back of the original fireplace! It was wonderful to be able to bring the space back to its former glory.
The next job was to remove all of the concrete render from the front kitchen wall, around the window. It was always a damp area and because the units were in front, the air wasn't able to circulate. By taking off the concrete render and pointing it all, it was then be able to breathe.
Here is the wall without the render, it was a tough job to get all of the old concrete off and we were thrilled when it was completed. All ready for pointing.
Below shows the wall without the render on the other side of the kitchen. The concrete render on this wall was incredible thick. Previous occupants had rendered and used a tanking system, it was so difficult to remove. We are delighted to have it all clear and next will be rendered with a breathable lime render.
The floor came out really easily and revealed just how damp everything was under there. We had pools and puddles of water with about 4 inches of sand. Sand was one of the worst things that the previous occupants could have used as it holds water. Any water that trickled under the cottage when it rained, would have been sucked up and held there by the sand.
Time to lay the damp proof membrane and concrete!
The exciting time came when the builders started to lay the reclaimed slate flagstones. It was hard work for them...but well worth all the effort!
Another photo of the slate flagstones in the kitchen doorway.
testimonials.....

Hi Melanie and Nicholas,
Many thanks for the magnificent portrait of Robbie. You have captured his gentle giant quality exactly. The Hint of red around his head is also exact. I am really thrilled with your interpretation. Thank you so much. Yours Sincerely
Beverly.
Visit next...
why not drop in to see our renovated Cottage Living Room and read about how it all came along in the renovation process.