Melanie and Nick's Cottage Kitchen Renovation
We had some electrical work done on the cottage in May 2013 to replace some old wiring and do a general check across the cottage to make sure things were safe as the wiring was quite old. While they were doing the work, we asked if they would be able to install an extractor fan into the kitchen. The ideal place for the extractor was in the chimney breast which had been blocked up for years, so it meant bringing it back to its original state. Something I had wanted to do since we moved in! We decided if we were going to be doing all these renovations we might as well renovate the entire kitchen and get it done as it needed doing, it was just a little sooner than we had planned! We don't at all regret it and were extremely lucky with the local firm we used as they had all of the professionals working for them - gas, electrics, stonemason, carpentry, kitchen fitter etc so there was no project managing, they handled everything. We couldn't have worked with a nicer and more efficient business. If you would like to see the renovation photos, take a look at our cottage renovation page >>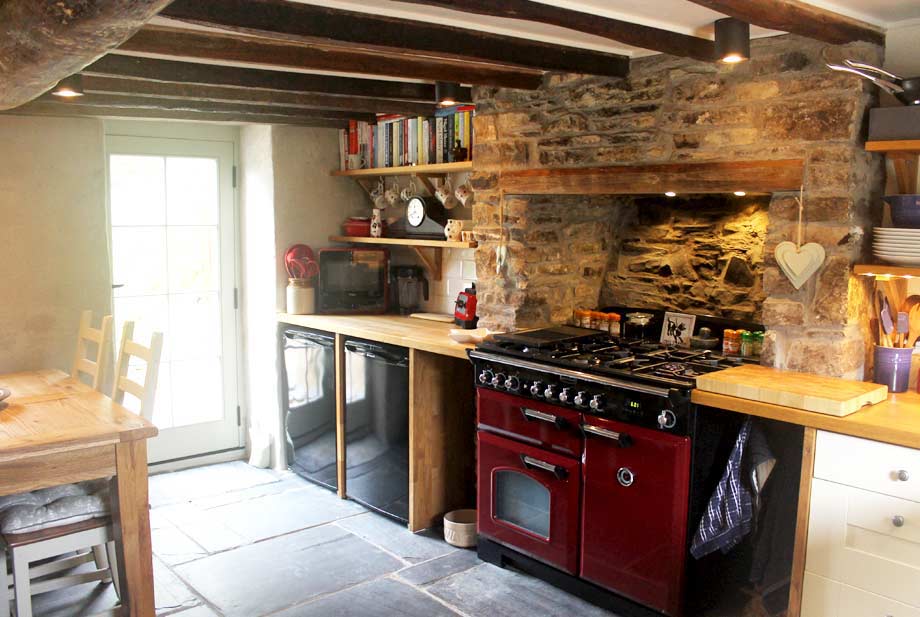 We are thrilled with the final outcome and these photos were taken when we had put everything back into the kitchen. it does look very tidy in the photo, its a little more lived in now : ) I had been wanting to replace the cooker that was in the kitchen when we moved in and have had my eye on a range style for a number of years and its superb.
We decided not to replace the cupboards that were to the right of the chimney breast which they curved around the corner. The room is fairly small and our ceilings are low with large beams, so it bought the room in somehow. So we opted for oak shelves matching either side of the chimney breast and it works very well. Overall the room feels a lot lights, particularly with the render being removed and the tone all on the window side back to its original state.
Oak shelving both sides of the chimney breast.
Looking towards the front sash window, the windows we think are about 100 years old, they aren't original but pretty old still.
Looking towards the back door and table. We have just about enough room to comfortably feed 4 but the table does extend.
Tom, our dearly loved but passed dog, looking happy. Nicks logs making things rather rustic, especially with the wellington's at the back door.
New lighting brightened everything up too, and we were especially pleased with he lights on the cooker hood.
The oak work tops now go back into the window and we are thrilled with how they did this.
I like the look of a Butler sink but wanted a drainer so we opted for the same style in that its a china sink but its more practical for us.
You will never believe how much work we did to renovate the floor, it took us days of full morning to night work to remove what we thought was old grout in between the tiles, but it was black silicone, handed and old. It was a complete nightmare. it looks like a new floor now though and we are so pleased with our achievements!
Bit of an arty shot...
We hope you like the photos. Lots of work but all well worth it, we love it.