Race Horse Portrait - Oil Paintings
This portrait is absolutely stunning. Nicholas traditionally hand painted Amosite for clients in the UK and you can read all about the commission below. Nicholas specialise in horse portraits in oils and paints from his garden studio working using traditional methods. Each oil painting taken many hours to complete and a lot of work goes into each and every portrait he paints.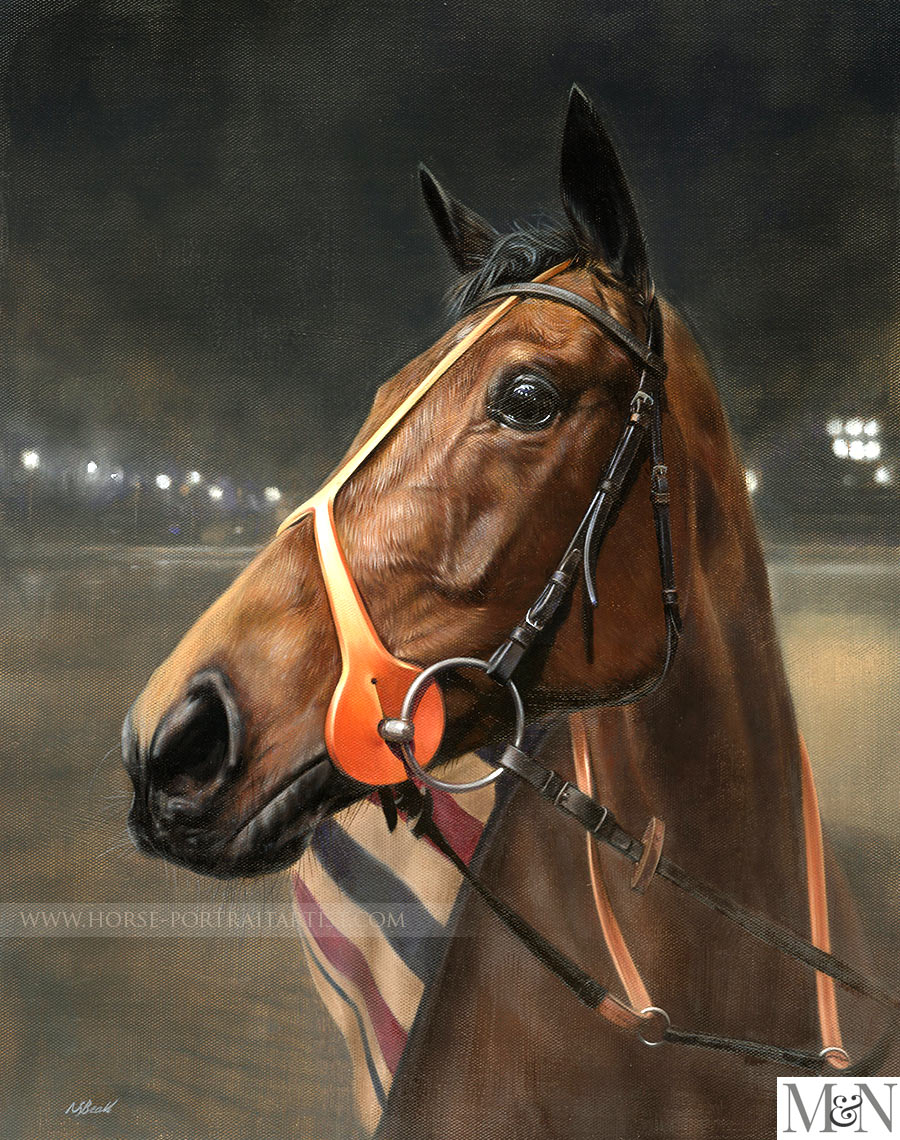 Commission of 'Amosite' - Race Horse Portrait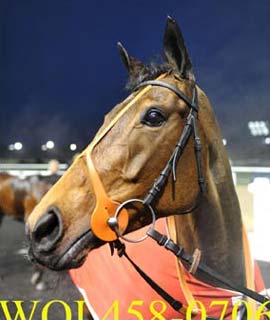 Mark Goddard, UK emailed us in 2014 to enquiring about a race horse portrait. Mark wanted to commission a portrait which was to be a a surprise gift for his wifes birthday. He only spoke and emailed us from work so that he could keep everything secret and requested the painting to be in oils at 20 x 16 in size on Italian linen canvas.

Mark had a few good photos of Amosite however want him to be shown wearing a different rug with a particular stripe on, so Nicholas used other photos to be able to do this. I feel that Nicholas has not only captured Amosite well, but has also captured the feel of the evening when the photo was taken at the racetrack - the slightly misty and cold but exciting event with bright lights and hustle and bustle of being there. The natural colour pallet Nicholas has used here is exceptional. Both Mark and Claire were extremely pleased with the portrait as you can read below.
Hi Melanie and Nicholas,
Claire absolutely loves the painting! Thanks very much, looks great in the frame too!
Mark

Hi Guys
Wow! Looks great! I really think it captures the character of the horse & the alertness of her in the photo. Magic hands, Nick!
Thanks very much- my wife is going to love it!
Best Regards
Mark

Hi Melanie and Nicholas,
I know Mark has already told you but I just wanted to let you know myself how much I love the portrait of Amosite- it is just perfect!! Thank you. Best wishes
Claire
Photos of the Race Horse Portrait Framed
As you can see from the photos the portrait looks absolutely stunning framed.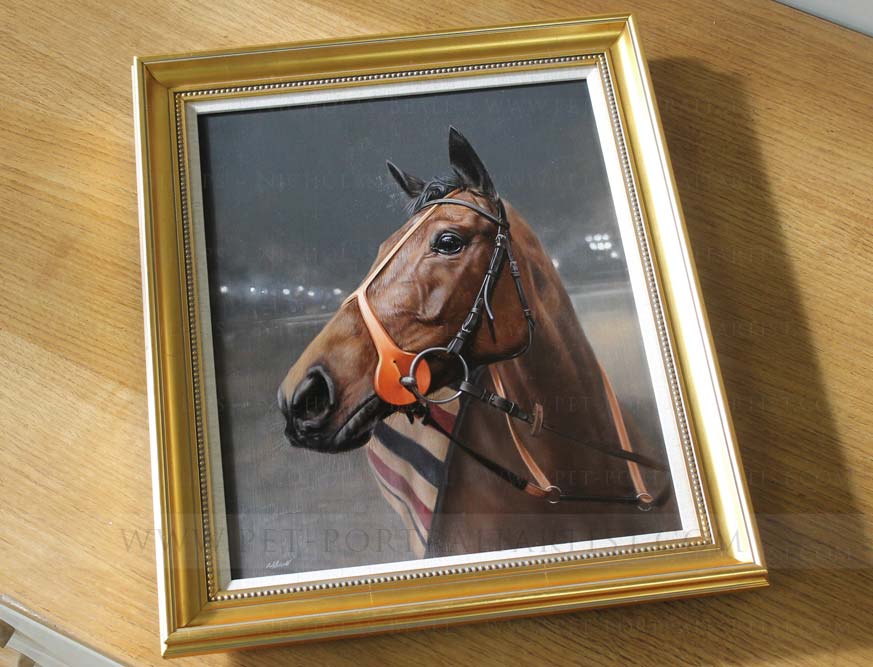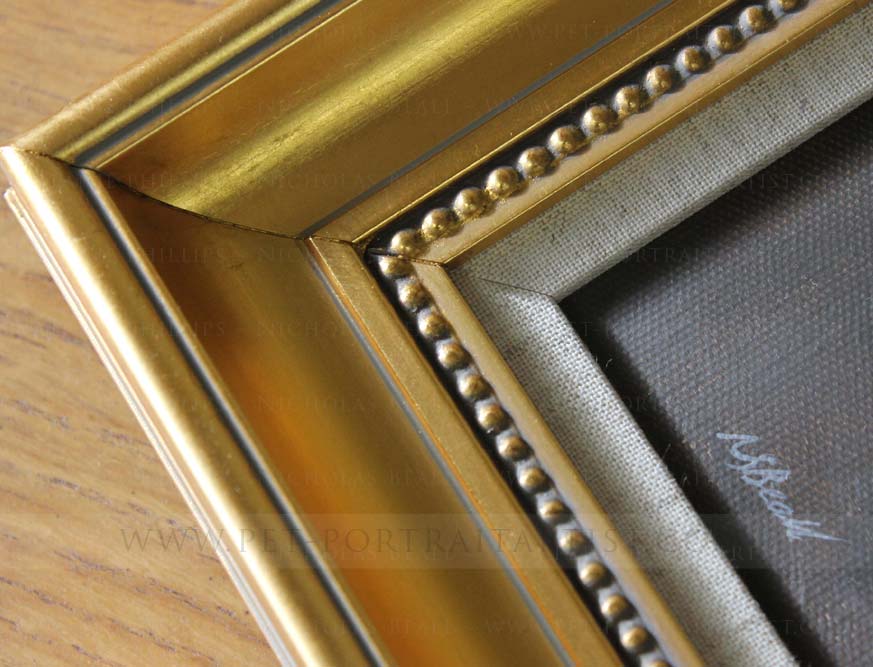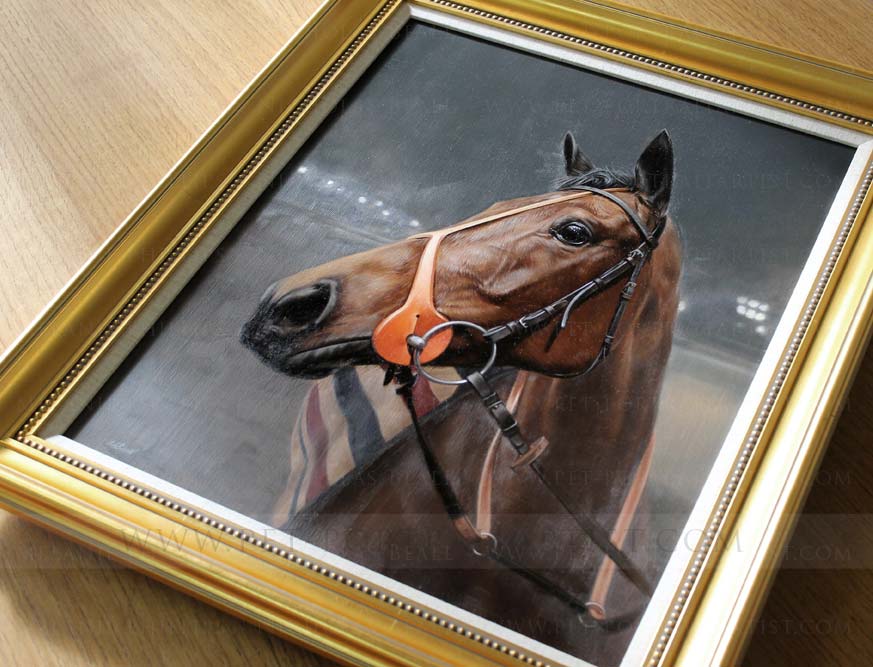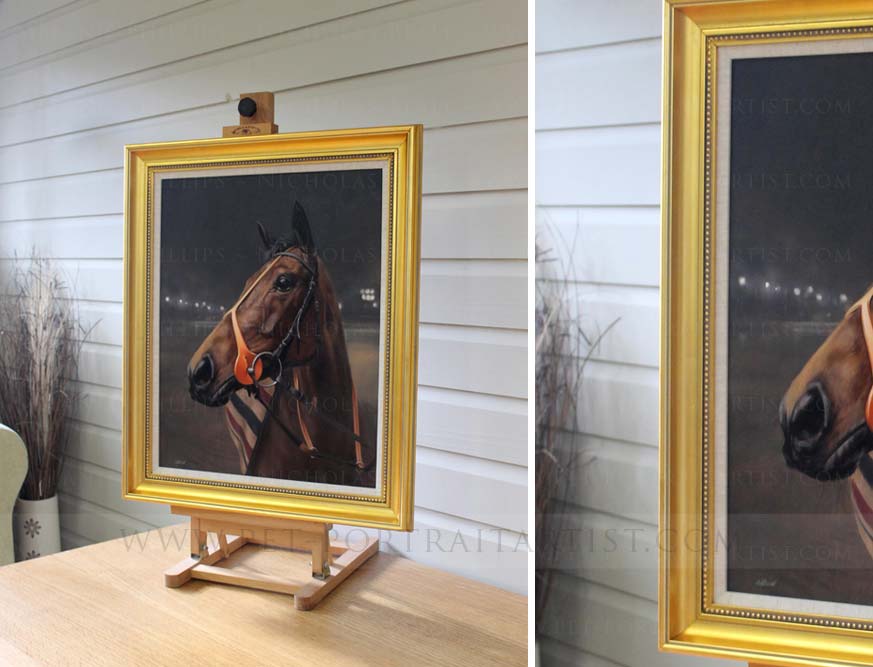 Race Horse Portrait
We hope that you have enjoyed reading about Amosite's Race Horse Portrait. If you would like to commission a portrait similar to Amosite's, you can email us your photos at any time. Let us know he kind of portrait you are looking at having and we can advice and help you inn any way we can. Email at any time from our contact page.