Golden Retriever Pet Portraits
Welcome to the beautiful Golden Retriever Pet Portraits of Charlie and Eliot. We both have a love for golden retrievers, in fact we know 4 who go to our local dog training club with our dog Lily! They are the most stunning dogs each with their own definite personality. So when Nicholas was given the opportunity to paint Charlie and Eliot in 2018 he jumped at the chance. The commission was from a couple in the USA and we have been working with clients in the United States for many years. Our portraits reside in the homes all across the globe too. If you scroll down you can read more about the commission and see photos of both Charlie and Eliot with their portrait too!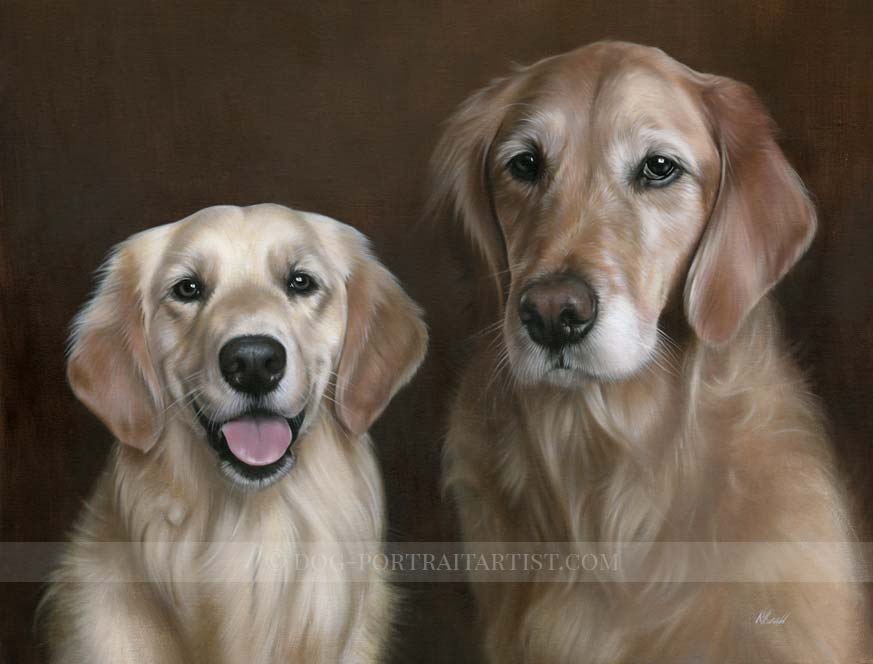 About the Commission of Golden Retrievers 'Charlie and Eliot'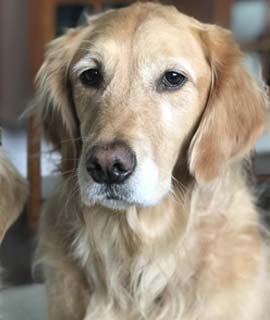 Nicole emailed us in 2018 having seen our work on our Instagram account and got in touch with us via our website. Nicole had been looking for an artist to create an oil painting of their dogs, similar to an oil painting Nicole's grandmother painted of her grandfather and their dog many years prior. Nicole's grandmothers oil paintings were indeed very similar to ours and so we were very happy to accept the commission and the challenge!
Nicole took lots of photos of their Golden Retrievers Charlie and Eliot and emailed us a few of her favourites. The photo left is of Charlie which apparently captures her character beautifully. Nicole requested to have a 20 x 16 oil painting and you can see the finished painting above.
We received an amazing testimonial from Nicole along with some wonderful photos of Charlie and Eliot with the oil painting prior to it being framed. Nicole had already decided where the portrait would be displayed and sent us a few photos for us to see....
Going into this process felt a bit overwhelming. Starting from scratch and trying to find someone who could give us what we wanted seemed like an impossible task at first. I saw so many portraits online that were a little too impressionistic, or seemed to not accurately represent the animal they portrayed. I dreaded sending off pictures to an artist and getting back an expensive painting that looked nothing like my dogters.

The reality of the process with Melanie and Nicholas was a dream. They were so careful, thoughtful, and responsive along the way. They worked hard to make sure that we knew what we were getting and were going to be happy with it. They collaborated with us on the source material and allowed us to track each step of the creation once it began. There was no opportunity for unwelcome surprises given the diligence of their process. We are so happy with our choice.
We wanted the best and that's what we got with this team.
Nicole
Happy Clients Charlie and Eliot!
The photos below were taken by Nicole when the portrait arrived. They will have the portrait framed by their local framer and as soon as we receive an updated pic we will add it here for everyone to see!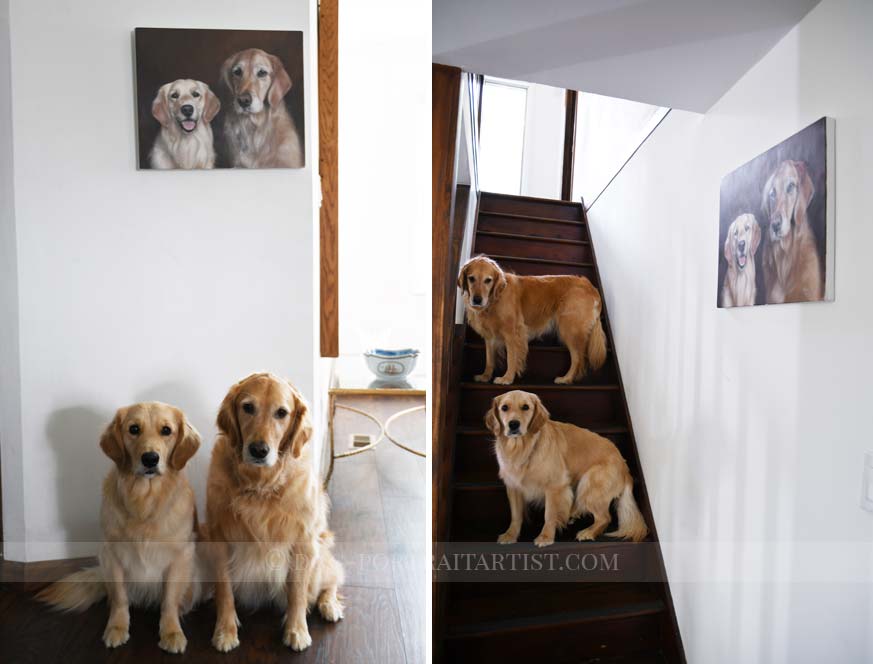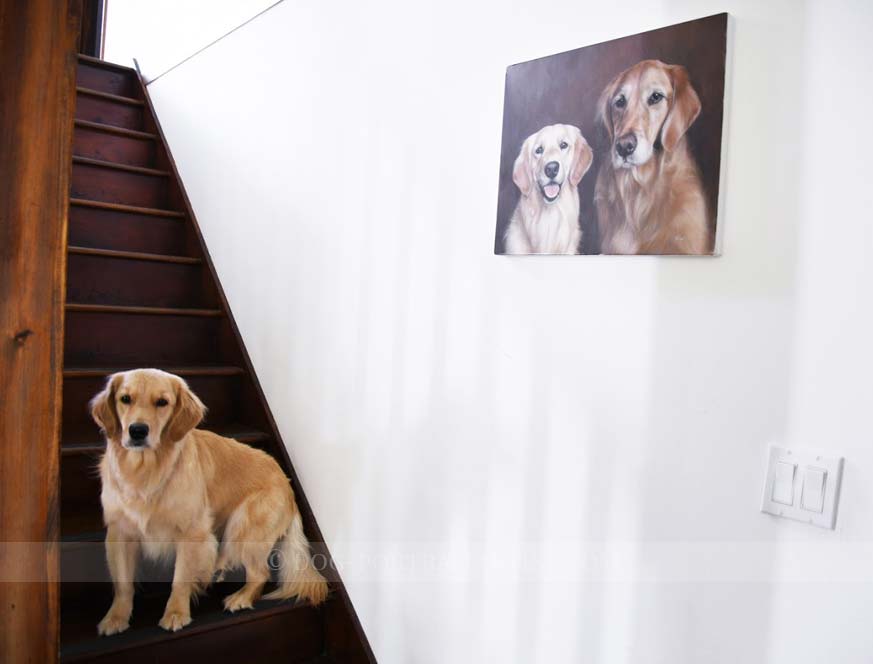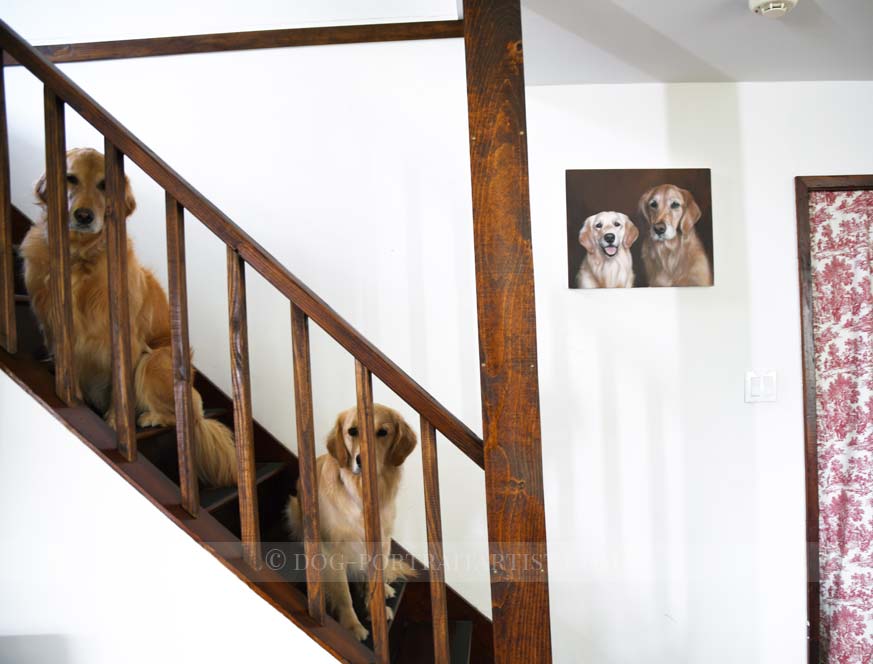 Golden Retriever Pet Portraits
Do you have Golden Retrievers? Perhaps you might like a portrait similar to Charlie and Eliots. Why not email us your photos and let us know your ideas for a n oil painting, contact us from our pet portraits contact page at any time and tell us all about them. We hope to work with you soon!