Cat Portraits - Cat Portrait in Oil on Linen Canvas
Welcome to the cat portraits in oil on linen canvas of Milly and Molly. Nicholas Beall painted this painting, along with another commissioned portrait of cat Purdy, for clients in the UK. Nicholas is commissioned from all over the world and traditionally hand paints all of his cat portraits in his dedicated art studio in his woodland garden.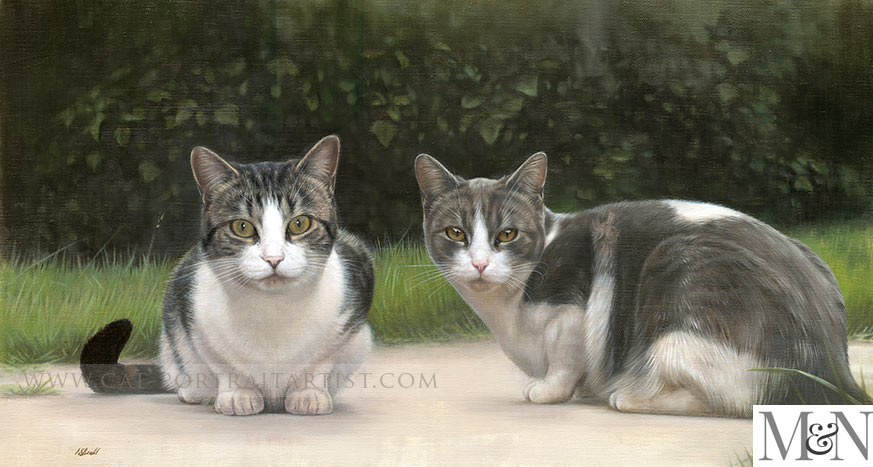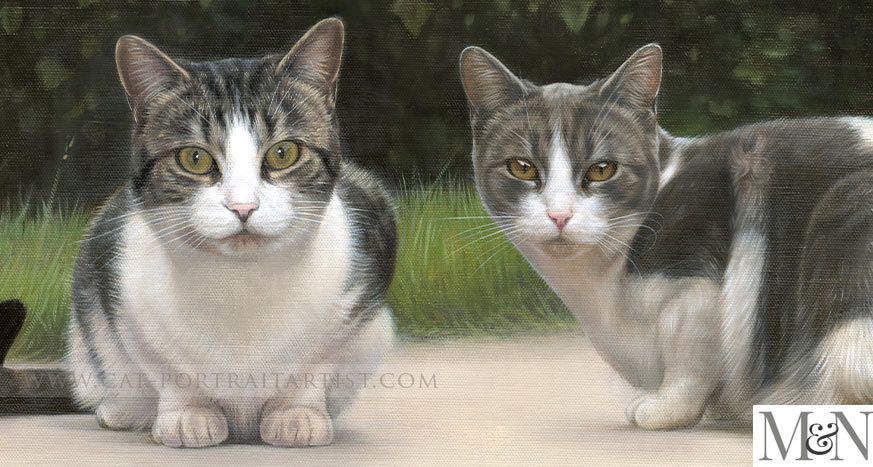 Cat Oil Portrait - Cat Portrait in oil Reference Photos
If clients would like a double cat portrait like Milly and Molly we do like to see photos of the cats together, but it is also really helpful to have separate photos of each cat. If they have been taken in the same photo shoot at the same eye level, we can usually put to single photos together to create a scene. This enables us and our clients to have plenty of choice as its not always easy to take a photo of two cats both looking perfectly at the camera! The photos below are just a few that we received form Alan and Amanda of their cats.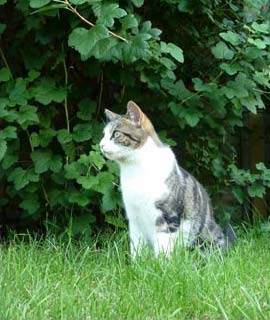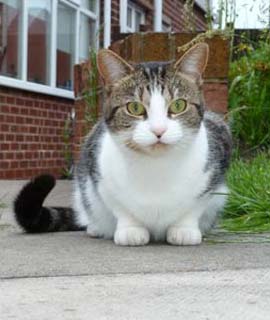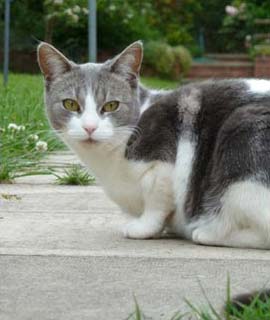 Commission of 'Milly and Molly' - Cat Portrait in Oil
The cat portraits in portrait of Milly and Molly was commissioned by Alan and Amanda Siddall, UK in 2014 who also commissioned the portrait of Purdy. Alan and Amanda took a number of photos of both Milly and Molly in their garden, using a good quality digital camera, specifically for the portrait. We try to encourage our clients to do this where possible as it really does help to have plenty of images to work with. Alan took all of the photos from the cats eye level which enabled us to place two separate photos of the cats together in one scene.
We created a number of compositions using the photos in the computer to design the portrait. This allows the clients to see what the composition of the painting could be like before bush is put to canvas. We all decided that a 26 x 14 size canvas would be the most suitable to fit both cats in well. Nicholas thoroughly enjoyed painting both Milly and Molly in their garden and Alan came to the studio to collect the paintings as you can see from the photo below and sent us two wonderful photos of when they were displayed in their home, one with Amanda standing next to them. We love it when clients are able to send photos of their paintings in situ, and cant thank them enough for allowing them to be shown on our website!
Hi Melanie & Nicholas,
I know Alan is organising with you when to collect the portraits, but I just wanted to say that I'm overjoyed with how they look. Molly on the left of the portrait is always 'camera ready ', so getting that photo wasn't that difficult really. Milly on the other hand is more of a challenge... Every time Alan or I try and take a photo she strikes a pose (like she is chewing on a wasp) :) . . bless her! So that is another reason I love this portrait. We got that one picture where her eyes are open and bright. I love my girls to bits, so I'm so happy Nick has captured them so well. Purdy looks fabulous also. Couldn't be happier. With many thanks to Nick for our beautiful portraits. And to you for your help and contact during this process.
Amanda x x

Hi Melanie and Nicholas,
Thanks once again for the paintings and your recent hospitality. Please find attached a couple of photo's.. including one with Amanda! Your paintings have been carefully positioned in a nice corner away from direct sunlight, in a fairly stable temperature and away from the kitchen area. Hope you have a great weekend. We'll definitely see you again another time - either collecting another painting / pencil drawing or somewhere in the Galapogas! Alan..
Cat Oil Portraits - Cat Portrait in Oil Framed
Alan and Amanda chose to have their portraits framed in our 'Ornate Pewter' frame, which matched beautifully with the paintings.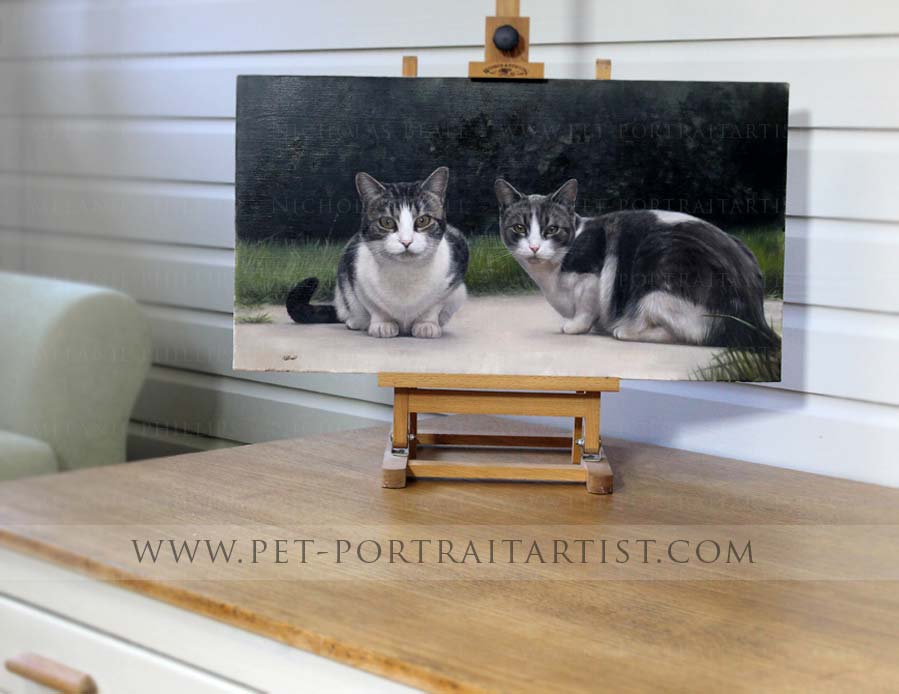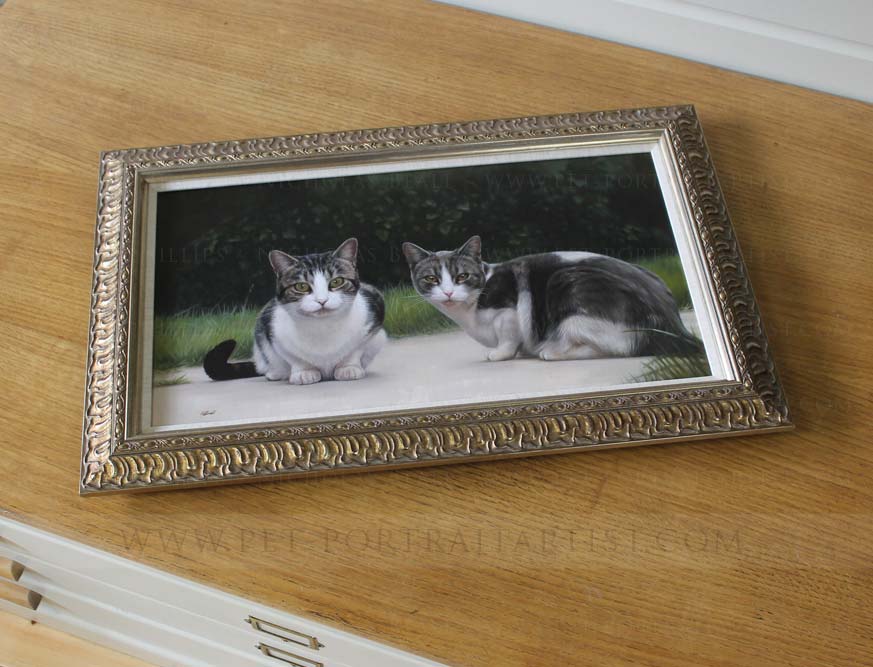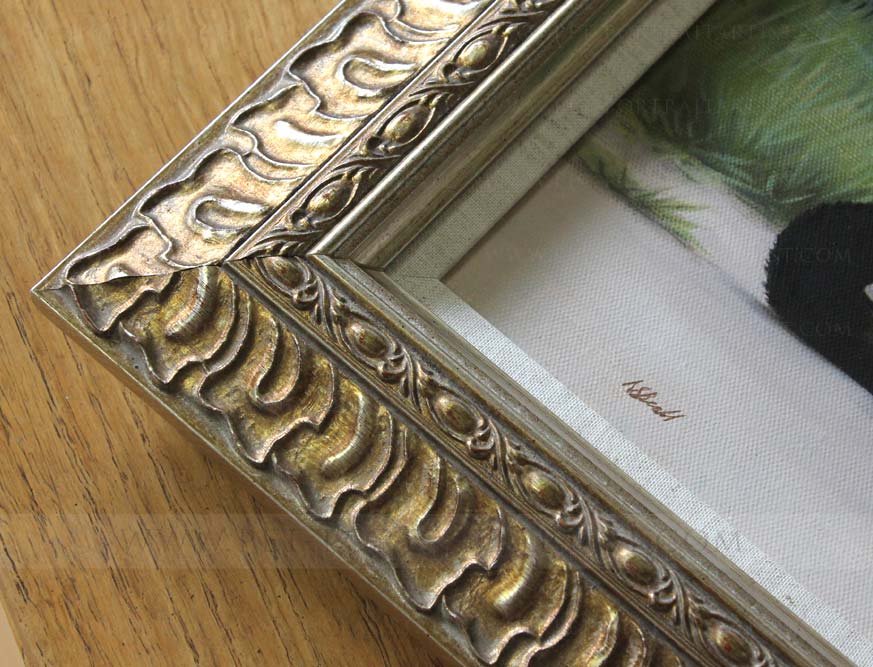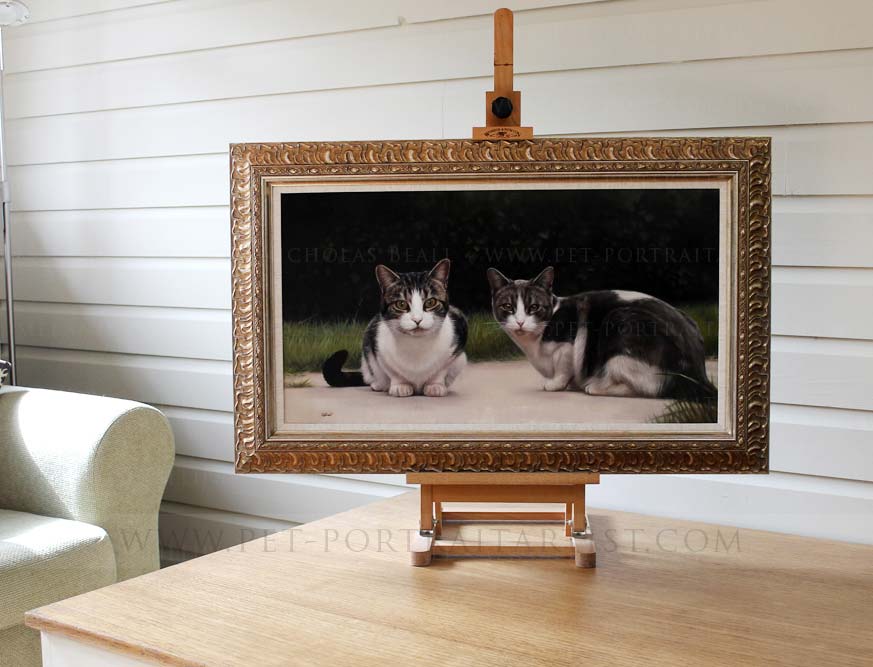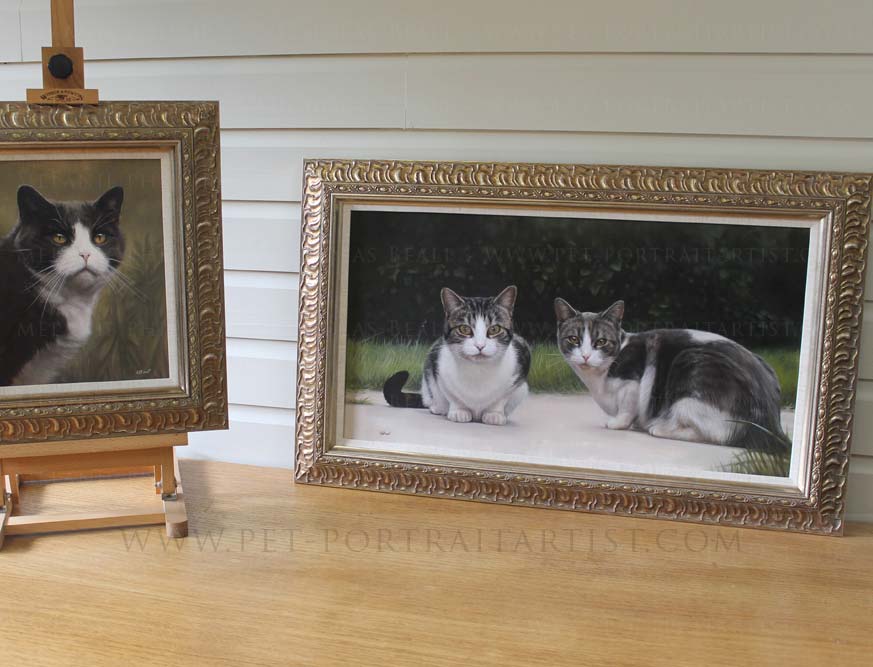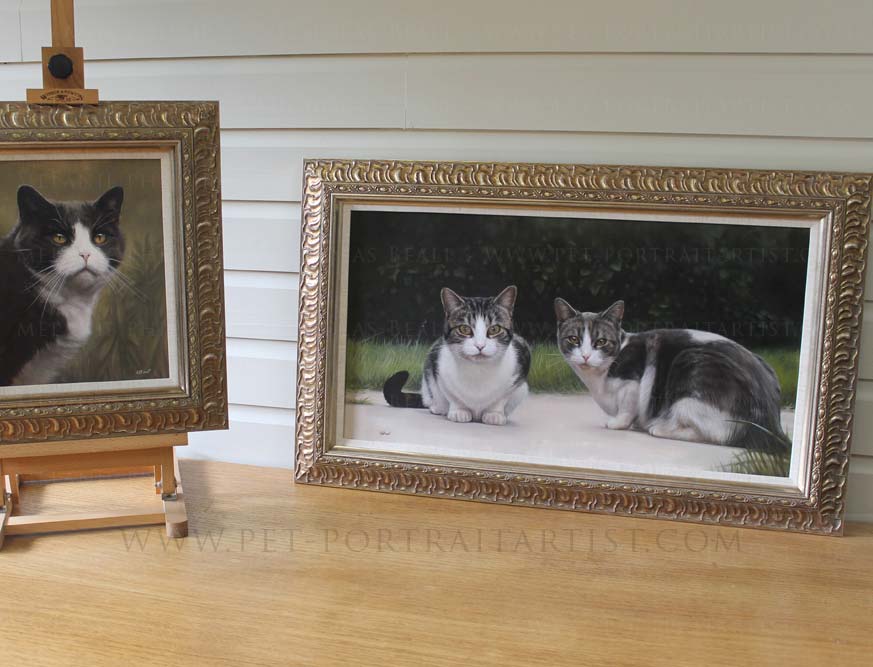 Cat Oil Portraits - Happy Clients
Alan collected the paintings from our studio and Amanda very kindly had photos take of her with the portraits when Alan bought them home. Thank you so much Amanda!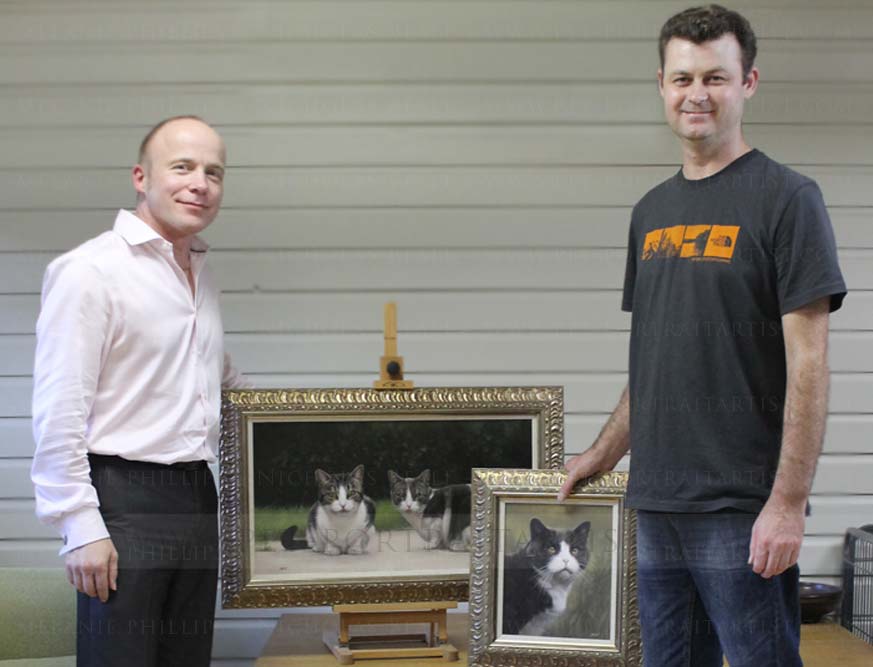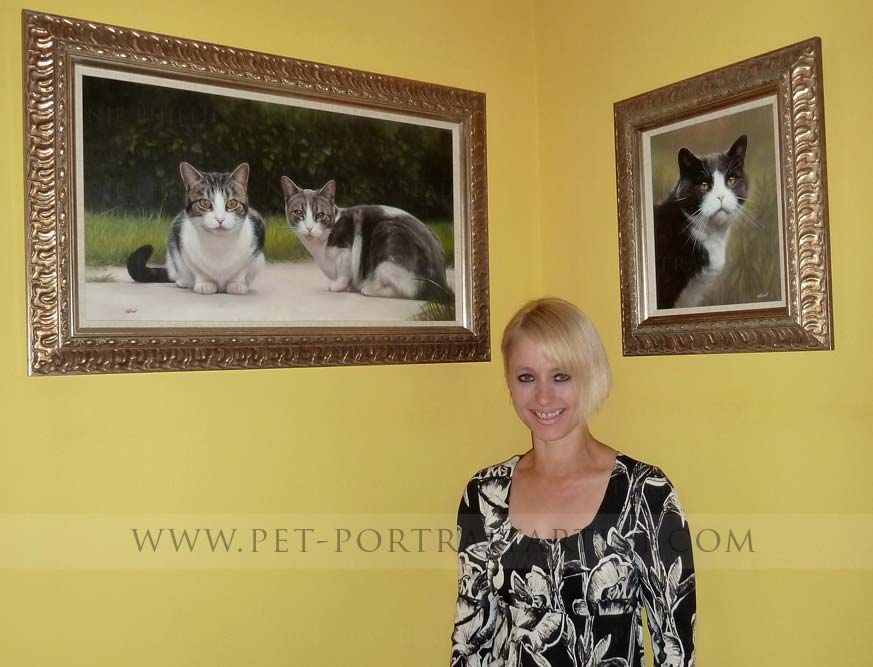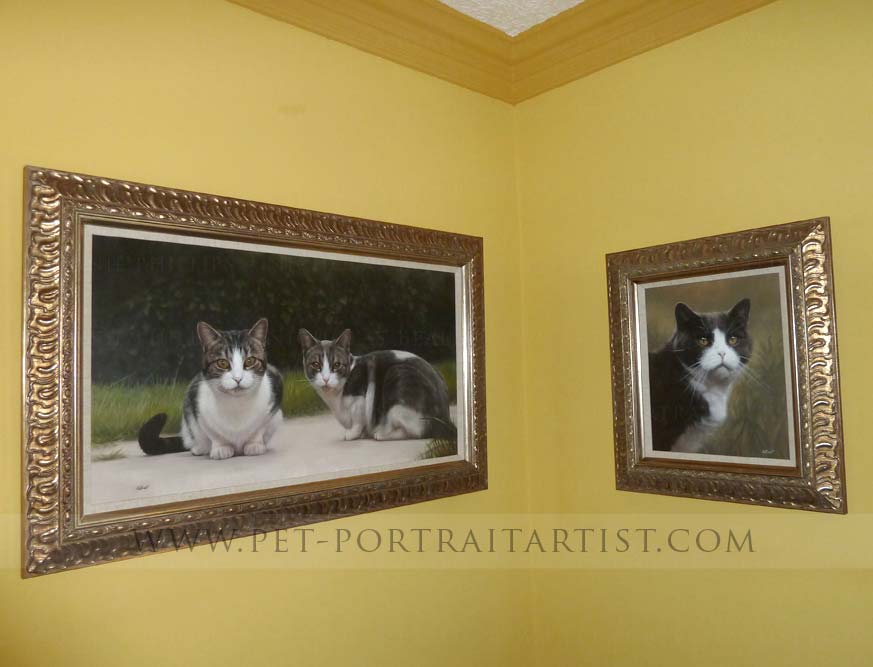 Cat Portrait in Oil
We hope that you have enjoyed viewing the cat portrait in oil of Milly and Molly commissioned by Amanda and Alan. if you would like to commission an oil painting similar to this, please do drop us a line.