Cat Portraits - Cat Pet Portraits in Oils
Welcome to the cat pet portraits in oils portrait of Sophie. Nicholas Beall specialises in painting cats in oils on Italian linen canvas for commission. Clients email photos from all over the world and Nicholas' paintings adorn many homes across the globe. The portrait of Sophie is currently in the USA. Nicholas paints all of his portraits from his dedicated art studio nestled in his woodland garden in the UK.
Commission of 'Sophie' - Cat Pet Portraits in Oils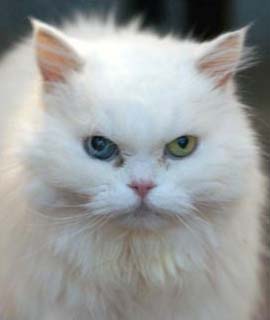 Gregory Boella, USA contacted Nicholas about his cat pet portraits in oils as he was looking to commission a painting of his wife's cat Sophie. Greg emailed Nicholas a number of lovely photos of Sophie who amazingly had two different coloured eyes! Greg sent us this email which told us a little about why he wanted to commission Nicholas to paint Sophie -
"Melanie and Nicholas,
I've seen your website and really like your work. I'd like you to do a portrait of our cat. She's 21 years old and her fur isn't what it used to be. Kind of scraggly now. The discoloration under her chin is from food. She isn't able to clean herself well any more. I'd like you not to include the discoloration. Her fur is as white as in the first two photos and although I didn't get the color right in the last photo her face is presented as she is most of the time. Still a bit curious about everything. She is an odd-eyed-white Persian. Her right eye is blue and left eye yellow. The discoloration in the corner of her eyes is more pronounced now but typical. I'm getting this portrait for my wife. She works overseas (a human rights specialist and is currently assigned to the U.S. Army in Iraq. She has done fork for the UN, U.S. State, etc.) Sophie, our cat, has spent much time overseas with my wife on missions although now she stays with me because of her age. Looking forward to working with you. Cheers, Greg"

We were very excited to be able to paint Sophie for Greg and his wife, such a well travelled and amazing cat! Greg asked if Nicholas could paint Sophie at the 12 x 10 size and it was a perfect size for her. The portrait was very well received as you can read form the testimonials below. Sadly since the painting was complete Sophie passed away peacefully at the grand age of 21. The portrait will be treasured for a very long time.
Happy Client Testimonials
Wonderful testimonial from Greg....
Melanie & Nicholas,
The portrait arrived yesterday. It looks just great! Mel is going to be so surprised and happy. Thanks so much for getting it done in the time we had. I've mentioned you to a number of my friends who know Sophie and pointed them to your website and Sophie's portrait. They've been impressed at how well you captured one of Sophie's characteristic looks.
Cheers,
Greg
Cat Pet Portraits in Oils
Sophie's portrait was a complete success and we hope that you have enjoyed reading all about it. If you are interested in having an oil painting of your cat painted, why not visit our contact page and email us your photos. We can chat about your ideas and the design of your portrait too.