Cat Oil Painting on Canvas
Welcome to the cat oil painting on canvas of Tia. Nicholas traditionally hand painted this beautiful painting for clients Barbara and Barrie Trumper. Nicholas has been creating portraits of cats for commission along with other animals too, for over 25 years. It takes much skill and patience to create a portrait like Tia and we are always thrilled when we received letters of thanks for our clients just like Barrie's email below. Scroll down to read the story...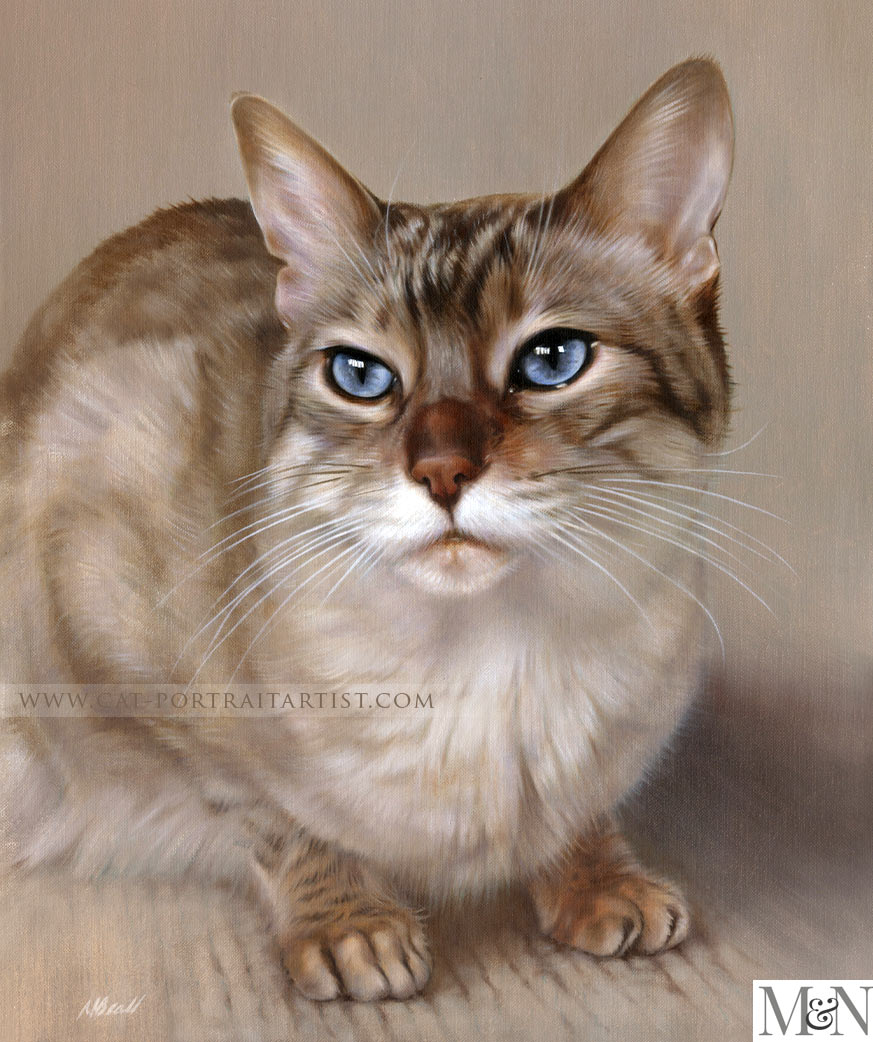 Commission of 'Tia' - Cat Oil Painting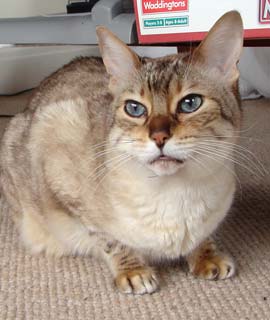 Barrie contacted us in 2018 to ask if we would be able to paint his daughters cat Tia who was extremely poorly. Barrie took some photos of Tia, one you can see here being the main photo used for the basis of the oil painting. Tia had stitches under her jaw and her mouth was slightly open and this was due to her illness. Barrie asked if the painting could be reflected with Tia's mouth closed and the fur a little fuller in that area.
We were delighted to help Barrie and created the painting for him at 18 x 14 size. You can see some photos of the framed portrait below. When the portrait was completed, Barrie and his wife Barbara visited our art studio to collect the painting of Tia. We heard from them that Tia was an extremely special cat to their daughter Claire who missed Tia immensely. Read Barrie's email below about how he gave Claire the painting. Heart wrenching and beautiful. What a wonderful way for their daughter Claire to find the painting of Tia.....
Cat Oil Painting Happy Clients
The photos below show the painting of Tia displayed in our clients home, along with her other cat Bailey. Both Claire and Bailey miss Tia greatly and we hope that the painting of Tia will bring joy to Claire for many years to come.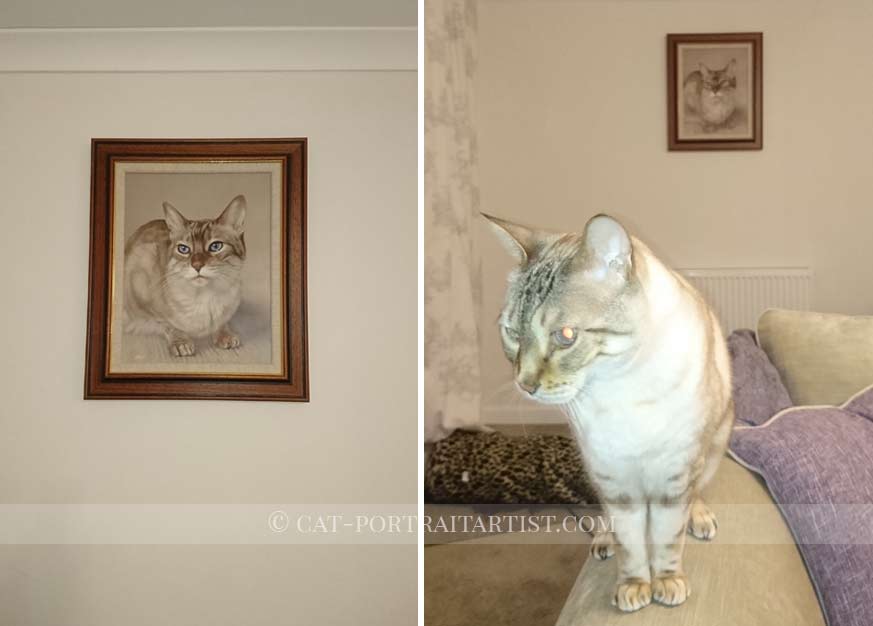 Hi Melanie and Nicholas,

After taking the portrait home we unwrapped it and placed it on the bedside cabinet of Claire's bedroom until wrapping and giving it to her at Christmas. Claire was to attend a conference near us and stay with us overnight. We decided to leave the portrait where it was for her to find so that Christmas did not have a sad theme.

When she took her things up, there was a pause followed by the expected sobbing! Upon recovering, she said how beautiful the portrait was. She sent a photo to a colleague who recently also had problems, to say she was not alone in crying over things. Claire then went on the Internet to enquire upon the artist, from his signature, and then told us that there was a web page on Tia's portrait creation that was very impressive with beautiful photographs.

After she returned home she immediately hung it in a temporary place and took photos on her phone to show us, which we enclose. The other light of her life, "Bailey", is in the second photo. The portrait is deliberately placed at the moment in a position that will not catch Claire's eye directly until she becomes less sensitive to it. We cannot thank you enough.

Barbara and Barrie Trumper
Cat Oil Painting - Cat Painting Framed
The oil painting of Tia was framed in a Traditional Flat frame with wheat coloured inner linen slip. I have added a few photos below from various angles so you can see how beautiful it is.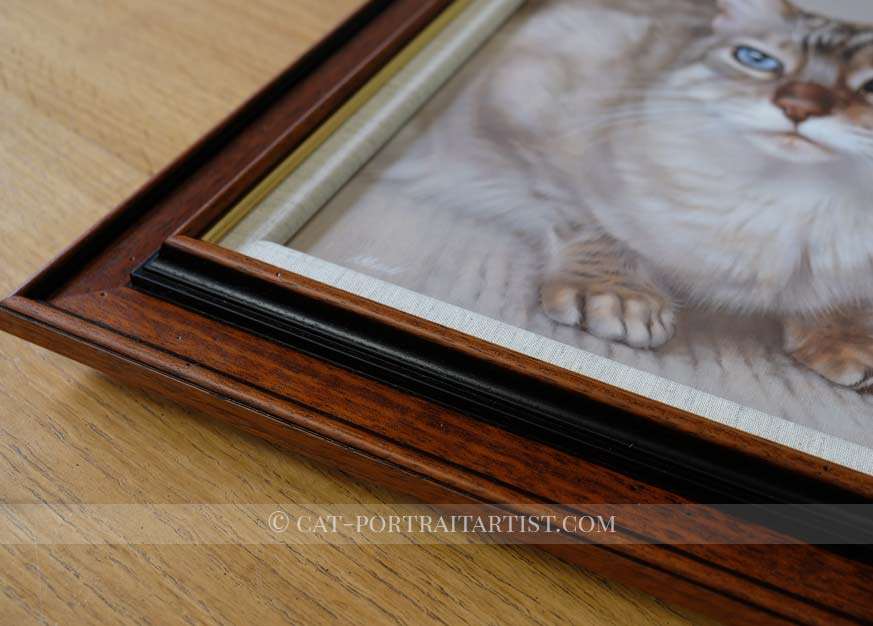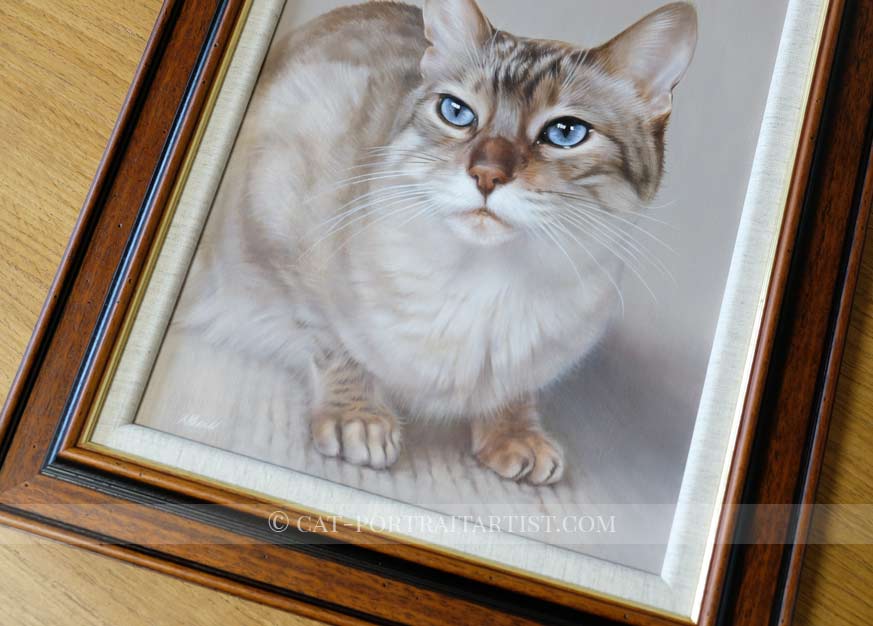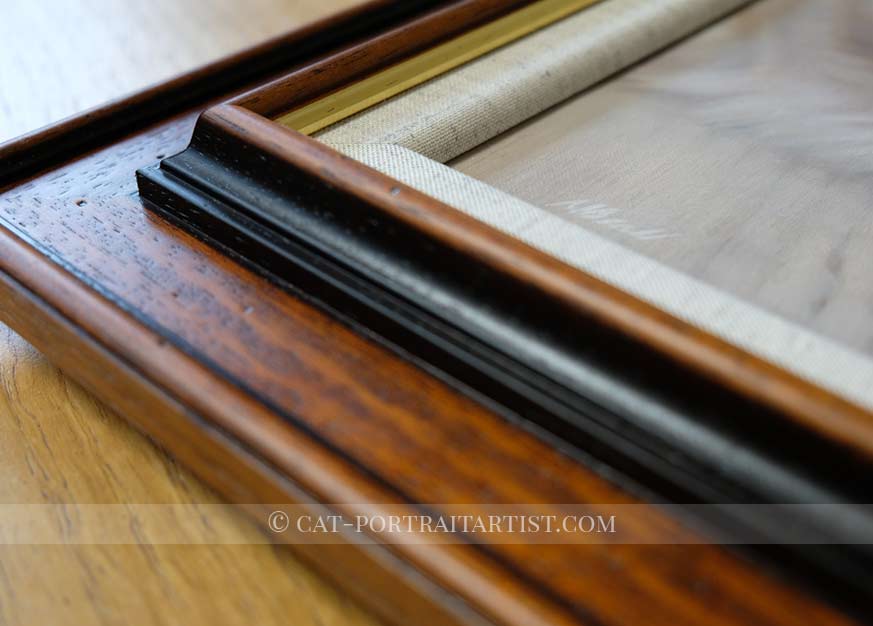 Cat Oil Painting
We hope that you enjoyed reading about Tia, it is definitely a tearful testimonial. If you have lost your cat recently and would love the comfort of a painting or drawing of them, you are more than welcome to email us at any time, visit our contact page and send us your photos.