Cat Portraits - Oil Cat Portrait on Canvas
Welcome to the stunning Oil Cat Portrait on Canvas of Puff. It was traditionally hand painted by professional cat portrait artist Nicholas Beall. Nicholas was thrilled when received the photo from our client as it set out new challenges for Nicholas - not only painting Puff, but painting the keyboard and glasses case with shelving behind too. The painting was created by Nicholas using traditional oils on Italian linen canvas.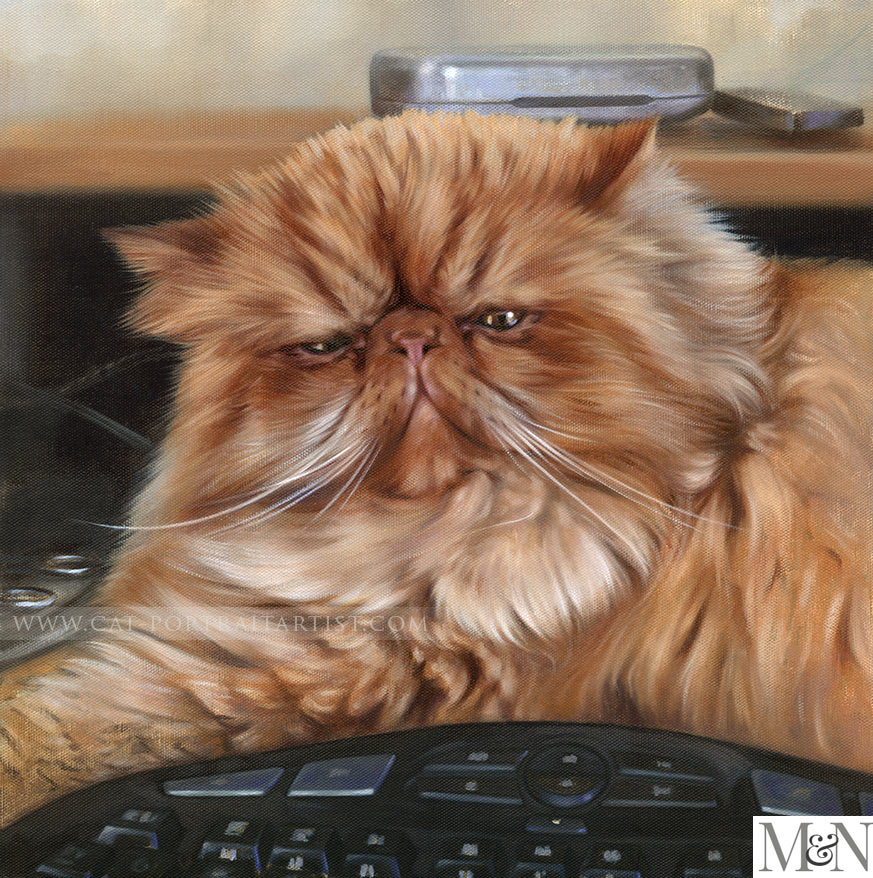 Commission of 'Puff' - Oil Cat Portrait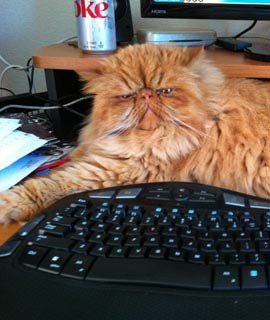 This oil cats portrait was commissioned by Kristin Strickland in 2015 for her husband Jeff as a surprise gift. Their cat called Puff sadly passed away at a young age due to a heart problem and he was Kristin's husbands best friend. He used to sit at her husbands computer with him just like he is in the painting.

Kristin commissioned Nicholas to paint Puff on a 16 x 16 sized canvas in oils and Nicholas thoroughly enjoyed painting Puff. Everyone who visited the studio while it was being painted commented on it. He really does look out at the canvas at you. It has to be one of my favourite cat portraits that Nicholas has painted. When the portrait was complete, Jane our local framer, framed the portrait in the gold and bronze frame which works perfectly with the keyboard and Puffs colouring.

I have added a testimonial from Kristin which you can read below. Kristin was so kind in taking photos of the portrait when it arrived. You can see it hanging in her husbands office showing the keyboard where Puff use to lay. This is a wonderful reminder for her husband of his best friend every day while working. If you have any questions about our portraits or would like to commission us, please don't hesitate to email at any time.
Happy Client Testimonials
A lovely collection of emails from Kristin...
Hi Melanie! Here is our beautiful portrait of Puff, you can see the keyboard on the desk is the one in the portrait where he loved to sit :) What a gorgeous masterpiece, thank you again!!

It's here!!! It's magnificent. You were able to capture Puff and we both teared up when we opened it. Once we hang it we will send you a picture. Thanks again for everything :)

Hi Melanie, it truly is gorgeous, I'm so glad I found you!!
Kristin

It's a truly magnificent piece hanging proudly in Jeff's office where Puff always used to be :)
Cat Oil Portraits - Oil Cat Portrait In Situ
Our clients were very kind in sending us photos of the oil painting of Puff in situ. Wonderful as you can see the painting in conjunction with the keyboard that Puff once used to lay around.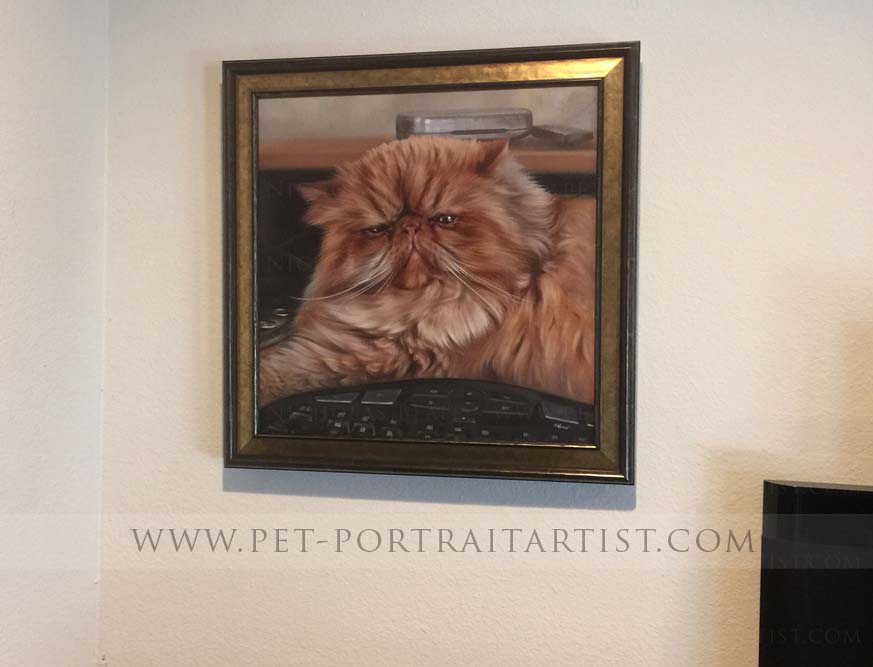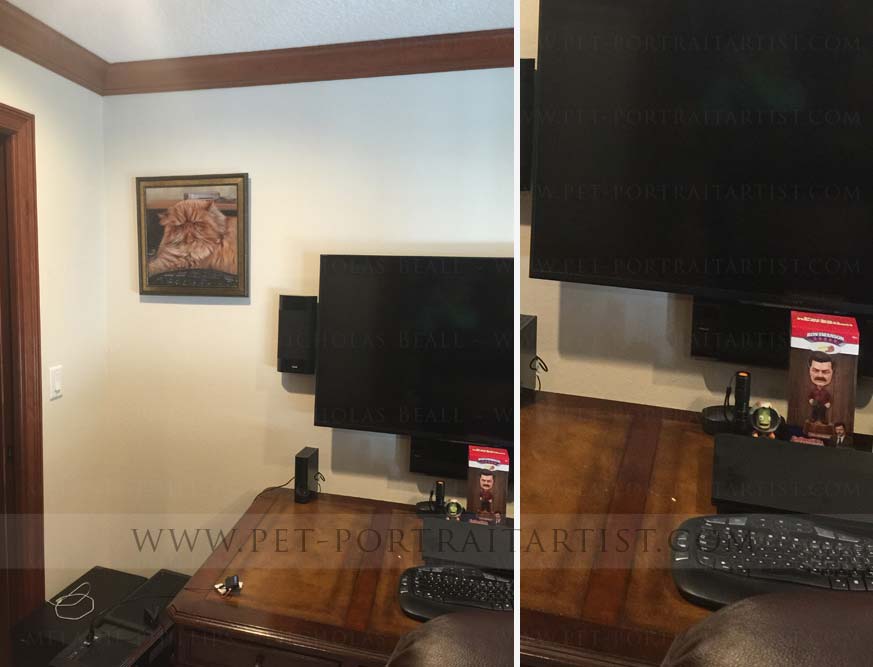 Cat Oil Portraits - Oil Cat Portrait Framed
Here are some lovely photos of the oil painting framed.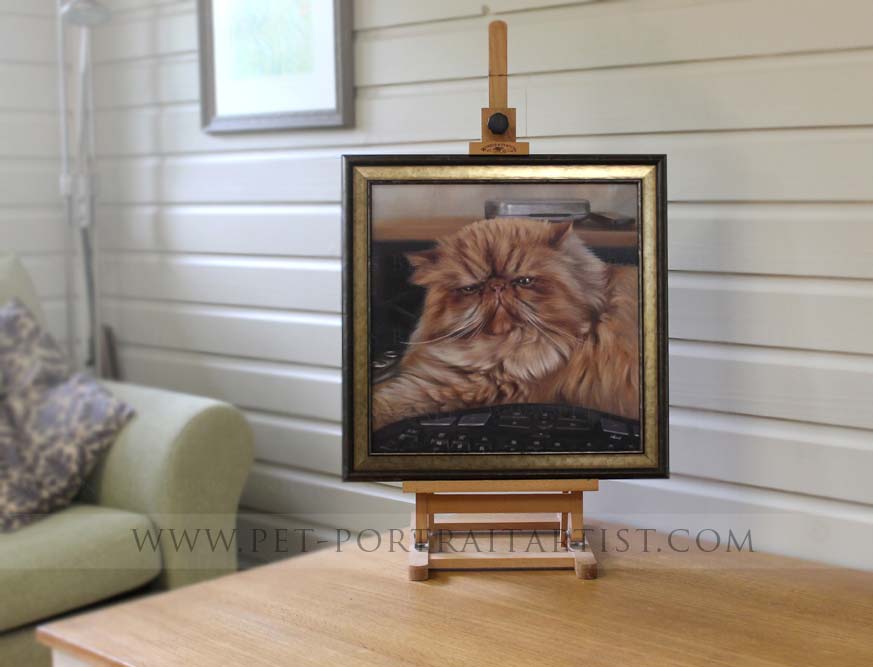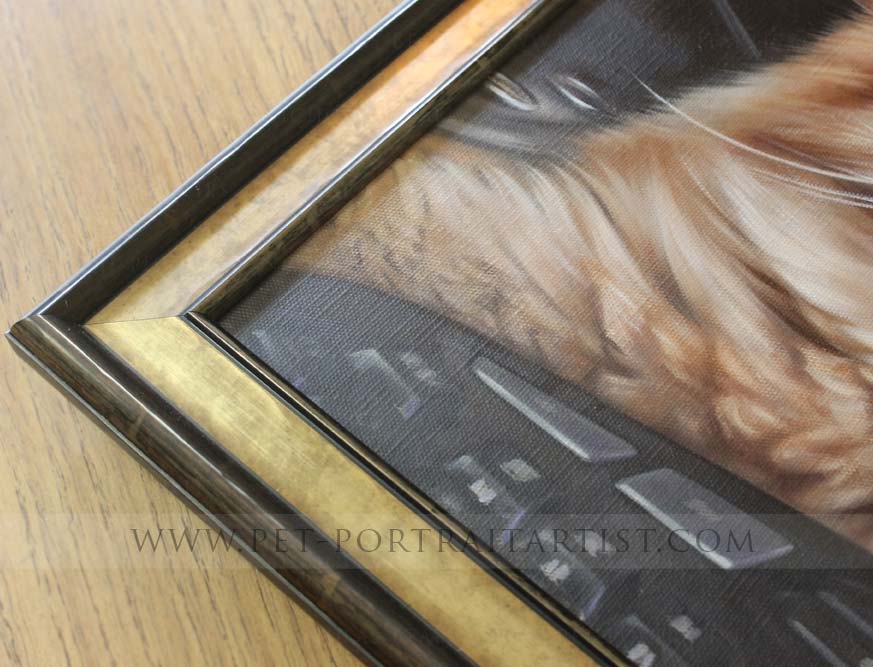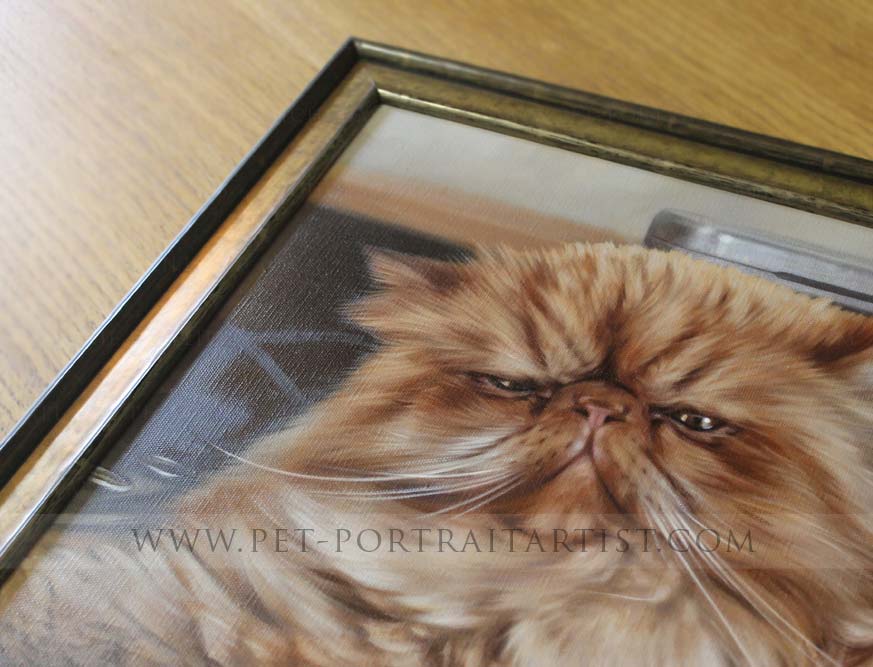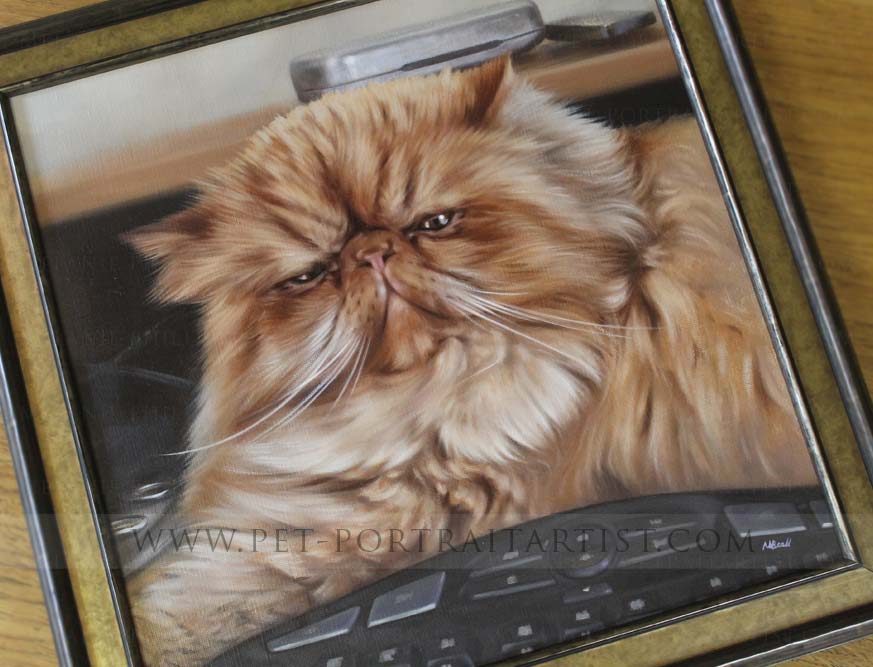 Oil Cat Portrait
We hope that our readers have enjoyed viewing the oil painting of Puff. Please do share our page using the share buttons above and if you would like to commission an oil painting, drop us a line via our contact page.