Cat Paintings in Oil On Canvas
Welcome to our beautiful cat painting of Mitzy. The painting was traditionally hand painted in oils on canvas by Nicholas Beall. Nicholas specialises in oil paintings of cats on canvas and thoroughly enjoyed painting Mitzy. He paints from our purpose built art studio in rural Wales surrounded by trees and wildlife. The perfect place to work every day. Scroll down to read more about he commission of MItzy and read some wonderful testimonials from our client. You can even see a photo of the recipient with the painting when he received it at Christmas in 2018.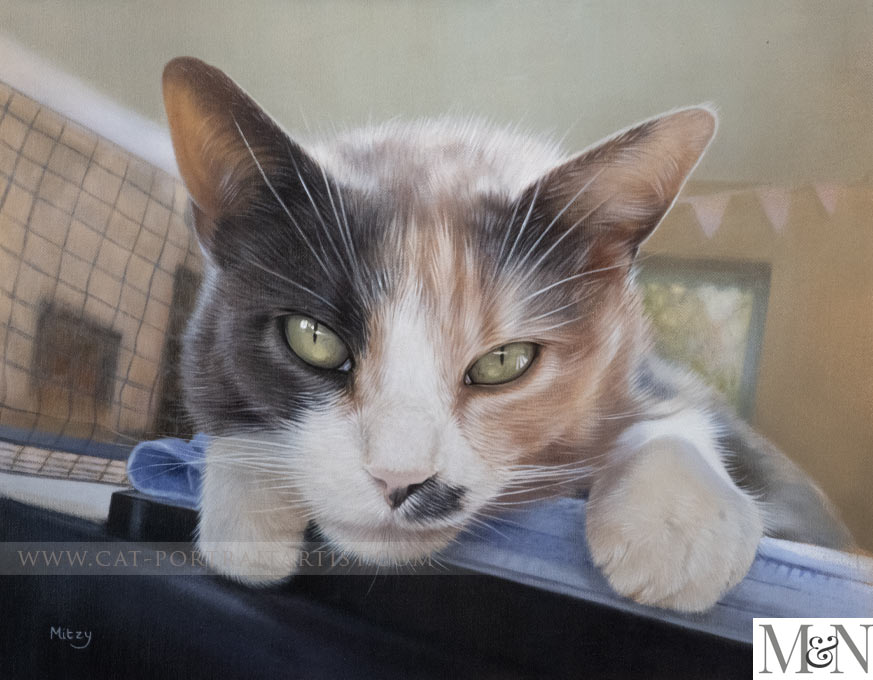 Commission of 'Mitzy' - Cat Paintings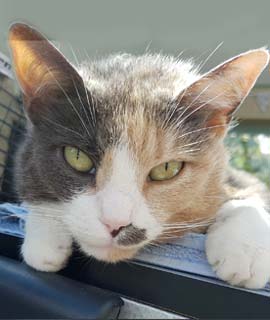 Helen contacted us in 2018 to find out if we would be able to paint her beautiful cat called MItzy as a Christmas surprise gift for her husband. Sadly Mitzy passed away earlier that year very suddenly and it was a huge shock for the family. They missed her greatly and Helen felt that an oil painting of her would be a wonderful idea.
Helen emailed us some photos she had taken of Mitzy on their table tennis table, however the main photo she wanted to use as the basis of the portrait had the top of her ear chopped off. Helen supplied us with the full range of photos she had taken that day and we were able to use the tip of Mitzy's ear from another photo in the range . We put it together as you can see in the reference image on the left. Nicholas then painted form this mock up to create the oil painting above.
We hope you also enjoy reading a couple of Helen's emails below when she both saw the painting and when she received it too.
Cat Oil Painting Happy Clients
Helen very kindly took this photo of her husband with the oil painting of Mitzy on Christmas Day for our website. We can never thank our clients enough for taking photos for our website of them or the recipient with the paintings. I really makes our site special. Thank you Helen!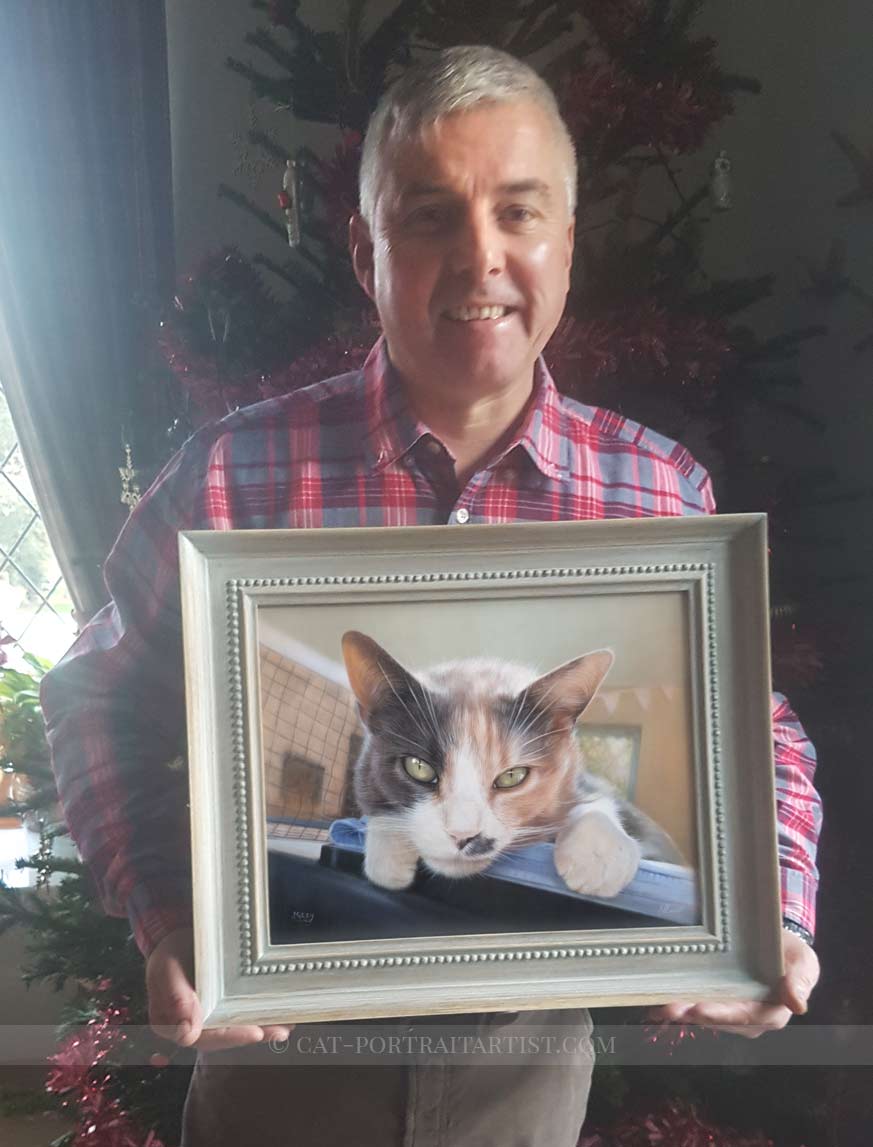 Happy Client Testimonials
Hi Melanie and Nicholas,
As expected Andrew was delighted and overwhelmed by his wonderful Mitzy portrait. He cannot believe the outstanding talent involved in creating such a stunning painting. We have had so many compliments from family and friends and have passed your details on to some of them. Mitzy now takes pride of place on our living room wall and stimulates lots of memories of our very special and much loved cat. I have attached a photograph of Andrew with Mitzys portrait. I hope 2019 is a great year for you and Nicholas and Lily.
Thank you once again.
Helen x

Hi Melanie,
Just a quick email to let you know that Mitzy arrived safely at 8.30 this morning! She looks even more stunning than in the photos and the frame is perfect. I can't believe we have her here after seeing her only 2 days ago in your studio! Lovely secure packaging as well. I have seen the blog and video. It was very emotional seeing our special cat taking pride of place on your website. It is lovely to see the progression of the portrait from start to finish. I will let you know how Andrew reacts when he opens his present on Christmas Day! I suspect there may be a few tears!
All the best to you, Nicholas and Lily.
Helen
Cat Painting
Prior to framing I took a few photos of the cat painting of Mitzy with Nicholas' hand and brush to help show scale.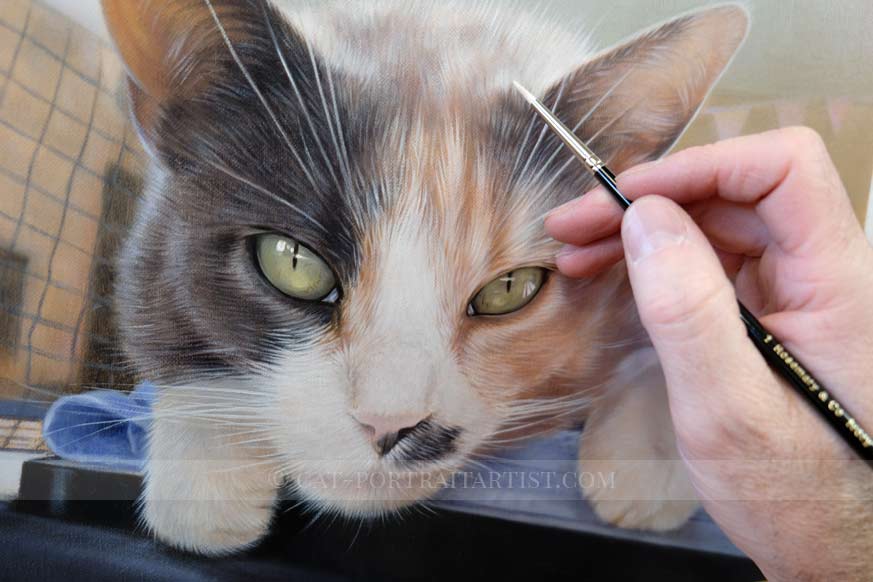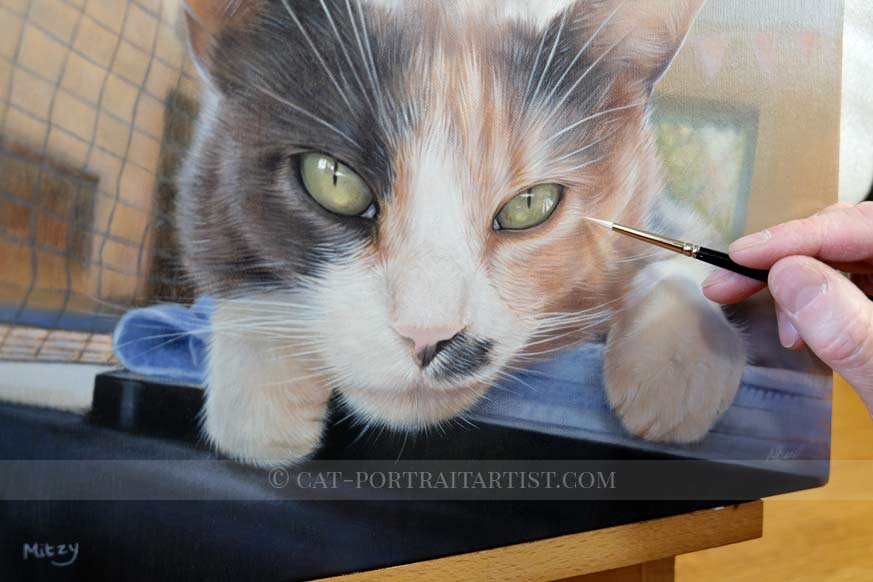 Cat Painting - Cat Paintings Framed
The painting of Mitzy was framed, we couldn't have asked for a better match! Helen was thrilled!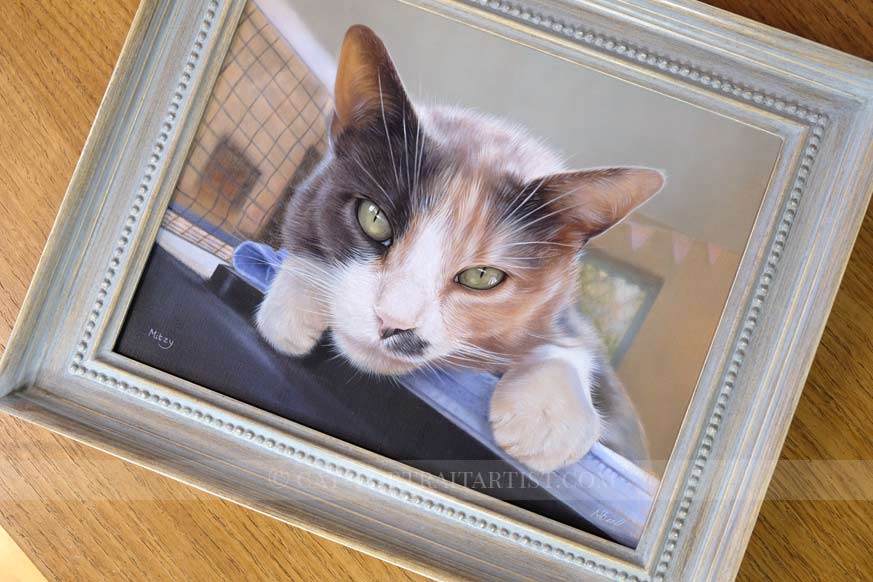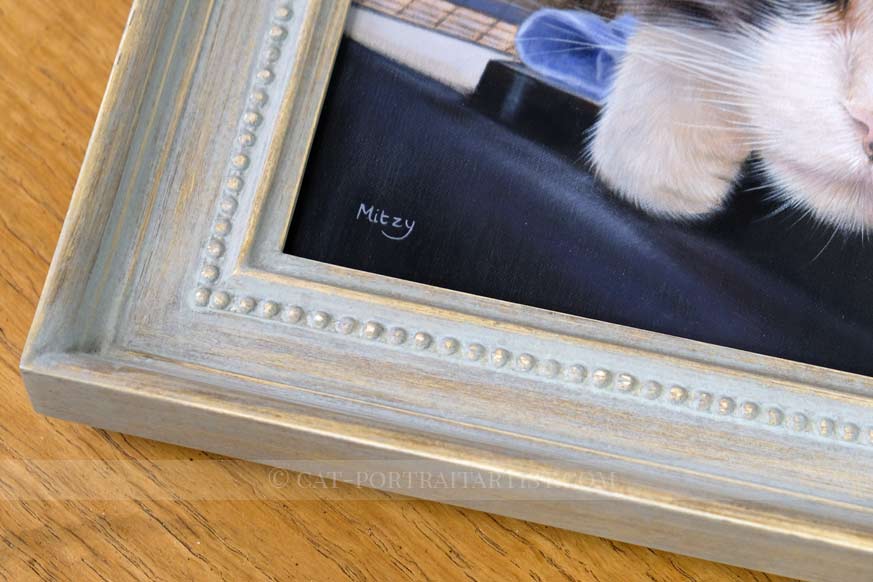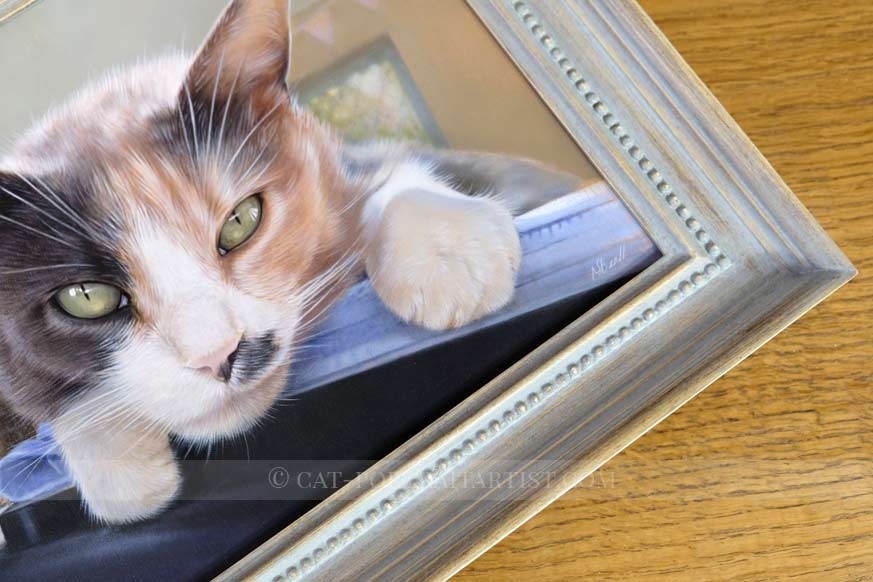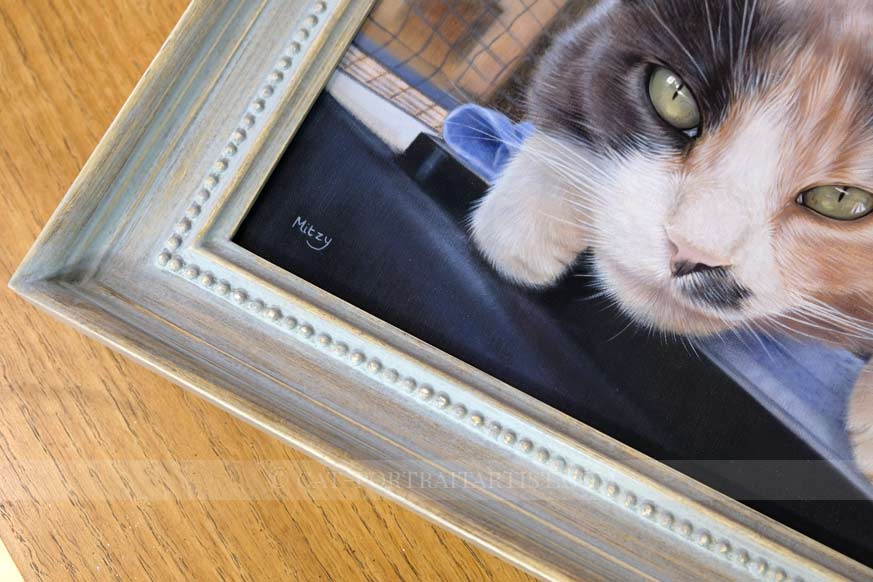 Cat Oil Painting
We hope that you have enjoyed reading about the story of Mitzy, seeing the photos, the framed portrait and watching the video taken in our studio too! If you would like to have an oil painting of your cat, please do drop us a line at any time. We would love to work with you. Visit our contact page to get in touch.