Pet Portrait Artist Commissions by Melanie & Nicholas
A Very Warm Welcome! My name is Melanie and I work alongside my husband Nicholas in our beautiful Art Studio nestled in our woodland garden in the UK. We are professionally trained pet portrait artists with 24 years of experience. We provide high end pet portraits of dogs, cats and horses based on clients' own photographs in Oils and Pencil. Our work is traditionally hand painted and drawn for clients worldwide. You can be confident that we can provide a portrait and level of service both you and your pet deserve.
Oil Painting Gallery
Visit our Oil Painting Gallery to view many previously commissioned pet portraits which have been hand painted by Nicholas just like the portrait of Lucy below.
Pencil Drawing Gallery
Visit our Pencil Drawing Gallery to see some of my (Melanie's) pencil drawings including the portrait of Crumble below.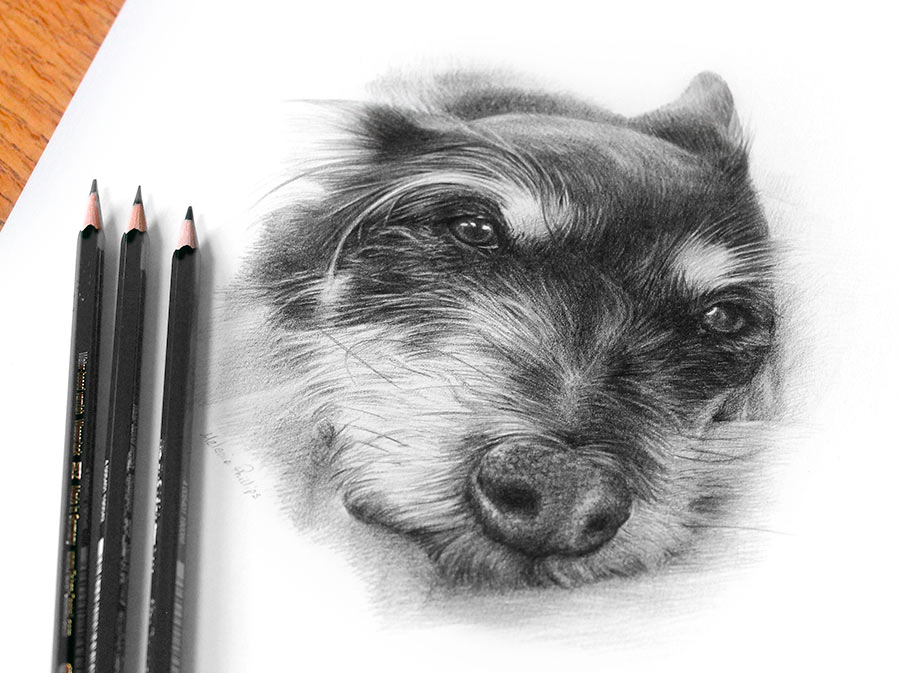 Large Format Oil Paintings
We offer Large Format Oil Paintings with bespoke swept frames, take a look at our large format oil painting page to view some beautiful portraits that have been created for some prestigious clients around the world. We can create any size of painting to fit your required space.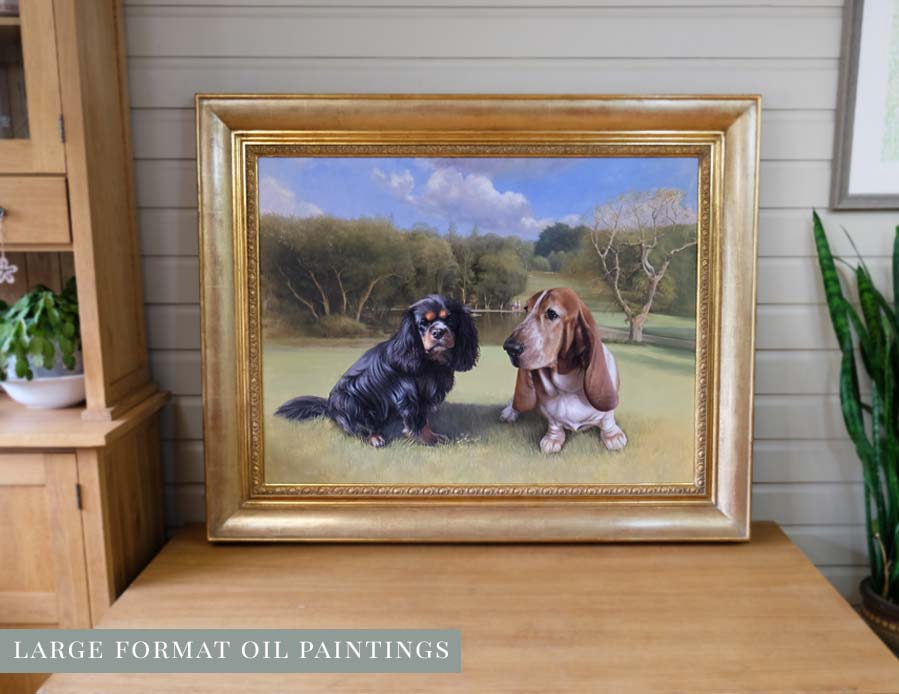 Testimonials
Visit our Client Testimonials page to view some amazing photos clients have sent us of themselves with their portrait....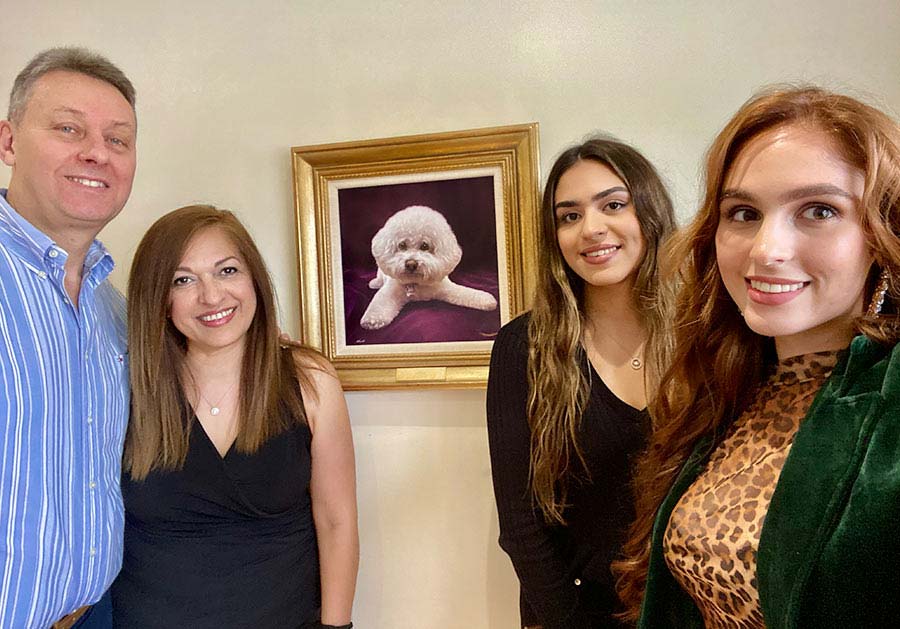 Detail Gallery
View our pet portraits Detail Gallery. See our work really close up...just like the oil painting of Mitzy below....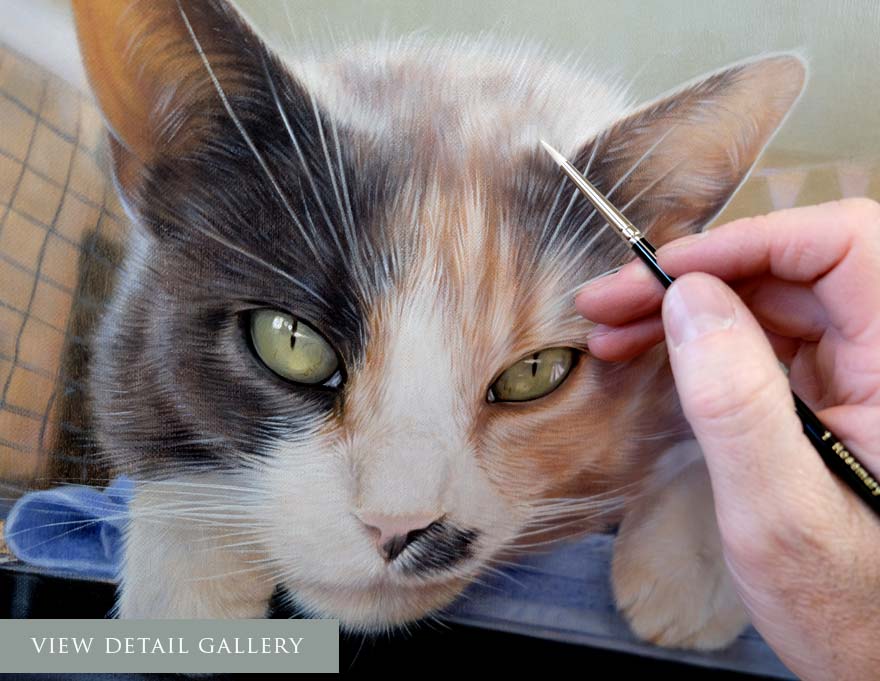 Bespoke Framing
Our frames are tailor made by two wonderful framing companies whose methods combine the very best of traditional techniques and premium materials. View a selection in our Framing Gallery. We also provide Engraved Plaques which work beautifully along side our frames...
Pet Portraits Studio
Visit our about us page to find more about both Nicholas and myself, our old welsh cottage and garden, along with our art studio and seeing it inside with our art materials too. We hope you enjoy your perusal around our little corner of the world.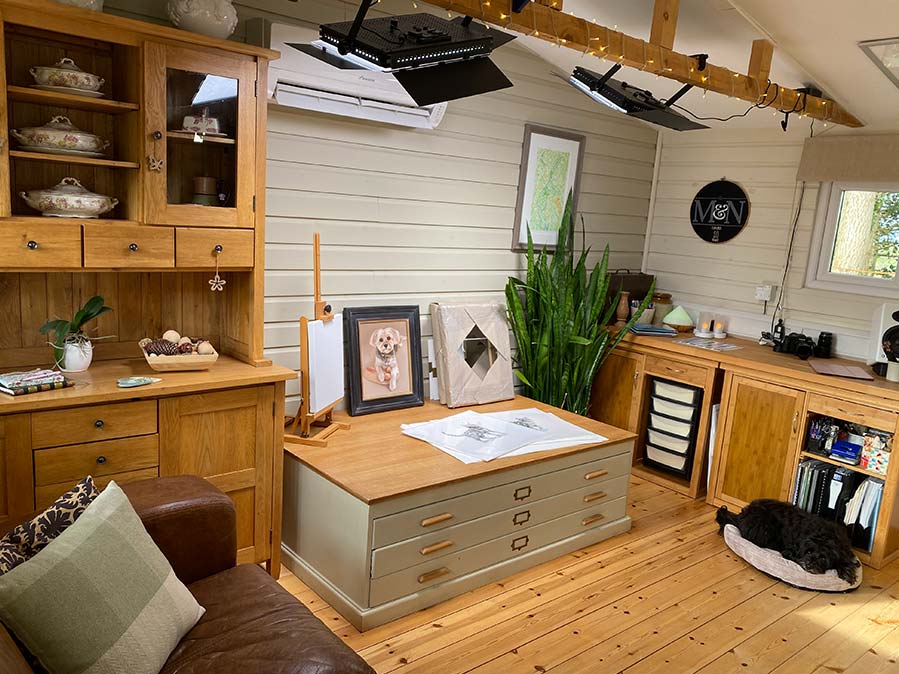 Testimonials.....

Hello Melanie and Nicholas!!!
It would be impossible to convey to you my complete happiness, awe and gratitude for the truly magnificent oil painting my husband, Kevin, gave me for my 50th birthday. It not only captures my beloved dachshunds perfectly, but our home as well. Now I know that my dogs will live forever and this time in my life has been captured so beautifully.

It's SO beautiful!! I am truly in awe of your talent, Nicholas, and so incredibly grateful to you for doing this work of art for me. I still can't believe it's mine and was made for me. It will be an heirloom for our children as it portrays our home and precious pets so perfectly.
Thank you!!!
Kris Fitzpatrick
Get in touch
If you would like to commission a pet portrait from either myself or Nicholas, please drop us an email us at anytime.