Pet Portraits Commissions by Melanie & Nicholas
A Very Warm Welcome! My name is Melanie and I work alongside my husband Nicholas in our beautiful woodland Garden Studio in the UK. We are professionally trained pet portrait artists with 20 years of experience creating traditionally hand painted and drawn pet portraits for clients worldwide. You can be confident that we can provide a portrait and level of service both you and your pet deserve. Why not visit our Commission Information page or Pet Portrait Prices »
Oil & Pencil Portraits
We provide high end pet portraits of dogs, cats and horses based on clients' own photographs in Oils and Pencil. Visit our pet portraits galleries below to see a full range of our work. Why not view our oil paintings and pencil drawings in our quick view Dog, Cat and Horse Pet Portraits galleries
commission info & prices
We send our portraits worldwide and if you are interested in commissioning a painting or drawing, you might like to Follow a Live Pet Portraits Commission from the initial contact all the way through to the Framing and packing of the portrait. This will give you a clear idea of the commissioning process all on one page. Alternatively you might like to read our our Commissioning Information. For an overview of how much your pet portrait is going to cost, visit our page on our Pet Portrait Prices »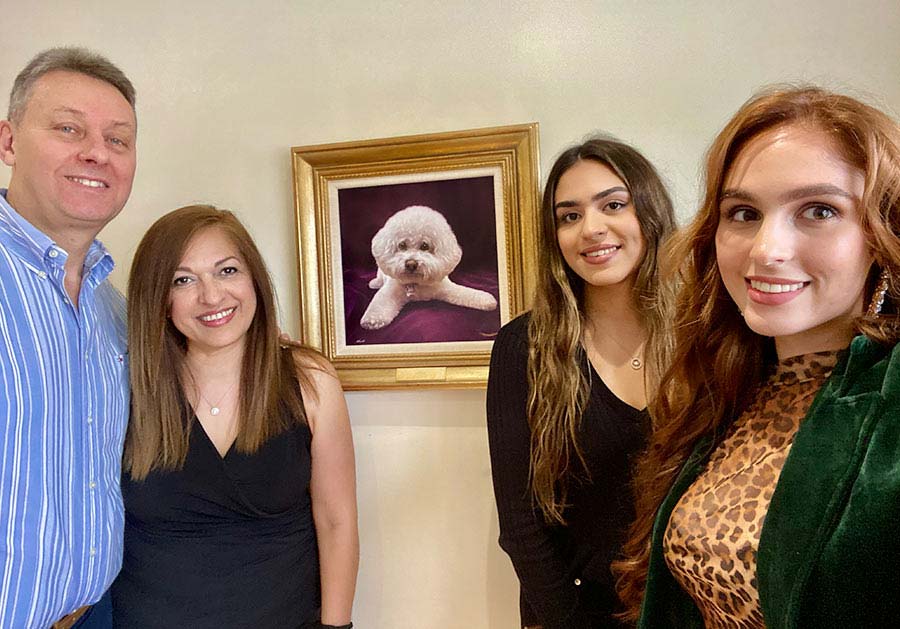 Blog & Testimonials
We post our paintings and drawings daily on our On The Easel Blog for clients to watch. The painting in progress below is from the early stages of the portrait of Maggie and Max which you can see below / right completed and framed with their family. We regularly update our amazing feedback on our Client Testimonials pages too.
on the easel blog
Watch your portrait truly come to life on our blog. We take photos at each stage of our portraits development and take video too! Comment at any time and share posts with friends and family. Head over to see more On The Easel »
Testimonials
Kevin commissioned Nicholas to paint their dachshunds as a birthday present for his wife. Kevin and his family sent us this wonderful photo of them with the portrait on his wife's birthday. Read their testimonial and more - Client Testimonials »
Detail Portrait Gallery
We have a very special gallery whereby I take photos up close to the canvas with Nicholas' hand and brush to show scale. The photos are often taken very close so that our clients and visitors can view all of the fine detail Nicholas puts into his amazing pet portraits. This is a beautiful painting below is a Bernese Mountain Dog called Yogi. Hop on over and see more photos in our Detail Gallery »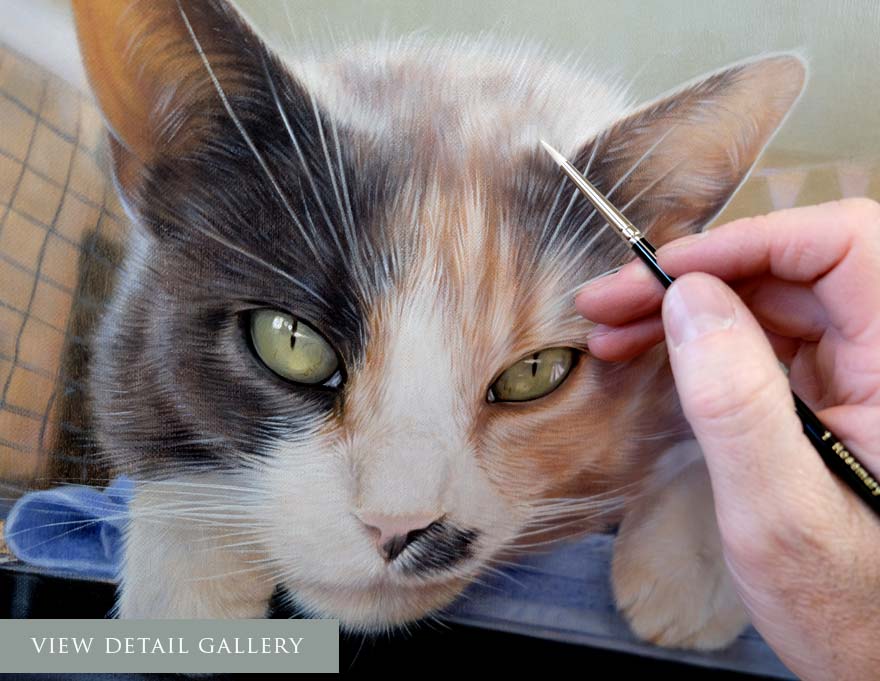 Melanie & Nicholas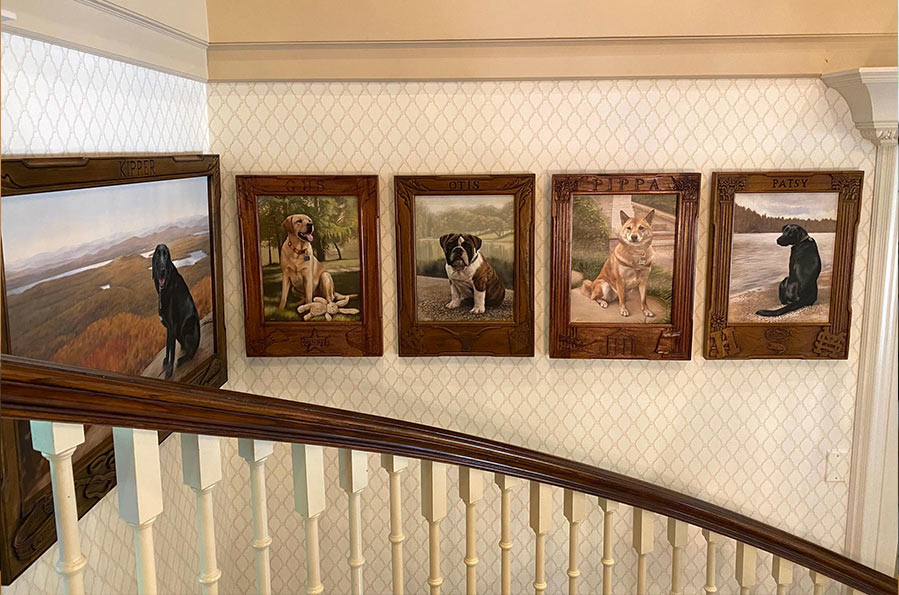 Read about Melanie Phillips
My name is Melanie and I am a pencil pet portrait artist. I was professionally trained....Read More »
Read about Nicholas Beall
My name is Nicholas Beall and I sepcialise in creating oil paintings of dogs, cats and horses. Read More »
framing & Extras
All of our frames are tailor made. We work along side framing companies whose methods combine the very best of traditional techniques and luxury materials. We have access to countless mouldings in a variety of styles and finishes to choose from. We also offer our clients guidance and advice based on our extensive experience in framing our paintings and drawings over the last 20 years. We can provide Engraved Plaques in gold, silver and bronze along with a High Resolution Final Scan on USB and photos of the painting in process too. If there is something specific you would like, just let us know. To see more photos of our framed portraits take a look around our Framing Gallery »
Gift A Portrait & Our Studio
Often many clients who are purchasing a pet portrait as a gift leave it a little too late to schedule time for the portrait to be painted or drawn. So its often best to make all of the arrangements with us using our Gift a Portrait service. Read more about our Pet Portraits Gift A Portrait. You might also like to see where we work and a few photo of the creation of our studio too - Pet Portraits Studio »
Gift A Portrait
Use our Gift a Portrait for that special occasion. Save a space in our commissions list and receive a bespoke image to show the recipient via email. Read more about our very special service on our page Pet Portraits Gift a Portrait »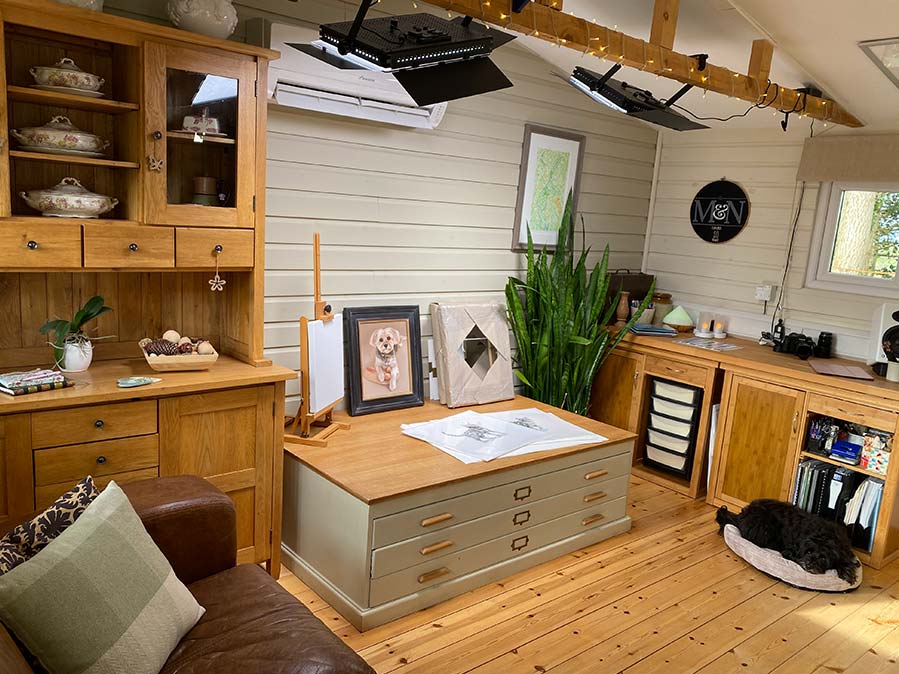 Our Studio
The photo above shows part of our lovely studio, situated in our woodland garden. See where we create all of our paintings and drawings. Its a slice of heaven and the perfect place to be creative. Our Studio »
Framed Portrait Video
We often video our framed portraits before they leave the studio and the portrait below was a recent dog portrait of Agarn framed in the most beautiful swept frame called Dutch Victorian. We hope you enjoy viewing it and if you would like to see more videos head on over to our Pet Portraits Videos.
testimonials.....

Hello Melanie and Nicholas!!!
It would be impossible to convey to you my complete happiness, awe and gratitude for the truly magnificent painting my husband, Kevin, gave me for my 50th birthday. It not only captures my beloved dachshunds perfectly, but our home as well. Now I know that my dogs will live forever and this time in my life has been captured so beautifully. It's SO beautiful!! I am truly in awe of your talent, Nicholas, and so incredibly grateful to you for doing this work of art for me. I still can't believe it's mine and was made for me. It will be an heirloom for our children as it portrays our home and precious pets so perfectly. Check out the picture showing me and my family on Christmas Eve, my birthday, when I opened this amazing gift.
Thank you!!!
Kris Fitzpatrick