Pet Portrait Artist Commissions by Melanie & Nicholas
A Very Warm Welcome! My name is Melanie and I work alongside my husband Nicholas in our beautiful woodland Garden Studio in the UK. We are professionally trained pet portrait artists with 22 years of experience creating traditionally hand painted and drawn pet portraits for clients worldwide. You can be confident that we can provide a portrait and level of service both you and your pet deserve. Why not visit our Commission Information page or Pet Portrait Prices »
Oil & Pencil Portraits
We provide high end pet portraits of dogs, cats and horses based on clients' own photographs in Oils and Pencil. Visit our pet portraits galleries below to see a full range of our work. Why not view our oil paintings and pencil drawings in our quick view Dog, Cat and Horse Pet Portraits galleries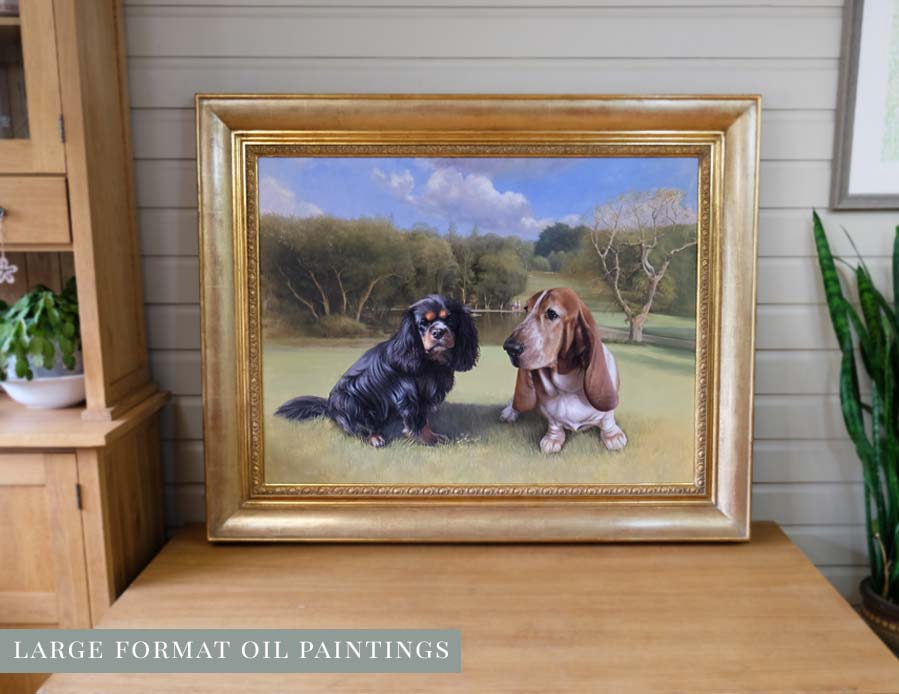 Pet Portrait Artist Testimonials
Visit our testimonials page to see the amazing photos clients have sent us of themselves with their portrait. Client Testimonials »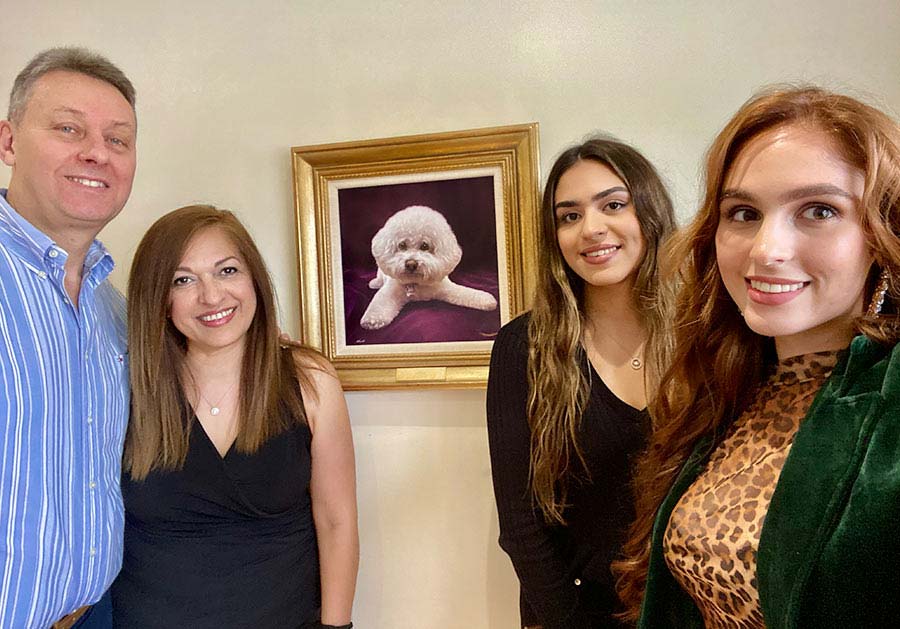 On ThE Easel & Testimonials
Keep up to date with what's on our easel - On The Easel. Often many clients who are purchasing a pet portrait as a gift leave it a little too late to schedule time for the portrait to be painted or drawn. So its often best to make all of the arrangements with us using our Gift Voucher service. Read more about our Pet Portraits Gift Vouchers. You might like to follow a Pet Portraits commission on our Case Study page. Alternatively you might like to read our Commissioning Information. For an overview of how much your pet portrait is going to cost, visit our page on our Pet Portrait Prices »
Artists News!
Visit our Artists News to read the stories behind this month's pet portraits along with news from the studio and our mini adventures out and about on coastal walks, beach runs and mountain hikes with Lily our dog. Artists News! »
Gift Vouchers
Purchase a gift voucher online for a pencil drawing or an oil painting. Personalised cards sent to the recipeint at no extra cost - Pet Portraits Gift Vouchers »
Detail Portrait Gallery
View our pet portraits really close up...just like the oil painting of Mitzy below. View our Detail Gallery »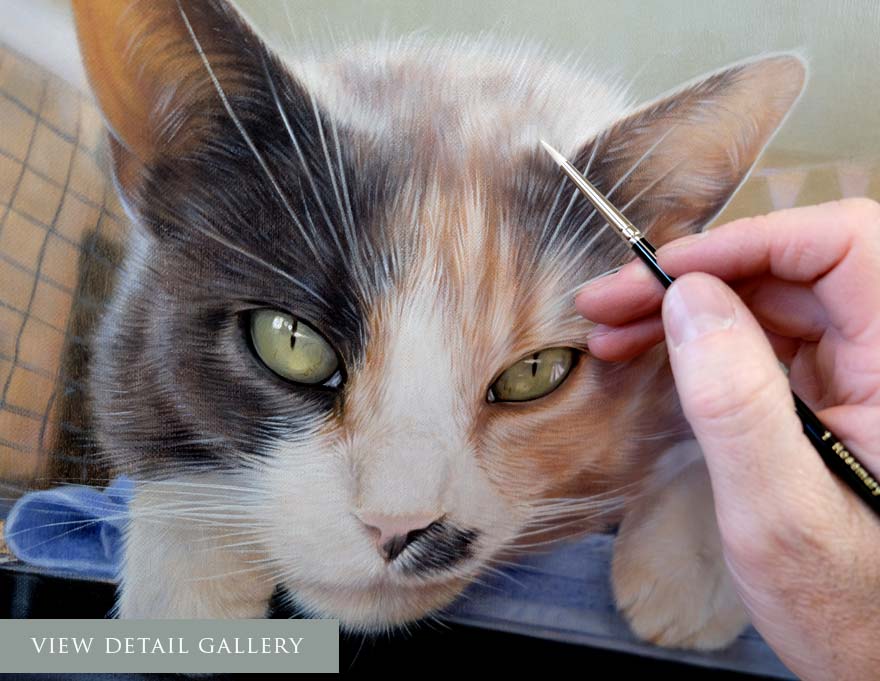 Melanie & Nicholas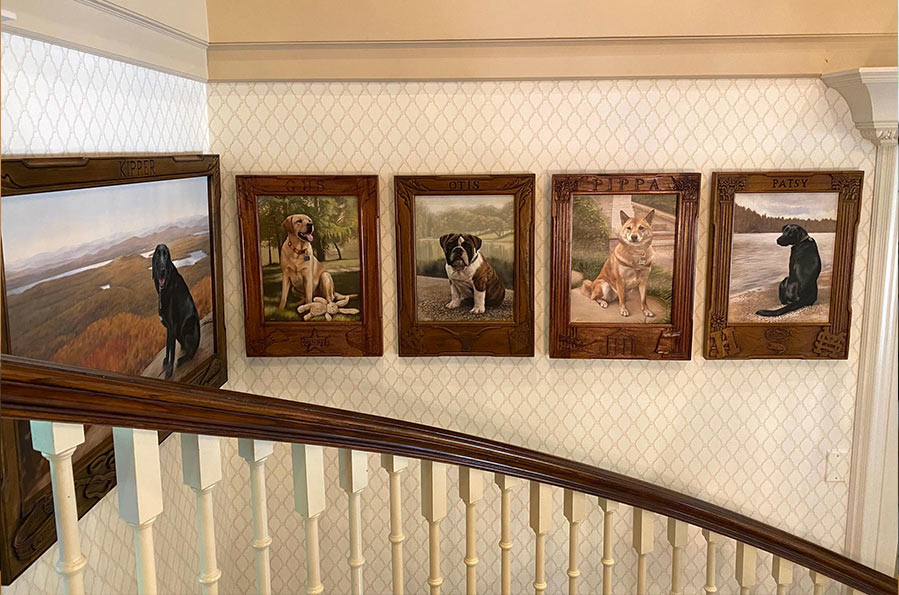 Read about Melanie Phillips
My name is Melanie and I am a pencil pet portrait artist. I was professionally trained....Read More »
Read about Nicholas Beall
My name is Nicholas Beall and I specialise in creating oil paintings of dogs, cats and horses. Read More »
framing & Extras
All of our pet portrait frames are tailor made. We work with some wonderful framing companies whose methods combine the very best of traditional techniques and premium materials. We have access to countless mouldings in a variety of styles and finishes to choose from. We also offer our clients guidance and advice based on our extensive experience in framing our paintings and drawings over the last 22 years. We can provide Engraved Plaques too. If there is something specific you would like, just let us know. To see more photos of our framed portraits take a look around our Framing Gallery »
testimonials.....

Hello Melanie and Nicholas!!!
It would be impossible to convey to you my complete happiness, awe and gratitude for the truly magnificent painting my husband, Kevin, gave me for my 50th birthday. It not only captures my beloved dachshunds perfectly, but our home as well. Now I know that my dogs will live forever and this time in my life has been captured so beautifully. It's SO beautiful!! I am truly in awe of your talent, Nicholas, and so incredibly grateful to you for doing this work of art for me. I still can't believe it's mine and was made for me. It will be an heirloom for our children as it portrays our home and precious pets so perfectly. Check out the picture showing me and my family on Christmas Eve, my birthday, when I opened this amazing gift.
Thank you!!!
Kris Fitzpatrick
Visit next...