Pet Portraits by Melanie and Nicholas
Welcome! My name is Melanie and I work alongside my husband Nicholas in our garden studio in west Wales, UK. We are accomplished Pet Portrait Artists with 20 years of experience in pet portrait commissions, traditionally hand painted and drawn for clients worldwide. We provide high end portraits of dogs, cats and horses based on the clients' own photographs in Oils and Pencil. You can be confident that we can provide a portrait and level of service both you and your pet deserve. Read our Testimonials to find out what our clients have to say and contact us with your photos to commission your own painting or drawing of your pet today.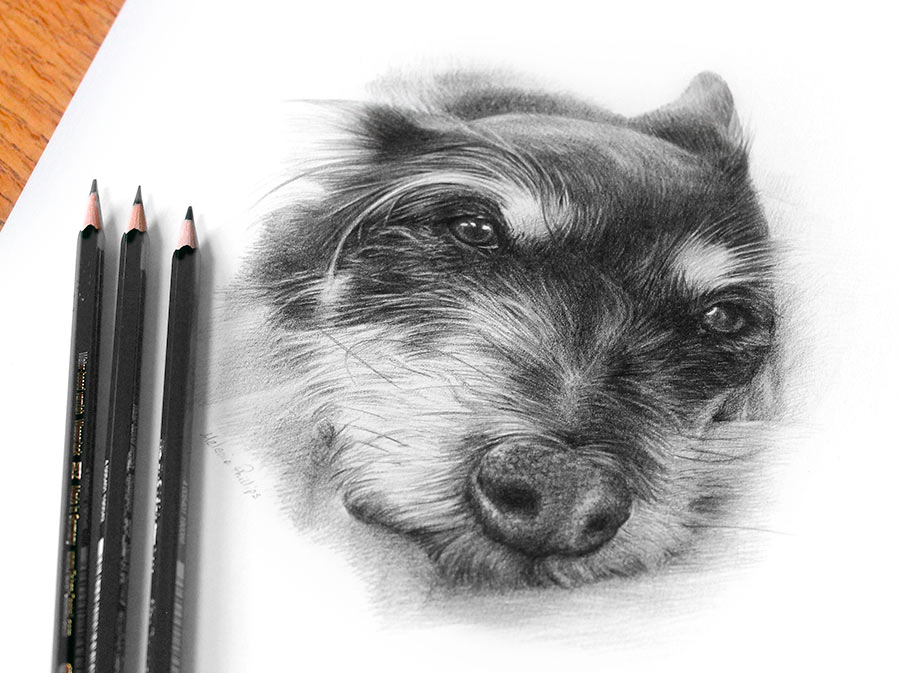 Commissioning Process
If you are new to the commissioning process, we have created an information page which follows a live commission. From the initial contact with our client showing the reference photos, mock up and artwork taking you all the way through to the framing and packing of the portrait - Commissioning Process »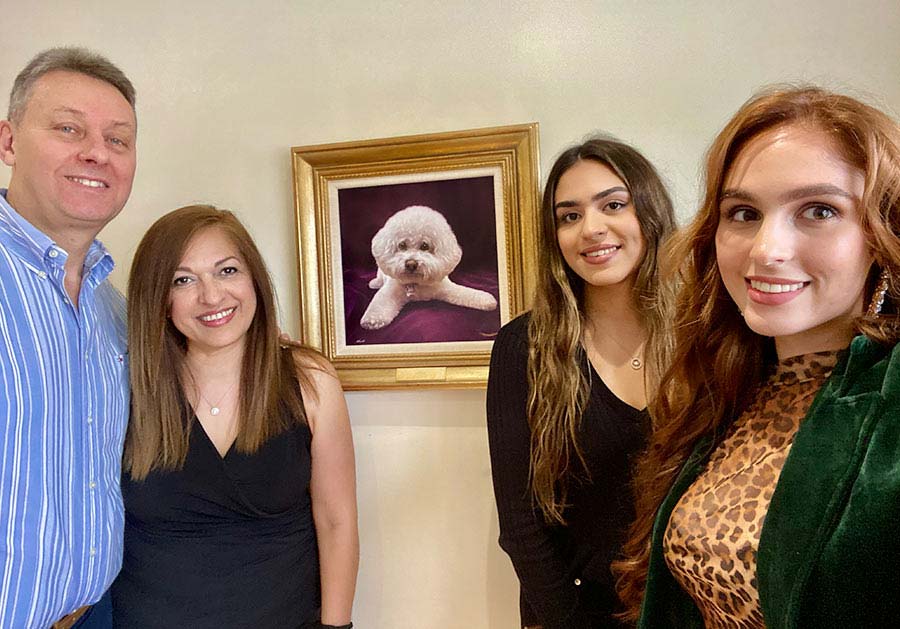 Client Testimonials
The framed pet portrait below is of Maggie and Max, a 16 x 12 traditionally painted oil painting on Linen Canvas. Kevin commissioned Nicholas to paint their gorgeous dachshunds as a special birthday present for his wife in 2015. Kevin and and his family very kindly sent us this wonderful photo below of them all holding the painting on his wife's birthday. You can read their email and testimonial below. You can also view the painting in full on their dedicated page - Pet Portrait of Maggie and Max » Check our more of our testimonials here - Client Testimonials »
Hello Melanie and Nicholas!!!
It would be impossible to convey to you my complete happiness, awe and gratitude for the truly magnificent painting my husband, Kevin, gave me for my 50th birthday. It not only captures my beloved dachshunds perfectly, but our home as well. Now I know that my dogs will live forever and this time in my life has been captured so beautifully. It's SO beautiful!!
I am truly in awe of your talent, Nicholas, and so incredibly grateful to you for doing this work of art for me. I still can't believe it's mine and was made for me. It will be an heirloom for our children as it portrays our home and precious pets so perfectly. Check out the picture showing me and my family on Christmas Eve, my birthday, when I opened this amazing gift.
Thank you!!!
Kris Fitzpatrick
The Latest Oil Painting - Oliver and Family
Here is the latest oil painting to come off of Nicholas' easel. It is a beautiful portrait of Oliver, Alex and their two dogs Molly and Oscar. The video is narrated, filmed and put together by myself Melanie. You can view lots more of our videos over on our videos page »
Pet Portrait Prices and Availability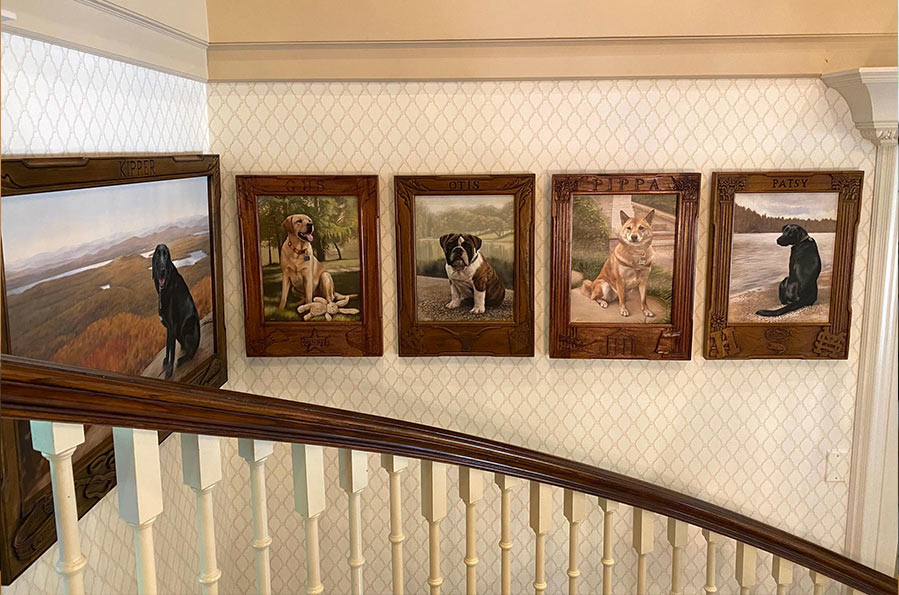 If you are thinking about commissioning either myself or Nicholas to paint or draw your pet for you, one of the areas you might like to look at is our pricing and availability page. It gives a full run-down of the pencil drawing and oil painting prices. We can also quote for framing and engraved plaques in gold, silver and bronze too.
Our prices page is default set to £'s sterling, however use the drop down list to locate your currency. We send our portraits worldwide and work with clients from all over the world.
Each and every portrait we create is unique and often client asks for different elements and ideas for the painting or drawing. So if you have specific ideas of how you would like your portrait to be, drop us a line with your requests and we can email you a specific quote. Prices »
We also offer gift vouchers, scroll a little further down the page to read more!
See completed portraits in our framing gallery
We have some beautiful frames for our portraits, we work along side two companies. Amanda makes all of our traditional frames and Edward and his team hand make our swept and moulded frames. These are absolutely stunning and will add a wow factor to any painting. If you are looking for something special to go with your painting, we can provide this for you. To see more photos of our framed portraits take a look around our Framing Gallery »
Watch portraits come to life 'On The Easel Blog'
We take photos at every stage of the artworks development along with Video clips of us painting and drawing, so that you can watch your portrait truly come to life. Stages are shown so that you and your family can feel part of the process and the creation of your very own unique piece of artwork. You can comment at any time or share the posts with friends and family. Pop over to see what we have posted today and don't forget to subscribe at the bottom our our website, to receive a weekly round up - On The Easel »
Pet Portraits Gift Vouchers
Often many of our clients who are purchasing a pet portrait as a gift, leave it a little too late to schedule time for the portrait to be painted or drawn. Portraits cant be hurried or rushed and so its often best to make all of the arrangements with us and present a voucher to the recipeint on their special day. This means that they can be part of the exciting process too! Our vouchers are unique and personal to each cleint and are provided digitally. This can be really useful in the run up to Christmas - cleitns love to give something special and unique to freinds and family. If you are interested in giviing our vouchers, find out more by visiting our Pet Portraits Gift Vouchers »
Take a look around our studio...
Follow the path through the gate to find our studio! Click on the photo below to see where we create all of our paintings and drawings in our dedicated art studio in our woodland garden. Its a slice of heaven and the perfect place to be creative. You can also see photo of our desks and easels along with photos of our materials too.Our Studio »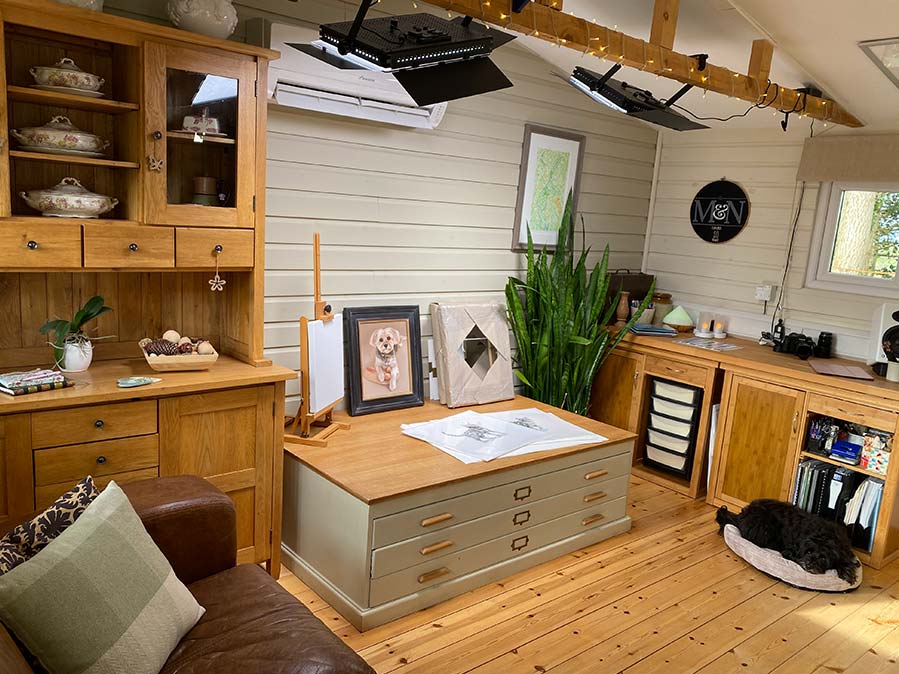 Email us Today!
Email us on petportraitenquiry@gmail.com and we will reply as soon as we can. Send us your pet photos, tell us all about them along with your ideas for a pet portrait!