Melanie and Nicholas' Pet Portraits Studio
Welcome to our pet portraits art studio! In March 2014 we decided to convert our 20 x 14 workshop shed that we used as a packing shed into a fully functional studio, a place that we could work full time all year round. The shed is situated in a lovely position in the little wooded area of our garden, its away from the lane and cottage so it is extremely quiet and its twice the size of our cottage studio, so all in all it's perfect for a productive days work as an artist.
We had some friendly builders renovate the shed, they insulated from floor to ceiling, laid floorboards and tongue and grove on the walls, installed a new triple layer felt roof and replaced all windows and the front door with double glazed units, 4 of which are openable. We have a heating system so we are cozy 24 x 7. Its bliss! As you can see from the photos below it will definitely make our work life easier, we will be more productive as artists.
Red Kite Studios As you can see from the photo below, we have a shiny new sign for the front of the studio, you can just see Nick working inside. Come on in and take a look!
Client Entertaining area and the 1930's Plan Chest When we were designing the studio we knew that we wanted to include our sofa but also have some kind of coffee table as this was what we were lacking in our last studio. Clients had to balance their cup of tea and plate of cake on their knees :) Our requirements for furniture in the new studio consisted of storage for canvases, a table for packing and a coffee table for clients. I have always wanted a plan chest, the kind of thing architects use for storing their large drawings and i felt this would be the perfect solution for us - three uses in one!
Having searched online I suddenly came across a plan chest that I absolutely loved and was just what I had envisaged. It dates back to the 1930's and the family run company we purchased it from restored it beautifully and hand delivered it to us, a 200 mile round trip! It is just perfect and it compliments the tongue and grove walls. The plan chest is painted in Off White so we based the colours of our studio around the chest. So the wall behind the chest is Old White and the other three walls are Slipper Satin. The subtlety of the colours perhaps aren't as noticeable in the photos but the old white is a pale green / grey colour.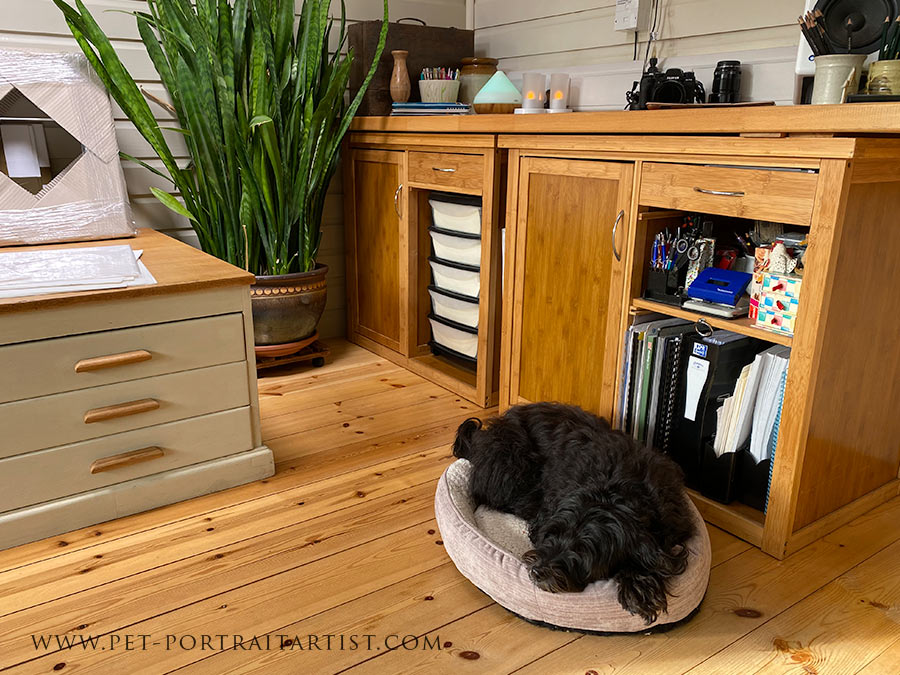 Our Working Area
Both Nick and myself are positioned on the North facing back wall. This natural lighting, combined with our dedicated easel lamps create the perfect environment for us to draw and paint in.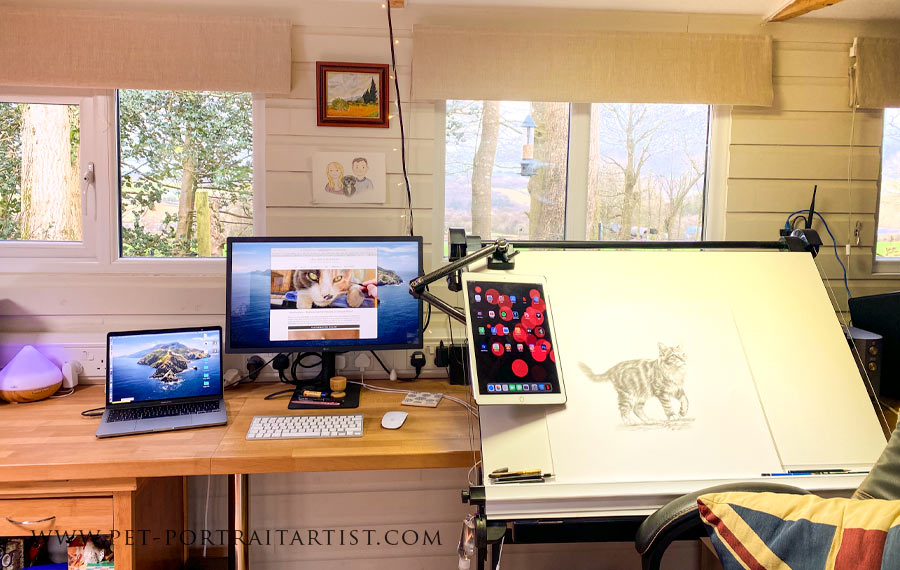 Studio Lighting
We have plenty of lighting in the studio. Both Nick and myself have our task lighting above our easels, Nicks being a super duper dimmable daylight LED unit. I am using my trusty easel lamp as i don't need anything too bright. We then have three light panels on the ceiling. They are absolutely amazing, we have no idea how they work, apparently they don't have any bulbs! They are flat panel lights which give ambient light around the studio and create the effect of skylights. We have two each end of the studio and one above my computer / office area that you can see in the photo below.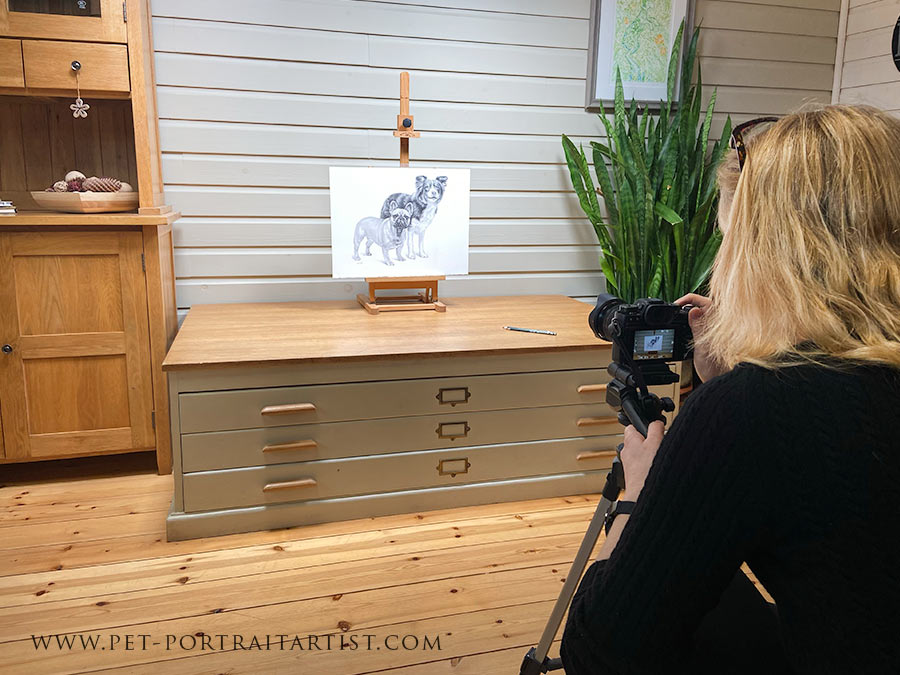 Lily's Window
The vertical window you can see next to the door has been tagged as 'Lily's Window' as she sits and looks out of it on most days ...unless she is having a well deserved nap as you can see below! Lily's window gives her a perfect view up the garden path towards the cottage.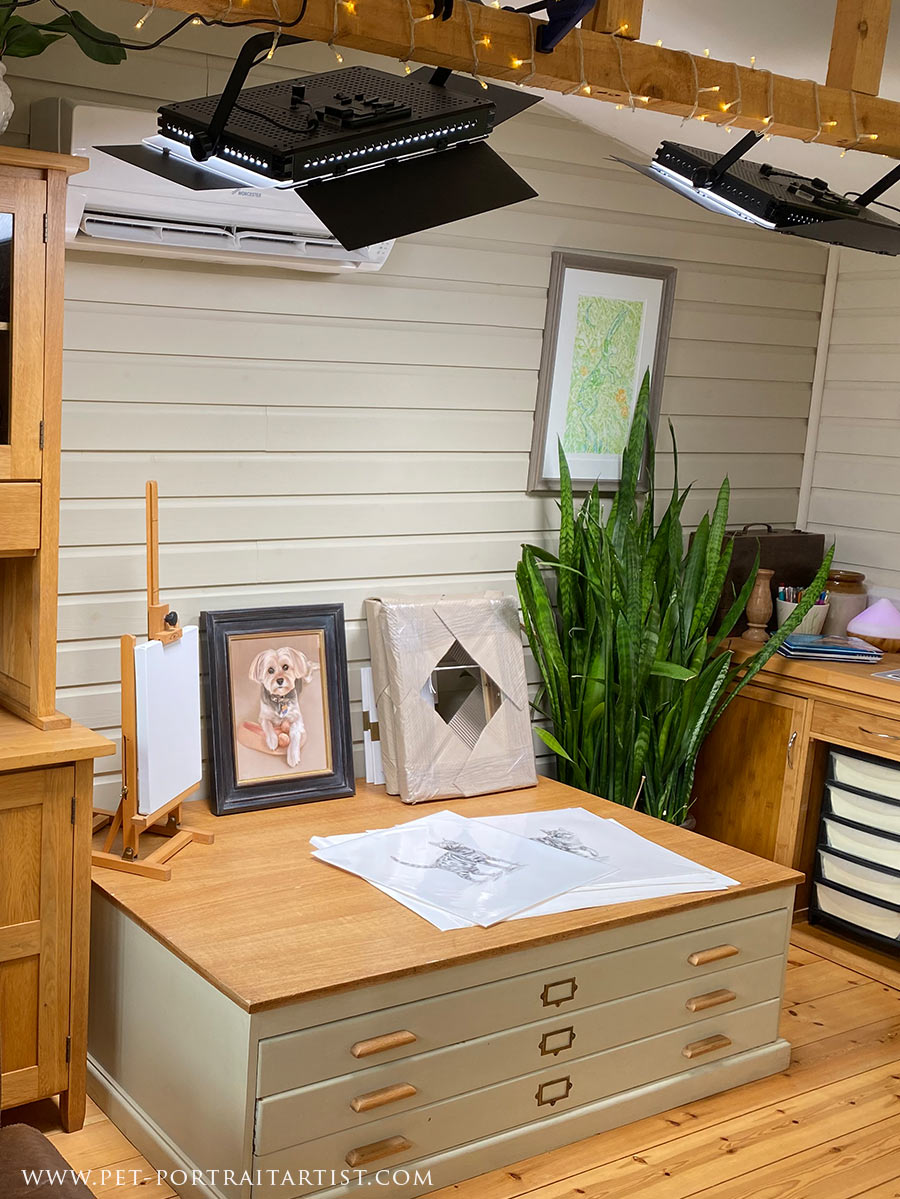 Kitchen
The kettle is always on for visiting clients! A kitchen area was vital for us, not only to wash brushes at the end of the day but to make cups of tea so we have running cold water form the cottage and a kettle and toaster for when we get hungry in mid flow of our work day. The work top is solid beach with a ceramic little sink. The two units you can see in the photo were the old units that came from the kitchen and they look far better in here than they ever did in our kitchen! Three draws and two cupboards are perfect for storage.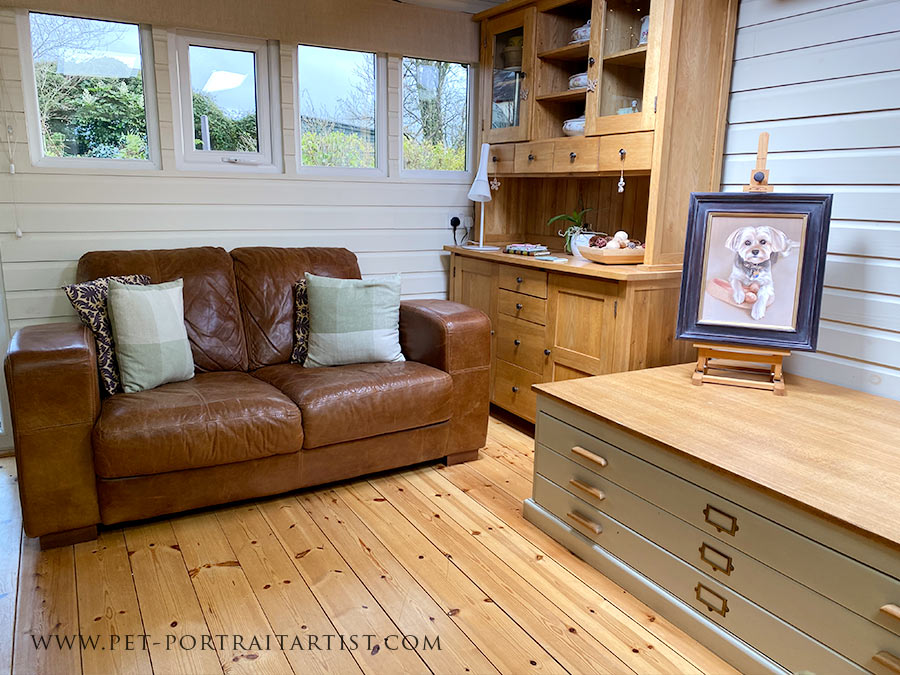 Dolly
Our trolley on wheels houses all of the admin paperwork and bits and pieces for our business. The trolley has been nicknamed...Dolly!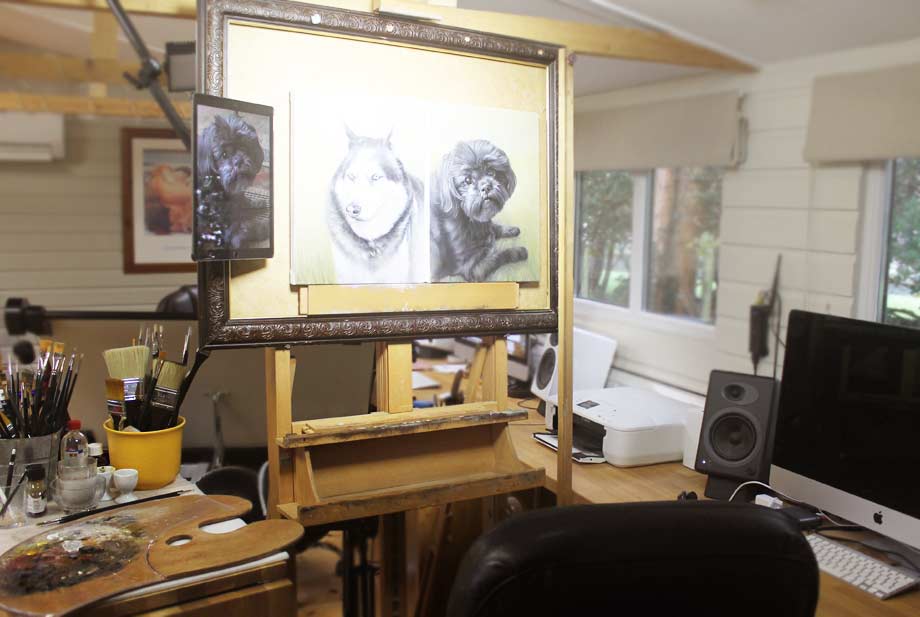 Front of the Studio
This is a full view of the studio. It faces south and due to the overhang on the front of the studio the sun doesn't stream in directly which is good as we don't want too many fluctuations of light during the day. The windows at the rear face North and when we are working inside we are surrounded by trees, bringing the outside in!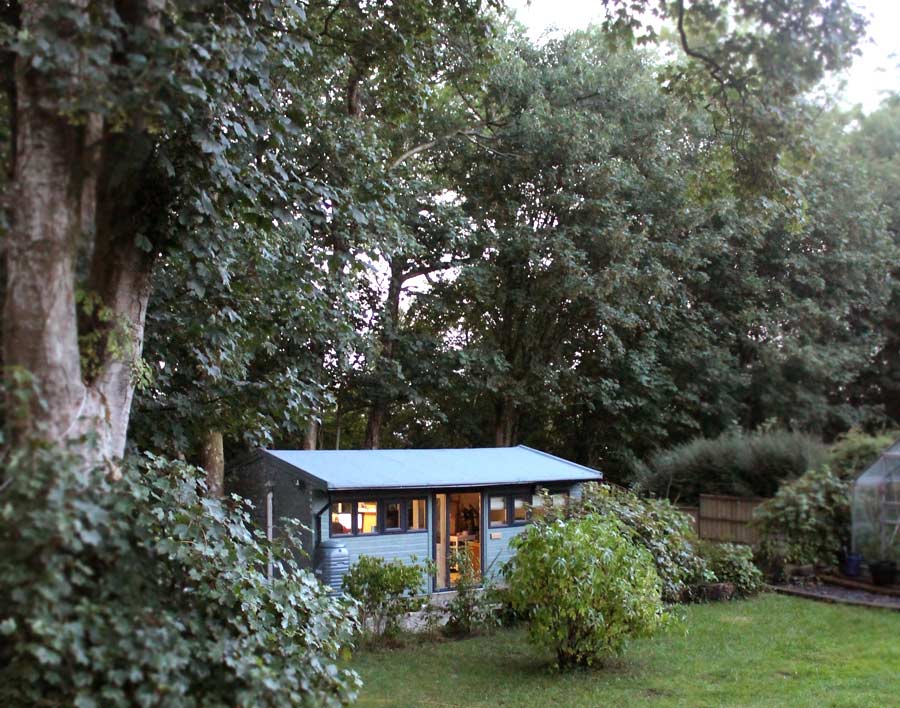 Renovating the Studio
Here are a few photos that we took during the renovations, which took approximately 9 weeks from start to moving in.

The bare bones workshop shed we had purchased a few years ago in our garden.

The first job was to take up the floor and insulate, place a vapour barier / draft proof membrane and lay floorboards.

Work progressing on the flooring, the ply you can see will be going on the ceiling once insulated.

Insulation going in on the walls.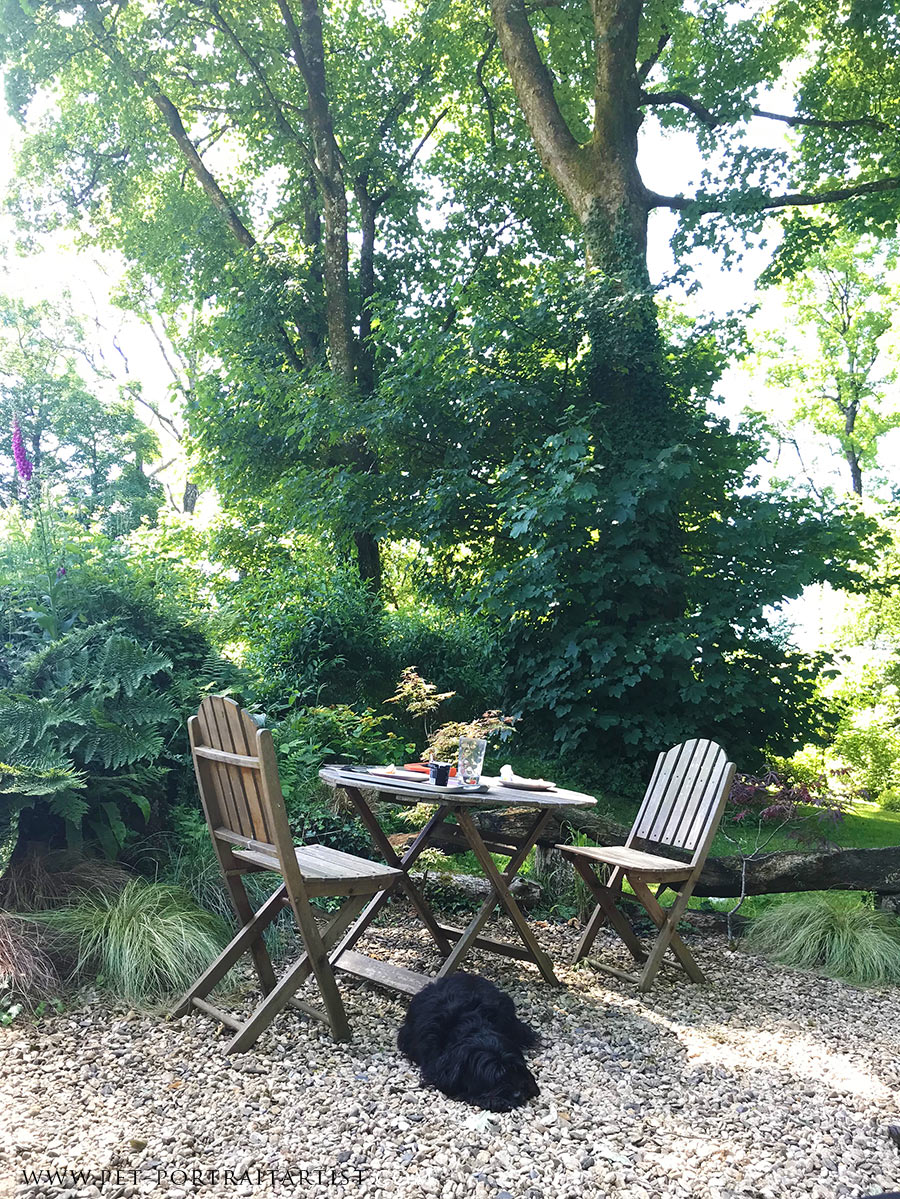 The tongue and groove is now being added to the walls.
Lily and I admiring the work and having cuddles!

New double glazed windows going in and a new aditional double window so we have windows front to back for light.
New triple layer felt roof going on and new double glazed door installed. You can just about see me peering through!
Here we have painted an undercoat on the walls and the beach worktops are being prepared for installation.
We re used two of our old kitchen cupboards for the kitchen area and a sink was being been installed.
We varnished the floor about 4 times and bought out the grain and got a lovely shine. Almost too good to walk on!
You can also see the dado trunking installed so we can have as many sockets as required. The blue top and bottom tape is yet to be removed!